Faux Umbrage Concern Kit (Extra Dosage) can have you fighting liberals in no time

Hey Conservatives! Tired of liberals giving you a hard time about your love of war and total disconnect on all things humane? Sick of people misinterpreting your cold, hard plans for world domination with emotionless psychosis?
Well then it's time to go Faux and get F.U.C.K.E.D.!
Yes, the new Faux Umbrage Concern Kit (Extra Dosage) will have you showcasing pretend emotion in no time, and have people seeing you in an entirely different light.
For example: Does using military men as political pawns cause you no emotion whatsoever? Well, a simple dose of F.U.C.K.E.D. will have you producing gallons of exasperated hate-spittle in no time. Soon, you'll be slamming Congress to a standstill to "condemn" newspapers for running ads that question said military men. And in the morning, you'll awaken refreshed and back to your emotionless, carefree self, wondering what you should have for breakfast as bodies of U.S. troops pile up in some god forsaken desert.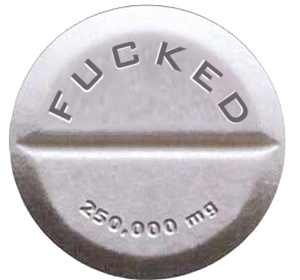 Take Jonah Goldberg, for example. Just a few short years ago, he was calling U.S. generals dishonest and arrogant. Now, he's literally trembling with make-believe outrage over MoveOn's ad on Gen. Petraeus.
How did he do it? He got F.U.C.K.E.D, that's how!
Just take one look at Vice-President Dick Cheney. Oft times, he literally falls asleep during important meetings, but get him in public, and he's truly F.U.C.K.E.D! He's got faux outrage coming out of his ears, growling and snarling like a pit bull with a bad heart. Then in the morning, he awakens refreshed and continues his plan of murdering every last Muslim on the planet. Now there's a conservative that's truly F.U.C.K.E.D.!
So remember, don't let liberals paint you as warmongers that could care less about human life, the Constitution, the military, or anything. Sure, that's who you are, but don't let the liberals make a big deal about it.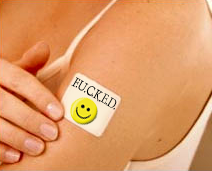 Real emotion about human life is for the weak and liberal. So don't get mad, get F.U.C.K.E.D.!

Warnings: Do not exceed recommended dosage. F.U.C.K.E.D. could cause nonsensicalness, hubris, arrogance, self-hatred, hysterical blindness, impotence, Epstein-Barr Disease, intestinal cramps, glaucoma, bleeding gums, spontaneous penis detachment, botulism, and a variety of other ills. Ask your physician about more information on getting F.U.C.K.E.D.
–WKW
And thanks to Melissa for the graphics!