Hurricane Katrina caused 124 oil spills
The list of outright lies that Republican Bush followers are willing to spew has always been quite impressive. From gloating that the U.S. hasn't had a terrorist attack since 9/11 to the relentless lies about warrantless eavesdropping, Bush's attack crew has made it clear that even truthiness is too much of a challenge and that blatant lying is more effective. And their hyper-fringe base loves it.
These days, with gasoline prices on everyone's mind, Republicans have pulled out at least two lies that they will repeat regardless how often they are called on them – that China is drilling for oil offshore of Cuba (they're not) and that Hurricane Katrina didn't cause any oil spills.
The second one is really the most egregious. Because Hurricane Katrina caused oil spills. More than 100 of them. Here's a satellite picture of the Gulf Of Mexico after Katrina hit, courtesy of SkyTruth.org. See if you can see the oil.
Or here: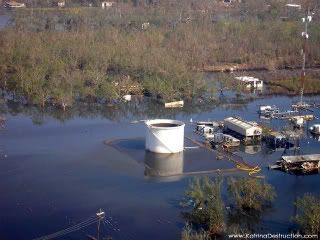 Are things better for you now than they were eight years ago? Is the Earth in better shape? Is the U.S. in better shape?
Radical Republican policies have made you poorer, less secure and less free> They have left the economy in shambles. They have destroyed the environment. They have made the United States a nation to be feared rather than respected.
And they will lie cheat and swindle to do whatever they can to avoid taking a speck of responsibility for any of it, and they will do all they can to rewrite recent history.
Don't let them. Hurricane Katrina, and Rita before it caused oil spills. To say otherwise is a blatant lie. And real Americans just can't afford to let those lies become public perception.
–WKW