Ronald Reagan: The worst President in United States history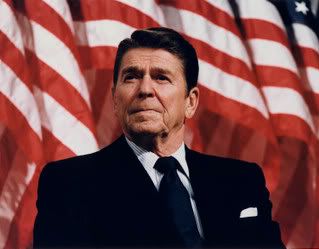 You're aware that this is all Ronald Reagan's fault? It's as simple as that. The ball that is now rolling over world economies was given it's first push by the 40th President of the U.S. And because of that, it's very safe to make this claim: Ronald Reagan was the worst President in U.S. history.
While conservatives like Newt Gingrich and John McCain worship Reagan far more than they worship Jesus Christ, the fact is that everything bad happening to the U.S. – both domestic and foreign – can be traced back to Reagan. And conservatives who invoke Reagan's name as if he was some type of savior are clearly worshipping a false prophet.
Reaganomics: How much more evidence do we need to see that Reagan's "trickle-down economic" plan was not just inept, but outright treasonous. Massive corporations have run wild, leading to a massive savings & loan disaster, Enron collapsing and the current complete breakdown of the U.S. financial system, among other things. Reagan worshipped an ideologue – Milton Friedman – and the two of them have been elevated to God-like status by many. But the U.S. economy is now a false front for criminal enterprises that have dried up the nation's assets. That's Reagan's work.
Starve the beast: It was Reagan who started the "starve the beast" plan that encouraged lawmakers to run up monumental debt so that entitlement programs could be killed off and we could all lie in a free market free-for-all. With the U.S. now so ridiculously in debt, the government is about ready to be drowned in a bathtub. As are millions of taxpayers.
The original Neo-Con: The neo-conservative movement was born under Reagan. The Constitution ceased to matter as Reagan declared the first "War on Terror." Because if you attacjk Grenada with the largest military known to man, you might be a neo-con.
Add to that the criminal Iran-Contra affair, his war on unions (thus leading to decades of stagnant earnings for American workers), his hatred of AIDS victims, and his creation of a U.S. police state and the picture gets very, very clear. The United States is far less respected, much meaner, poorer and more at risk because of Ronald Reagan.
Sure, it's easy to say that George W. Bush has been the worst President in U.S. history. But all he's done is follow Reagan's game plan. Bush's legacy will read that – like John McCain – he was a Reagan Revolutionary. Because Reagan started it all. And all you have to do is open a newspaper to see what Reagan wrought. Ronald Reagan was the worst President in U.S. history, and today we are living his legacy.
–WKW