The CyClone Dairy Hoax leads to "Food & Water Watch"
Having already concluded that CyClone Dairy – a dairy that supposedly gets its milk from cloned cows – is a hoax, I was a bit flummoxed on how to find the anonymous hoaxers who were behind it. Luckily, a commenter on a DailyKos dairy seemed to unlock the secret. Here's what Addison discovered:
Check out "Linda" here as compared with Claudia here and here.
The photos Addison linked to are:
"Linda" at CyClone Dairy.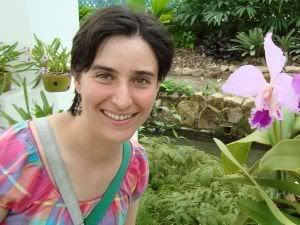 "Claudia" at Food and Water Watch
"Claudia" at Food and Water Watch.
Clearly this is the same person, used in the same role on both sites. Addison also added that Food & Water Watch is in the middle of a "Know your milk" campaign.
Adding to the circumstantial evidence is the fact that Food & Water Watch are strongly opposed to cloned animals.
It is their interest in cloning technology that truly makes this recent blog post stand out, as writer SofiaB reacts to this remarkable new dairy (the site went on line in Jan. 2009) with absolutely no skepticism whatsoever:
You've got to hand it to the CyClone Dairy people. They've decided that, rather than hide the fact that they use milk from cloned animals and their offspring, they'll brag about it instead and hope that people assume that their positive attitude comes from a product that's been proven "safe." Unfortunately, the reality is quite the opposite of the website's cheerful photos and catchy slogans.
More circumstantial evidence from the above blog post: SofiaB's post is the first to mention CyClone Dairy. First, period. There's not a word about "CyClone Dairy" prior to that March 19 post. And, the two videos for CyClone Dairy on YouTube were both posted just four days ago.
While circumstantial evidence doesn't prove anything on its own, a lot of circumstantial evidence usually gives one a good idea. I have made a couple phone calls to Food & Water Watch and sent an e-mail to them, as well. I hope to hear from them, especially if they have a denial (which thus far is apparently their stance.)
But unless that happens, my final conclusion on the matter is thus: CyClone Dairy is an invention of Food and Water Watch. There is no CyClone Dairy, and Food and Water Watch are using the site and the ads to drum up interest in the currently non-existent debate about using cloned animals in the food supply.
See update with Ben & Jerry's info here.
–WKW