Ben & Jerry's the final piece of the CyClone Dairy hoax?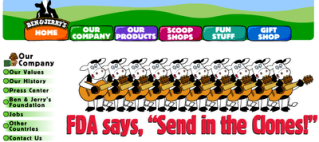 Ok, while I know I promised I was done with this subject, I just received a comment that seemed to make one final connection in the case of the pretend "CyClone Dairy," a non-existant dairy that says it produces its milk from cloned cows.
"There is a certain large socially conscious company involved that will make sense once it comes out," said Joe Blow.
This sent my mind directly to one company – Ben & Jerry's.
Earlier I had pointed out that a design company called Vermont Design Works had been involved on the project. So a small part of this is the fact that Ben & Jerry's is in Vermont.
Another part is that Ben & Jerry's is strongly opposed to cloning animals.
The final part is this: Ben & Jerry's works with Food & Water Watch … on cloning issues.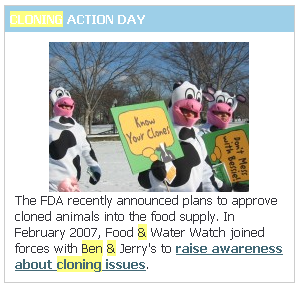 I have a call into Ben & Jerry's but don't really expect a response. And it doesn't change my final conclusion about the CyClone Dairy PR campaign, it just means that I've come to believe that Ben & Jerry's is the main cog in its engine. I still believe it's an amateurish campaign. I still believe it will all unfold Wednesday, and I still believe that Food & Water Watch is involved.
But don't be surprised if you see that Ben & Jerry's is involved, as well.
Update: Oh, and I forgot to mention this: The first comment on the first post ever about Cyclone Dairy:
Posted by Ben & Jerry at 2009-03-24 15:16

It is satire.
Update: Well how about that.
–WKW