Sam E. Antar: From Crazy Eddie to Patrick Byrne's worst nightmare
Feel free to call Sam E. Antar any name in the book. First, you can't do any worse than Overstock.com CEO Patrick Byrne's online hit men. Second, he just doesn't give a whit.
"I have a criminal background. That's what drive them nuts," said Antar in a telephone interview. "They can't get me like [financial journalist] Herb Greenberg who's lived a boy scout life."
Yes, Sam E. Antar is a crook. Just ask him, he'll tell you. But Antar, one of the architects of the great "Crazy Eddie" fraud of the 1980s, is a reformed crook who now spends his time as a corporate fraud watchdog. And of late, the biggest case on his plate involves Overstock.com and what he sees as their shady – if not outright fraudulent – accounting practices.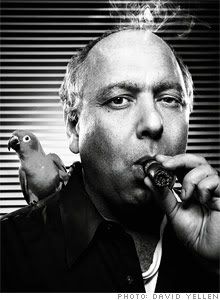 But while Antar is hot on Byrne's corporate shenanigans, Byrne and his collection of online smear merchants – including PR specialist Judd Bagley and former journalist Mark Mitchell – are after Antar personally. Thus far, they've been prolific in their attacks against him, attacking Antar's past, as well as his ongoing divorce proceedings.
The attacks generally take place at Byrne's two Web sites – DeepCapture.com and AntiSocialMedia.net. But they also take place on a collection of Internet Financial forums or in e-mails to Antar, and they often cross the line from attack to outright threat. Some of the attacks:
Actually, Sam, I'm having a blast figuring out what you did to get the judge — who knows you very well by now — to grant your wife's request for a restraining order AND a protective order against you today.

Wow. That's quite an accomplishment."

Sam, Here's another saying for you: it's not cool for a man to threaten a women. Just don't do it. Here's some advice: settle the suit…give her whatever she wants. Because if it goes to trial, I'll probably attend.
"On behalf of your family and in the interest of your own employability I ask you to please never visit ASM again. I'll email you new articles when they come out."
Of course, vicious attacks are apparently a big part of Byrne's management style. After all, when Bethany McLean – who brought the Enron Scandal to light – wrote an article titled "Is Overstock the Next Amazon," Byrne sent her an e-mail:
"I actually thought it was crap…. So, why exactly did you become a reporter? Giving Goldman traders blowjobs didn't work out?"
So while Byrne and his minions respond to any bad press by attacking the messenger and avoiding the facts, there is one major glitch in their smear campaign: Antar views it as weakness.
"They think that it bothers me. These are really, really scummy people," said Antar, 52. "When somebody attacks you rather than defend their financial disclosures, that's a red flag. Ultimately they will implode."
And Antar isn't afraid of a little name-calling himself, though usually accompanied by a torrent of facts, such as this posting from March:
You[r] little recent side show is making you the laughing stock of corporate America (except among your cronies who feed off of you). You have defrauded shareholders of your company and you are now trying to deflect attention away from your illegal acts. You don't need a baby sitter any more. You need to hire a criminal lawyer.

Your lies about Overstock.com's financial performance have been documented as far back as 2000.

Overstock.com has restated financial reports from 2003 to 2008. Reports from 2003 to 2005 have been restated twice!

The SEC discovered that your company did not comply with GAAP for revenues since inception.

Overstock.com used a non-compliant EBITDA to materially overstate its financial performance in violation of SEC Regulation G, despite management's assurances to the contrary.

Overstock.com violated SFAS 154 and improperly reported a Q4 2008 profit in violation of GAAP.

Overstock.com has violated SEC disclosure rules by failing to file "implicit waivers" of your violations of the company's Code of Ethics in violation of the Sarbanes-Oxley Act.
When Antar speaks of violations and fraud, he truly knows from which he speaks. In 1980, having earned an accounting degree and worked with Penn & Horowitz, he joined the family business, Crazy Eddies. The company, already neck deep in fraudulent activities looked to Antar for helping to hide unexplainable deficits. Antar joined the fraud with relish, but within a few years, the fraud began to unravel, and the Antar family's duplicity became more and more public. By 1989, the company began it's final collapse, and the SEC began leveling charges against all involved.
For his part, Antar eventually began working with the federal government, exchanging his testimony against his Uncle Eddie Antar. When the dust settled on the estimated $80-million fraud, Antar pleaded guilty to three felonies and was instead sentenced to six months of house arrest, 1,200 hours of community service, three years of probation, and was given more than $10,000 in fines. Afterward, Antar is straight-forward on how it all turned out.
"The Antar family split into two camps," said Antar, pointing out that while those like his cousin made a fortune from the fraud, those like him and others in his family profited much less from the crimes. "The have-not Antars cooperated. I should have gotten five years."
Many who know and have worked with Antar since the Crazy Eddie's fiasco have kind words for him, and believe that he may still harbor some guilt for his past crimes.
"Sam doesn't give himself enough credit for changing," said financial journalist Gary Weiss. "I think that by most measures he can be called a 'reformed' felon, but he really bristles when he's called that. Sometimes he self-flagellates too much."
Bristle Antar does, especially when the word "redemption" is tossed around regarding himself.
"Redemption is more for the victims," said Antar. "You are what you are. You are the sum of your experiences. I committed the crimes for fun and profit."
On his Web site, WhiteCollarFraud.com Antar puts his past, his acceptance of his crimes and his philosophy for taking responsibility for them on the front door.
I was the government's key witness in both the criminal and civil prosecutions. I also fully cooperated with all civil plaintiffs in the prosecution of their claims. I make no excuses for my criminal conduct. Nor should I receive any praise for my cooperation.

I take full and complete responsibility for my actions and apologize to all the victims of my crimes. Also, I apologize to the other persons who would never have committed a crime, if not for my efforts to recruit them into the conspiracy and convince them to lie thereafter. Furthermore, I apologize to the government lawyers, plaintiff's lawyers, government investigators, and plaintiff's investigators whose efforts in prosecuting the truth of the crimes at Crazy Eddie were hampered by my willful stonewalling prior to me relenting and later deciding to cooperate with the investigations. I apologize anyone I deceived, directly or indirectly, including but not limited to the shareholders, employees, creditors, public accounting firms, Wall Street firms, financial analysts, the press, etc.

However, my apologies, acceptance of responsibility, and the punishment imposed upon me by the court is not enough.

I believe that acceptance of one's personal responsibility for past actions must be accompanied by corrective action and not include exploitation for personal gain.
Antar credits the federal investigators he worked with helping to turn from criminal to corporate watchdog.
"If anyone shaped my life, it was the government people I dealt with. When you talk with people that are sincere, it impacts you," said Antar. "You start to learn mutual respect, and after awhile you learn there's a different life out there."
And while he admits that he's struggled with the separation and divorce proceedings with his wife – who he nonetheless praises for sticking with him during the Crazy Eddie scandal – life isn't so bad these days for Antar. He recently moved from his life-long home of Brooklyn to Manhattan and says he's in better physical and mental shape than he's been in years.
Antar, who said he made money in real estate following his release and is financially stable, spends his days now researching corporate fraud and giving talks to companies and schools. Antar figures he does about 30 speaking engagements a year – accepting no compensation.
"I never charged anyone any fees whatsoever, period," said Antar in an e-mail exchange. "I pay all travel out of pocket, so no one spends a dime on me. No one pays me to write about any company."
And while Antar bristles about redemption, there's no doubt that his unique set of experiences and tireless dedication in going after corporate makes him a force to be reckoned with, says Weiss.
"One thing I will say about the guy is that he is persistent and that he hates crooks, charlatans and fakers, as Patrick Byrne and Judd Bagley are discovering," said Weiss in an e-mail. "He sees himself in them, that is the Sam Antar who fleeced investors at Crazy Eddie, and he sees in them the same mentality and even some of the same kind of accounting tricks."
So while Byrne and his crew lob personal attack grenades at him, Antar said he knows he's on the right track, and that Byrne's public crusade against naked short sellers are of no import.
"I'm not saying naked short selling is a problem or is not a problem," said Antar. "It's irrelevant. How does that justify what he's doing?
"(Byrne) is a masquerading stock market performer who has built up a wall of false integrity," said Antar. "The restatements killed them, it finally put the nail in his coffin and it will finish him. I have them dead to rights on this issue."
More Reading
–WKW