Statement from William K. Wolfrum: "GOP must look forward and follow the Conservative lessons of Thag"
William K. Wolfrum made this statement to his supporters at 3 p.m.
"My friends, we are living in perilous times. The Republican Party is at an all-time low. Morale is low. Distrust is high. Happiness is down. Cholesterol is up. Now, more than ever, it's time for the GOP to gather itself up and look forward. Forward to a time of trust, morality and good cholesterol. Like you find in fish oil.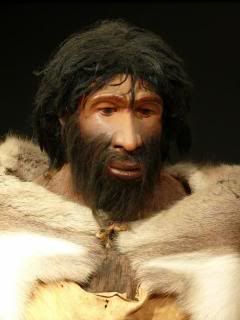 Starting today, the Republican Party must look forward and define it's vision. But to do that, we must first look backward. Back toward a time when being a conservative truly meant something. We must look back to look back to look forward. Back to the only Conservative that truly held the beliefs we cherish. Yes, I am speaking of Thag.
More than 500,000 years ago, Thag was a great leader of the nomadic Neaderthals. He not only preached strong conservative values, he lived them. You see, Thag was a hunter and gatherer with the ability to use rudimentary tools, such as , say, a hammer made out of rock. Thag was both a fiscal and social conservative. There were no gay marriages in Thag's time, which was an economic boon to his followers. Under the leadership of Thag, Neaderthals fought off the scourge of socialized medicine, and lived on average to the ripe old age of 25 or so.
More than just being a fiscal and social conservative, though, Thag was strong on defense. Using sharp sticks and stones, Thag believed that it was always best to take your fight to the enemies. Also, Thag understood energy and food issues, as he and his neanderthal brethren could more or less control fire, and would eat each other when food ran low. For this, his people grew strong and prospered, and dominated all other humanoids up until they just up and disappeared from the planet.
My friends, by following the lessons of Thag, the Republican Party can proudly step forward and be the party it was meant to be. A party of hunters and gatherers that can use rudimentary tools and spears and that will resort to cannibalism out of both necessity and fun and will eventually completely go extinct.
So let us all now look forward. Forward to a half-million years ago. Forward to a time when Thag and Ronald Reagan walked this earth and held strong to conservative principles. As Thag himself said, "Bwarrraarghhh!!!"
His were grunts and screams we could believe in, and by following these guttural sounds, as well as his conservative beliefs, we can take the Republican Party to its ultimate destination – in a museum where it can be studied and dissected by scientists.
God bless you all and God Bless America."
–WKW