Naked Short Spellers are destroying the quality, profitability of my blog
William K. Wolfrum made this statement to supporters at 3 p.m.
"My friends, as many of you may have noticed, there has been a huge drop off in the quality of my blog posts over the past few months. Due to this, there has also been a drop in profitability for this blog, as well.
Myself and the Wolfrum Alpha Research Squad have spent countless hours trying to find the reasoning behind this current slump. Obviously, we first looked at myself and whether I was doing enough to make this blog both enjoyable and profitable. We quickly realized that this issue has little or nothing to do with me. I am still operating at a very high level.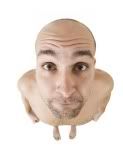 Once we realized it couldn't possibly be me, the man who controls all aspects of the blog, we stumbled across something. Something big. I'm speaking of "Naked Short Spellers."
Right this very moment, I can say without one bit of hyperbole that "Naked Short Spellers" are the greatest scourge in the entire blogosphere, nay, planet.
This is an incredibly complicated subject that requires graphs, slide shows and professionals to explain. But here's a quick summation: These Naked Short spellers anonymously take control of my blog posts. Then, they send these blog posts to Panama, where they go through a vast re-spelling process, before being sent back to the United States. Thus, the posts you see here at William K. Wolfrum Chronicles often include horrifying misspellings and sometimes cannot be deciphered at all.
Also, the Russian mafia is totally involved, as is a shady figure that I will only refer to now as the "Spliff Lord." The "Spliff Lord" is the puppet master of these "Naked Short Spellers." As I said before, and cannot stress enough, this is the greatest scam on the history of the planet. And the mainstream media won't pay any attention to it, often claiming that I'm far too poor a speller and person to be believed. They are of the mistaken belief that my many blogging restatements over the years are somehow related to me. But as we all know – the person in charge of a blog is rarely at fault. It is always nameless, faceless villains that cause problem at a blog.
As an aside, I'm also pretty sure Goldman Sachs is screwing this blog over somehow. Ask Matt Taibbi. He knows.
My friends, this blog, and countless other blogs like it, are being systematically destroyed by Naked Short Spellers. What this nation needs is a full-scale investigation into these Naked Short Spellers. Money should be no object.
In the end, let me just say this: The quality and profitability of this blog are being destroyed by outside sources. It's not me. I'm still great. It's the Naked Short Spellers.
And anyone who doesn't believe me is a dick.
Thank you for your time and I have retained counsel on this matter."
–WKW