Senate Republicans filibuster family's dinner
AKRON — Edward Crone and his family had just finished saying grace and were prepared to begin eating dinner when Senate Republicans – led by the retiring Jim Bunning – burst through the door and threatened to filibuster the meal.
"We see no way that the Crone family can possibly pay for this meal," said Bunning. "If the Crone family can't offset the price of a meal, what will they offset."
Caught off guard, Senate Democrats said they had no choice but to cancel the Crone's dinner, as the mere threat of the filibuster was an unbeatable weapon against them.
"Our hands are tied. Tied, I say," said Senate Majority Leader Harry Reid. "The Crone Family will just have to wait this out until we make the deals necessary to end this filibuster threat."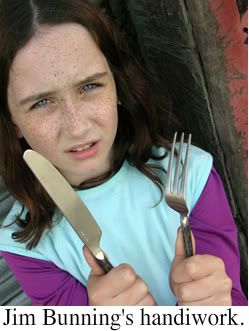 The Crone Family's response was one of surprise and outrage.
"But I'm hungry," cried Annie Crone, 6.
The meal, which consisted of meatloaf, whipped potatoes and peas, was left to sit on the dinner table as the Crone's were ordered out of the dining room. Later in the day, the Crone's landlord, Timothy Johnson, came in and devoured the meal by himself.
The decision to filibuster the meal fell on Bunning, who – after examining the finances of the Crones – stated that it was time for the family to be responsible for their own meals.
"Mr. Crone has been out of work for 23 weeks now and I'm pleased to say his unemployment benefits are through," said Bunning. "He got a hand out from his father to buy the meal, which is against everything this nation stands for."
For his part, Edward Crone said he would abide by the GOP's decision.
"I've looked everywhere for a job to support my family, but there's just nothing out there," said Crone, a construction worker. "It's all my fault."
The filibuster also triggered a 21 percent cut in Medicare fees to doctors effective immediately. The American Medical Association said the cut off risks a "meltdown" for seniors. Still, Bunning was unapologetic, flipping off little Annie Crone as he escaped the house.
"If Crone can't find $10 to pay for it, then they're not going to pay for anything. The debt that they have arrived at is unsustainable," said Bunning, who later compared the filibuster to "chin music" necessary to get Edward Crone off his butt and get back to work.
"This is America. Crone had his chance and failed, let them go hungry," added Bunning.
–WKW