William K. Wolfrum's Morning – June 25, 2010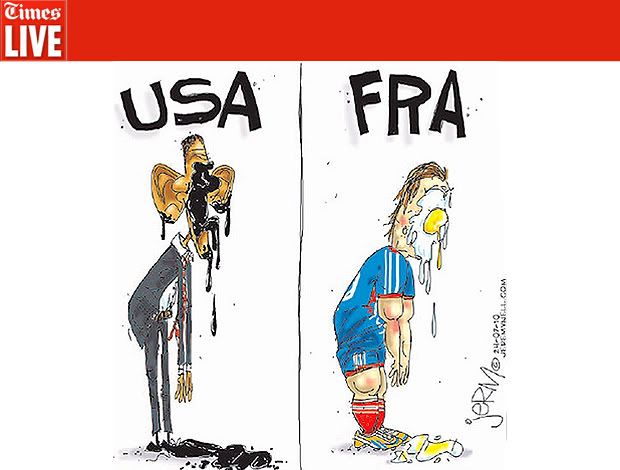 From a South Africa newspaper, which is apparently overcome with schadenfreude.
News
Republicans Win: Showing their ability to be fiscal conservatives, the GOP just saved America from adding .00043 percent more to the federal deficit. The downside: The unemployed and States are now totally screwed.
Justice for the Rich: The Supreme Court has ruled that the U.S. has no business imprisoning rich folk like Conrad Black and Enron's Jeff Skilling. Or something like that. No word if SCOTUS overturned Ken Lay's "death."
BP Money Woes: Oil is still gushing into the Gulf of Mexico, but that's become an American Tradition already. The big news: How on earth wil British Petroleum be able to afford the exorbitant clean-up prices?
Financial Reform Bill: The financial reform bill is just about ready to go to Congress. See what the Republicans will filibuster to death here.
The Cove to Play in Japan: Despite protests from Japanese who believe dolphins are theirs to kill, The Cove will be shown in Japan (see my interview with The Cove director Louie Psihoyos here.)
Also: Sarah Palin defense fund ruled illegal, SCOTUS rules that names on petitions are public record, BP handles sea turtle dilemma by burning them alive, House passes law to force corporations to disclose campaign ads, again, will be filibustered to death in Senate.
Sports
New World Cup Rule: The Vuvuzela is no longer the best and most-hated word in the World Cup. The new leader – Jabulani. See what they're saying about the official World Cup ball.
Arrivederci, Italy: They left the World Cup with more class than the French, but they still left. Italy's loss to Slovakia means both finalists from the 2006 World Cup couldn't get past the group stage.
Blogs
San Francisco Bay Guardian: What the "Defund ACORN Act" is really about.
The LeftNeck Chick: Near a beach? Head on down and join a "Hands Across the Sand" group to make a statement about the U.S.'s addiction to oil.
Whiskey Fire: If you report on Conservative issues for the Washington Post and say mean things about Matt Drudge off the record, you should know what to do – apologize as you've never apologized before.
Shakesville: Still struggling from the January Earthquake, Haiti has become "an ideal climate for rape."
Tweet of the Day
"Breaking: Dead citizens in Afghanistan announce they could give a shit as to who's in charge of killing them."
Video of the Day
Finally, transportation made easy:
–WKW