Make money The Huffington Post way with Sexism, Hyperbole and Woo
Being one of the most influential bloggers on the planet is no easy chore. The endless 18-hour work days can be hard on myself, and my family. Plus, the mainstream media and much of the general public have almost no respect for bloggers. And the pay is horrible.
Now, for the first two issues, there's little I can do. I am dedicated to the craft, after all. But for the money part, I have learned that there is one thing I can do to make this blog lucrative. And that's what I'm going to do.
I'm going Huffington Postisize this bitch.
After having read Newsweek's recent article on The Huffington Post, I saw how Arianna Huffington has turned her vision into a $30-million-a-year site that is now turning a profit. But what I didn't see in the article were the three main strategies that made The Huffington Post the powerhouse it is today:
Sexism, hyperbole and woo.
And I can do all three of those things. In fact, I can two two of them right this very moment:



Angelina Jolie In Nipple Tape, Dog Leash, Heroin Bender!!



And Brad Pitt has no idea!!! Here he is without his shirt!!!
Ka-ching.
Now the "woo" part has several variations. For Huffington, that means slathering her site with a healthy dollop of herbs, pseudoscience, and stories that any right-thinking editor would toss in the trash. Not our Arianna, though. Her and her crack squad of woo finders are constantly scouring the Internet for nonsense. If it's not Jim Carrey telling you not to let your kids get vaccinated, it's some quack telling you that sunscreen is a plot by engineered by the ruthless bastards at Big Pharma.
So for the first part of my woo conversion, I happened to find a random comment on a science article that I can use to full effect:



Reuters: Large Hadron Collider Will Kill Us All!!!

A shocking New article out from Reuters tells us what we've long feared – the Large Hadron Collider will fulfill the Mayan Prophecy!!

"Yes, 12/21/2012, we will have 'new physics'… end of the world (as we know it), unified theor(ies), cheap power, star flight, time travel, beam me up Scotty… or… we press God's doorbell followed by a not-so-mini Big Bang… and through the black-worm-hole door, going to the 'dark side' of matter/energy, anti-Luke! Huh, huh," wrote commentating expert RRrrr.
Then top that off with a heaping of more sexism, somehow tying into the story …

And voilà, I somehow managed to get all three main strategic money-making strategies into one story.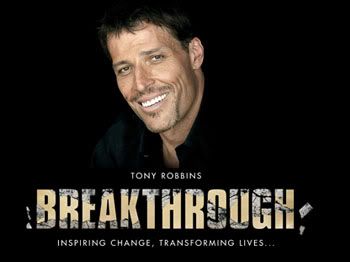 Now, the final part in the "woo" strategy, is just to go apeshit insane with the madness. For Arianna Huffington, that means dedicating an entire section to self-help rip-off artist Tony Robbins. In this way, she helps herself make money while helping Robbins make money promoting his banal TV show and by selling his bullshit words and products to people who should be spending their money elsewhere.
And, hell, I can give you words of positivity:



William K. Wolfrum's Breakthrough Secret of Happiness And Sunshine And Profit!!!

Hi, I'm Self-Help Superstar William K. Wolfrum, and I know the secret to life and you don't. Have you had hard times in your life? Are you struggling to kick drugs and make money? Well, let me guide you with these simple steps:

1) Believe in yourself.
2) Enough with the drugs, already.
3) Cut me a check.

If you just follow these three steps, happiness is guaranteed. If you fail, it's because you didn't follow them correctly and probably blew off step No. 2. But if you just believe, it will happen. The universe is your oyster. Yours. You. Believe. Herbs. Secret. Happiness. Cash. Kim Kardashian.
So, my dear readers, welcome to the new site. From now on, it's all sexism, hyperbole and woo. Because, like Arianna Huffington, I'm convinced my readers are morons. And they're all helpless to this unstoppably profitable three-pronged strategy.
Sexism, hyperbole and woo. This just can't miss. Now I just need some venture capitalists to throw $20 million at me. I believe. I believe. I believe.
–WKW