William K. Wolfrum's Morning – Good Boy, Jorge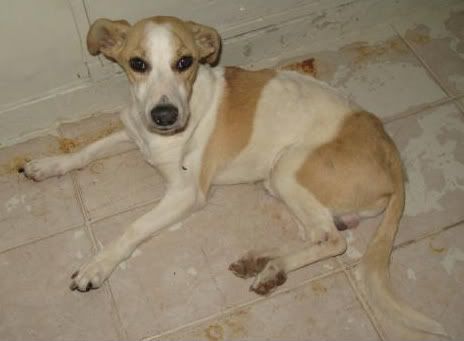 Good boy, Jorge. Go play.
Wolfrum's Words
A couple weeks ago, a very sick little street dog showed up in front of my house. He was sweet and always would follow me when I would check on him, despite terrible tremors in his back legs. I couldn't let him die there, so I took him to the vet. He had a terrible virus, and they started treating him. For a few days, he seemed to be improving, but he started to fade and the virus returned. This morning it was time for his struggles and suffering to end.
His name, ever-so briefly, was Jorge. He was one of millions of street dogs here in Brazil. And the U.S. has its own pet overpopulation problem that has only been exacerbated by the economic crisis. There are more and more Lost Dogs and cats in America. There are more healthy dogs and cats being euthanized for lack of a caretaker.
Please, now more than ever, spay and neuter your pets.
News/Politics
DADT/Defense Bill: The Republicans filibustered the National Defense Authorization Act. They hate our troops. That's how the GOP would frame it.
Health Care Reform: More health care reform benefits kick in tomorrow. Which is why Republicans are using the day to announce their agenda.
End of Summer: Larry Summers is out as Obama's economic adviser, starting in Nov. Who takes his spot?
DREAMing: Were you the child of an undocumented immigrant and you served in the armed forces? Well, Republicans don't want you to be a U.S. citizen as they stall the DREAM Act.
Obama's Wars: Obama gets the first of his Bob Woodward treatments.
Blogs
Joe.My.God: Someone sent Joe a hate-filled comment. And that someone works in a Republican Senator's office.
Crooks & Liars: Fox News taking video of Obama and showing it completely out of context? The hell you say!
The Wonk Room: Yes, John McCain, the U.S. Military does seek out gay and lesbian soldiers and search private emails to try to out and fire them.
LitBrit: The homophobes on the Right are scary and demented people.
–WKW