Federal Judge Rules Capitalism Unconstitutional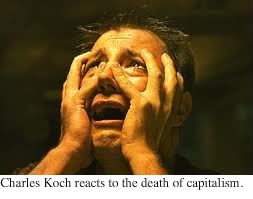 AMERICA – A Federal Court in Florida has struck down Capitalism, ruling that the requirement for individuals to live under any type of economic system is unconstitutional.
U.S. District Judge Roger Vinson in his judgment ruled that the so-called economic system known as capitalism exceeds congressional power.
"The Congress does not have the power to compel an individual to live under any economic system," Vinson said.
"If Congress can force people to buy and sell products or property for a profit, we would have a Constitution in name only," wrote Vinson. "Surely this is not what the founding fathers could have intended." Vinson wrote.
Vinson added that "As a strict Constitutionalist, I see nowhere in the U.S. Constitution where Capitalism is even mentioned. The Founding Fathers were always right. Thus, Capitalism must cease and desist, effective immediately."
The ruling had a ripple effect throughout the nation, as money immediately became useless, debts became purely theoretical, and Wal-Marts had to start giving away all their Chinese-made products for free. China could not be reached for comment.
Former billionaires Charles and David Koch called the ruling 'Political activism at its most extreme," adding that "It's just a God-damned piece of paper!"
Both Republicans and Democrats in Congress – the vast majority of them millionaires – have railed against the ruling. U.S. Senator Rand Paul – well-known for his Libertarian values and strict Constitutional interpretations – said that the courts were just taking the Founding Fathers much too seriously.
"The founding fathers vaguely inferred that the U.S. is a capitalist nation," said Paul. "And even if they didn't, Christ, that was like 250 years ago. What did they really know about how things would be like now?"
With orders from Paul and the Koch brothers, Tea Party leaders are currently working on a plan to create a Constitutional amendment to abolish the U.S. Constitution.
Still, some were pleased with Vinson's decision. Noted anarchist Noam Chomsky said he agreed with the ruling.
"This is just friggin' awesome," said Chomsky.
No stay on the ruling will be allowed, and the U.S. Supreme Court – its docket filled with Health Care Rulings, Barack Obama citizenship issues, and fundraisers for conservative causes – has declined to take up the case.
Implications of the ruling are vast, including the elimination of all debts of all kinds, as without capitalism, debts become purely theoretical. for his part, President Barack Obama released only a 12-word statement.
"I just balanced the budget by throwing it away. Next problem, please," said Obama.
The news hit Wall Street hard, as the Dow Jones Industrial average fell 11,891.93 points.
–WKW