Wolfrum Chronicled: I'm Coming Out
13.
Ok, this book thing is starting to read like the ravings of a madman. Which is likely it's destiny, regardless, but I should at least try and create some type of plot. This story needs some plotification, I say. So please allow me to plotify.
Listen, I've spent almost the last decade building my brand. I am William K. Wolfrum, the brand. You'll find me right next to Tide and Coca-Cola. Unfortunately, I've spent the majority of that time in Brazil. This has made cashing in a bit more difficult. I'm a man between two countries, as it were. Thus, it behoves me to start spending some time back in the good ol' U.S.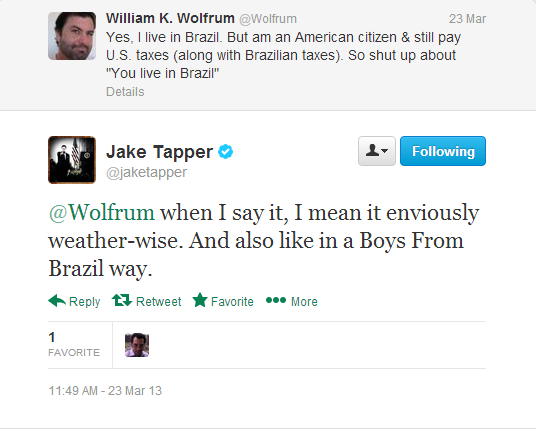 Yes, Brazil is fine and I'll likely spend most of my time down here. I have a bunch of dogs, after all. Nonetheless, now is the time to embrace what I have started. It is time to cash in. It is time to be more than just an online persona. It is time to come out.
The Summer of Wolfrum is coming, as I plan to go to the U.S. and get myself out there. I'll do work as a pundit or a comic or what have you. I've made the connections. I have the name. I have the game. And now I have a plot.
(Note 1: The full story can be found on the Wolfrum Chronicled Main Page.)
(Note 2: For an explainer on this project, please go here.)