I never thought this could happen to me …
My life was an ordinary one. My wife had left me two years earlier, taking the kids. My job with the cable company was unsatisfying but it paid the bills. I went to the bar three or four times a week. I played poker once a week with some guys I really didn't even like. I was a nobody.
Then I saw her.
I was at Walmart to pick up something to eat and maybe a puzzle. I had some time on my hands – ok, I always had time on my hands – and I wandered about the store. That's where she called to me.
She was long and sleek. Her power was undeniable, but her smouldering sensuality was undeniable.
"I'm AR-15," she said. "Call me Bushmaster."
Within minutes she was mine. I took her home that very night. And despite the irrational sexual tension between us, all I did that first night was sit her down and learn as much as I could about her. And there was so much to learn. She had, for instance:
An aircraft grade forged 7075-T6 aluminum receiver is lightweight, highly corrosion-resistant, and machinable.
A modular design that allows the use of numerous accessories such as after market sights, vertical forward grips, lighting systems, night vision devices, laser targeting devices, muzzle brakes/flash hiders, sound suppressors, bipods, etc., and makes repair easier
A straight-line stock design that eliminates the fulcrum created by traditional bent stocks, reducing muzzle climb.
A small caliber, accurate, light weight, high velocity round (.223/5.56x45mm)
A front sight adjustable for elevationA wide array of optical aiming devices available in addition to or as replacements of iron sights
A direct impingement gas system (as designed) with short or long stroke gas piston, or direct blowback operating systems available
And a 30-round capacity magazine.
We fell asleep in each others arms.
I awoke to see her lying still beside me, I rubbed my hand down her firm, perfect skin. I could see her react as I slowly entered a round into her chamber. She wanted this as much as I did. She was my dream, my love, my life. My hands exploring every part of her, I entered her again and again and again and again …
Finally, it was too much. It jerked as my finger stroked its trigger, and she went off with the power of a million angels screaming in ecstasy. I stared at her, hopelessly lost in love.
I love you, AR-15. You truly make me a man. I will never let you be regulated.
Seven-year-old shot by neighbor

SPRINGDALE – A 7-year-old boy was killed at 7:30 a.m. this morning after being struck in the temple by an errant bullet. The boy, Bobby Jenkins, was "instantly killed" after being struck by an AR-15 round fired off by John Timson, a neighbor of the Jenkins family.

Timson – who reportedly had just bought the gun just last evening – was taken into custody under homicide charges. He was reportedly led from his home naked and screaming incoherently.

The round went through the Timson's front window before striking the child and …
–WKW
TEXAS – Scientists at the University of Texas-El Paso have discovered that the human body will deflect bullets in a "legitimate" shooting.
"We have seen that, when the human body is stressed out and about to be legitimately shot, the bullet will not harm them," said Dr. Phil Gingrey. "The obvious conclusion is that people who do have a bullet enter their body actually want to be shot."
While many experts have expressed skepticism at the findings, noted human body expert Todd Akin said the conclusions were obvious.
"Guns aren't the problem, Bullet Whores are the problem!" said Akin. "These aren't victims, these are people who want to be penetrated by lead moving at hyper speeds."
–WKW
We women have had a rough few decades. The modern woman has to worry about pleasing their man or finding a man. We have to worry about children. We have to worry about our jobs and vaginas. But it didn't used to always be this way. Since the great feminist uprising came and washed away our self-respect and dignity, we women lived a far simpler existence. We indeed had it all.
Now don't get me wrong, I'm a feminist. I'm just not one of those feminists that gives feminism a bad name, according to people who despise and disrespect feminists. I'm a traditional feminist – I believe all women should have the freedom to have as many children as God will allow, while taking care of a man.
The problem now, however, is that men have just grown tired of us women. A Pew Research Poll indicates that women between the ages of 18 and 34 are more likely than men of the same age to rate having a successful marriage as important to them. This is because, after years of listening to icky feminists talk about v*ginas and all the sex they need pills for, men have just grown exhausted and now focus solely on sports and Internet porn.
No woman better showcases the "Bad Feminist that People Who Hate Feminists Really Hate" than Sandra Fluke. Her need for free abortion pills from the government sums up everything. That she is herself getting married ("To a man?" queried fellow woman Monica Crowley.") is one of the great mysteries of our time.  But Fluke is not alone. There are literally hundreds of other Flukes, all making demands.
The problem with these "We Demand Equality" feminists is that they have a profound affect on men, literally castrating them. As feminist Suzanne Venker recently said:
"The so-called rise of women has not threatened men. It has pissed them off," Venker writes. "It has also undermined their ability to become self-sufficient in the hopes of someday supporting a family. Men want to love women, not compete with them. They want to provide for and protect their families—it's in their DNA. But modern women won't let them."
Now, maybe I'm only a feminist woman who doesn't understand things like science, but this is DNA we're talking about. DNA.
As a woman, and as a feminist, I see that modern feminists are destroying men, thus destroying any chance of marriage for true women feminists like myself. Men are never going to want to hear we women babble on about v*ginas and health care. It is time for the modern feminist movement to lower its expectations, because men can't change. It's sci*nce.
William K. Wolfrum is a freelance writer in Brazil. Her wife Emilia Wolfrum is fluent in three languages and holds a Masters degree in International Finance.  William K. Wolfrum enjoys sports and other "guy stuff."
My friends, America was born some 450 years ago in 1776 and has the documentation to prove it. Now, America has an expiration date – Dec. 31, 2012.
Yes, Christopher Columbus' great experiment in democracy is set to sail over a cliff – a "Fiscal" cliff, as it were. According to economics experts such as David Gregory, the fiscal cliff is a combination of tax hikes and budget cuts that will paralyze the economy and bring about such calamities as a return of smallpox, forced incest and insects of above average size, according to economic expert such as Jake Tapper.
As economic experts such as Scott Pelley and Lloyd Blankfein have noted, there is but one way to pave over the fiscal cliff and ensure the fall is lined with concrete is to cut entitlement spending. While people spend their whole lives paying into entitlements such as Social Security and Medicare, these entitlements are free money to an American public long accustomed to receiving free government largesse. This free giveaway of benefits that people have paid into must be curtailed, or America will fail, as falling over cliffs is almost always fatal.
My friends, since America won its civil war against Europe, it has long fought to be more like Europe. Currently, Europe is continually cutting benefits and forcing austerity measures on its people. This is causing the economies of many European nations to contract, which, as non-partisan organizations such as Fox News have pointed out, help save economies and keep insects at their normal, smaller size.
The truth is obvious and unavoidable – if America falls over the fiscal cliff, all Americans will die, as politicians will lock all emergency exits and burn the place to the ground. This can only be avoided if all Americans who make less than, say, $250,000 a year start feeling the pain.
As Founding Father Abraham Lincoln once said, "A nation divided cannot afford to take care of anyone who makes less than, say, $250,000, without falling over a fiscal cliff and bringing about such calamities as a return of smallpox, forced incest and insects of above average size, according to everyone at CNBC. Also, tax hikes are off the table."
The time is now, America. Because the cliff is coming. And if we fall over that cliff, we will all drown in the seas of fire. It's time we become educated about it.
–WKW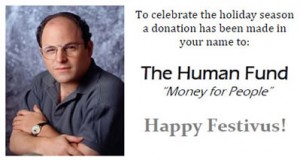 WASHINGTON — Stung by criticism over using a soup kitchen for a staged photo op that showed him washing dishes that were already clean, Vice-Presidential candidate Paul Ryan has announced he will be making a large donation to the Human Fund.
"I understand the outrage some feel over the soup kitchen incident, and I want to show all Americans that in my heart, I am a charitable person," said Ryan. "This donation should really make people forget that other stuff."
The Human Fund was created in 1997 from a grant from Kruger Industrial Smoothing. While records of its charitable giving are sketchy, the organization contends it provides "Money for People." Despite the fact that the Human Fund is connected to the controversial holiday Festivus, Ryan said he was proud to support the charity.
"While I can't say I celebrate Festivus, I must say the 'Feats of Strength' part of the holiday intrigues me," said Ryan. "Just this morning I did 1,300 sit-ups in 15 minutes and then lifted 100 pounds right over my head like it was nothing."
The director of the Human Fund, one G. Costanza of New York City, could not be reached for comment for this article.
–WKW
A new independent study at William K. Wolfrum Chronicles shows that William K. Wolfrum is correct about everything, all the time. The study is based on interviews with William K. Wolfrum. When asked for comment, Wolfrum said the study proves what he's been saying all along.
"People have often asked if I know what I'm talking about," said Wolfrum. "This independent study proves I do."
Using scientific methods that can't be discussed, the study by William K. Wolfrum Chronicles ends all debate about whether William K. Wolfrum has ever been wrong.
"This is obviously a trusted source," said Wolfrum. "I consider this matter closed."
–WKW
BOISE, Idaho — On the campaign trail today, Mitt Romney said he is considering voting for President Obama in the upcoming election.
"While I vehemently disagree with his stances on virtually all the issues, I may vote for Obama," said Romney. "People really seem to like him. As you know, I like what other people like."
Romney campaign official Eric Fehrnstrom later clarified his candidate's response.
"Obviously, Mitt will be voting for himself for President," said Fehrnstrom. "Unless he votes for Gary Johnson, which is always a possibility."
With scant days before Americans vote, polls have the election close, or have Romney or Obama winning handily. A new Gallup poll has Obama ahead 48 percent to 47 percent, while a Rasmussen poll has Romney leading 77 percent to 21 percent. All the polls have Obama handily winning the electoral vote.
–WKW
My friends, the 2012 election is about choices. It is the choice between the out-of-control socialism of Barack Obama and the steady professional leadership of Mitt Romney. Also, the Navy SEAL who actually shot Osama bin Laden lives at 112 Ark St. in St. Louis, Mo.
You see, this election is more than a choice between two men. This is a generational decision. Do want the nation of entitlement that Obama has ushered in, or do we want the America that is defined by hard work and individual responsibility? Also, there is an undercover CIA agent in Iran right now. He goes by the name of Mostafa Elham, but his name is really Bob Smith. He lives at 2165 East Evergreen Terrace in Tehran.
Do we really want America to be saddled with an enormous debt and be at the mercy of immoral nations like China? Or do we Americans want to be the strongest nation on the planet, unrivaled by any? And speaking of China, Xi Huang – a high-ranking government official – is actually an undercover CIA agent. He lives at 322 Springfield Drive in Taiwan.
Mitt Romney wants America to be the world's leader. Only through strength can we tame wild nations like Afghanistan. We shall not slink away, tail between our legs and hand victory to the Taliban – the same Taliban that includes undercover CIA operative Mohammad Al-Rahman.
My friends, the choice is clear. The way forward in America is through the steady, intelligent leadership of Mitt Romney and the GOP. So vote for Mitt Romney on Nov. 6, and remember, outgoing Afghanistan commander Admiral Jim Stavridis takes a walk between 8 a.m. and 9 a.m. on Main Street in Washington, D.C. Every day. Without a security detail.
God bless you all, and God Bless America.
-WKW
As a political blogger, I have long had a reputation as a pragmatic, level-headed fellow who often uses humor in lieu of shrillness. While I am proud of this reputation, it is one that has kept me from achieving the popularity I so rightly deserve. That is why, as of today, I will be changing my positions and attitudes to better take advantage of the current political atmosphere.
You see, with the U.S. election scant weeks away, I have yet to give my readers the passion, anger and outright falsehoods they truly desire. That is why, as of today, I will begin to produce blog posts that readers desire. In the upcoming days, I shall be releasing several new blog posts, including:
MITT ROMNEY WILL END DEMOCRACY IN AMERICA

MITT ROMNEY ONCE SHOT A MAN IN RENO AND DIDN'T BOTHER TO WATCH HIM DIE

MITT ROMNEY WILL FORCE ALL AMERICANS TO BE MORMON

MITT ROMNEY'S BEST FRIEND IS JERRY SANDUSKY
While I admit some of these posts are woefully short on facts, that is not an important factor in today's political scene. You see, when the media blatantly ignores a candidate's lies – especially when his campaign admitted he would lie to attract voters - then a strategy of just making stuff up is a sure win. No one will call me out on shrilly making things up. In fact, I fully expect the media to soon come out with stories that begin "Some are saying Mitt Romney's best friend is Jerry Sandusky."
Plus, let's face it, conservative bloggers have been getting amazing national exposure by just making stuff up, and none of them seem overly perturbed that their candidate is now taking less-than-conservative stances on issues. They know Romney needs to attract centrist voters, and they are willing to be in on the joke. It's time more liberals did the same, right?
Keep in mind, I am still the calm, thoughtful blogger I have always been. Following election day on Nov. 6, I will revert back to my normal style. I'd ask you, dear reader, not to tell anyone of my ruse, but being upfront about lying doesn't seem to matter much these days.
My friends, my adopting a persona and style that is false will help me get the attention and readership I deserve. I will win. And, in the end, isn't that what really matters?

–WKW
WASHINGTON, D.C. — A new Gallup poll today showing that a large percentage of Mitt Romneys think U.S. citizens are "jerks."
The poll – which took the opinions of one Mitt Romney over a 10-state area – showed some negative trends for the U.S. public. By wide margins, American citizens were thought to be "stupid," and "Jerks," and that they "should not be involved in the governing process.
Politifact gave the "U.S. Citizens are Jerks" belief a "Completely Totally Kind of Not True" rating. The poll has a +/- of three percent.
Another poll, this one released by Rasmussen Polls, showed the Romney has pulled into a slight lead of 46%-45% in a new poll of "People Who Have Been Personally Wronged By President Barack Obama."
–WKW
WASHINGTON – In its last action before recess, GOP representatives passed a bill through the House that would require President Barack Obama to send a personal letter to Al Qaeda leaders, requesting a large terrorist attack on a blue state of the U.S. in late-October. The bill passed across party lines.
"We feel that a large-scale terrorist attack on the U.S. and its citizens is just what America needs right now," said Speaker of the House John Boehner. "Just one devastating attack would be the end of this President, meaning lower taxes and more jobs would be on the way."
While the attacks of 9/11 brought the nation together, most experts agree that Republicans would turn on the President immediately if there were another attack on U.S. soil.
"From holding the nation's economy hostage to politicizing the death of a U.S. Ambassador minutes after he died, the Republican agenda is pretty obvious," said the anonymous expert. "They are loyal to modern conservative ideals and big business. Oh, and Grover Norquist. They're quite loyal to him, as well."
Amendments tacked on to the bill include the death sentence for any woman who has an abortion, a complete repeal of Obamacare and a 100 percent tax cut for those making $10 million or more per year.
"We just want America to go back to the good ol' days of 9/11, when a Republican was President," Boehner added. "This bill proves that the GOP is working to make America a better place."
The bill is likely to stall in the Senate, and White House sources said that President Obama would veto the bill if it made it to his desk.
Asked for comment, Republican Presidential nominee Mitt Romney said he would have likely phrased some of the wording in the bill differently.
–WKW
EL PASO – Continuing his assault against the President, Republican Presidential nominee Mitt Romney today accused Barack Obama of "sympathizing with Mayans."
"As the Mayans have foretold, the world as we know it will end any day now," said Romney, smirking. "And what does this President do? He says we should never speak bad about them. He sympathizes with Mayans as the world nears apocalypse."
The Obama Administration responded quickly.
"We have no idea whatsoever Gov. Romney is speaking of," said an administration source. "We are starting to believe our opponent has gone completely off his nut."
Ancient Mayan officials were unavailable for comment.
–WKW
DES MOINES – Appearing together on stage for the first time, Republican Presidential nominee Mitt Romney and former Vice-Presidential nominee Sarah Palin had harsh words for the administration of President Barack Obama.
"By even mentioning that he did not like an anti-Muslim video, Obama has put all Americans in grave danger," said Romney, smirking. "And when I say Americans, I'm not including troops overseas, because I'm only talking about important things in this speech."
Romney added that all speech of all types must be free, lest the United States become a totalitarian dictatorship.
"Who says you can't yell 'Fire!' in a crowded theater?" asked Romney, smirking. "I'll tell you who tells you that – communist dictators who aren't real Americans. People getting trampled by the invisible feet of the free market is what America is all about."
Palin, known for not making the cut at Fox News, gave an inspired speech that touched on several issues.
"I'm being censored! Todd! Free Speech! Trip! Salmon!," said Palin, as Romney smirked beside her. "Bristol! Blargle!"
The pair were only on stage together for two minutes, speaking to a crowd estimated at 7. Romney later smirkily added that he believes the phrase "Shoot first, ask questions later" should be in the U.S. Constitution.
–WKW
WASHINGTON – The re-election campaign for President Barack Obama has made a $1 million donation to the Mitt Romney campaign. The donation comes on the heels of Romney's recent foray into foreign affairs, accusing Obama of sympathizing with Islamic extremists, despite the fact that it never happened.

Sources close to the Obama campaign said they wanted to make the donation to give Romney more chances to appear on television so voters could see more of him.
"For a long time, we were worried about raising less money than the Romney campaign," said an Obama campaign strategist. "Now we realize that it is an advantage for us. The more people see of Romney, the better things look for Barack."
Romney – who when still and silent looks incredibly Presidential – has struggled with his mouth and thought process the entire campaign. From forgetting to mention the troops at the RNC Convention, to seeming completely detached to how much money he actually has, to blatantly lying about Obama's Presidency, and much, much more, Romney has put himself in line to be the worst Republican nominee for President since John McCain.
The Team Obama source said that it is obvious that Romney gets stupider the more money he has, thus it is vital for him to speak as much as possible these next two months.
"He looks good, but the man has no clue, and we want to hear more from him," said the source. "So we ask all Obama supporters to donate to the Romney campaign. Because the more people see Mitt, the more people will realize he has no business being anywhere near the Presidency."
–WKW
In the past several months, I have noticed that this blog has been rapidly losing its readership. I blame this on two major factors: 1) People are morons, and; 2) People seem to think that because I'm an Atheist, I do not love God.
There's not much I can do in regard to the first factor, but in regards to the second factor, I feel I must be honest with the public – despite being an Atheist, I love God. Just like you do.
My love of God is ridiculous. God is The Man, in my book. Everything about God is just super-fantastic and I will fight to my final breath to keep God alive at this blog. Because God is crazy awesome.
Some people have wondered why I do not blog more about the U.S. troops currently in war zones. Well, I feel that my love of God covers that issue. I love God + God loves the troops = I love the troops. This is infallible logic.
And, wow, do I love God. And Jesus. I really, really love Jesus. He's the tits, man. Did you know that you cannot get to heaven unless you acept that Jesus Christ is the most awesomest God of all the Gods? With the exception of God, of course. But still, Jesus is not someone to take lightly. He cured people. He was so cool, that people who never met him wrote a big-ass book about him a century or so after he died. That just rocks.
And the Holy Spirit? Well, I'm not sure what that's all about, but rest assured I love Him/Her/It as much as anyone on this planet today.
Not only do I love God and Jesus, and to a lesser extent the Holy Spirit, I will fight for them. For instance, I am against the government plan to take God off of coins and folding money. I am against the government taking God out of churches. Sure, neither of these issues have ever actually been brought up at the federal level, but when you love God the way I do, you take no chances.
Some may say that I am coming out as a God-lover in order to pander to my lost readers. Nothing could be further from the truth. I love God and always have, even though I deny his actual existence. So, in conclusion, I admit that I am, in fact, an Atheist. But don't mind that. Just know that I love God and Jesus. Just like you do.
–WKW