Let us remember that Eugene Zimmerman never hurt anything but the feelings of politicians.
Today's Reading
Political Wire: As his trial begins, John Edwards remains clueless.
Mother Jones: Obamacare being struck down will affect millions. Here are a few of their stories.
Dr. Cleveland: A reality check in the George Zimmerman case.
Eclectablog: Santorum's concession speech is the closest he'll ever get to an "It Gets Better" video.
Deadspin: Fired Arkansas football coach Bobby Petrino screwed up. Just listen.
This Just In
Via the lovely & talented Blue Gal.
Finally
Not all Georges are alike.
–WKW
Today's Reading
NYT: The long good-bye of Rick Santorum.
Gawker: Seems Fox News has a mole infestation.
Daily Beast: Mitt Romney doesn't even have a Black  friend.
This Just In
Worried about an attack of space aliens? don't worry, NASA has a plan for that.
Wolfrum's Word
That Rick Santorum got as much support for President as he did should scare the living hell out of the rest of the planet. Face it, Santorum was one Mitt Romney scandal to winning the Republican nomination.
Aside from his faux fiscal conservative history, what should scare the world is just how Santorum embraced theocracy – and was still getting votes. Making it worse is that Santorum is one of those people that picked up Catholic fundamentalism as an adult. Children who are bombarded by religion have an advantage – their teenage years. A time when they can become their own person with their own beliefs. For someone like Santorum, he's made his choice – he's a fundamentalist who believes the Bible has more sway over government than any Founding Father ever believed.
Rick Santorum would have devastated the United States in nearly every way possible. As the U.S. claws back from the George W. Bush years and slowly builds back its economy and national psyche, a complete radical in the White House would take unemployment, wealth inequality and war mongering to historic highs in the U.S. Of this I have no doubt.
Santorum's out, though and we can put our fears to rest for now. But the fact is this: He came too damned close.
Finally
Will Mitt Romney be the first U.S. President to have once strapped a terrified dog to the roof of his car?
–WKW
Does America really need a Buffet Rule?
Today's Reading
George Zimmerman: The man who shot Trayvon Martin pleads his case at his web site.
CBS News: President Obama pushes hard for the Buffet rule.
AFB: Syria to get a strongly worded letter!
Religion Dispatches: When religion is a refuge for scoundrels: 'Ryan Budget' Edition.
Maniraptora: The 'perfect chaos' of π.
Finally
A shirtless Mitt Romney plays with his kids in 2002. A decade later, you just know those pants are coming off.
–WKW
Don't understand the foreclosure crisis? Learn about it in song.
Today's reading
Raw Story: Tennessee wants a do-over on the Scopes Monkey Trial.
Dave Weigel: John Derbyshire's advice for white people.
Mother Jones: Just because Mississippi is the poorest state in the nation doesn't mean it needs an abortion clinic.
CS Monitor: There goes North Korea, up to no good again.
ESPN: At least Lamar Odom still has his TV career to fall back on.
This Just In
Stephen Fry AND a baby rhino. Go ahead, try and top that.
Finally
RIP Mike Wallace.
–WKW
Hunch: Keith Olbermann won't learn anything from his firing at Current & will be a dick to the next plebe that deigns to speak to him.
Today's Reading
Politico: Obama swinging away at Ryan/GOP budget plan.
The Daily: Maybe it's time to start holding fire.
Jesus' General: A "Proud Individual of European Descent" speaks.
Reuters: Going to a Roman Catholic school means barebacking.
Finally
At least Billy Martin seemed to have some respect for his fans.
–WKW
Oh, nothing.
Wolfrum's Word
At this stage of the game, it's looking like Mitt Romney is going to shatter the modern-day record for "Worst Campaign" ever – shattering the record set by John McCain in 2008. It's fitting he has tried (and faied) to use "Seinfeld" references – he's truly a person who's about nothing.
Today's Reading
Burma: There's a new era in Burma. Not that there's anything wrong with that.
Santorum Shrinkage: Rick is no longer master of his domain.
Donal: Puffy shirts are also unacceptable.
Balloon Juice: This pink slime is so fucking good.
Lucky Dog: Newman!
Finally
Albert Camus on nihilism.
–WKW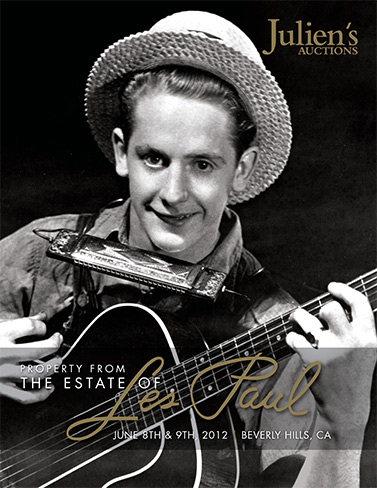 Looking to own a piece of a music legend? The estate of Les Paul is auctioning some of his work. Warning: It'll run you.
Today's Reading
Mother Jones: Climate Change is changing everything in Bangladesh.
Wonkblog: Ezra Klein thinks the White House will do better with oral arguments to SCOTUS defending Obamacare.
Genghis: Rick Santorum invokes the "Real Republican" defense.
The Independent: They saved Einstein's brain.
Oliver Willis: Mistakes matter. Especially in politics.
Today's Tweet
Jeffrey Toobin is predicting the end of Obamacare. and perhaps the world.
Finally
Les Paul: He spent his life chasing sound.
--WKW
George Carlin talks some bullshit.
Today's Reading
The Fix: The pressure of a BS campaign appears to be getting to Rick Santorum.
The Angriest Liberal: Trayvon Martin and white privilege.
Emma Zahn: Shadow banking, bubbles and government debt.
This Just In
Everybody dance now.
Sports
Woods Wins: Tiger Woods wins a golf tournament, and the planet returns to normal.
Final Four: Kansas, Kentucky, Ohio State and Louisville tear some nets down.
 Finally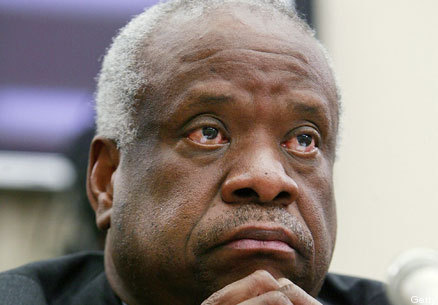 The Supreme Court will be hearing a challenge against Obamacare for the next three days. Meaning Clarence Thomas will be really bored as he awaits his turn to vote against the Affordable Care Act.
Today's Reading
Nadia Naffe: Former James O"Keefe associate speaks out.
Dagblog: President Obama's short comment on Trayvon Martin speaks volumes.
Angry Black Lady: Fundraising time!
Driftglass: Elite, out-of-touch columnist fight!
This Just In
Finally
Try as you may, you can't stop the music.
–WKW
Wolfrum's Word
My cousin Frank Motta was murdered last week. You can find the details here. It was a senseless killing that hurt the entire community, let alone our entire family. Frank was a genuinely good man. A veteran, teacher, principal and volunteer, he truly cared and loved other people.
I don't feel a seething rage at the killer of my cousin. In a week where we saw brutal murders in Toulouse, as well as the breaking of the Trayvon Martin murder story, I feel only a sadness for humanity. There is, apparently, one thing that binds all races – a disregard for life. More than that, I feel a sadness for Frank's wife and kids and my entire family. Frank was a great man, and he proved it every day of his life.
Today's Reading
Balloon Juice: Rachel Maddow does the unthinkable – she calls a liar a liar.
TPM: An arrest has been made in the fire-bombing attack on a pro-choice Texas state senator.
Crooks & Liars: This is not a War on Women. But if you have a baby and miss work, your job may not be there for you and there's now nothing you can do about it, says SCOTUS.
This Just In
Quote of the Year
"Well, I think you hit a reset button for the fall campaign. Everything changes. It's almost like an Etch A Sketch. You can kind of shake it up and restart all over again." — Mitt Romney advisor Eric Fehrnstrom, forever linking his candidate to a crappy toy.
 Finally
Pals.
–WKW
Today's Reading
Alicublog: Conservatives are outraged over Robert DeNiro attempting to make a joke. Because they have to be outraged about something.
FreakOutNation: Voter turnout in Illinois may have been the lowest in history.
Lance Mannion: Looking at the Trayvon Martin murder.
Matt Osborne: The War on Women rages on in Idaho.
This Just In
 Wolfrum's Word
The word "inevitable" has been the keyword to Mitt Romney's entire campaign, and after his big win in an Illinois primary most notable for its poor turnout, it is truer now than ever. Mitt Romney will win the Republican nomination. It could not be more obvious. Brokered convention? Who cares, Romney will win.
The simple fact is that the media and political talking heads have worked overtime for quite some time in order to make it seem that Romney isn't a shoe-in. But once again, they have all ignored the American public. Normal Americans don't want a mindless theocrat or psychotic former Speaker of the House. Normal Americans think Ron Paul is fringe. Normal Americans think Romney at least looks Presidential.
Those who talk politics for a living have to talk politics, reality be damned. And right now, they are purposefully blocking out the fact that Romney will win. And since normal Americans have been terrified by the clown-show that is the GOP race, it remains inevitable that Barack Obama will be re-elected.
Finally
Will the real Mitt Romney please stand up?
–WKW
Trayvon Martin
The murder of Trayvon Martin is not ground-breaking news. Ask a Black person. But what it has been is eye-opening for those who really struggle to accept that just walking around is a deadly activity for a Black person.
Martin's killing also shines a light on repulsive "Stand Your Ground" laws, which essentially give gun owners the freedom to murder anyone. The killer of Martin – George Zimmerman – stated he feared Martin. Let's just be happy, I suppose, that Juan Williams isn't packing heat in SYG state the next time he boards a plane with Muslims.
Finally, there's nothing quite like seeing 5,000 Web sites desperately trying to get a good Trayvon Martin keyword to get hits from his death to make you feel uneasy about the Internet. Though I suppose its taking the easy way out to blame the Internet. It would be more correct to state that the Internet gives voice to numerous soul-less ghouls who see death and tragedy as a way to make some money from Google ads.
Mike Daisey
Having a journalism background, I should be more outraged at Mike Daisey inventing damning facts about China. But I don't see it as worse than a media that deals in false equivalencies and shallow reporting. Wanna play the equivalency game? Explain to me how what Daisey did is more hurtful than what guys like David Gregory and Chuck Todd do on a daily basis?
Today's Reading
Slate: Paul Ryan wants a lot of things – strengthening the social safety net isn't one of them.
Sports/Entertainment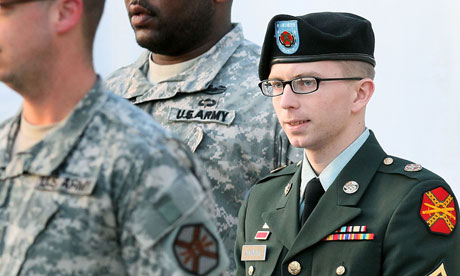 I don't see what the big deal is about the Denver Broncos signing Manning. The guy is five-foot-nothing and will probably just give the Broncos' playbook to opposing team. So I go against the experts on this one – signing Bradley Manning was a terrible move by Denver. But, at least he's better than Tim Tebow.
Beyoncelicious: Remember ladies, if you can't shed all the weight you gained from pregnancy in two months or less, you are a failure.
Hines Ward: Sort of looking like the Steelers' WR will be leaving the game as one of the greatest Steelers ever and a sure-fire Hall of Famer.
Finally
Will Ferrell and Zach Galifianakis talk it out on Funny or Die.
–WKW
Wolfrum Words
Ok, time to crank up the Morning blog operation again. The kids seem to dig it.
Today's Reading
Digby: The usual liberal suspects are feeling uncomfortable about Democrats fighting for women.
Mediaite: Haha! Westboro Baptist Church tried to help out Rush Limbaugh. Ah, those Westboro kids. They can be clever for a bunch of Psychotic Douchebuckets.
Raw Story: Rick Santorum can have my porn when he pulls it from my tired, sticky hand.
Crooks & Liars: Meet the Press is way too impressed with itself that its had John McCain as a guest 64 times.
Paul Krugman: If there's one thing conservatives know about Obamacare, it's probably wrong.
Sports/Entertainment
Apparently Duke lost, which is all that really matters.
Finally
Because someone needs to smash melons around here.
–WKW
Wolfrum's morning has been spent running errands and not perusing current events. Thus, today's post is dedicated to allowing you – the discernible reader – to do what Tim Pawlenty just didn't have the courage to do at the GOP Debate – say what you think right to Mitt Romney's face.
I'll start:
Hey Mitt, would you say ObamneyCare is your greatest achievement?
Your turn.
–WKW

Newt Gingrich understands today's youth. Graphic via Blue Gal.
News/Politics
The Travails of Newt Gingazzle: Seems the Newtster started a charity. For Himself.
Bin Spyin': Pakistan punishing those who helped CIA keep tabs on Osama bin Laden.

Austerity Pain: Looking at the cities already experiencing austerity.
Wisconsin: Not taking the state's Supreme Court decision sitting down.
Tweetable
"Sharia Law is an archaic evil sweeping across the Nation! Christians, Drink some Christ Blood and prepare to fight!"
Blogs
Mother Jones: Looking back at Michele Bachmann's greatest hits – like the time she prayed that Melissa Etheridge's breast cancer would cure her of being a lesbian.
Frum Forum: A Gingrich aide also made mad bank from Newt's "charity."
We Are Stardust: PBS featuring a new documentary about the murder of a Navajo Transgender teen.
Finally

Gingazzle!
–WKW