ALASKA – Moments after releasing a meandering video that seemed to point out that she wanted white women on the streets, Sarah Palin dropped another bombshell – She will be LeBron James' pick for Vice-President.
"When Mr. James finally signs with the Miami Heat, I'll be there, as someone who has helped him become who he is today," said Palin, who was Governor of Alaska until she quit for better paying opportunities. "Much like I understand foreign policy because Russia is near my home, I understand the NBA because I played high school basketball."
Palin didn't comment on what being James' "Vice-President" meant, and when reached for comment, James was apparently confused.
"Wouldn't she actually be the Vice-King," said James, laughing. "But seriously I have no idea what you're talking about, just watch ESPN tonight to see my announcement that I'll play for the Miami Heat … wait, don't report that last part."
Palin, however, said the "deal was done" and that she planned to bring old-fashioned American values to James, Dwayne Wade and Chris Bosh.
"Eagles. They fly. Salmon upstream. And so we swim," said Palin, who then began speaking Chinese from a prepared text for some reason. "我不认识LeBron詹姆斯。 我的忠诚是给我的中国霸主, you betcha."
Experts said there could be some truth to the rumors, being that Palin admitted to signing with the Minnesota Vikings last year.
–WKW
KENTUCKY – Following its hyper-successful "KFC Famous Bowls" and "Double-Down Sandwich" campaigns, KFC has announced its newest promotion – "KFC's Eat It Off The Floor, Bitch!" combo.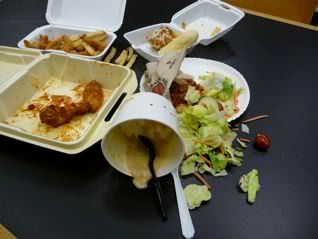 The meal will consist of flavorful fried chicken pieces, creamy mashed potatoes with savory gravy and a beverage of your choice. The combo will then be thrown on the floor, where the customer has to eat it, all the while KFC employees berate the customer with insults.
"First, we just shoved everything into a bowl. Then we replaced bread with chicken," said KFC spokesman Tim Johnson. "Obviously, though, we've underestimated the incredible amount of self-loathing in our customers."
The meal – which will come with a broken "Shrek 4″ figurine and a used handi-wipe – will cost $3.99 plus a big chunk of customers' dignity. KFC officials are expecting a big response.
"We thought 'hmmm, could we just throw the chicken in people's faces?' but then decided it would be better to make them eat it off the floor," said Johnson. "It's like the Colonel always said: 'We could shove fried chicken into used trash bags and these idiots would still buy it.'"
–WKW
They say a tie is like kissing your sister. Of course, those saying that are a bunch of sick, sister-kissing freaks, so it may just be best to ignore them, especially when it comes to the U.S. National Soccer team holding mighty England to a draw in the 2010 World Cup.
You see, the tie versus England was a phenomenal sporting achievement. The world truly expected Wayne Rooney, Steven Gerrard and the rest of English team to swarm over a hapless U.S. squad. But the Americans played with professionalism and grace and kept an exciting game even.
More so than that, even, is the fact that Americans need to learn to accept that a tie is actually a great victory. Face it, the U.S. soccer team very likely had the greatest performance by an American in about two or three years. The U.S. has been on a blistering losing streak, from the economy, to the massive British Petroleum oil disaster, to wars in Iraq and Afghanistan.
Put into historical perspective, the tie with England is massive. It ends a losing streak. Sure, it doesn't actually start a winning streak, but stop being so cynical. Maybe it doesn't match up with the 1980 "Miracle on Ice" hockey team's victory over the USSR in 1980, but honestly, the U.S. doesn't exactly match up well with the U.S. in 1980, either.
Thus, my fellow Americans, I implore you – start celebrating the Americans' tie with England. It's time for America to start seeing the bright side, and the fact that the U.S. team didn't get beat 6-0 and managed a point out of the match is probably the biggest victory the nation has had in quite some time.
So stop kissing your sister, and enjoy the result. As Americans, it's time we start enjoying the little victories. Even if they're only ties.
–WKW
AMERICA — McDonald's will recall about 12 million "Shrek" drinking glasses because federal regulators found they contain the toxic metal cadmium, which poses health risks.
Immediately, U.S. Congressional Republicans placed blame.
"From time to time there are going to be things that occur that are acts of God that cannot be prevented," Texas Governor Rick Perry said.
"There's still a lot that can be done. But again, acts of God are acts of God," said Rep. Tom Cole (R-OK).
McDonalds nor God could be reached to comment on this story.
–WKW
HOLLYWOOD – After decades of being reviled as history's worst monster, Adolf Hitler has had a surprise resurgence recently, mostly as a result of entertainers like Glenn Beck and others bringing up his name so much. The new attention has paid dividends, however, as Patrick Duffy will star as Hitler in the new NBC sitcom "That's So Hitler!"
"A whole new generation is coming up that haven't been brainwashed by actual history," said NBC employee Patrick Buchanan. "They just hear his name mentioned repeatedly nowadays and hear how 'Obama is Hitler,' and think, 'hey, Hitler was Ok.'"
The situation comedy, to be shot in Scottsdale, Arizona, will be based around Hitler's relationship with his two teenager daughters. Beck viewer Victoria Jackson will star as Eva Braun, reports say.
The show will be "hilarious and heartwarming," and follow the wacky hijinx of the problematic Hitler family, say executives. The show already has at least one fan.
"I can't tell you how excited I am," said Buchanan. "Because I'm a Nazi. So the humor should really be right up my ally."
HT Gotta Laff at The Political Carnival
–WKW
Like many, I watched the finale of the hit show Lost with much anticipation. Unlike many others, I take a very realistic view of the program.
Basically, I think we're all dead.
Let me explain: In the finale of Lost, we learn that the alternate universe where they were residing is more of a limbo-type plane of existence. All were waiting to be "awoken" to their real existence, find peace with it, and move on, to heaven it appears.
So here's what I'm saying: I think we all died during the Bush Administration. Now, that sounds REALLY far-fetched, I know, but think about it – it was the Bush Administration. It's possible. He could have figured out a way.
Thus, I think we're all stuck here until we are "awoken" and come to peace with what we've done to planet, how we've spread war across the globe, and that we elected George W. Bush twice.
And I think we're going to be in this purgatory for a long time.
–WKW
If you show up in a chicken suit at a Nevada polling place to have your say in the primaries, you will not be allowed to vote. And this has chicken-suit wearers across the state molting in anger.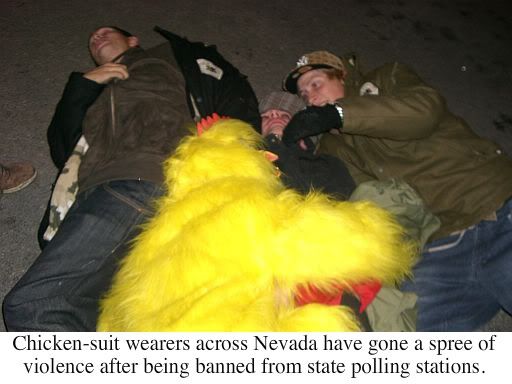 "It's like I live in Soviet Russia," said Tim Johnson of Sparks, Nev. "I moved here from Tupelo to get away from this kind of cultural totalitarianism."
Johnson is one of thousands of chicken-suit wearers across Nevada that have come forward.outraged over the fact that they will be banned from polling stations. Little was known about chicken-suit wearers until the rule was put into effect, but Johnson said there is a huge chicken-suit wearing community throughout the country.
"Oh, there's a lot of us," said Johnson. "Think about it, how many people do you see daily in chicken suits. It's really an inordinate amount, isn't it?"
Republican Senate candidate Sue Lowden continued her efforts in being the most literally conservative candidate in the nation, as she proposed a duel to settle the issue.
"I say a duel is the best solution," said Lowden. "After that the menfolk can get together and go on a hunt."
–WKW
WASHINGTON – In an extremely bold maneuver today, the White House today made it clear they were going to take on the British Petroleum oil disaster by ignoring it in the hopes it will just go away.
"What oil spill? The Gulf of Mexico is fine, just fine," said White House Press Secretary Robert Gibbs. "Next question."
The move by President Barack Obama replicates the move by George W. Bush in regard to the Afghanistan War. From 2003 until today, Bush has not even spoken the word "Afghanistan." In political terms, the plan worked for Bush, who just waited out his Presidency and passed the problem onto Obama. Afghanistan is now considered by most as "Obama's War."
Obama has two strong allies in the fight to ignore the Oil Spill – first, British Petroleum has announced that anyone that gets within 5 miles of any Gulf of Mexico or Atlantic Ocean beaches in the U.S., will be shot, no questions ask.
"Try and stop us," said a BP spokesperson.
Also, for the most part, the U.S. mainstream media has already been phasing out coverage of the oil spill, so ignoring it entirely won't be too big a jump.
"What oil spill?" said CNN's Wolf Blitzer three days ago.
Despite not having to worry about the oil spill any longer, Obama still has a great many other worries on the domestic and international fronts. But Gibbs appeared to remove another problem during the press conference.
"Haiti? Haiti is great. Never been better. Nothing to see there, either," said Gibbs.

–WKW
Forced to admit that reality and Conservatism can't survive together, top Conservative leaders came together today to announce that they have begun "Creality," a new, separate reality only for Conservatives.
"Ronald Reagan remains the greatest President ever," said Top Conservative Newt Gingrich. "My term as Speaker of the House was the most successful in U.S. history."
Conservatives are hoping that Creality takes a big bite out of Reality's overall popularity and acceptance. Overall, Reality has often hindered Conservative plans, as time after time their basic beliefs have fallen flat. Which is one reason why those who choose to live in Creality will have to accept a Conservative present, past and future.
"Oil. Salmon. Energy! " said Top Conservative Sarah Palin. "Track!"
Some political experts have already said the move is a risky, but necessary one for Conservatives.
"War," said Top Conservative Bill Kristol.
Many also admit that being that Conservatives are plainly living in an alternate reality filled with historical revisionism, anyway, it only makes sense for them to make it official and create their own reality.
"We what, now?" said Top Conservative John McCain.
Whether Creality scores in the polls is another question. When asked in a poll if they would choose an alternate reality, 29 percent picked "Only if Obama is not around." Holding tight to that information, Conservatives are crowing about Creality.
"Hitler was a liberal," said Top Conservative Rush Limbaugh, who has lived in his own form of "Creality" since 1979. "Black people suck."
–WKW
See my companion piece to this, "Reality Bites for Conservatives," at Alan Colmes' Liberaland.
This is just great news. Atheists around the world must be applauding the theft of the controversial Mojave Desert cross. This is a great moment for Atheists and the time is at hand to spread our lack of belief around the planet. The cross has been stolen, and it is a great sign.
A cross erected on a remote Mojave Desert outcropping to honor American war dead has been stolen less than two weeks after the U.S. Supreme Court allowed it to remain standing while a legal battle continued over its presence on federal land.

Versions of the memorial have been vandalized repeatedly in the last 75 years and the motive this time was not immediately known, but the theft was condemned Tuesday by veterans groups that support the cross and by civil libertarians that saw it as a violation of the constitutional separation of church and state.

"The American Legion expects whoever is responsible for this vile act to be brought to justice," said Clarence Hill, the group's national commander.
Again, everyone, this is just a huge victory for all of us, and a damning blow against Christianity. I struggle to see how they'll recover from this one. Now let's start converting them to Atheism.
–WKW
Trying to stay a step ahead of their rapidly spreading oily public relations disaster in the Gulf of Mexico, today British Petroleum announced a new contest that would guarantee every entrant a free gallon of crude oil.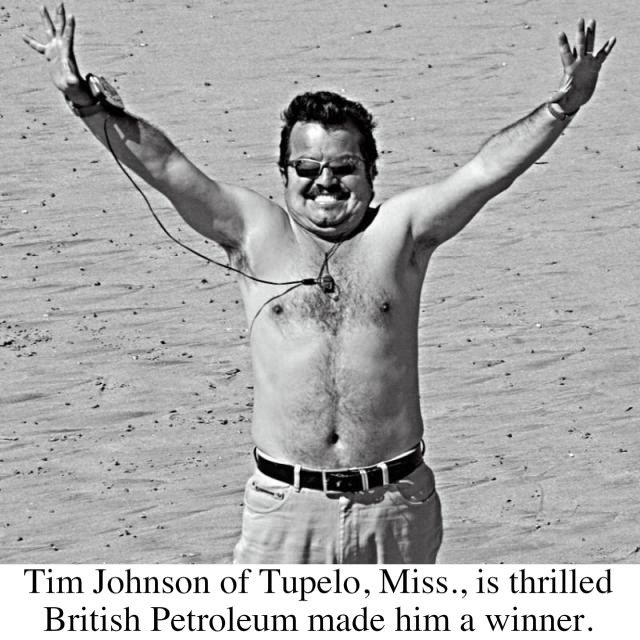 "When people think of British Petroleum, we want them to think 'winner!'" said BP spokesman Mark Proegler. "Because for a limited time, we want to make every man, woman and child in America a winner."
The contest will allow any American citizen, or illegal immigrant, to travel down to the Gulf of Mexico. To claim their prize, all a person need do is clean a "game piece" in the form of a rock, bird, sea turtle, or anything else covered in oil. Once that item is cleaned, the person can collect their free one gallon of crude oil directly from the Gulf of Mexico.
"It's just that easy!" said Proegler.
Entrants will be required to pay their own travel, room & board, as well as some type of containing device capable of holding one gallon of oil. Proegler said it was unlikely the oil would be of any use to anyone, as it has been heavily diluted in sea water.
"But still!" said Proegler.
The new contest has some near the Gulf of Mexico excited.
"This is just fantastic," said Tim Johnson of Tupelo, Miss. "With this oil, all I'll need is a bunch of windmills and some uranium and I'll be on my way to energy independence."
The contest is slated to end on March 25, 2076.
"So enter today!" said Proegler. "With British Petroleum, everybody's a winner!"

–WKW
If there's one thing we Americans have shown a propensity for, it's learning to accept certain uncomfortable realities. Things like the Patriot Act, wars in the Middle East, Don't Ask, Don't Tell, illegal Eavesdropping and other such items have become part of the American Experience.
Which is why it's time for us to accept the reality that the British Petroleum Oil Disaster will only come to an end when the oil runs out of that hole. It is now part of us, and it's time accept it and move on.
But even more than accept it, perhaps it's time to embrace this massive oil disaster. It is part of the fabric of American life, and like, say, Texas, it's something we should learn to love despite of its problems.
There are positives to this disaster, mind you. For one – we're trimming the sea turtle population. Really, what has a sea turtle ever done for you? With this never-ending deluge of oil coming from the ocean floor in the Gulf, soon, we'll only have Super Sea Turtles that are capable of surviving solely on crude oil. Think about that.
Sure, environmentalists will remain all worked up about it, but if we listened to them, we wouldn't be in this situation, anyway.
And enough blaming British Petroleum. Hell, they tried to drop a giant dome on top of it. Sure, it failed, but that's a hell of a lot more than you did to stop the torrent of oil. And it's not like they wanted this to happen. They were just woefully and strategically unprepared for the eventuality. There's a big difference.
So folks, sit back and learn to love the oil spill. Perhaps it can become a tourist attraction. At the very least, let your attention drift away to other matters. You can get outraged over the BP oil disaster again next month. Or the month after that. Because it isn't going away for a long, long time.
–WKW
HOLLYWOOD – All three members of the band, the Jonas Brothers, were shot and killed today in a recording by a U.S. assassination squad at the request of President Barack Obama.
The killings comes merely days after Obama had joked about sending predator drones after the brothers if they ever messed with his daughters. Many criticized the President for the joke, but in a five-word statement, Obama said the killing of the Jonas brothers had nothing to do with his joke at the White House Correspondents Dinner last week.
"They were terrorists, that's all," said Obama, who has the right to kill any person anywhere, whether a U.S. citizen or foreign national, should he deem them a terrorist.
Jonas Brothers fans have been in an outrage over the killings, but according to Glenn Greenwald of Salon.com, they have no recourse whatsoever.
"The President claims the power to order U.S. citizens killed anywhere in the world, while engaged even in the most benign activities carried out far away from any actual battlefield, based solely on his say-so and with no judicial oversight or other checks," wrote Greenwald.
One source, speaking under anonymously, said that one of the brothers had told Sasha and Malia Obama – who were big fans of the band – that they were "super cute and great girls." White House Press Secretary Robert Gibbs denied the claim that the Jonas Brothers were killed due to Obama being a protective father.
"They were terrorists, and he has the right to kill terrorists," said Gibbs. "Deal with it. Next question."
In related news, teen singing idol Justin Bieber has fled the country, reportedly to Germany.
–WKW
An accidental security glitch sent the information of all Facebook users to Al Qaeda operatives overseas, a company spokesman admitted today.
"Oops," said Elliot Schrage, the company's vice president for public policy. "Are we perfect? Of course not."
The information will likely be used by the terrorist organization for purposes of global Jihad, and experts say that all Facebook users are now at Code Extra-Red and should expect a terrorist attack on them within the next few days.
Still, many Facebook users say they'll stick with the site.
"It's important for me to be able to stay connected to my friends," said Tim Johnson of Tupelo, Miss. "It's vital for me to know when and where my next high school reunion will happen."
Facebook CEO Mark Zuckerberg said Facebook was sorry about the "whole Al Qaeda, Jihad thing" but that privacy just isn't what it used to be, so what was the point getting all worked out about it when they offered the ability to send baby pictures to long-lost friends.
"Facebook has been made the center of attention around a really important issue of how technology is changing the conception of privacy, control and sharing," he said. "People are uneasy about it, but as they start to see the benefits and advantages of it, they start to see the value of the experiences."
Government officials have advised all Facebook users to buy extra plastic sheeting and duct tape, just in case.
–WKW
On his radio show today, political entertainer Rush Limbaugh accused a cadre of "Radical Mayans" of sabotaging the British Petroleum oil rig that exploded on April 20.
I want to get back to the timing of the blowing up, the explosion out there in the Gulf of Mexico of this oil rig. Since they're sending SWAT teams down there now this changes the whole perspective of this. Now, lest we forget, ladies and gentlemen, the Mayans long ago prophesied that the world would end in 2012. I remember that.

This prediction was strongly criticized by the media, remember? But these hardcore radical Mayans, they're embarrassed by their ancestors prediction and are trying to take matters into their own hands, because some wild-eyed environmentalists are saying that – left unchecked – this oil spill could be an end-of-the-world type event. What better way to prove your ancestors correct than by blowing up a rig? I'm just noting the timing here.
Limbaugh added that the "Radical Mayans" have failed in their attempt to bring upon the apocalypse, because oil is natural and nothing natural could possibly really be that bad a thing:
You do survive these things. I'm not advocating (that I) don't care about it hitting the shore or coast and whatever you can do to keep it out of there is fine and dandy, but the ocean will take care of this on its own if it was left alone and was left out there. It's natural. It's as natural as the ocean water is.*
Limbaugh also added that people should stop getting so worked up about things like volcano blasts, tornadoes, tsunamis, massive earthquakes, oil spills and other disasters because they're "natural" and probably won't affect him too much, anyway.
–WKW
Originally posted at Alan Colmes' Liberaland