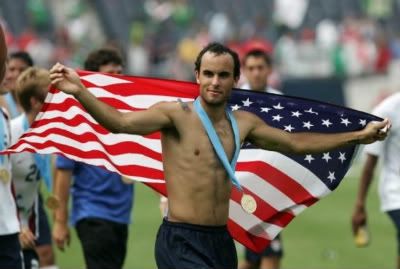 As injury time was running out, Landon Donovan buried a goal to send the U.S. past Algeria, 1-0. With the win, the U.S. advances to the World Cup knockout round. Two thoughts:
1) I am forever sorry aboutwriting this post about Donovan.
2) As my Brazilian wife said: "Can't you Americans do anything without making it a movie?"
I suppose not. A brilliant performance by the U.S., which goes into the knockout round confident and motivated. Just a great World Cup match.
Update: For those that would like to see Donovan's goal. Over and over again:
–WKW
If the French National team managed to accomplish one thing during the 2010 World Cup, it was too reinforce every negative stereotype against France.
Putting the final touch on a truly classless performance on the field and off was French coach Raymond Domenech, who refused to shake hands with South African coach Carlos Alberto Parreira, following South Africa's 2-1 victory over the French.
Domenech refused to comment on his snub afterward.
–WKW
As South Africa desperately looks to score enough goals to advance in the World Cup, here's a look at the tie-breakers used by FIFA for Group stage play. Courtesy the CS Monitor:
Two teams advance out of every four-team group. The first and most obvious decider is points (three points for a win, one for a draw).

* If two teams are tied on points, the first tiebreaker is goal difference – how many goals a team has scored minus how many it has conceded. The thinking is that this is the best measure of which team is better over the three games.

* If that is inconclusive, the second tiebreaker is goals scored. This rewards the team that is more offensive.

* If the teams are still tied on these measures, the next tiebreaker is who won the head-to-head matchup.

* If they're still tied, World Cup officials flip a coin, literally
Here's a link to the current Group Standings.

–WKW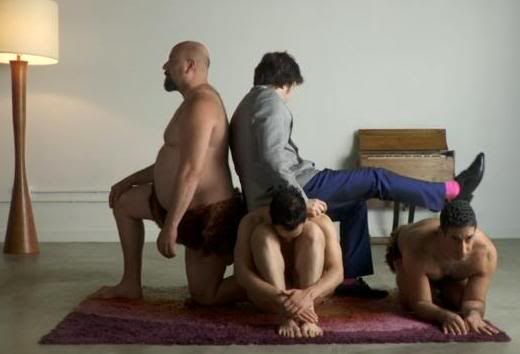 BP CEO Tony Hayward, relaxing at home with the small people now that he has his life back.
News
Burn it all: Burning of oil in the Gulf of Mexico means death to wildlife. Also, there's a lot more oil gushing than previously reported.
Politicizing the Oil Spill: It was all bi-partisan teamwork on the oil disaster until Democrats started mocking Joe Barton.
Let Them Drill: There's no evidence that Deep Water drilling is risky, say plaintiffs.
Israel Eases Gaza blockade: Prime Minister Benjamin Netanyahu says that easing the Gaza blockade will weaken Hamas. Maybe they could have figured that out pre-flotilla massacre.
Also: Rapper "The Game" shot and killed, humanitarian and former NBA fan-favorite Manute Bol dies.
Odd News
A Heady Day: Finally, we can answer the age-old question – how many human heads can you fit into three boxes?
Catholic Priorities: Remember, it's much worse for a comedian like Louis CK to make jokes about pedophile priests than it is to defend pedophile priests.
Today in Tasering: Not wearing a seat belt? Tase him!
Put the camera away: If you happen to be being beaten by a Maryland cop, for God's sake, don't film it.
Sports
Brazil Handily Wins: Luis Fabiano scored twice (albeit once illegally), as Brazil continued South American domination of the World Cup with a surprisingly easy 3-1 victory over Ivory Coast. Brazil's only complaint? Kaká being tossed from the game for allowing an Ivory Coast player to run into him.
Anarchy in France: At the 2010, the French can't win a game and is in the midst of a player revolt. Couldn't happen to a nicer group.
U.S. Open to McDowell: Graeme McDowell survived a tough Pebble Beach to win golf's U.S. Open, leaving big names like Tiger Woods, Phil Mickelson and Ernie Els in his wake.
Blogs
Tomfoolery: My Day with Karl Rove.
EZKool: If you watch only Fox News, you know for a fact that the British Petroleum Oil Spill is all the Federal Government's fault.
Political Carnival: Blackwater forced to pay the price for their sins – by getting a new $120-million government contract.
Pam's House Blend: What you missed this weekend.
Tweet of the Day
"Repeat a lie often enough and it becomes Mark Kirk's resume."

–WKW
After two game, two ties and one goal, it's safe to say that England's march to the World Cup hasn't been quite as EASY as initially reported: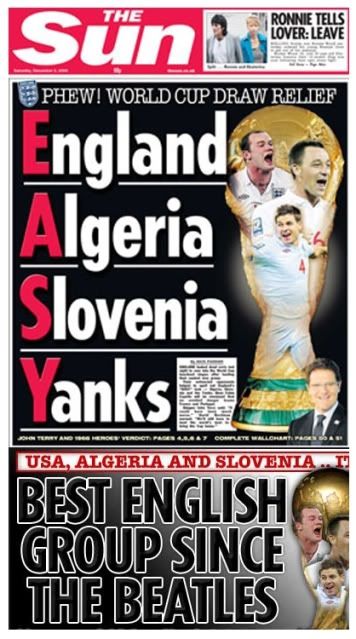 Via The Offside Rules.
–WKW
The U.S. was down 2-0, but fought back to tie 2-2 against Slovenia in a game that will be remembered for the Referee making a horrible call that stole victory from the Americans. While the three points were stolen, the tie gives the U.S. an excellent chance to advance out of the group stage. Plus, the U.S. certainly impressed with their determination and fire in coming back to save their World Cup hopes.
Still, the Americans were screwed. One wonders if President Barack Obama will force FIFA to put $20 billion into an escrow account to help out Americans that are suffering from the referee's brutally bad call.
–WKW

The Good news? You can live forever. The Bad News? You'll have to be a jellyfish to pull it off.
News
BP Shares Go Up: One right-wing talking point will have to take a break – despite destroying the Gulf and having President Barack Obama speak sternly and take $20 billion from them, shares of BP went up.
BP Controls the Media: While his separation is what is on people's minds, Al Gore stands up against BP's censuring of Gulf news.
Prop. 8: The closing argument for Proposition 8 supporters? Marriage is for having children. Luckily, my child-less marriage still stands.
Forever Young: Say what you will about jellyfish, but the turritopsis nutricula may just be immortal.
Sports
Argentina Scores Big: Despite having its defense pressed by a scrappy South Korean squard, the magic of Leo Messi and goal-scoring of Gonzalo Higuaín led Argentina to a 4-1 World Cup triumph.
Swiss Stun Spain: After being unbeatable the past few years (except for a Confederation Cup loss to the U.S.), Spain was flat and unable to stop a focused Switzerland, losing 1-0 in the biggest upset of the World Cup, thus far.
Blogs
ScienceBlogs: The worst-case scenario for the British Petroleum oil disaster? It's not pretty.
Alternet: The Tea Party movement is faux-conservative.
Towleroad: When Eminem comes out in favor for Gay Marriage, you know the tide has turned.
Daily Beast: BP boss Tony Heyward to apologize, spread the blame around in front of Congress today.
Tweet of the Day
"Breaking: After meeting Thatcher, Sarah Palin to dig up Ronald Reagan for discussion on Conservative issues."
–WKW

Brazil fan Zé Aparecido was pensive during the first half of Brazil-North Korea World Cup match.
News
Obama on the Oil Spill: Taking to his biggest bully pulpit, President Barack Obama laid out steps the government has taken and will take in fighting British Petroleum's oil disaster. The final step? Prayer. Lots and lots of prayer.
Ashburn Changes Course: Since being nabbed for a DUI coming from a Gay bar, California Sen. Roy Ashburn has seen the light. This Q&A showcases the new and improved Ashburn.
Prop. 8 Closing Arguments: The Federal Trial to judge whether California's Proposition 8 is Constitutional is today. Here's a handy guide to follow the action.
Wealth Inequality in U.S.: Not that facts should matter, but we are truly living in a second Gilded Age.
More: The first steps toward austerity in the U.S., the Truth of Bloody Sunday finally revealed, Arizona wants to toss American children out of the country, Westboro Baptist Church brainwashing children with hate.
Sports
Brazil Beats N. Korea: The North Koreans did all they could to slow down powerful Brazil, but an impossible-angle goal by Brazilian Maicon helped lead Brazil to the three points in its first 2010 World Cup match. In news from Brazil – the whole nation was up until 3 a.m. shooting fireworks after the game, my dogs are going to have a long World Cup.
Portugal-Ivory Coast Tie: Not a lot to say about this evenly matched game, except that when it comes to the top players in the world – Leo Messi and Cristiano Ronaldo – I'll take the humble and professional Messi over the vain and spoiled Ronaldo any time.
Bonus Portugal & Brazil Fact: You know how Polish jokes have long been a staple of American humor? Well, in Brazil they make those exact same jokes – but about the Portuguese. It's a fact.
Lakers Force Game 7: When the Lakers are playing at their best, Boston has no chance. In Game 6, the Lakers left it all on the court, and forced a Game 7 with a remarkably efficient 89-67 victory.
Blogs
Black Politics on the Web: The election of Barack Obama hasn't translated into more Black political candidates.
David G. Simmons: Taking a look at Obama's speech from the Oval Office.
DagBlog: The great Libertarian wonderland of New Hampshire is not quite all it's cracked up to be.
Tweet of the Day
"Remember when Ronald Reagan solved the Iranian Hostage Crisis thru power of Prayer (and selling arms to Iran)?"
–WKW
They say a tie is like kissing your sister. Of course, those saying that are a bunch of sick, sister-kissing freaks, so it may just be best to ignore them, especially when it comes to the U.S. National Soccer team holding mighty England to a draw in the 2010 World Cup.
You see, the tie versus England was a phenomenal sporting achievement. The world truly expected Wayne Rooney, Steven Gerrard and the rest of English team to swarm over a hapless U.S. squad. But the Americans played with professionalism and grace and kept an exciting game even.
More so than that, even, is the fact that Americans need to learn to accept that a tie is actually a great victory. Face it, the U.S. soccer team very likely had the greatest performance by an American in about two or three years. The U.S. has been on a blistering losing streak, from the economy, to the massive British Petroleum oil disaster, to wars in Iraq and Afghanistan.
Put into historical perspective, the tie with England is massive. It ends a losing streak. Sure, it doesn't actually start a winning streak, but stop being so cynical. Maybe it doesn't match up with the 1980 "Miracle on Ice" hockey team's victory over the USSR in 1980, but honestly, the U.S. doesn't exactly match up well with the U.S. in 1980, either.
Thus, my fellow Americans, I implore you – start celebrating the Americans' tie with England. It's time for America to start seeing the bright side, and the fact that the U.S. team didn't get beat 6-0 and managed a point out of the match is probably the biggest victory the nation has had in quite some time.
So stop kissing your sister, and enjoy the result. As Americans, it's time we start enjoying the little victories. Even if they're only ties.
–WKW
As if the U.S. National Soccer Team didn't have enough to worry about in the upcoming World Cup, now they have to deal with having South African security praying for them to get knocked out in the first round – to keep U.S. President Barack Obama from showing up.
From ESPN's SoccerNet:
Obama's possible visit to South Africa for the World Cup would be a major operation for the security forces in the country, but while 43 heads of state have provisionally confirmed that they would attend the tournament, the US President has yet to show his hand.

"One challenge is the American president who is coming, not coming, coming, not coming," Cele told Parliament's portfolio committee. "It is 50-50. Our famous prayer is that the Americans don't make the Second Round.

"We are told that if it goes to the second or third stage, the US president may come. At the moment we have 43 heads of state provisionally confirmed. That 43 will be equal to this one operation."
–WKW