William K. Wolfrum's Morning – July 7, 2010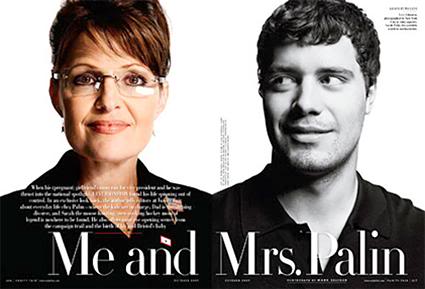 Levi Johnston learned where the real money is and has started to play nice with Sarah Palin.
Politics/News
Levi Comes Crawling Back: For a while, Levi and his penis were the only truly interesting thing in the Palin family. Now he's taking it all back to get in good with the new Palin Regime of Wasilla.
Just Like in the U.S.: British politicians have a deficit, so where do they look? The health system, of course.
The U.S. to Sue Arizona: The Department of Justice has decided to file a lawsuit against Arizona for its new immigration law. The reasoning? It's unconstitutional and immoral. Or words to that effect.
Sports:
Holland Rises: While Uruguay boasted heart and self-confidence, Holland had the goods, as they showed to much talent and creativity in toppling Uruguay 3-2 to reach the World Cup Final.
Germany vs. Spain: Spain was supposed to be here, Germany wasn't. But later today, one of them will earn their spot to play Holland in the World Cup Final. Spain has the skills, but Germany has the team - Prediction: German in penalty shootout.
Also: Cristiano Ronaldo is a Dad, Cris Bosh is a Miami Heat,, Vinny Del Negro signs his life away by becoming the new coach of the Los Angeles Clippers.
Blogs
Jesus' General: If you've played in the NFL, then you have every right to pursue extremely crazy theories to prove that everyone else is wrong.
Balloon Juice: Hawaii had the votes necessary to pass a Civil Unions bill, but Mayor Linda Lingle vetoed it. And despite having the votes to override her veto, the Hawaiian congress just decided to say the hell with it.
Rude Pundit: Five Complete Batshit Insane Things From a Single Sarah Palin Facebook Post.

Incertus: This is what demonizing a population gets you.
Headlines
CNN: Gambling scandal rocks sumo world.
Fox News: Thousands of Abandoned Wells in Gulf Could Be Leaking
MSNBC: Gulf of Mexico awash in 27,000 abandoned wells.

ABC News: Rent-a-Car Companies Putting Recalled Autos on the Road.
CBS News: 27,000 Abandoned Gulf Oil Wells May Be Leaking
BBC: Sarkozy 'campaign donation' probe opened.
Odd News
Google Maps: We've found Wayne & Garth.
Stephen Colbert: New meme everyone - Beer Cat!
The Colbert Report
Mon - Thurs 11:30pm / 10:30c
Electronic Frontier Foundation - Cindy Cohn
-WKW