Great Moments in Bringing Democracy to the World: Turkey and the U.S. slaughter some Kurds
Hello everyone, and welcome to "Great Moments in Bringing Democracy to the World" the blog that asks the question: "Hey, why do you morons hate us, anyway?"
In today's episode, we look back on "Turkey's war on the Kurds." Here, we look back to the year 1999. Ricky Martin's "Livin' La Vida Loca" had everyone wishing they were Latin, while the U.S. helped bring Democracy to Turkey, one dead and/or homeless Kurd at a time.
From Bulletin of the Atomic Scientists:
Since 1980 the United States has sold or given Turkey-a NATO ally-$15 billion worth of weapons. In the last decade the Turkish army has leveled, burned, or forcibly evacuated more than 3,000 Kurdish villages. That is roughly three-quarters the number of Kurdish settlements destroyed in Iraq in the 1980s during Saddam Hussein's infamous "Anfal" campaign, when the West was arming Iraq and turning a blind eye to widespread human rights violations.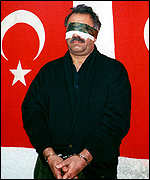 The administration conceded that the Turkish policy had forced more than two million Kurds from their homes. Some of the villages were evacuated and burned, bombed, or shelled by government forces to deprive the PKK of a "logistical base of operations," according to the State Department report, while others were targeted because their inhabitants refused to join the "village guards," a brutal military tactic-patterned on the Vietnam-era "model villages" program-that requires civilian Kurds to fight Kurdish guerrillas.

Human Rights Watch, the New York-based watchdog group, said the State Department had issued only "half conclusions" in its report, so as to avoid offending the Turkish government. Human Rights Watch, which has also criticized the PKK rebels for serious rights violations, said the U.S.-supplied Turkish army was "responsible for the majority of forced evacuation and destruction of villages."

In a 1998 interview, John Shattuck, the assistant secretary of state for human rights, defended U.S. arms deliveries to Turkey. Shattuck, a one-time professor at Harvard and a former member of the advisory board at Amnesty International, said that although abuses against Kurds were "a matter of grave concern" to the United States, Turkey's human rights record was improving. And in any case, he added, "I don't think the United States is responsible for Turkey's internal policies."
Join us next week on "Great Moments in Bringing Democracy to the World" as we head to Nicaragua to enjoy some Oxtail stew, served from the skulls of dead, Democratically-enhanced Nicaraguans.
-WKW