Artesanato do Vinho: Hand-Made Wine Accessories & More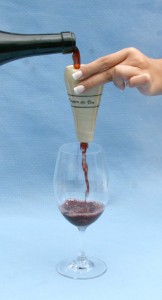 It's a great privilege for me to present some of the work from my Mother-in-Law, the Brazilian artist Raquel Arantes. Raquel is a great talent, and like many artisans before her, she uses her skills on a wide variety of surfaces and substances.
The great quality and original designs always shine through, however. For wine lovers, Raquel has created wine accessories of the highest quality at her site Artesanato do Vinho. Please follow the links below to the hand-made accessories you have an interest in. Raquel does all her own work independently and has no connections with any outside companies.
This is yet another reason why I feel so proud to help her exhibit her work and offer readers and wine-lovers the opportunity to purchase some of her outstanding products, such as: