With love to the son of Bo-Bo Jangles
Our beloved Boston Terrier Max died of complications on Jan. 24, following a strong battle against congestive heart failure, liver disease and a host of other problems. While his final day was a bad one, Max did not suffer in the days, weeks or months prior to his death.
Max came into my wife's life when she was just 22. She had left Brazil to get her masters degree at Southern Indiana University. A dog lover from her earliest days, Emilia chose Max to be her first dog. It was a brilliant choice.
When Emilia met Max, he was known as "Alpha." He would dominate all the other puppies to get food and comfort. This would become a central part of Max's personality. He spent his life learning new tricks on how to get whatever it was he wanted, which was mostly food. Being an extremely intelligent dog, he always seemed to get whatever he wanted.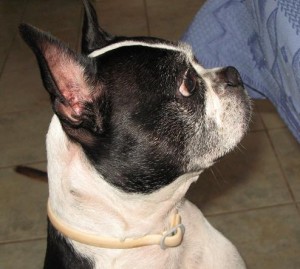 And while he tended to try to dominate puppies, the fact was that Max was not a fighter, whatsoever. If his initial tough-guy act didn't work, he'd back off or find myself or Emilia to handle his problems.
Max had a hobby. He'd literally spend hours sucking on stuffed animals. My belief was that it took him back to the days when his mother - Pink Lady- nursed him. For Max, however, it was a sign that he was utterly content when he'd sit next to you somewhere and suck on his toy.
Max was misunderstood genius. Being a Boston Terrier, his facial expressions were somewhat nil as compared to other dogs who get that "happy face" that draws people in. But while he showed little emotion, Max was a loving dog.
Max fit into being an older dog perfectly. He had a minor bit of grumpiness about him, which was irresistible. Making Max angry was one of our favorite games. That was how he played - by growling viciously and snapping at you. It was glorious.
My wife and I laughed recently when we read the opening words of Lord Byron's wonderful "Epitaph to a Dog."
Near this Spot
are deposited the Remains of one
who possessed Beauty without Vanity,
Strength without Insolence,
Courage without Ferosity,
and all the virtues of Man without his Vices.

Max was the son of Bo-Bo Jangles. He was beautiful and vain. He was insolent without strength and ferocious without courage. He had all the virtues of man, with a few vices.
Max helped my wife through some of her toughest times and was always there for her. Max helped her define herself and become the person she is today. I knew him for 10 years and my heart is broken that he's no longer with us. But he will always be a part of this family. He will always be missed.
-WKW