Blogging New Orleans spends 24 hours reflecting on Katrina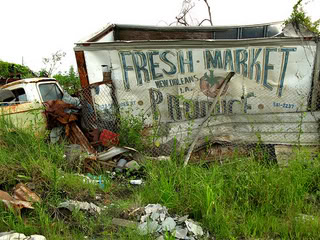 Today is two years since Hurricane Katrina devastated New Orleans and much of the Gulf Coast. President George W. Bush has made his way to the still fall-from-recovered region, so he can get his picture taken a few times and head back to Washington to work on more war plans. "War presidents" aren't concerned about things like destroyed U.S. cities, as the past two years have shown us.
Over at Blogging New Orleans, however, Kelly Leahy, Mike Schleifstein and others are engaging in a 24-hour blogathon, sharing their thoughts on a wide range of subjects from John Edwards introducing the "Brownie's Law" which will force federal jobs to be given only to those with the proper experience and abilities, to a special national crisis hotline for those who still struggle with the memories of the devastation.
Make it a point to head over to Blogging New Orleans, and/or leave other sites or posts commemorating New Orleans in comments. You can also find an entire list of blogs from and about New Orleans and the Gulf Coast by clicking here. And over at AmericaBlog, Pam Spaulding highlights a couple more, Voices from the Gulf and Colorofchange.org.
The federal government wants you to forget about New Orleans and other locations destroyed by Katrina. Thanks to bloggers like these and others, we'll always remember.
-WKW