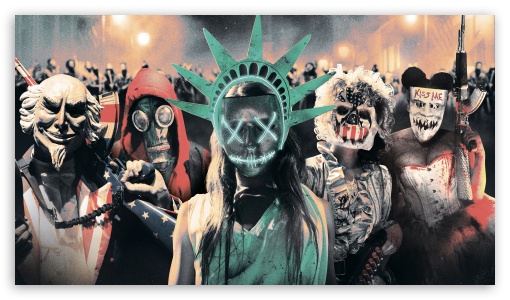 On Nov. 9, the purge begins. Donald Trump, his work utterly destroying the GOP completed, will move on to Trump TV, becoming a white nationalist leader or whatever third-rate scam he comes up with next. But what of those left behind?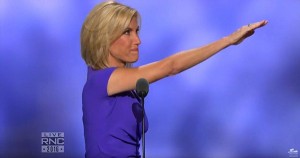 The de-Trumpification process should be fast and furious (pun intended because they deserve to be taunted). A simple truth will become clear: A white nationalist movement led by a lunatic moron is no way to guarantee the future of the party. The beating that will occur on Nov. 8 will be akin to all the other times the far-right has been obliterated, going back to the Civil War. Every 50 years or so, the crap rises to the top and needs to be flushed. In order to survive, the GOP will need to cast out - or at least put clamps on - Trump sympathizers.
Guys like Newt Gingrich and Rudy Giuliani went into all of this with nothing to lose, anyway, and they'll be consigned to some dank corner of Fox News. Others, like Joni Ernst and Mike Pence, will continue to have success on the state levels because their brand of crazy will always sell.
But for those with national ambitions, this is a make or break moment.
Ted Cruz
First off, let's give him the credit he deserves. Cruz smartly dropped out of sight after dropping out of the Presidential race, only to reappear with a vengeance at the Republican National Convention. Taking full advantage of the amateurish production, Cruz disrespected Donald Trump in the most delicious way - he completely ignored him, not endorsing him an iota. Extra bonus points for getting chased out of a GOP convention with his wife and then doubling down on all of it.
Theoretically, Cruz should dominate the post-Purge. But there is one problem - everyone on planet Earth think he's the biggest tool in an overflowing toolbox. By far. The dislike of Cruz is the stuff of legends. And he just made it all worse.
Cruz is a young man with unsettling ambition and we'll be dealing with him for eons, yet. But he'll never be the leader of the GOP. He may use some Underwoodian tactics to gain temporary power, but the simple fact is that it's not Cruz's heinous beliefs and words that make him hated. It's the fact he's an unrelenting asshole.
Jeb Bush
For what it's worth, the Jebster has been a solid Never Trumperer from the start. The bad news is that Jeberino let Trump go all Ramsay Bolton on him. It was ugly and unforgettable. It was Jebtacular (ok, ok) beat down. He left himself in position to come back, but he's not getting elected to anything again. That level of weakness just won't play among conservatives, cuck- or otherwise.
Chris Christie
Here's the thing with Christie: A lot of people are acting all confused about why he became Trump's personal lap dog. As though this is some strange thing that is out of character. But I present you with this: I say this is exactly who Chris Christie is - an authoritarian bully who rolled over and showed his tummy when presented with a bigger and better bully. Thisi s who he is. This who he aspires to be.
Plus it's possible that he saw Trump as a way to stay out of jail. Instead, his career is over as he will be considered the ultimate Trump sympathizer. And he'll probably go to jail, anyway.
Paul Ryan
The Speaker of the House tried to play this right down the middle - keep Trump praise to a bare minimum, but keep himself in the game by doing his party duty. The result has been dismal. Ryan has come off as feckless and weak in trying to bring the party together. An opportunity for a Speaker to show strong leadership and not attend the Convention was there for Ryan. Whatever punishment he'd have taken would have been minimal. He's going to lose the Speaker position soon enough, anyway
Ryan is the ultimate missed opportunity here. He'll never be someone who can inspire with words and his appearance. But here was an opportunity to show himself a leader who had strong values. The opening was there for leadership, but he instead chose the weakest route. Maybe all Ryan really wants is to be the guy to kill Social Security. Who knows? But he's Mitch McConnell now.
Mitt Romney
Romney came out against Trump hard and early. He set his feelings in stone and never backed down. He still looks like Mitt Romney. He'll be 74 in 2020. He seems like the most moderate of moderates now. Face it, the GOP will be Romneyland again. Because by the time Trump is done, the GOP will be happy with making America great again, like it was in 2012.
-WKW
Atualizações Abaixo
Em 2013, o g
overno brasileiro alardeava 
um dos principais programas do chamado Plano Brasil Maior. O "
Programa
de Incentivo à Inovação Tecnológica e Adensamento da Cadeia Produtiva de Veículos Automotores", dentre outros objetivos, buscava oferecer incentivos aos fabricantes de automóveis internacionais para trazerem suas empresas para o Brasil. O governo orgulhosamente citou nomes de empresas queavaliavam investir no Brasil, incluindo a "empresa chinesa saudita"
Amsia Motors.
Recentemente, em Minas Gerais, uma pequena equipe de representantes de Amsia Motors - que anteriormente viu um negócio
de 1 bilhão
de reais para construir uma fábrica em Sergipe se desmantelar sem nenhum alarde - estava em Minas Gerais, negociando a instalação de fábricas em Sete Lagoas e Monte Alegre, inclusive prometendo um investimento gigantesco de de R$2 bilhões de reais
em Sete Lagoas
, que traria consigo 2.500 empregos. Um membro do grupo da Amsia disse que a empresa já negociava com o governo desde a época em que Fernando Pimentel era Ministro do Desenvolvimento. Os membros da Amsia, acompanhados por representantes do governo visitaram escolas brasileiras e foram tratados como dignitários estrangeiros.
Para uma nação em necessidade, a Amsia Motors parece boa demais para ser verdade. E provavelmente é. A Amsia Motors supostamente é uma montadora de veículos e geradores multinacional que promete investir bilhões de reais no Brasil e criar milhares de empregos bem pagos. No entanto, não há nenhuma prova que a empresa, de fato, exista para além de algumas poucas pessoas e um par de sites.
As sementes de Amsia Motors foram plantadas em 1986 nos Estados Unidos, no estado de Delaware, quando foi incorporado
como Inter Baraka Holdings
. Nesses 30 anos completos, entretanto, não há razão alguma para acreditar que a Inter Baraka ou Amsia Motors já produziu sequer um pequeno gerador, muito menos um automóvel real. Não há nenhuma prova disponível.
Amsia Motors (também Sinoamsia, também Amsia-lbh Group) tem três representantes verificáveis: Mustafa Ahmed (que também utiliza os nomes Mustapha Ahmad, Mustafa Zeauddin Ahmed, Zia Ahmed), Presidente e, aparentemente, um nativo da Índia, Faisal Al Saud , Distribuidor Zona árabe e "príncipe saudita árabe" e Moeth Ahmed, um diretor que vive em Toronto, Canadá.
Algumas razões para ser cético da existência de Amsia Motor:
1) Uma ampla pesquisa da Internet não aponta sequer um veículo fabricado pela Amsia Motors. Todos os veículos mostrados em qualquer matéria sobre a e Amsia Motors foram fabricados por outra empresa e alterado digitalmente para ser um veículo "Amsia Motors".
2) A única fábrica é na China, porém o endereço indicado para esta fábrica correponde a um prédio de escritórios.
3) A única menção de Amsia Motors na Internet são suas tentativas de negócios no Brasil, além de um algumas menções em 2011, quando Mustafa Ahmed fez um esforço medíocre para comprar a Irisbus na Itália.
4) Moeth Ahmed, que está no Brasil com a delegação Amsia Motors, é um web designer e prestador de serviços de luxo que se
registrou o site
da Amsiamotors.com, através do site GoDaddy, em 2011, pouco antes da tentativa de negócio com o Irisbus na Itália. Moeth Ahmed também detém os sites,
lauracolgan.com
, 
uberdigitalluxury.com
, 
amsiaglobal.com
 e
pforzheimwatches.com
. Moeth Ahmed empresa "Luxury Uber Digital" é creditado como o designer do site de Amsia Motors.com.
5) Uma conta Amsia Motors no YouTube não apresenta vídeos que provam sua existência.
6) A constante utilização de nomes semelhantes a nomes famosos. Por exemplo, Amsia Motors é uma letra distante de ser "Asia Motors." Príncipe Faisal Al Saud é um nome quase igual a de um príncipe saudita mais famoso, bem como sua companhia Eram Holding Group não deve ser confundida com a corporação de grande sucesso Eram Group. Inter Baraka Holding não é a mesma empresa que a bem sucedida Baraka Holding.
A Amsia Motors - que, aparentemente, faz uso de um serviço de e-mail gratuito - foi previamente questionada pelo jornalista
italiano Andrea Malan
, que a ela se referiu como "suposta multinacional". Ademais, reportou que a empresa incluiu uma imagem alterada digitalmente do Fiat 500 como um dos seus próprios carros, em seu álbum de foto.
"A alegada multinacional (descrito como" um gigante sino-americano " pelo otimista Alessandro Pagano, membro do PDL) é chamado Amsia Motors e mostra um curioso website (
www.amsiamotors.com
) escrito em inglês picado ou mal traduzido de alguma língua estrangeira ", escreveu Malan.
Comentários de internautas relativos a uma matéria do site Noticias Automotivas chegam a conclusão de que Amsia Motors não é o que afirma ser. Adiberto Souza abertamente perguntou quem era Mustafa Ahmed e perguntou a seus leitores para obter informações sobre ele.
Jornalista brasileiro Gustavo Henrique Ruffo também questionou a existência de Amsia Motors em uma h
istória de 2013
.
"A única coisa realmente original da empresa é o nome, que não soa nada bem em português. E o Selvo S30, uma mera projeção. Não tem foto do carro. Não tem medidas, motor, especificação, nada. "
Outra esquisitice da Amsia Motors que merece menção, é um anúncio de emprego postado no website Solution Abhilasha HR. O anúncio busca mulheres para serem assistentes do presidente e pede fotos das candidatas "em roupa de festa."
Essas funções serão desenvolvidas por assistentes pessoais, do sexo feminino, baseadas na China e Itália, mas viajarão principalmente com o Presidente para a zona árabe, Europa e América do Sul.

Sobre a função: À procura de uma mulher de idade média, elegante, bem preparada, personalidade, senso de protocolo de alto cargo.

Charmosa, com uma personalidade agradável, inteligente, pessoa empática para assumir a responsabilidade de manter a equipe e escritório de trabalho com desempenho máximo. Elas serão envolvidos em todos os aspectos para ajudar a construir o escritório de China e Itália, prestar assistência ao CEO, enquanto gestora ambiente de escritório, assumindo a responsabilidade por canais de mídia sociais exterior e para ajudar a apoiar as iniciativas globais de marketing.

Se estiver interessada por favor envie no mínimos duas fotos de corpo inteiro, uma com roupas profissionais e outra com roupas de festa, juntamente com o seu CV.

Excelente pacote salarial com outro e pacote de benefícios para a candidata certo.

Nosso Cliente Amsia Motors é o líder da nova geração da indústria automotiva e engenharia, com uma visão única e direção a um futuro mais verde. Mais importantemente inspirado pelo meio ambiente, altamente econômico desempenho e qualidade confiável. Site da empresa

www.amsiamotors.com
Há outras esquisitices, incluindo um comentário de Ahmed Mustafa para uma história do Latim Herald Tribune, na qual Ahmed aparentemente esquece que seu comentário está conectado à sua conta do Facebook. Ahmed assina o comentário com o nome "Daniel Wolfensberger."
A notícia não está correta. Amsia Motors pertence completamente à companhia registrada nos EUA. Mr. Mostafa Ahmed é o Chairman & CEO, sendo o proprietário de todas as ações. Príncepe Faisal Al Saud é o distribuidor de Amsia Motors para os condados GCC. Ele veio como um membro da comitiva do presidente, mas não como financiador ou investidor. Daniel Wolfensberger
Moeth Ahmed ainda não respondeu a vários pedidos para conversar sobre a questão, apesar de eu ter recebido um e-mail de um tal de "Paul K. Leira, Concierge do cliente." Depois de receber esse mal escrito e-mail, não ouvi mais nada de volta. Há uma Paul Leira em Toronto, que é, como Moeth Ahmed, um web designer e fã de coisas luxuosas.
Caro Mr.Bill Wolfrum,

Obrigado por seus comentários amáveis,

no interesse em Amsia Motors.

É muito apreciado.

Por favor note, o Mr.Ahmed de Vendas & Marketing Director global que assinou o documento está atualmente em Sete Lagoas.

Nós podemos colocar você em contato com ele imediatamente para uma entrevista por telefone ou skype.

Gentilmente envie seu número e contatos locais.

Estamos ansiosos para uma grande história e editorial com você.

Bom Dia!

sinceramente

Paul K. Leira

Concierge cliente

Toronto, Canadá
Conclusão
Representantes de Amsia Motors chegaram ao Brasil prometendo bilhões de reais e milhares de empregos. Eles se aproveitaram de uma nação desesperada por investimentos. Eles se aproveitaram de meios de comunicação sem a menor curiosidade . Não há absolutamente nenhuma prova ou razão para acreditar que Amsia Motors tem a capacidade de investir (Rs) $ 4 bilhões e construir fábricas de automóveis bem sucedidas .
Não há nenhuma prova de que Amsia Motors realmente existe. Mas há uma abundância de provas de que o governo e a mídia brasileira não fizeram o seu trabalho de verificação da Amsia Motors.

-WKW
Atualizações
1. Uma história do Diário do Comércio sugere um envolvimento do governo com os investimentos Sete Lagoas
2. Aparentemente, uma empresa chamada "Oxxor Motors" tentou o mesmo caso como Amsia Motors.
3. A "Mr. Zhang Hui" é creditado no LinkedIn como sendo o Presidente do "Amnesia Baraka Limited." Zhang Hui é um nome chinês popular. Zhang tem conexões de zero ea conta aparece de novo.
Look what showed up in my in-box:
For Immediate Release - October 28, 2015 -

"Denny Hastert Grips My Balls"
Filmmaker/Authors Predicted Hastert Scandal Six Years Ago

West Hollywood, California  –  On the day that former House Speaker Dennis Hastert pleaded guilty to paying hush money for "misconduct" as a high school wrestling coach, the authors of a satirical novel that predicted similar behavior in a chapter titled "Denny Hastert Grips My Balls," announced that their publisher has added a second printing of their critically-acclaimed book.  The 2009 Farrar, Straus, Giroux release, "I Am Martin Eisenstadt: One Man's (wildly inappropriate) Adventures with the Last Republicans," by Dan Mirvish and Eitan Gorlin, also predicted the fracturization of the Republican Party, and scandals involving David Petraeus, Elliot Spitzer, Anthony Weiner, Ehud Olmert, Pamela Geller, Sarah Palin and Paris Hilton.

"My clients, the Eisenstadt duo, have nailed it again.  They can now claim to be the first political pundits to predict Denny Hastert's fall from grace stemming from his wrestling past," said Mirvish and Gorlin's publicist Eli Perle, of Provocation Entertainment. "If you want to understand the history, present and future of the Republican party, this is the book for you."  The Hastert references, entirely fictional at the time, included a private sauna in his Capitol Hill office where he held private meetings and gave inappropriate massages.

"Of course, whatever Hastert's real behavior might have been is regrettable and reprehensible, and we wish closure and justice for any of his victims," said Mirvish. "Whether the FBI had read the book and was inspired to investigate, we can't know for sure," added Gorlin   "We're very excited that FSG is giving the novel its second printing. We couldn't have asked for a better partner," said Mirvish.

To quote one passage from the Hastert chapter in the book: "Next thing I knew I was in a tabletop stance with all of Denny's body weight applied against my chest. 'Ha, ha!' barreled Denny. 'I still got it. Join me for a sauna?' 'As soon as you let go of my balls.' We laughed again. The ice had been broken. I was relieved. His massive, moisturizer-soft hand was still gripping my testicles."

"I Am Martin Eisenstadt" (ISBN: 0865479143) was named the #3 Book of Year by the Washington Monthly Magazine (2009), and Eisenstadt himself was Time Magazine's #8 Fleeting Celebrity of 2008. The book itself was part of a larger transmedia project that included TV, film and webseries elements, which saw Mirvish and Gorlin screen at the HBO Comedy Arts Festival and the Montreal Just for Laughs Festival. Other critical appraisal for the novel:

"Martin Eisenstadt's new memoir…is essential reading for all political junkies." - Ken Silverstein, Harper's

"Consistently funny…Eisenstadt's creators are shrewd observers of Washington, and they delight in sending up its countless absurdities, I intend it as real praise when I say that 'I Am Martin Eisenstadt' is the best fake memoir of the campaign season." - Joshua Green, Atlantic Monthly

"Washington has no shortage of pundits who pretend to know what they're talking about. But there's a real dearth of pretend pundits — and even fewer who will talk about why they're pretending in the first place." - Rick Klein, ABC News

Mirvish and Gorlin are both award-winning filmmakers. Co-founder of the Slamdance Film Festival, Dan Mirvish is currently in pre-production on the film "Bernard and Huey," with a screenplay by Oscar/Pulitzer winner Jules Feiffer.  Eitan Gorlin continues to write scripts for film and television and is in pre-production on his latest independent feature, "Burbank Caviar."

For more information or interview requests for Mirvish or Gorlin, please contact Eli Perle at Provocation Entertainment at[email protected] or 323-863-3297.  For inquiries regarding Farrar Straus Giroux, please contact Sarita Varma at 212-206-5327 or [email protected].
WASHINGTON, D.C. - More than 42,000 scientists across the globe - including such luminaries as Neil deGrasse Tyson and Stephen Hawking - have been arrested for hour laundering in a world-wide sting, sources say.
"They got them all, finally," said the source. "Finally, this terror ends."
The arrests take place following a six-hour investigation by House Republicans in the U.S. The results of the investigation unearthed a massive conspiracy that included thousands of scientists across the globe. Reports show that the scientists were arrested for hoarding hours left over after Daylight Savings Time in Spring. The scientists would then put those hours in a high-yield account. In the Fall, the hours would be paid back, however the interested accumulated was held on to by the scientists.
These extra hours were then laundered by the scientists, and used for such things as spreading global climate change disinformation and investing in making Bill Nye a big celebrity.
"I think we've all known scientists are the real enemies," said a clearly pleased House GOP watchdog Darrell Issa. "Think of all those lost hours? Education truly is evil."
The criminal enterprise of Daylight Savings Time has been cancelled, and all Americans will need to send a extra hour back to the government, or wait for a possible refund of an hour from the government. The return could take between six-to-eight weeks.
Sources say the Hour Laundering Scam™ began in 1897 under the watchful eye of scientist Percival Lowell, who believed extra hours could be funneled through canals on Mars. Despite being widely discredited, Lowell eventually used hours he had hoarded in order to get Arizona to name a really nice observatory after him.
The unspoken tradition of hour laundering among scientists has continued since then, with famed scientists such as Isaac Newton - who wasted all his hours on alchemy experiments - taking part (The extra hours could be used to go back in time to include scientists from prior generations).
"So, basically, all scientists from all of history are guilty," said Issa. "Wow. Seriously, I never think these things will amount anything. This one, tho? Wow."
Tyson - one of the most famous scientists on the planet - was unable to comment on the story, as it's still not Daylight Savings Time in the zone he's in, and the story has yet to break.
-WKW
CLEVELAND - UPS driver Tim Johnston woke up one day last week with a feeling of dread. A feeling that things just weren't right. So often he felt this way but never spoke up about it. But this time, he wasn't going to let it pass. This time, he was going to speak out.
"Gravity is BS," said Johnston. "I've thought about this for awhile and it just doesn't add up."
Johnston said he based his anti-Law-of-Gravity theory on the simple fact that not all things are not constantly falling all the time.
"Kinda seems like that's what would happen if gravity were real, right?" said Johnston, 47. "I mean, that's how it feels to me."
Johnston's announcement caused a commotion in the entertainment/science industry. ABC, NBC, CBS, CNN & Fox News ("Gravity: Stop Being a Slave") have all announced new news/science/entertainment specials that will address this building dissent over gravity's effects.
CNN also announced it will feature a two-hour, primetime debate between renowned entertainer/activist/scientist/TV Personality Bill Nye and Johnston. Nye said this was an opportunity to educate the public.
"Science!" said Nye, who then pushed a button that made his bow tie spin.
Others have joined Johnston's call.
"[Gravity] was filmed on a soundstage by the government!" said citizen Raul Pudd, pounding his fists and with spittle flying everywhere.
For Johnston, the attention has been worth it as he tries to bring attention to what some have called "The Greatest Hoax in American History."
"It just feels wrong, right?" said Johnston, a Capricorn. "This is one of those things that liberals believe that's just BS. I mean, it's just a theory."
CNN chief Jeff Zucker said he was glad to see his network begin to take shape in his image.
"This is what the people want," said Zucker, who announced that one lucky debate viewer will win a free trip to Tucson, Arizona. "People are asking questions.
"Is gravity America's greatest hoax, or not?" added Zucker. "That's what we want to attempt to answer, if we can. We're CNN."
-WKW
Speaking as an American, which is something I often do, let me just say that I am outraged by the complete lack of American military intervention in Ukraine right now. America and the Obama Administration are once again refusing to show true leadership.
You've seen the pictures coming from Ukraine. It's a mess. Total chaos. This is why the time to act is now. And act with confidence and focus.
Now, from what I've seen, one side in Ukraine is led by one of the boxing Klitschko boxers, and the other side is led by other people who I don't know. These are the only sides there can be, as two is the maximum number of sides that can be taken in politics, as we know.
So we got Klitschko, who I think is on the side Russia. Now, Mitt Romney said Russia is the enemy, but lately it seems like conservatives are really big fans of Russia and Vladimir Putin. So I'm not sure how that all works out, really. But those small issues are left for the bean counters. Now is the time for action.
My friends, now is the time for America to re-establish itself as the leading exporter of peace-making, geopolitical-shifting destruction. Who cares which side we're on, the people of Ukraine need America. Or something. And, you know, it seems like it's a mess in Venezuela right now, also. Let's stick a boot in their ass for talking crap about us.
In conclusion, the world is falling into chaos. America needs to start bombing stuff.
-WKW
I just love that French President Francois Hollande falls for the same thing every time - the dignitary tries to look pleasant for the flashing cameras of the press, then Hollande meekly tries to shake hands.
-WKW
10.

Look: I quit taking Paxil last week. Ok, let me rephrase that - I've been taking Paxil about 10 years ago for a panic disorder. This week, I finally decided I was done with it. While it has done its job in controlling panic attacks, it has left me about as dull and shiftless as a man can be.
Of course, one of the great secrets of Paxil is that - despite denials from Smith-Glaxo - quitting Paxil leaves one with a wide array of withdrawal symptoms. Imagine sticking your head underwater while riding a roller coaster after smoking some weak weed. Add to tat a feeling of having the flu, body aches, depression and periodical electric zaps to the brain. Paxil withdrawal is essentially like that, just less fun.
Having a mental illness is someting Ié always been loathe to write about. I'm not against discussing my faults or mistakes - I've been upfront that I lost my last newspaper job because I showed up drunk to work, for instance. But, like most, I've allowed the fact that I have a mental illness to cause me shame. My left shoulder is almost worthless from bursitis. I'm cool talking about that. But the fact that my brain produces too much serotonin leaves me feeling like a failure.
I generally blame my panic disorder on having been an alcoholic for two decades (More on that later). But I really I don't know.  I just know that I'm 46 years old and it's time for a change. I've done well for myself the last several years and have become a prominent voice.  Paxil took away my ambition, however.
But now I stopped. Maybe the panic disorder will return (it hasn't yet) and maybe it won't. I just know that I'm now exhausted with fighting my own brain.  So, I'll exercise, take vitamins and work hard. I'll do whatever I can to keep my brain as an ally. But whatever happens, I'll have my ambition back. And I'm never letting go of that again.
 11.
"As a sometimes hoaxster himself, Wolfrum would know to be dubious of any tips, distrustful of any information fed his way. If a dubious sources said X, he would print Y. And would do it proudly and vainly. That was his nature. That was his character."
– From "I Am Martin Eisenstadt: One Man's (Wildly Inappropriate) Adventures with the Last Republicans."
I made my name exposing Martin Eisenstadt. But the creators of the hoax conservative - Dan Mirvish and Eitan Gorlin - had me figured out the entire time. In the end, though, it brought me fans from all walks of life.

(Note 1: The full story can be found on the Wolfrum Chronicled Main Page.)
(Note 2: For an explainer on this project, please go here.)
Over in North Korea, Kim Jong-Un has spent the better part of the month threatening to vaporize South Korea, the United States, and anyone else who wants a little vaporization. Now, generally, when a leader of a nation with nuclear capabilities makes wild, outlandish threats, the rest of the world pays attention, for reasons of vaporization avoidance.
For the 30-year-old Jong-Un, however, the threats have mostly been ignored or outright ridiculed. Basically, Jong-Un could have gotten more notice from the world had he made his threats from Guantanamo Bay. Justin Bieber being ignorant of Anne Frank caused more international waves than North Korea threatening to blow up everything.
And the simple fact is that the world's response to Jong-Un's temper tantrum has been spot on. The young dictator is doing what his dad did - rattle sabers, try to look strong, and hopefully get something out of it.  North Korea poses absolutely no threat to the United States, and very little to South Korea, even. This is not to say an out-of-control North Korea couldn't cause damage, but the fact is that even a 30-year-old dictator learns something quickly - you can't be dictator if your country is blow to bits.
When it comes to nuclear weapons, any threat should be taken seriously. Except for this one. An all-out nuclear attack by North Korea would likely result in North Korea nuking the hell out of North Korea. But even that won't happen. So let Jong-Un talk. Hopefully, he'll have said all he has to say before Kim Kardashian has her baby and we can all pay attention to the important things.
-WKW
My wife was bitten by the "Jaws" bug at a young age, and is terrified of sharks until til today. So this video is for her:
-WKW
WASHINGTON - President Barack Obama banned the controversial drone program here today, and reaction to the move was swift, as every other country on the planet immediately announced they would do the same, even France, which has a well-earned reputation of being a pain in the ass on these types of matters.
The move to ban drones was met by complete bipartisan support in both the House and Senate, with even staunch defense supporters like warmongering angry white guy Sen. John McCain giving it a thumbs up.
"This is just great," said McCain, who appeared to be choking on something. "Really, great."
Many experts, like William K. Wolfrum, the writer of this blog post, had said getting a handle on the drone issue was vital and would require a great deal of work.
"Getting a handle on the drone issue was vital and would require a great deal of work," said Wolfrum, who just lazily cut-and-pasted that. "I had assumed it would require a bipartisan, national and international movement. But, what the hell do I know?"
Aside from banning all future drones, Obama signed an executive order to destroy all available drones, cease work on them, release all documents regarding drone usage, accuse himself of war crimes, impeach himself and give himself a lengthy jail sentence. Obama said that someone finally told him that predator drones have killed untold innocent civilians in nations like Yemen and Pakistan, and that killing civilians only further increases radicalization.
"They told me that and I was like, 'Woah,' and stuff," said Obama. "If I killed innocent civilians, I must be jailed for war crimes. I would have no moral standing if I didn't. Also, I was born in Kenya."
In other news to further showcase how over-the-top this post has become, the stars of "Finding Bigfoot," today found Bigfoot, who, for all intents and purposes, seems like a fine fellow. It's goal achieved, the show has been cancelled to make room for "Bigfoot & Honey Boo Boo."
-WKW
WASHINGTON - President Barack Obama - in an attempt to ease tensions with Senate Republicans - bought a dozen GOP senators dinner last night, in what all have said was a pleasant evening. The dinner was held at the Jefferson Hotel, with Obama picking up the tab out of his own pocket.
The 12 senators - John McCain, Tom Coburn, Bob Corker, Kelly Ayotte, Dan Coats, Richard Burr, Mike Johanns, Pat Toomey, Ron Johnson, John Hoeven, Lindsey Graham and Saxby Chambliss - were all so moved by the President's largess, that all switched their party affiliation to communist immediately following the dinner.
"If this is communism, it's delicious!" said Johnson, who dined on shrimp risotto. "The people United cannot be divided! And neither will a check when Barack is around."
Following the dinner, all 12 senators said they would back any plan the President had on any issue, and will work to convince their GOP colleagues that "communism is where it's at," as McCain said.
"The President today showed his true stripes - striped bass that is!" said Coburn, wearing a Che Guevarra T-shirt. "Seriously though, President Obama is a great man and I'll do anything for him now. Anything. Name it."
While some of the 12 senators stated they wished now Obama would be more liberal and buy them dessert, the dinner was a major victory for the President. The dinner was also a victory for American political pundits, who have long stated that if Obama was only nicer to Republicans, then everything would be cool.
-WKW
Via Jonathan Cait at New York Magazine:
Boehner's gambit here is perfectly obvious. He wants to cut a deal with Obama, but understands that doing so would result in him getting fired from his job. But since "my members are so crazy they won't even let me negotiate" is not a strong message to bring to a high-profile showdown, Boehner can't say that. Instead he's going with the time-honored method of just saying a bunch of words about politics until the interviewer gets tired of it and moves on.
Read the whole thing here.
-WKW
One of the latest growing crimes in Brazil is to rig explosives to ATMs, blow them up and get away with the loot. Here's an ATM from my bank here in Uberlandia, Minas Gerais, Brazil. This happened last week: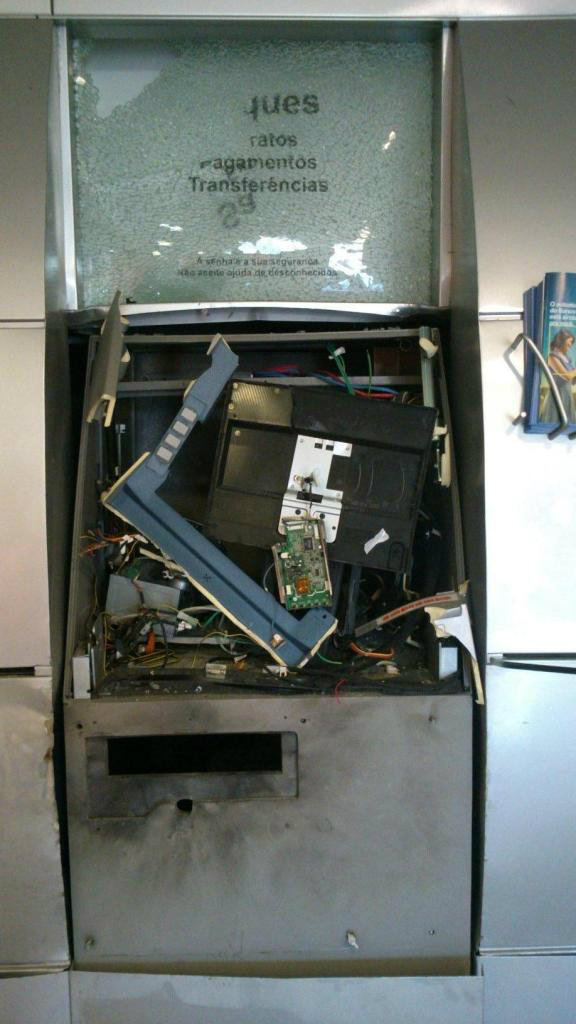 Despite a growing economy, Brazil continues to struggles with one of the highest crime rates in the world.
-WKW
TEXAS - Scientists at the University of Texas-El Paso have discovered that the human body will deflect bullets in a "legitimate" shooting.
"We have seen that, when the human body is stressed out and about to be legitimately shot, the bullet will not harm them," said Dr. Phil Gingrey. "The obvious conclusion is that people who do have a bullet enter their body actually want to be shot."
While many experts have expressed skepticism at the findings, noted human body expert Todd Akin said the conclusions were obvious.
"Guns aren't the problem, Bullet Whores are the problem!" said Akin. "These aren't victims, these are people who want to be penetrated by lead moving at hyper speeds."
-WKW