Overstock.com CEO Patrick Byrne's attacks on financial journalists are false
In 2004, with two wars raging, John Kerry entered his election battle with incumbent George W. Bush with one major advantage - he had served in Vietnam while Bush hadn't. This advantage was shredded by a group called "Swift Boat Veterans for Truth." Following an all-out attack on Kerry's service record, the waters were clearly muddied for the general public, and Kerry lost a close election to Bush. These "Swift Boaters" did what they set out to do, despite the fact that the L.A. Times editorial stated "Not limited by the conventions of our colleagues in the newsroom, we can say it outright: These charges against John Kerry are false."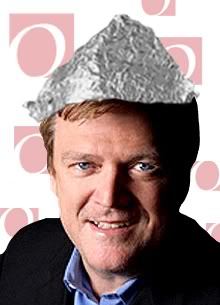 While lessons were learned from the embarrassing "Swift Boat" attack, most of them were negative. For Overstock.com CEO Patrick Byrne - who donated money to the original Swift Boaters - the lesson was simple - attack any perceived enemies. And for the last several years, financial journalists have assumed the Kerry role to Byrne's Swift Boaters.
Byrne's relentless hype about naked short-selling has combined the "Swift Boat" mentality with the mentality of conspiracy theorists, with most of it being played out over the Internet. Those that have been detractors against Byrne's short-selling campaign have been attacked via the Internet, with said attacks normally going after the integrity of the reporters in question. But in the story of Patrick Byrne and Overstock.com, there is really but one truth - over the past decade, Overstock.com has performed miserably.
While Byrne's crusade against naked short sellers may be an honest one, his tactics have been anything but. With murky cohorts like PR specialist Judd Bagley (who denies working for Byrne), and Bob O'Brien (a pseudonym), the Overstock.com attacks not only lack truth, but have been destructive to the journalists and bloggers that have been on the receiving end.
Even an incomplete look at the notable journalists Byrne and his team have smeared gives a good idea of this method. Gary Weiss, Bethany McLean, Jim Cramer, Herb Greenberg, Jesse Eisinger, Joe Nocera, and Carol Remond are but a few of the financial journalists who have been attacked by Byrne's team. And while none of the attacks have shown merit, they have been effective on some levels.
"Byrne's attacks have discouraged coverage of Byrne and Overstock. In fact, one of the people who wrote negatively about Byrne has vowed never to do so again for that reason," said Weiss. "This is why such acts as he commits fall under the classification of 'issuer retaliation,' as they are designed to impede coverage of a publicly traded company. I'd say that the share price of Overstock is definitely artificially inflated by Byrne's tactics."

Weiss's words ring true in that Byrne has continued his new media attacks despite the fact that they have been reported repeatedly in the media, both online and mainstream, with even the New York Times had a story on Byrne's shenanigans as early as January 2007.
Sockpuppetry and New media attacks
It is no secret whatsoever that Byrne uses new media to attack and/or confront any that would question him (this reporter speaks from experience - a recent post regarding Overstock was immediately responded to by two of Byrne's missionaries - Lenofus and Bagley).
And while Byne and Bagley will often confront online critics using their own names or corresponding user names, they also have often resorted to the practice of sock puppetry - impersonating a separate user in order to advance their cause. For instance, Bagley - writing under the user name "WordBomb" - has been marked by Wikipedia as having used 35 separate names at the site, including the clever "IPFrehley."
For his part, Byrne has more or less admitted to posting anonymously on message boards.
Filmaker Dan Mirvish - part of the team that brought the Martin Eisenstadt Hoax to life - knows how easily Internet media can be manipulated and said he is aware that some corporate types have taken to the Internet to advance their causes, whether fair or foul.
"There is a trend of corporate types who hire people simply to scrub their online identities and use sockpuppetry and other means to burnish their reputations on Google and elsewhere," said Mirvish. "When we were working on the Martin Eisenstadt project, we realized that the vulnerabilities in the blogosphere could easily be used for more nefarious purposes than what we were up to, which was essentially political satire."
Regardless of whether the Overstock.com team is using sock puppets or writing under their own byline, however, one thing is clear - they have no tolerance whatsoever for critics. As Nocera wrote in his New York Times column: "It has always seemed to me that Mr. Byrne's primary mission had less to do with the supposed evils of naked short sellers, and more to do with making life miserable for anyone who dared to criticize his company."
Aside from the forum at Overstock.com and financial message boards throughout the Internet such as Yahoo, Byrne has used two separate Web sites to push his naked short-selling conspiracy and to convey the attacks on his critics - DeepCapture.com and AntiSocialMedia.net.
Since 2006, AntiSocialMedia.net and DeepCapture.com have featured literally hundreds of posts attacking critical journalists like Weiss, McLean, Greenberg, Nocera, and Jim Cramer among others. Bagley himself has threatened independent bloggers, and harassed journalists such as Weiss. The claims made by Byrne and Bagley have been denied by the journalists in question, to the point that many of them want nothing more to do with Byrne and Overstock.com.
The Conspiracy
As economic strategist Barry Ritholz said: "Blaming short sellers is an old and inartful dodge." And while it can't be completely cemented that Byrne is using his Naked Short-Selling campaign as a way to dodge blame for the poor performance of Overstock.com, it can not be denied that - purposefully or not - he has used tried and true conspiracy theory methods to advance his cause.

Starting with Mark Mitchell's 40,000-word manifesto that attempts to sledgehammer readers into believing that that naked short-selling and dangerous characters are destroying the world's economy, the Overstock.com Naked Short-selling conspiracy is one that would make such 9/11 Truthers as Alex Jones squeal with delight. It is, quite simply, a textbook example of how to build and defend a conspiracy theory.
With "The Story of Deep Capture," Mitchell - formerly an editor with the Columbia Journalism Review - has produced an epic of the Conspiracy genre. Unsubstantiated facts are combined with ad-hominens helping it to line up perfectly with normal conspiracy rhetoric. Mitchell does little more than give flourish to a nearly endless list of attacks and rumors, hoping that the barrage of words will convince others of their truth. And as with many publicized theories such as this, some followers have emerged, giving Byrne a new attack brigade.
Attacking critics also plays a prominent role in conspiracy theories. For instance, when Popular Mechanics published a full issue debunking 9/11 myths, the retort from 9/11 Truthers was fast and simple - Popular Mechanics was in on it, too. With the Naked Short-selling brigade, the same attack is used - if a financial journalist writes critically of Byrne and Overstock.com, they must be involved in the conspiracy against them.
Whatever Byrne's or Bagley's opinion of whether or not they are advancing a conspiracy theory, one point must be clear - they are clearly using the same tactics as 9/11 Truthers, Moon-Landing Hoaxers, and other conspiracy theorists
The Results
With the economy in free fall, Byrne has been given credit by some for foreseeing the economic turmoil. This is a small minority, however. Still, that hasn't hurt Byrne's case, as recently he and his Naked Short-Selling story have been quoted as truth by left-wing bloggers from Daily Kos and Crooks & Liars.
The situation is thus: At CNBC, Cramer and others have been vociferous critics of President Barack Obama's economic plans. With many Progressive thinkers believing that CNBC is actively supporting corporations while fighting Obama's economic plans (with CNBC garnering huge ratings along the way), The Story of Deep Capture has been given new life and a conspiracy theory is advanced.
From TocqueDeville at DailyKos:
This rabbit hole involves the thugs surrounding Jim Cramer and some of the top financial "journalists" from the New York Times, WSJ, Fortune magazine and BusinessWeek, top hedge funds, the Mafia, and the DTCC. It also includes "blackmail, smear campaigns, espionage, fraud, harassment, extortion, bribery, rumor-mongering, sabotage, off-shore money laundering, political cronyism, frivolous lawsuits, witness tampering, biased financial research, false identities, bogus credit ratings, bribery, libelous blogs, bad science, forgery, wiretapping, counterfeiting, collusion, lying, cheating, threats and theft."
As with most blogs that cater to a specific ideology, the posts at DailyKos and Crooks & Liars and other left-of-center sites have been met with little or no skepticism. Deep Capture may be a fantastic and unbelievable yarn, but in this case it benefits the point being made - Jim Cramer is a nefarious character. Just look at Deep Capture.
In the end, one fact outshines them all: Since Byrne has taken over as Overstock.com's CEO, the company's stock has fallen from $70 to less than $9 today . The main reason for this, according to Byrne is that Overstock.com has been crippled by naked short sellers, and he will gladly destroy the reputations of any journalists that take issue with this reasoning. But the simple fact is that respected economists strongly disagree.
While blaming short sellers may be considered a dodge, so is blaming the messenger. And despite any howls of outrage from Byrne or his camp, his attacks on financial journalists have been nothing short of vindictive. In regard to his attacks on financial journalists, let it be said that not being limited by the conventions of our colleagues in the newsroom, we can say it outright: Byrne's charges are false.
More reading:
- The Naked Untruth: CEO's Devious Blog Hoodwinks DailyKos
- The Truth Squad: An attempt to do something about the bad weather in journalism
- Wow! Overstock.com CEO Patrick Byrne is an unethical freak
- Overstock.com: Patrick Byrne's Private War Against Naked Short-Sellers

- A CEO's extraordinary campaign against short-sellers
- Overstock.com's CEO is 'perhaps' an ogre
- Conspiracy Watch: The Wisest Guys in the Room
Graphics designed by Melissa McEwan

-WKW