Breaking: Khalid Sheikh Mohammed breaks out of Guantanamo, defeats U.S. military, enslaves American public
NEW YORK - In a shocking development, arch-terrorist Khalid Sheikh Mohammed broke out of Guantanamo Prison today, personally defeated the entire U.S. military, overthrew the U.S. Government and forced all Americans to abide by Sharia Law.
"We told you so," said a crying Sean Hannity, a snot bubble coming from his nose. "Obama!!!!!!"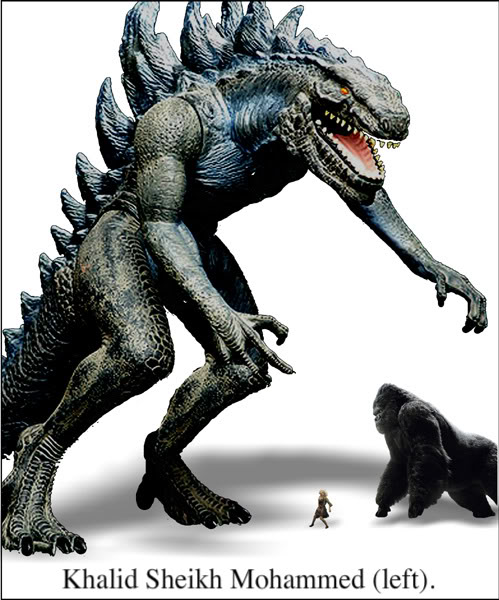 Details of the break out are still sketchy, but eyewitnesses are confirming that KSM used "some type of type of dark magic to turn into an undefeatable terrorist Godzilla."
The break out and and corresponding overthrow proves that panicked U.S. politicians were correct that KSM should not have been given a trial in New York City. Previously, many believed that said politicians were just a sniveling bunch of cowards still eager to politicize terrorism.
"Thank God he was never transfered to New York," said New York Mayor Michael Bloomberg. "This could have been really bad."
Before the bloody, one-man destruction of the United States, the U.S. Congress had stated that they would deny any federal funds for trying KSM in a federal court of law.
"This is really dangerous nonsense," said Senate Minority Leader Mitch McConnell. "We have a way to do it, Interrogate them, detain them, and try them in military commissions offshore at Guantanamo from which no one has ever escaped."
McConnell added that people like Ronald Reagan who supported giving terrorists federal trials "just don't understand the threats America faces."
Still, while the nation is now in complete disarray and chaos, some Conservatives have hailed the new rule of their Islamic Overlord.
"Finally, this nation has someone who will lead it in a moral, strong-fisted way," said Muhammad Rashii-Limbaugh - formerly known as Rush Limbaugh. "Praise Allah."
-WKW