Planned Parenthood Blog Carnival gives a chance to tell the real stories & the truth about #MyPP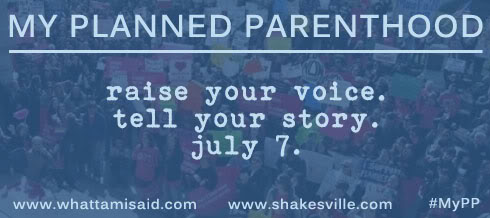 Hosted by the blogs What Tami Said and Shakesville, today is a Planned Parenthood Blog Carnival. The purpose of the Carnival is for women or men that have been helped by Planned Parenthood to share their positive experiences.
Because Planned Parenthood is getting battered in the U.S., especially in Indiana. From What Tami Says:
What is at stake?

According to the Planned Parenthood of Indiana website, "all Medicaid patients will need to pay for their own care or access other funding to be seen at Planned Parenthood of Indiana health centers."

According to the Indianapolis Star, Planned Parenthood of Indiana has been forced to lay off two sexually transmitted disease prevention specialists, and had to close each of its health centers for one day on June 22.

Also from the Star, "A total of 85,000 Hoosiers receive services at Planned Parenthood of Indiana's 28 health centers. If the law is allowed to stand, Planned Parenthood will have to close eight centers that serve low-income patients at two Indianapolis locations, as well as in Bedford, Hammond, Michigan City, New Albany, Terre Haute and Muncie."

These diminishing services disproportionately impact women and men who can ill afford it-the poor and marginalized. Last year, the organization performed more than 26,000 pap tests, nearly 30,000 breast exams for clients, more than 50 percent of whom were at or below the poverty level.

All posts must be in today by 9 p.m. EST. Go to Shakesville for details. If you have a story, be heard. Planned Parenthood is in dire risk, and it has been unfairly demonized far too often. Let's hear the other side.
-WKW