So, it appears that some folks (Ok, Muslims) in and around Europe are freaking out a bit due to a Danish newspaper printing a political cartoon featuring the Islamic diety Mohammad. Of course, by freaking out a bit, I mean threatened beheadings and kidnappings.
The Danish paper quickly cringingly apologized, but other European papers have jumped into the fray, delivering a huge middle finger to those who would try and murder freedom of expression.
This is great news for political cartoons, which for the past several decades have gotten little more attention than a nod and half-chuckle. Getting death threats and jihads is a massive upward move for a struggling art form.
All of this just makes me think one thing: If there really was a God, it would be seriously pissed right about now. Due to a sustained lack of existing, Mohammad, nor any other diety has commented on this fray.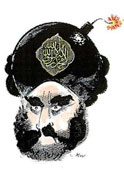 Stop this nonsense or I swear
we'll blow up Mohammad
After shuffling along to a win and a draw in its first two games with but one goal to show for it, Cruzeiro looked strong tonight, beating up on Democrata Sete Lagoas, 5-2 in the Campeonato Mineiro (Minas Gerais State Championship).
The result was to be expected, but what stood out was that three of the goals came from the Foxes two biggest off-season pick-ups, Araujo (two) and Elber. Araujo's been tormenting the Japanese league for the last couple years and looks very strong and experienced up front. Elber came in as a substitute and scored a nifty goal late with his back to the goal.
All in all, a good game for Cruzeiro, and will lead them in nicely to the first — and likely only — "Classic" of the year against cross-town rivals Atletico-MG, who were demoted to the second division (Serie B) last year.
Also got to see a bit of Barcelona's 2-1 victory over Zaragoza, which wasn't enough to see Zaragoza advance in the King's Cup by a 5-4 aggregate. Barca was blitzed by the ref, who sent of Ronaldinho Gaucho midway through the opening half on a call that really barely should have given the Brazilian a yellow.
Add to that, the U.S.'s 5-0 thumping of Norway on Sunday, and it's been a very nice week of soccer, with some more games tomorrow, as well as a pick-up game I'll probably join tomorrow evening.
-WKW
Dear Organized Religion:
Here's a snippet of a recent story on how you badgered the politicians you own into giving you tax money earmarked to fight AIDS:
"President Bush's $15 billion effort to fight AIDS has handed out nearly one-quarter of its grants to religious groups, and officials are aggressively pursuing new church partners that often emphasize disease prevention through abstinence and fidelity over condom use.
Award recipients include a Christian relief organization famous for its televised appeals to feed hungry children, a well-known Catholic charity and a group run by the son of evangelist Billy Graham, according to the State Department."
Well isn't that just swell.
Anyway, I was thinking about this and realized some important facts. In the thousands and thousands of years people have worshipped deities, things like prostitution have existed. In fact, during Christianity's watch, AIDS came into existence. As did more or less every other sexually transmitted disease known to man.
So please, enough with the preaching, dear religiotti. You've failed. Badly and repeatedly. I see no reason for taxpayer's in the U.S. to line your pocketbooks for such complete and total ineptitude.
Please head to your nearest cave and start over, pounding your messages onto stone tablets. Because your unchangeable plan of braying to people to stop having sex isn't working to solve a damned thing when it comes to things like AIDS.
And giving you billions to make that simplistic message louder just makes everyone look idiotic.
-WKW