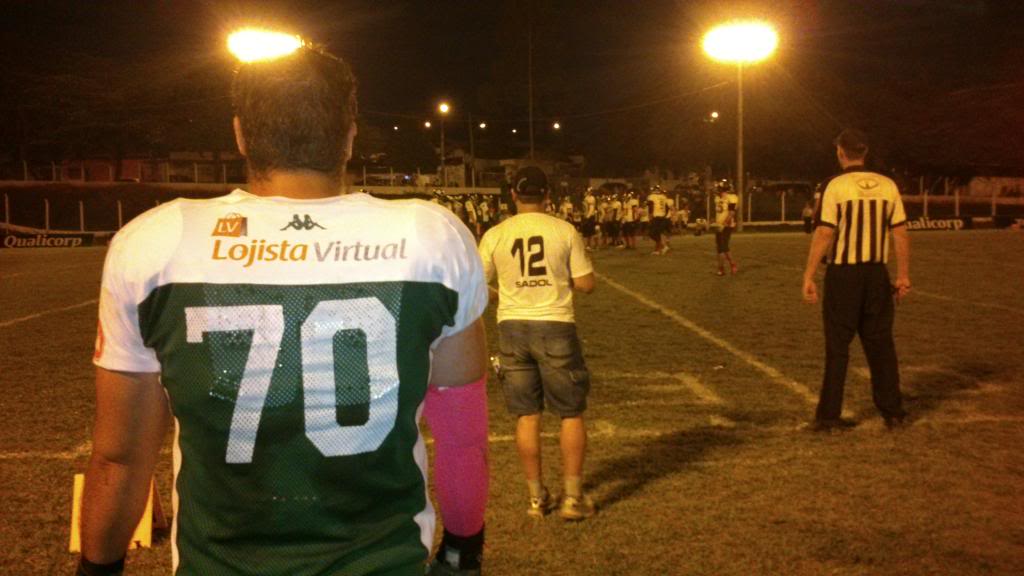 "This is a game of emotion and violence. Even if you don't fully understand, enjoy watching these warriors on the field." — Announcer Fabio Dos Santos.
Uberlandia, Minas Gerais, BRAZIL — A warm summer Saturday in Brazil. The field is freshly lined. Fans of both teams take their places, wearing the shirts of their favorite teams. the players stretch and prepare for the match ahead. As anticipation builds to a fever pitch, the game begins.
The kickoff …
… is returned to the 25-yard line before the returner is tackled.
This is not your pai's football.
To say Brazil is a soccer-crazed nation is as much an understatement as saying they enjoy dancing. "Who is your team?" is a required question when meeting someone (My Brazilian team is Cruzeiro. Which is my father-in-law's team. Which meant it was an easy choice). The game is religion and a big part of Brazilian society.
Yet on a Saturday evening, here were a bunch of Brazilians aged from 18 to 45, putting on shoulder pads and helmets and preparing to grind it out for 40 minutes. It is, to say the least, a surreal vision.
The game featured the Uberlandia Lobos against the Lusa Rhynos, two of the more than 20 organized American football teams throughout Brazil playing in the "Touchdown Tournament," the semi-official "commission" of American Football. Jeovanir Silva, the President of the Lobos, as well as an offensive lineman, has been the main cog in bringing American football to this city of 600,000 residents.
"We are pioneers of the game here in Brazil," said Silva. "It is our job to promote an teach the game."
But while Silva and other Brazilians deserve credit for promoting the game, pursuing sponsors, and raising the country's awareness of the game, one entity can take credit for planting the seed - ESPN.
Prior to the game, there was an expectation that many of the players had either studied or spent a significant amount of time in the United States, where they were able to gain an appreciation of American football (such is the case with my wife.) Instead, nearly all players pointed to watching NFL games on ESPN (which is available via cable or satellite tv here).
Uberlandia's diminutive strong safety Joaquim Garcia - the team's defensive captain, who makes up for his lack of size with the highest football IQ on the field - is one such player. Having spent his life watching the game on ESPN, the 20-year-old is now one of the country's top players.
"I remember I was very young and watched an NFL game and gave always loved it since," said Garcia. "It is amazing to get to play."
Garcia's girlfriend, Kim, sits in the stands along with approximately 100 other surprisingly football-savvy fans. Looking through the crowd, one is never likely to see so many people in sporting jerseys that don't have names like Neymar or Kakà on the back. Here, fans proudly wear jerseys of NFL players like Brady, Manning and Brees. And in the crowd sits Kim Garcia, looking for all the world like Brazil's first football widow.
"I know the game pretty well," said Kim Garcia. "We watch games all weekend. Every weekend."
The game itself was both beautiful and heinous. Turnovers abound. Penalty flags are like a plague of yellow locusts. Both teams suffered from the same problem - having learned the game via watching the NFL, the players wanted to play NFL-styled offenses. The running game - the main staple of beginning football players - was utterly abandoned by both teams in place of passing games that led to a total of seven interceptions for the game.
Nonetheless, there were tremendous bright spots. Both teams played with passion, and as the game progressed, you could see true "football players" emerge. Big hits were met with thunderous applause from players and fans alike. Uberlandia running back Eduardo de Souza scored on a nifty 25-yard camper that ended with him somersaulting into the end zone.
In the end, an early safety was enough to give the Rhynos a hard-fought 8-7 victory. Despite the loss, Silva continues his work in making Uberlandia one of the top teams in the nation. The club has received a smattering of media attention, started a youth team and continues to invite any potential players that want to come out and give American football a try.
In the end, the game is about the players. And leaving the field, bloodied but unbowed, Joaquim Garcia lets you know his feelings for the game with one popular Portuguese word.
"Ótimo."
-WKW
Currently the subject of a rape case investigation, Florida State QB Jameis Winston has apparently taken to hiding out on Twitter in his best Randall Cunningham mask.
Oh well, you know what they say about Black quarterbacks.
-WKW
Being a sports fan means never aging. It means that year after year, youth is recycled and everyone is again a 21-year-old looking to make his or her mark. The dream of sports is one of beauty and youth and endless possibilities.
The nightmare is so often what happens when those beautiful young athletes become a little older, a little slower and a little less beautiful. For even the most successful athlete, 40-years-old is about the limit. Then life begins. And life can often be unpleasant for these formerly beautiful young men.
Boxer Tommy Morrison is the latest tragedy to come from the sports world. Morrison died yesterday at the age of 44, most likely of AIDS-related illness, despite long denying he was HIV-positive or that the HIV virus even existed. From all reports, his final years were spent in hospitals and in a fugue of conspiracy theories.
I remember when Morrison arrived on the boxing scene. A more perfect example of Midwest American good lucks and personality will never be found. If you knew boxing, you knew Tommy was limited. But you also knew he could punch and that he came to fight. Morrison actually accomplished more than he should have, as he smartly out-boxed a slower George Foreman for some type of version of a heavyweight title. Morrison made some money in the ring and entertained fans, but a weak chin meant he'd never rise to greater heights, however, and a then a diagnosis of HIV changed everything.
And like so many before him, Morrison's life outside of athletics was one of madness.
The stories of athletes - especially fighters and football players - falling apart after sporting retirement are everywhere. As but one example, for Mike Webster, life after football meant a brain-injured stumble through a life that would end early. Whether it is from brain injury, financial distress or personal demons, however, the life of a former athlete is often one of struggle, physically and emotionally.
Mind you, some athletes find success off the playing field. But for every Magic Johnson - who thrives off the court despite his famed battle with HIV - there are 25 Websters and Morrisons.
But regardless of the plight of the once-worshipped, for sports fans, every year is one of renewal. Did you see Jameis Winston yesterday? So young, so gifted. The world is his.
And so the new replaces the old in sports, as it must. For sports fans, it's an eternity of watching young men excel. For the young athletes, however, it is but a blip of time that will eventually lead them to an uncertain future.
-WKW
As everything points to former New England Patriots' tight end  Aaron Hernandez being the person who murdered Odin Lloyd, one wonders if the media will eventually take a look at some factors regarding the case. Factors the NFL would not want investigated.
Was Hernandez using performance drugs? In an era where several former NFL players have committed suicide and fought brain damage due to their playing careers, could brain damage be an issue.
Of course, it's very possible that Hernandez is just an unstable person who was destined to kill some one. For many, though, it's hard to see such a promising career go up in gun smoke. Regardless, the media needs to examine the issue. What part - if any - did the NFL play in the murder of Odin Lloyd?
The NFL wants no part of these questions, but they must be asked.
-WKW
My brother-in-law Marcelo struggled mightily coming out of the closet. While I and a handful of his closest friends and relatives knew he was Gay, he kept his true self hidden until he was 31. The combination of Brazilian culture and a male-dominated family made coming out seem impossible to Marcelo.
A little more than two years ago, he had enough. With the support of those of us who knew his secret, he came out to everyone. And for a man who had lived in pure terror of his true self being public, the end result was glorious. Marcelo was embraced as the man he is, and congratulated for having the courage to come out.
"It was like a fart in the ocean," Marcelo said.
Last week, American professional soccer player Robbie Rogers announced he was a Gay man. In doing so, Rogers became the rare athlete in a team sport to come out. And while the taboo of Gay male professional athletes in team sports may remain, the reaction by Rogers' fellow players was quick and positive:

The reactions to Rogers' announcement came fast and furious and showcased how far American sports have come. And while Rogers said he was retiring from soccer, his former coach made it clear he was welcome back whenever he was ready.
"Yesterday I thought he was a very good player, and I still think that today," Chicago Fire coach Frank Klopas said in a team statement. "Should Robbie want to return to the game, we would still be open to him being part of the Fire."
I have written about the absence of openly gay male players in American team sports. It has long been groused upon that a Gay athlete would be a nuisance to the team and a divider in the locker room. The reactions to Rogers' announcement shows that today's athletes are more than ready to accept a Gay teammate.
For those who have complained about celebrities coming out of the closet, this should be proof of why it matters. Today's athletes have known Ellen DeGeneres and Neil Patrick Harris and other LGBTs for their entire lives. They have grown up less ignorant and more accepting of the LGBT community. This has led to athletes like Chris Kluwe and Brendon Ayanbadejo openly and loudly supporting marriage equality. And it has led to the outpouring of support for Rogers.
The fight obviously continues. Aside from marriage equality, there are still too many rights the LGBT community do not receive. But with his teammates' support and the general public treating his announcement like a fart in the ocean, Rogers has shown that Americans - especially younger Americans - are on the side of acceptance. And this is something to celebrate.
-WKW
Jack Taylor of Grinnell College pumped in 138 points against Faith Baptist Bible College, breaking all records for scoring in basketball ever. He was so good, the great Kevin Durant even had to tip his cap.
"Jack Taylor you deserve a shot of Jack Daniels after that performance lol…wow," Durant tweeted.
-WKW
Emile Griffith was one of the great boxers in the history of the game. Throughout his career, there were rumors regarding his sexuality. Those rumors came to a climax during Griffith's third fight with Benny "Kid" Paret, who had spent the build-up of the fight taunting Griffith about these rumors.
"I got tired of people calling me faggot," Griffith told Bob Hebert years later. "He called me a name. … So I did what I had to do."
In the 12th round of the 1962 fight, Griffith hurt Paret, who slumped into a corner wounded. Griffith unleashed a flury of savage punches the likes of which boxing has rarely seen. Paret was knocked unconscious and suffered brain injuries he died from 10 days later.
In the years since, Griffith - his career long over - has admitted to being bisexual. Fifty years later, Puerto Rican fighter Orlando Cruz has done what Griffith or no other fighter ever imagined doing - he came out as a Gay man.
"I developed physically and mentally to take such a big step in my life and in my profession, which is boxing, knowing that it would have pros and cons, highs and lows in this sport that is so macho," Cruz told Sports Illustrated. "I kept this hidden for many, many years."
I have written several times about male athletes being unwilling or unable to come out of the closet. The law of averages states that there have been many gay athletes over the years, yet in the main U.S. sports - Major League Baseball, the NBA and NFL, no one has ever come out of the closet while an active athlete.
And no boxer had. Until the brave Orlando Cruz, who has - without a doubt - proven himself to be a champion.
Read more on Cruz and his decision to come out at Sports Illustrated.
-WKW
Following the controversy of not including Olympian Gabby Douglas in the photo or the story of the U.S. women gymnastics team winning gold, the Washington Post already has released its photo to commemorate Douglas winning the all-around gold today:
Congratulations to Douglas and the entire U.S. Women's Gymnastics Team for an amazing performance in London.
-WKW
With two games down in the London Olympics, Brazil's men's soccer team has looked strong, scoring six goals on its way to two victories. Brazil's most famous player - young attacker Neymar - is showing why European clubs are drooling over him, scoring twice and setting up two other goals.
Neymar is currently Brazil's great hope, as his style and passion have already garnered trophies (Copa Libertadores, Copa do Brasil, etc.) for his club Santos. In Brazil, however, there is on trophy that has eluded the Seleçao - an Olympics gold medal. Yes, in its great history, Brazil has never taken home the gold. This talented Brazil side  is expected to fix that problem this year.
For Neymar, it would be another trophy as he works his way to be the star of Brazil's 2014 World Cup team. Make no mistake, the kid is talented, stylish and seems to relish the spotlight. But he needs this Olympics win for multiple reasons. To me, the main one is to make up for making his silly hairstyle the most popular for Brazilian boys and young men: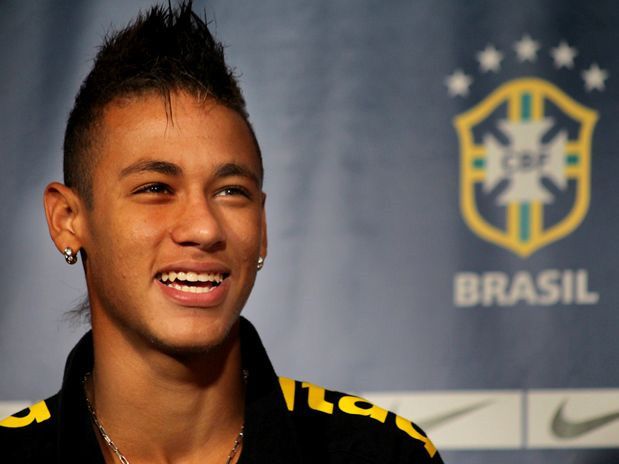 -WKW
Penn State just received a walloping from the NCAA for the Sandusky pedophilia ring. A penalty of $60 million, vacating all its wins from 1998 to 2011 and a ban from bowl games for four years.
And it's not enough.
On its own, Penn State University needs to drop its football program for at least five years. Pulling Joe Paterno's statue down and pretending like the last 40 years didn't happen isn't enough.
I feel for the young men who signed with Penn State to play football. I truly hope the NCAA helps them - and other students - transfer easily to other schools.
But make no mistake about it, these penalties by the NCAA will hurt. They'll hurt State College and the surrounding area. They'll hurt students. But we need to keep our eyes open to reality. We need to remember our priorities as civilized people.
Joe Paterno let Jerry Sandusky turn Penn State into a pedophilia camp. Let us not forget how heinous the crimes were at Penn State. And they were covered up because of football.
Penn State needs to dump the football program. And Americans need some time to think about how far we are willing to allow our love of sports take us off the path of basic humanity.
-WKW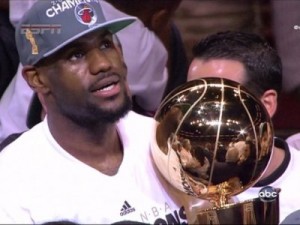 When Michael Jordan won his first NBA Championship with the Chicago Bulls, he was 28 and defined his career. As much as that, however, he defined an entire era in the NBA. Because while Jordan and the Bulls went on to win five more titles, a plethora of other great players went on to search for other ways to define themselves.
Jordan's prime coincided with the prime years of many other superstars, such as Karl Malone, Patrick Ewing, Charles Barkley, John Stockton, Dominique Wilikns and others. By the time Jordan was done, only a scant few got to taste NBA glory - Hakeem Olajuwan and Clyde Drexler (who won two titles when Jordan went to play baseball) and David Robinson (who, along with Tim Duncan, won a title once Jordan's prime was over.) For nearly a full decade, the NBA Championship Trophy was held by few.
When Lebron James and the Miami Heat won the NBA title this week, James was 27 and defined his own career. Gone were the taunts of "choker." In what can only be described as a Jordanesque performance, James took apart a marvelously talented Oklahoma City squad, dominating on all levels and playing with a ferocity rarely seen in any sport. After a career that has seen him win three MVP trophies, James finally added the word "Champion" to his resume.
Much like Jordan's first title, James' first ushers in a new age in the NBA. When Jordan's Bulls won in 1991, it meant that legends like Magic Johnson, Larry Bird and Isiah Thomas were done winning titles. It also meant that stars like Barkley and Ewing would never win a title.
Of course, even after James' performance, it still doesn't demand he be compared to Jordan on even ground. After all, Jordan won six NBA titles. James still has a long way to go to reach that standard, and it's very likely he never will.
The last two years in the NBA, however, has introduced us to Kevin Durant and Derrick Rose. On the young side of 25, and showing signs of being future Hall of Famers, it's very hard to imagine those two players going through their careers without winning an NBA championship ring. For James to win more championships, the road seemingly will always go through those two, and their substantial potential for detours.
What does that mean for the rest of the NBA? It means another shutout. Kobe Bryant is done winning championships. As is Dirk Nowitzki. As is Paul Pierce. Of those who have never tasted NBA glory, Dwight Howard is the new Patrick Ewing, and Steve Nash the new John Stockton. And players such as Carmelo Anthony, Chris Paul, Rajon Rondo, Blake Griffin and others may light up the stat sheets and highlight reels, but they will likely never see their names in lights.
While it's difficult to see Durant or Rose get shut out of Finals victories, one should not bet against James at this stage. A few years ago, Tiger Woods (who shares a birthday with James) shocked everyone by making a substantial run at Jack Nicklaus' record for golf majors. While that run has been stalled, it continues. Now it is James' turn to go head-to-head with a legend. Legends are made to be challenged.
Five more titles is difficult to visualize, but James should not be counted out. In 2012, he became the man he was always supposed to be. The 2011 loss to the Dallas Mavericks forced a sea change in James' focus. While he still played with joy and maintained a jovial image, the maturing he went through was obvious to all. And his play was truly brilliant, even by his own lofty standards.
None of this means that James-led teams will sweep NBA titles for the next several years. But with James, Durant and Rose around, it means that many a great basketball player will now go through their NBA careers without a ring.
-WKW
It has always been a no-brainer to me that Lance Armstrong used performance-enhancing drugs. The world of cycling is dominated by PEDs and has been for a long time. The idea that a guy who heroically recovered from cancer of the everything came back and completely dominated fields full of guys who cheated while not cheating himself is unreasonable. In 2009, I wrote this:
With the rampant use of performance enhancing drugs in the world of cycling, it is starting to take an extraordinary act of intellectual dishonesty to believe that Armstrong has been clean his entire career. So while I have a lot of respect for Armstrong as a man and an athlete, I'm not willing to keep my head buried in the sand. My opinion is that Lance Armstrong has benefited from illegal performance enhancing drugs in the past, and may very well be using whatever he can in this latest comeback attempt.
My feelings remain the same, and as of yesterday, it appears those feelings may be validated.
The seven-time Tour de France winner who in February saw a two-year federal investigation into his alleged use of performance-enhancing drugs dropped without charges being filed, is back in the spotlight of doping suspicions.

The U.S. Anti-Doping Agency has accused Armstrong and five former members of his support staff — three doctors, a trainer and a team manager — of engaging in a massive doping conspiracy from 1998 to 2011. Armstrong, 40, who retired from cycling last year, could see his Tour titles get stripped as a result.

USADA's letter to Armstrong dated June 12 includes previously unpublicized allegations against him, saying blood samples taken in 2009 and 2010 were "consistent with blood manipulation including EPO use and/or blood transfusions."
Armstrong denies the charges and he always will. He has pointed to some type of conspiracy that wants his legacyt tarnished. But in the U.S., Armstrong is beloved. He is truly a great person.
Sadly, in the end, Armstrong's legacy won't be that of a great cycling champion or tireless philanthropist. He will be known as the guy who cheated and then spent the rest of his life lying about it.
-WKW
As Floyd Mayweather prepares for his fight next week with Miguel Cotto, commentators are quick to point out that he will soon be serving time in jail. What they avoid talking about is why he will be incarcerated: Domestic Battery.
Mayweather - who should bank around $30 million for fighting Cotto - will soon be serving 90 days in jail after pleading guilty to misdemeanor domestic battery charges in order to avoid felony charges. Has this set off a national discussion on athletes who abuse women? Hardly. A quick check of Google News shows these search results:
Mayweather, Cotto: 828 results.
Mayweather, domestic battery: 4 results.
In my search, I was able to find one story about Mayweather's domestic battery: And in it, Mayweather says he isn't guilty and compares himself to Martin Luther King, Jr. and Malcolm X.
Mayweather's domestic battery conviction is no one-time affair, either. In fact, one could strongly make a case that "Money" is an unapologetic serial woman abuser. Via Wikipedia:
In 2002, Mayweather was charged with two counts of domestic violence and one count of misdemeanor battery. He received a 6 month suspended sentence, 2 days of house arrest and was ordered to perform 48 hours of community service.
In 2004, he was given a one year suspended jail sentence, ordered to undergo counseling for "impulse control" and pay a $1000 fine or perform 100 hours of community service after being convicted of two counts of misdemeanor battery against two women.
On September 9, 2010, it was reported that Mayweather was being sought by police for questioning after his former girlfriend, Josie Harris, filed a domestic battery report against him. Harris has accused Mayweather of battery in the past, but those charges were later dropped in July 2005 after Harris testified that she had lied and that Mayweather had not, in fact, assaulted her.
On December 21, 2011, a judge sentenced Mayweather to serve 90 days in the county jail for battery upon his ex-girlfriend in September 2010. Mayweather reached a deal with prosecutors in which he pled guilty to misdemeanor battery in exchange for prosecutors dropping the felony battery charge. Mayweather also pled no contest to two counts of misdemeanor harrasment which stemmed from Mayweather threatening to beat his kids.
Mind you, Wikipedia is no authority on violence against women when it comes to professional athletes. A look at NFL Hall-of-Famer Jim Brown's page doesn't even mention domestic abuse, despite the fact Brown is better known now for his violence against women than his playing or acting career.
Sure, sportswriters and the media are occasionally prone to brief, quickly forgotten moments of navel-gazing as to why the profession ignores violence against women:
"This is in no way meant to diminish Vick's crime, but it seems fair to wonder why there's a conspicuous lack of outrage when we hear about athletes torturing women," wrote Barry Rozner. "And whether a battered woman today matters less than a dog."
Yes, in the sports writing profession, a dog matters more than a woman. Take yesterday's episode of Friday Night Fights, when the universally acclaimed Rick Reilly interviewed Mike Tyson, and didn't once mention the fact that Tyson is a convicted rapist and well-known abuser of women.
I have written of this subject several times in the past and it is my opinion that American sportswriters either are cowards when it comes to violence against women, or they approve of it. Because Floyd Mayweather is going to jail for battering a woman and all they can talk about is fight predictions. Here's a prediction that will assuredly come true - Floyd Mayweather, Jr. will physically hurt a woman again. And sportswriters around the nation will ignore it again.
Because American athletes better not cheat, or play too aggressively or use performance-enhancing drugs. But beat a woman? Forget about it.
-WKW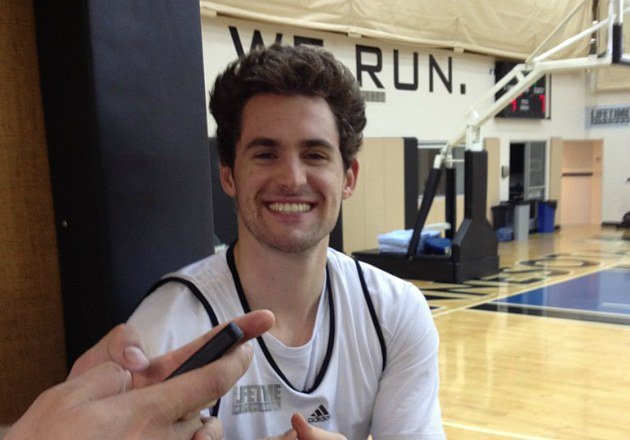 If Kevin Love weren't 6-foot-11 or so, he'd be a perfect fit in a boy band.
-WKW
Breaking: Research shows that steroid use is down in all major sports, as UFC heavyweight Alistair Overeem is now taking all of them himself.
-WKW