Feeling flaccid? Feeling like there's nothing left for you to fear? Has your penis stopped working?
Well, maybe ISIS & the Ebola Virus are for you. Yes, ISIS & Ebola have proven they can terrify some men into having erections they've been missing since Obama dumped bin Laden into the sea.
Think about it. Remember those heady days or 2001? The 9/11 attacks? Anthrax? Al Qaeda? Remember how hard it got you? Well, now you can relive those fantastic Fearections all over again with ISIS & Ebola.
So get out there today and watch random news shows about ISIS & Ebola. The misinformation and hyperbole will be all you need to be back in the ballgame.
Don't talk to your doctor about ISIS & Ebola. Just listen to what everyone's saying and let the fear wash over you. ISIS & Ebola - They'll make your dick hard.
-WKW
With two games down in the London Olympics, Brazil's men's soccer team has looked strong, scoring six goals on its way to two victories. Brazil's most famous player - young attacker Neymar - is showing why European clubs are drooling over him, scoring twice and setting up two other goals.
Neymar is currently Brazil's great hope, as his style and passion have already garnered trophies (Copa Libertadores, Copa do Brasil, etc.) for his club Santos. In Brazil, however, there is on trophy that has eluded the Seleçao - an Olympics gold medal. Yes, in its great history, Brazil has never taken home the gold. This talented Brazil side  is expected to fix that problem this year.
For Neymar, it would be another trophy as he works his way to be the star of Brazil's 2014 World Cup team. Make no mistake, the kid is talented, stylish and seems to relish the spotlight. But he needs this Olympics win for multiple reasons. To me, the main one is to make up for making his silly hairstyle the most popular for Brazilian boys and young men: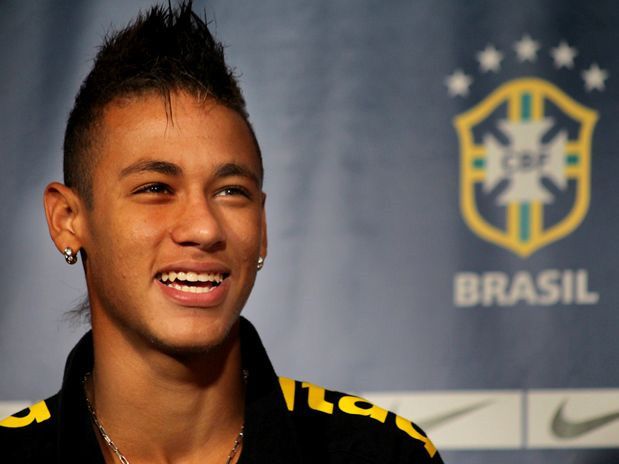 -WKW
I think it's safe to say the U.S. will never be a soccer country. The best team on the planet - FC Barcelona - was kicked off the National Mall near the White House for trying to kick the ball around a bit:
Oh well. At least the U.S. Men's Soccer Team finally fired Bob Bradley.
-WKW
From time to time I've been known to escape the confines of this blog, and this week is one of those times, as I have some stories up at The National, an English newspaper in the United Arab Emirates.
The stories - given to me by former colleague Paul Oberjuerge - were on sporting venues in South America. The three stories:
Maracana is the heart of Brazilian football
Chocolate Box of Boca is no treat for visiting clubs
They were interesting stories to write. I talked with a few people about the venues, and was also able to add some of the knowledge I've picked up in Brazil to the story. All in all, a quite interesting and positive assignment and experience.
-WKW
Spain celebrates it's first World Cup triumph (AFP)
World Cup
Spain Takes First World Cup: In a game that featured two beautiful teams playing rough-and-tumble soccer, Andre Iniesta hit an overtime goal to give Spain it's first World Cup title as it beat Netherlands 1-0, and concluded a successful World Cup in South Africa.
Nothing New for Iniesta: The Barcelona man is used to scoring timely goals.
Webb's World: Yes, Howard Webb clearly missed what should have been a corner for Holland. But in such a tightly played game, only one player was shown a red card and the referee kept the game under control.
Paul the Octopus to Retire & Other Notes: Will Paul the Octopus be able to retire with a perfect record of prediction? Yeah, probably.
News
BP's Big Cap: Right now, oil is free-flowing into the Gulf of Mexico, but with a better-fitting cap being placed on the geyser, British Petroleum hopes to get its oil disaster better contained.
Uganda Bombing: As the World Cup ends on a high note for South Africa, murderous suicide bombings in Uganda show there's still plenty of chaos on the continent.
Sports
There's Just One Diana: In women's basketball, it's Diana Taurasi and everyone else.
Tour de France: Lance Armstrong isn't going to win, so feel free to ignore the rest of the tour if you wish.
Blogs
Oliver Willis: Why Didn't Obama's DOJ Go After The New Black Panther Party For Voter Intimidation?
Broadway Carl: Some Must-reads from a master linker.
Osborne Ink: Remember, the rich are just different.
Gary Weiss: How to Lie in Plain Sight, Overstock.com Edition.
Phydeaux Speaks: Ah, the difference a year makes.
Something Interesting
Oh black water, keeps on flowing (HT FreakOutNation)
-WKW
While millions will be rooting on Holland or Spain in today's World Cup Final, let us not forget the pain felt by those eliminated. In Brazil, where soccer is King, Queen and the rest of the royal court, the disappointment of seeing their side knocked out was too much for many. Especially young Salomão:
In case you need a translation: The kid is really upset.
-WKW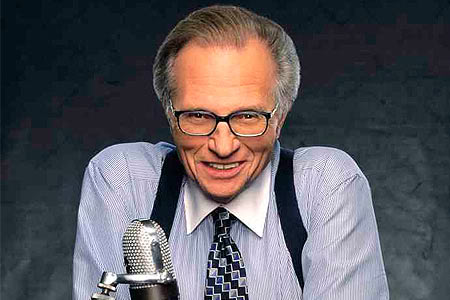 Larry King will retire from CNN. This may be the straw that breaks America's back.
News
Oil-Soaked Beaches: With Hurricanes pushing the waters, oil is hitting more and more beaches, making this disaster a lot more real to many.
Kagan's Confirmation: Should her politics matter?
Democrats Still Trying: If Democrats can get unemployment benefits turned back on for a few million, that should help at the ballot box.
Sports
Today in Jail: Cincinnati Bengal's running back Cedric Benson, busted for assault. Look for Cincinnati to easily cover the Over on "No. of players arrested" this season.
Spain Strong: Simply put, Spain shut down Portugal yesterday in its 1-0 World Cup victory because Spain is damned good. Still, it was good to not have to see much Cristiano Ronaldo.
Blogs
Kevin Drum: Financial reform should pass, and, like many other things, it will be better than nothing.
DagBlog: Republicans say the darnedest things.
Alan Colmes: Sharon Angle is Conservative. A Really Really fundamentalist Conservativist. And a Scientologist. If she beats Harry Reid, we may just have to quarantine everything Nevada not named Las Vegas.
Tweet of the Day
5 applicants for every 1 Job. Four must die. One moves on to $7.25 per hour. Coming next week to Fox - "The Interview"
Tweet of the Day II
I'm no economist, but when Wal-Mart became the biggest employer in U.S., someone should have raised their hand.
-WKW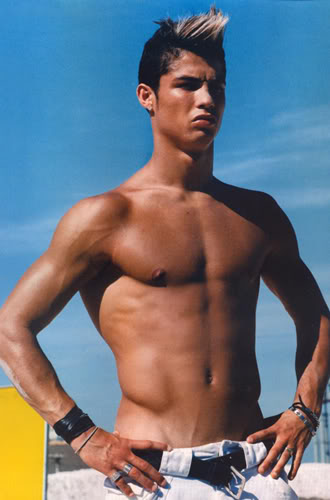 Portugal's Cristiano Ronaldo gets a bet of a bad rep. How many other players have been openly booed during the World Cup in South Africa. I can understand, of course. He's too good-looking and too aware of it. He's arrogant. He's really, really good. And he's always up in your face. Yes, Ronaldo is Europe's answer to a Kardashian sister, but with talent and accomplishments. Be it ads, interviews, feature stories or tabloid stories, Cristiano Ronaldo is all up in your face.
Except for 90 minutes against Spain. For Ronaldo detractors, it must have been a blissful time. For long stretches of time, I was equally as influential on Portugal's 1-0 loss to Spain as Ronaldo. Blame it on the formation or Spain's dominance, or the (rather hideous number of) bad calls against him, but Ronaldo looked afraid to upset a church mouse on the pitch.
So Ronaldo detractors, I know you'll be living in a Ronaldo-dominated world soon again. But for 90 minutes Sunday, you got to enjoy life without Cristiano Ronaldo.
–WKW
Wolfrum's Word
June is LGBT Pride Month. I, like many, have often overlooked the Transgender part of that equation, even though I'm well aware of the violence and intolerance directed toward them. I wrote down some of my thoughts on that issue in my latest post at Alan Colmes' Liberaland - Mike and Christine.
News
McChrystal's Ouster: Gen. Stanley McChrystal is out and Gen. David Petraeus is in. But that doesn't change the fact that things are still out of control in Afghanistan.
Still Gushing: For a time, yesterday, British Petroleum's oil geyser in the Gulf of Mexico was going full force. But with the cap back on and new plans in the works, BP is anticipating the gusher to be stopped … some day.
Health Care Woes: Remember when Republicans argued that the U.S. had the world's best health care system? They were lying.
Odd News
Twitsky: Russian President Dmitry Medvedev has now entered the world of Twitter. Lenin weeps.
Jesus Returns: Forty percent of Americans believe that Jesus will return by 2050. If they really read the Bible, they'd be terrified.
Sports
USA! USA!: Nearly 24 hours after Landon Donovan's World Cup-saving goal against Algeria, no referee has come forward to disallow it. So I think the U.S. is safely into the Final-16. Looking forward and dreaming: The U.S. could find itself in the semi-finals with wins over Ghana and South Korea if things play out right. But it's all gravy from here on out for the boys in Red, White & Blue.
Still Playing: At Wimbledon, John Isner and Nicolas Mahu played for 10 hours until darkness forced them to stop - with the fifth-set tiebreaker at 59-59.
Blogs
Bad Astronomy: Whooping cough is now an epidemic in California. Another victory for Jim Carrey and his merry band of ant-vaxxers.
Campaign for America's Future: Every way you measure it, it's been downhill for all but the wealthy since Ronald Reagan took office in 1981.
Trini Salt Like: The U.S. may have destroyed Trinidad's World Cup dreams 20 years ago, but here's one transplanted Trinidadian who has learned to love U.S. soccer football.
Tweet of the Day
"If Italy can beat Slovakia by three or more goals in #worldcup tomorrow, McChrystal gets his job back. FIFA has weird rules."
-WKW
As injury time was running out, Landon Donovan buried a goal to send the U.S. past Algeria, 1-0. With the win, the U.S. advances to the World Cup knockout round. Two thoughts:
1) I am forever sorry aboutwriting this post about Donovan.
2) As my Brazilian wife said: "Can't you Americans do anything without making it a movie?"
I suppose not. A brilliant performance by the U.S., which goes into the knockout round confident and motivated. Just a great World Cup match.
Update: For those that would like to see Donovan's goal. Over and over again:
-WKW
If the French National team managed to accomplish one thing during the 2010 World Cup, it was too reinforce every negative stereotype against France.
Putting the final touch on a truly classless performance on the field and off was French coach Raymond Domenech, who refused to shake hands with South African coach Carlos Alberto Parreira, following South Africa's 2-1 victory over the French.
Domenech refused to comment on his snub afterward.
-WKW
As South Africa desperately looks to score enough goals to advance in the World Cup, here's a look at the tie-breakers used by FIFA for Group stage play. Courtesy the CS Monitor:
Two teams advance out of every four-team group. The first and most obvious decider is points (three points for a win, one for a draw).

* If two teams are tied on points, the first tiebreaker is goal difference – how many goals a team has scored minus how many it has conceded. The thinking is that this is the best measure of which team is better over the three games.

* If that is inconclusive, the second tiebreaker is goals scored. This rewards the team that is more offensive.

* If the teams are still tied on these measures, the next tiebreaker is who won the head-to-head matchup.

* If they're still tied, World Cup officials flip a coin, literally
Here's a link to the current Group Standings.

-WKW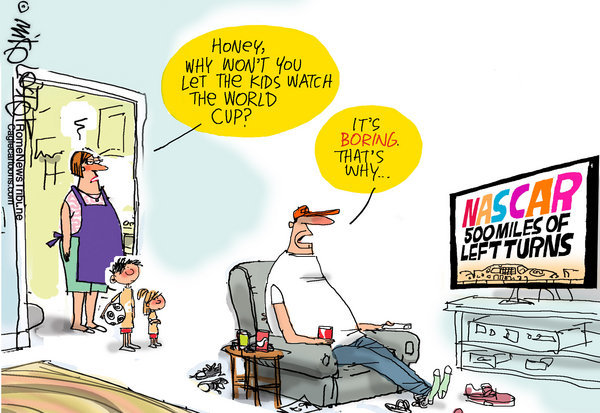 Of course, outside of the French team, soccer players rarely smash into a wall and burst into flames.
News
Runaway General: In an interview with Rolling Stone, Gen. Stanley McChrystal let's his true feelings out. Please go to President Obama's office, General.
Holder v. Humanitarian Law Project: The Supreme Court has spoken - help a terrorist organization and you go to jail. Even if it's humanitarian relief you offer.
Arizona Immigration Law: By next week, look for the Department of Justice to file a suit against Arizona's new racial-profiling law.
Time Square Bomber: "Muslim Soldier" Faisal Shahzad remorseless in pleading guilty "100 times."
Why Stop Deep Water Drilling?: Just because your own rig exploded and is wiping out the Gulf of Mexico is no reason to take time off off-shore drilling.
Sports
Portugal Scores: While you were reading this, Portugal scored 14 more goals against a hapless and hopeless North Korea in the World Cup. Final score will still go down as 7-0, however.
French Revolution: With any luck, the WATB French national soccer team will be sent back to France today, where they can smoke cigarettes and point fingers.
Odd News
Just Stop it: Dear Miley Cyrus, we knew Britney Spears, and you are no Britney Spears.

No one could have predicted: That Rod Blagojevich wasn't a very good governor.
Dogs Unclean?: A senior Iranian cleric has decreed dogs are "unclean" and should not be kept as pets. Let the War of Civilizations begin.
Blogs
Rachel Maddow: Sure al-Qaeda is scary. But their videos can often be just ridiculous and hilarious.
Washington Monthly: Republicans have continued their winning approach to the unemployment problem - by calling the unemployed lazy.
Digby: Darrell Issa lets corporations know the GOP will never forsake them.
Tweet of the Day
For all I've upset in the past, please note that I've changed my name to "Xe." So everything's cool now.
-WKW

BP CEO Tony Hayward, relaxing at home with the small people now that he has his life back.
News
Burn it all: Burning of oil in the Gulf of Mexico means death to wildlife. Also, there's a lot more oil gushing than previously reported.
Politicizing the Oil Spill: It was all bi-partisan teamwork on the oil disaster until Democrats started mocking Joe Barton.
Let Them Drill: There's no evidence that Deep Water drilling is risky, say plaintiffs.
Israel Eases Gaza blockade: Prime Minister Benjamin Netanyahu says that easing the Gaza blockade will weaken Hamas. Maybe they could have figured that out pre-flotilla massacre.
Also: Rapper "The Game" shot and killed, humanitarian and former NBA fan-favorite Manute Bol dies.
Odd News
A Heady Day: Finally, we can answer the age-old question - how many human heads can you fit into three boxes?
Catholic Priorities: Remember, it's much worse for a comedian like Louis CK to make jokes about pedophile priests than it is to defend pedophile priests.
Today in Tasering: Not wearing a seat belt? Tase him!
Put the camera away: If you happen to be being beaten by a Maryland cop, for God's sake, don't film it.
Sports
Brazil Handily Wins: Luis Fabiano scored twice (albeit once illegally), as Brazil continued South American domination of the World Cup with a surprisingly easy 3-1 victory over Ivory Coast. Brazil's only complaint? Kaká being tossed from the game for allowing an Ivory Coast player to run into him.
Anarchy in France: At the 2010, the French can't win a game and is in the midst of a player revolt. Couldn't happen to a nicer group.
U.S. Open to McDowell: Graeme McDowell survived a tough Pebble Beach to win golf's U.S. Open, leaving big names like Tiger Woods, Phil Mickelson and Ernie Els in his wake.
Blogs
Tomfoolery: My Day with Karl Rove.
EZKool: If you watch only Fox News, you know for a fact that the British Petroleum Oil Spill is all the Federal Government's fault.
Political Carnival: Blackwater forced to pay the price for their sins - by getting a new $120-million government contract.
Pam's House Blend: What you missed this weekend.
Tweet of the Day
"Repeat a lie often enough and it becomes Mark Kirk's resume."

-WKW
After two game, two ties and one goal, it's safe to say that England's march to the World Cup hasn't been quite as EASY as initially reported:
Via The Offside Rules.
-WKW