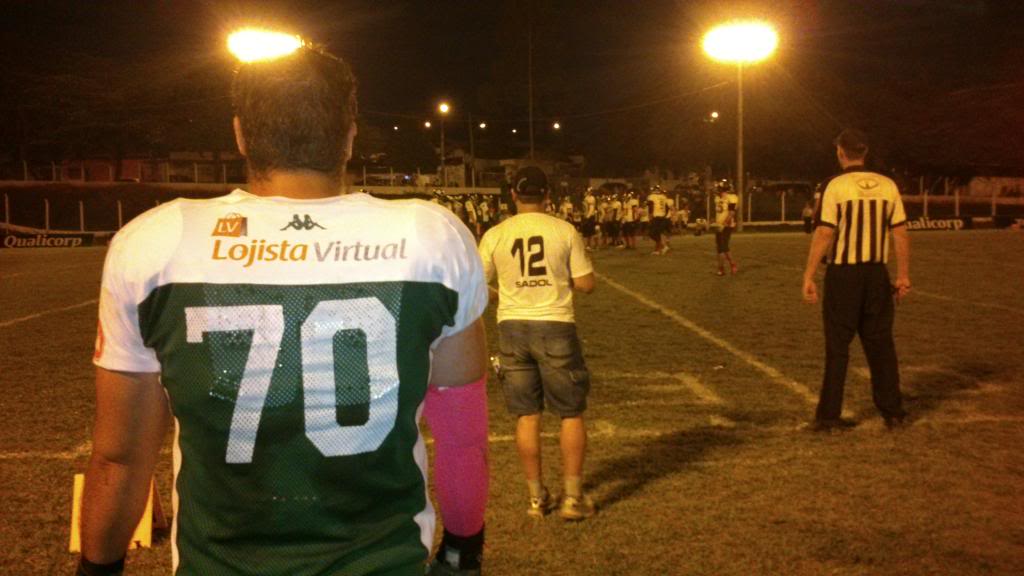 "This is a game of emotion and violence. Even if you don't fully understand, enjoy watching these warriors on the field." — Announcer Fabio Dos Santos.
Uberlandia, Minas Gerais, BRAZIL — A warm summer Saturday in Brazil. The field is freshly lined. Fans of both teams take their places, wearing the shirts of their favorite teams. the players stretch and prepare for the match ahead. As anticipation builds to a fever pitch, the game begins.
The kickoff …
… is returned to the 25-yard line before the returner is tackled.
This is not your pai's football.
To say Brazil is a soccer-crazed nation is as much an understatement as saying they enjoy dancing. "Who is your team?" is a required question when meeting someone (My Brazilian team is Cruzeiro. Which is my father-in-law's team. Which meant it was an easy choice). The game is religion and a big part of Brazilian society.
Yet on a Saturday evening, here were a bunch of Brazilians aged from 18 to 45, putting on shoulder pads and helmets and preparing to grind it out for 40 minutes. It is, to say the least, a surreal vision.
The game featured the Uberlandia Lobos against the Lusa Rhynos, two of the more than 20 organized American football teams throughout Brazil playing in the "Touchdown Tournament," the semi-official "commission" of American Football. Jeovanir Silva, the President of the Lobos, as well as an offensive lineman, has been the main cog in bringing American football to this city of 600,000 residents.
"We are pioneers of the game here in Brazil," said Silva. "It is our job to promote an teach the game."
But while Silva and other Brazilians deserve credit for promoting the game, pursuing sponsors, and raising the country's awareness of the game, one entity can take credit for planting the seed - ESPN.
Prior to the game, there was an expectation that many of the players had either studied or spent a significant amount of time in the United States, where they were able to gain an appreciation of American football (such is the case with my wife.) Instead, nearly all players pointed to watching NFL games on ESPN (which is available via cable or satellite tv here).
Uberlandia's diminutive strong safety Joaquim Garcia - the team's defensive captain, who makes up for his lack of size with the highest football IQ on the field - is one such player. Having spent his life watching the game on ESPN, the 20-year-old is now one of the country's top players.
"I remember I was very young and watched an NFL game and gave always loved it since," said Garcia. "It is amazing to get to play."
Garcia's girlfriend, Kim, sits in the stands along with approximately 100 other surprisingly football-savvy fans. Looking through the crowd, one is never likely to see so many people in sporting jerseys that don't have names like Neymar or Kakà on the back. Here, fans proudly wear jerseys of NFL players like Brady, Manning and Brees. And in the crowd sits Kim Garcia, looking for all the world like Brazil's first football widow.
"I know the game pretty well," said Kim Garcia. "We watch games all weekend. Every weekend."
The game itself was both beautiful and heinous. Turnovers abound. Penalty flags are like a plague of yellow locusts. Both teams suffered from the same problem - having learned the game via watching the NFL, the players wanted to play NFL-styled offenses. The running game - the main staple of beginning football players - was utterly abandoned by both teams in place of passing games that led to a total of seven interceptions for the game.
Nonetheless, there were tremendous bright spots. Both teams played with passion, and as the game progressed, you could see true "football players" emerge. Big hits were met with thunderous applause from players and fans alike. Uberlandia running back Eduardo de Souza scored on a nifty 25-yard camper that ended with him somersaulting into the end zone.
In the end, an early safety was enough to give the Rhynos a hard-fought 8-7 victory. Despite the loss, Silva continues his work in making Uberlandia one of the top teams in the nation. The club has received a smattering of media attention, started a youth team and continues to invite any potential players that want to come out and give American football a try.
In the end, the game is about the players. And leaving the field, bloodied but unbowed, Joaquim Garcia lets you know his feelings for the game with one popular Portuguese word.
"Ótimo."
-WKW
As this is being written, thousands of Brazilians have risen up in a sort of "Brazilian Autumn." What started as a protest over a small raise to public transit fares has now blossomed into a full-on wail of dissatisfaction with the government. And rightly so. While all the world hasspoken ofBrazil's nascent economic power, the average Brazilian still sees a government that taxes them at ridiculously high ile offering very little in return.
The beginning of he Confederations Cup has taken the feeling from dissatisfaction to anger, as Brazilians see new soccer stadiums - all much less accomodating to the poor - and an effort to push as much dirt under the rug as possible. And all this bowing to FIFA - including suspending parts of its constitution during the World Cup - has opened people's eyes to a nation that still lags behind on basic infrastructure. "It's like a war zone here," said my brother-in-law Marcelo after visiting a poor northern state in Brazil.
Aside from the myriad changes and problems the World Cup brings, here's another - the soul of Brazil is already being sold. Take this recent advertisement from Nivea:
As a friend told me, "I wonder how much it cost to get all the Black people off the beach?"
There are some areas in the south of Brazil where the people come from a Scandanavian decent (Imagine Gisele Bündchen), but those are the exception. Brazil is defined by its diversity and even more so by its Black population and the legacy of slavery. Unlike in the U.S., there was rampant relations between the different sects - Portuguese, African slaves & Native Brazilians - from early on. It makes for a diverse populace.
But, you know, there are still Black people here. Especially being it seems the ad was shot in Rio, which has a teeming Black population. Who go to the beach.
You view Brazil as a growing economic power and as a land of beautiful people who love samba and soccer. I live here and see a country of ordinary, hard-working people who have grown tired of the status quo and are now protesting a corrupt and out-of-touch government.
And I support them.
-WKW
Brazilian actor/filmmaker Ariel Goldemberg was born with two things - Down Syndrome and a love of cinema. The cinemaphile has finished his first movie, which combines both these things - the critically acclaimed "Colega" - and is now after the finishing touch for his movie - to have his hero Sean Penn watch the movie with him.
The film is about three friends with Down Syndrome who break out of the institution they are living at, and go on an adventure that teaches them about life and that there are no boundaries in their way to live a full one.
Goldemberg made the above video in his pitch to get Penn to come to Brazil to has been viewed more than 1.2 million times, and includes pleas from Brazilian stars Neymar, Juliana Paes, Xuxa, and others. The video has spawned the Twitter hashtag #VEMSEANPENN.
"Colegas" will premiere in Brazil on March 1, and Goldemberg and his growing fan base are hoping against hope that the talented and eclectic Penn will be there. So pass it around, let's help a young filmmaker meet his biggest inspiration.
Vem Sean Penn!
--WKW
When Justin Sisely announced that he planned to film a "Virgin Sells Virginity" porn, the media went wild, endlessly repeating a story based on nothing.
Now, that's not a big surprise. What is a surprise is that after the announcement - heck, even before it - random dudes with lots of walking-around money started hurling incredible bids at Sisely, asking to be the male lead in said porno.
A little look back: As the story was repeated, Sisely had planned on making a "documentary" about the life and devirginizing of a virgin. He planned to do this by flying the virgin - Catarina Migliorini - away from her friends and family so they wouldn't talk her out o it. Then, because what he planned to do was legally prostitution everywhere, he said he'd put the couple on the airplane, film the sex scene and then everyone would be impressed what a nifty little pornographer pimp filmmaker he is and then - money.
Anyway, Migliorini has never seen the money or done the act, as far as can be verified, but she has appeared on the cover of Brazilian Playboy, and she most definitely got paid.
Now comes the latest virgin sale (I hope they realize this racket market could get saturated soon). One Rebbeca Bernardo - shenned by the mega-popular reality show "Big Brother Brasil" - has put her virginity to the highest bidder.
Bernardo said she looked for jobs and tried selling cosmetics and working as a waitress, but without a high school degree, the pay was minimal.

"I would get 150 reais ($75) for working all day, which would just pay the salary of someone to stay with my mother," she said, after patiently feeding her mother a plate of reheated spaghetti.
Ok, hit the breaks. The R$150 amount she tosses out is five times the Brazilian minimum wage. I'm going to guess I could round up quite a few Americans that'd take $75 a day right about now. How exactly is this 18-year-old without a high school degree able to make this amount? Waitressing?
As for her mother's care, one important point must be brought up - This is Brazil. The national motto is "We've Got a Social Program For That."
Doesn't add up, not at all. Probably because it's yet another attention-seking hoax:
There are questions surrounding the authenticity of Bernardo's altruism. A Brazilian TV network offered to pay for her mother's medical expenses if Bernardo called off the auction. While she initially accepted the offer during a television interview, she later rejected it because the network would not pay for a house in a different town where she could "start a new life."
So here's the thing - there are no bids. Right now, the burden of proof is on Sisely and Bern. Show us the money. Because let's think about this so-called billing for a moment.
For Sisely, somehow, a magical, out of nowhere, based on nothing $170,000 bid appeared from one "Jack Miller," and it luckily came before anyone even knew Sisely was in the virgin-sales business. Now, news organizations like CNN are reporting it as $780,000. Just because no money has changed hands and likely never will is no reason to doubt this figure.
Now here's something: If I was the type of guy who had $780,000, or even $170k, to toss away on one night of sex, I would probably be the type of guy who had a lawyer. A lawyer who would say "Gee, Bill, this is the worst idea ever. Really, ever. I can't express how terrible this is morally, financially, and really, as a human it's just heinous."
Or words to that effect.
Seriously, this doesn't require too large a dose of skeptical thinking - $780,000. For one night. With someone who may or may not be a virgin. In an airplane. Being filmed. Try this, tho - there is no money, no bidder, no nothing. It's all been a PR stunt.
I'd say going with the latter seems the correct call right now.
Anyway, I expect this virgin prostituting idea to pop up again. Why not? The first one worked out so well. Getting in Playboy is a big deal down here. Just know that this trend was not created by Sisely - it was created by a media that finds critical thinking takes way too much time when you can just copy and paste. Plus, you can then have people write stories about the decline of the world's morality.
But right now, none of this is actually a story. It's all just a rumor.
 -WKW
What do you get when you give the bureaucratic nightmare of the Brazilian government the World Cup? Bilingual prostitutes, apparently:
SAO PAULO - (AP) — Prostitutes in one of Brazil's biggest cities are beginning to sign up for free English classes ahead of this year's Confederations Cup and the 2014 World Cup.

Cida Vieira, president of the Association of Prostitutes in the city of Belo Horizonte, said Tuesday that 20 have already signed up for the courses and she expects at least 300 of the group's 4,000 members to follow suit. The association is organizing the classes and seeking volunteer teachers.

"I don't think we will have problems persuading English teachers to provide services for free," she said. "We already have several volunteer psychologists and doctors helping us."

She said classes are expected to begin in March and last up to eight months.

"It will be important for the girls who will be able to use English to let their clients know what they are charging and learn about what turns them on," Vieira said by telephone.

"And for the same reasons we are also thinking of offering free French and Italian classes," she added.
I used to teach English classes in Belo Horizonte. May be time to get back to work.
-WKW
This is an update to my original post "Brazilian girl auctioning off virginity for a documentary? I doubt it."  Since that original post, I have heard back via e-mail from Justin Sisley - the young man who is claiming to be making a documentary about a male and female virgin who are auctioning off their virginity.
While Sisely was none too thrilled about about my thought that the whole project could be a hoax, he answered few of the questions I had asked. The questions he did answer just created more questions, however.
For instance, in regard to why the female "star" of his documentary - Catarina Migliorini - was in Indonesia now, Sisely had this to say:
"Catarina is in Indonesia because we could not get her into Australia, she has had three visa refusals and been turned away from New Zealand, twice!," wrote Sisely. "Bali was the next closest place to Australia, where my contacts and crew were. For the auction to be legal and in Nevada (USA) the virgins would have to get working visas. Catarina can not even get a tourist visa to Australia, what chance does she have of getting a working visa to America?"
The visa issue does jibe with reality, as it is common for Brazilians to struggle getting visas to other countries, at times. This, however, creates questions of how Sisely plans on having the sexual encounter occur on an airplane (it was originally reported that Sisely was to have a private plane take Migliorini and her winning bidder from Australia to the U.S. so they could consummate in the air, where apparently he believes prostitution is legal.
A comment that truly struck me, however, was why he had taken Migliorini away from Brazil in the first place:
"This is an extremely difficult film to make, it is not only difficult to avoid legalities it has been extremely difficult to find the virgins who can see it through to the end. The reason I choose a Brazilian virgin was to take her out of her environment where she was less likely to be influenced by family and friends and therefore more likely to stay committed to the project," wrote Sisely.
Te question that arises in my mind: If this were truly meant to be a documentary, wouldn't the "virgin's" interactions with family and friends be a big part of the story? If the documentary is solely about her losing her virginity (to a bidder who has paid $190,000 for the honor), then it really is more about filming an act of prostitution.
Sisely has not responded to other questions from me, aside from pointing out he has directed documentaries before.
Another side of the story comes from Huffington Post's Weird News, where writer David Moye spoke with Sisely and the first crack in the media's poor effort in covering the story came out. In her statement, Migliorini said she would use a big part of her earnings from the documentary for charitable purposes, something Sisely said he was unaware of:
"I was surprised she said that because in all my dealings with her, she made it clear that it was a business decision for her," Australian filmmaker Justin Sisely said in an exclusive interview. "Now, given how big this story is in Brazil, she's trapped. If she doesn't give any money to charity, she's going to look bad."
In regard to how to prove the virginity of Migliorini, Sisely gave an answer that would make Todd Akin proud:
"There is apparently a test that can tell if a penis has been inserted into her," Sisely said.
I'll let you know more about this story should Sisely write me back and answer any pertinent questions, such as how the bidding got to $190,000 in just a few days, whether or not Sisely will film the encounters, why no one in the production seems to use social media, and others.
My current opinion is that Sisely got a lot of attention for this idea, but is struggling to get it to come to fruition and didn't realize just how difficult the whole undertaking would be.
If the project is what it says it is, it is clearly a filmed act of prostitution. But there is still no saying for sure whether the project is what Sisely claims it is, as his comments on it have been vague and incomplete. It still could be just performance art, or pornography. Or it could all be an attention-grabbing hoax. Or perhaps an ill-conceived idea that has gotten away from Sisely. Time will tell. Should I hear again from Sisely, I'll let you know.
-WKW
Just a few more candidates running for office down here in Brazil. Here's hoping Walt Disney and "Bio" Clinton keep us safe.
HT Kibe Loco
-WKW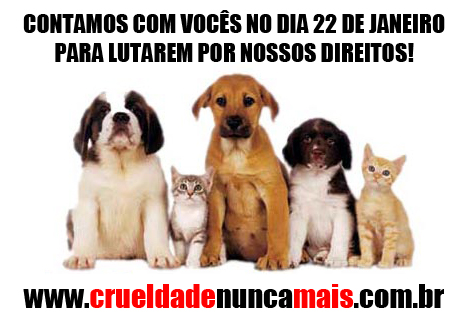 On Sunday (Jan. 22), we'll be attending the Crueldade Nunca Mais rally in Uberlandia, Minas Gerais, Brazil. This is not just a nation-wide rally, but an international one, dedicated to strengthen extremely weak laws in Brazil against animal cruelty.
Coming from a military dictatorship, Brazil has erred on the side of caution when it comes to handing down sentences for crime (the maximum sentence for any offense, such as murder, is 35 years). Partly due to this, as well as cultural issues, the laws for animal cruelty are particularly weak, and cruelty against animals is always a problem here. From the Web site (Note: Disturbing images):
This event is the beginning of a series of actions to correct penalties for cruelty to animals.

The official goal of the movement is to collect 1.5 million signatures. … The demonstration is a peaceful movement and law-abiding, conceived and organized by animal protectors of Brazil, and will be the beginning of a series of actions intended to correct penalty for crimes of mistreatment of animals.
The events will be held throughout the nation of Brazil, as well as in other countries, including the United States and England. Check the Web site here for locations.
Pets have become an important part of Brazilian life. I'd like to thank Crueldade Nunca Mais for fighting to strengthen animal cruelty laws, and for fighting for the rights and lives of the animals we love.
-WKW
Sometimes Brazil can be a leader in innovation. Not always in good ways, mind you. From the Associated Press:
SAO PAULO (AP) — Brazilian police say a suspected drug trafficker is giving crack cocaine addicts free drugs in exchange for tattooing his name on their bodies.

Police in the northeastern state of Bahia said Monday that upward of 70 people in the small town of Itapetinga have tattooed the surname "Freudenthal" on their bodies.

Police have also found corpses of suspected drug addicts with the same tattoo.
Well, I suppose just tagging walls and billboards gets old after awhile.
-WKW
Last week I wrote about the Chevron oil spill in the Frade Oil Field off the coast of Rio de Janeiro in Brazil, as well as how Brazil has held Chevron's feet to the fire for the incident. Brazil is continuing to keep the pressure on Chevron. A couple updates:
Brazil says Chevron must come in line with Brazilian law as they claim Chevron has lied and hidden details of the spill:
Chevron, the second-largest U.S. oil producer after Exxon Mobil Corp., needs to comply with the country's laws and coordinate activities with the country's oil regulator, Minister Edison Lobao said in an interview in Brasilia today.

Brazil plans to offer exploration areas by the end of 2012 in the so-called pre-salt region in deep waters of the Atlantic Ocean. Brazil has made the largest oil discoveries in the Americas in more than three decades in the area, where oil deposits of up to four miles below the ocean floor are trapped under a layer of salt.

Chevron "needs to completely come into line with Brazilian law," Lobao said. "From time to time there are gaps of information between them and the agency."

Chevron has come under increased scrutiny in Brazil after it leaked 2,400 barrels of oil last month from an oil field in deep waters of the Campos Basin. Chevron underestimated the amount of pressure at an oil deposit it was exploring, and crude leaked from the reservoir for about eight days, George Buck, the head of Chevron for Brazil, said on Nov. 20. …

Brazil's oil regulator, known as ANP, is investigating Chevron for only providing partial video clips of the Nov. 7 oil spill and not reporting the presence of hydrogen sulfide in an oil well at the Frade project where the spill happened, Magda Chambriard, a director at the agency, said Dec. 1.

The agency ordered Chevron to shut the well with hydrogen sulfide and is also investigating inconsistencies in Chevron's plan to cement and abandon the well that caused the leak, she said. The agency has prohibited Chevron from drilling any new wells for at least three months until it finishes probing the spill, Chambriard said.
Chevron to be kicked out of Brazil if they do not comply:
BRASILIA – U.S.-based Chevron Corp. will have to leave Brazil if it fails to comply with the agreement it reached to deal with the damage caused by an oil spill last month off the coast of Rio de Janeiro state, Energy and Mines Minister Edison Lobao said.

"The company has already been given a very strong penalty for what it did and it has been suspended from engaging in new drilling in Brazil, even if it is the second-largest oil company in the world," Lobao told reporters in Teresina, the capital of the northeastern state of Piaui.

Chevron must pay a fine of 50 million reais (about $28 million) levied by officials and took responsibility for the environmental damage caused by the spill, whose extent has still not been determined, the energy minister said.
Brazil holding its ground against the Oil Companies:
Speaking to the Financial Times, Carlos Minc, Rio's environment secretary and the country's former environment minister, says he is now pushing for tougher rules for companies looking to profit from Brazil's oil boom.

"We may be a tropical country but we're not a 'banana republic'," he says. "Everyone wants to come to Brazil and if we're not strict with [Chevron], this place is going to turn into a pool of oil." …

"If we let Chevron make an error, there will be a thousand more errors during pre-salt," says Mr Minc. "We need to be hard now, especially on big companies such as Chevron, which has all the resources to do things the right way, but got it wrong,"

Last week ANP, Brazil's oil and gas regulator, put further pressure on the company by shutting down another well at its Frade project after a safety audit found unreported hydrogen sulphide. The week before, ANP already said it would ban Chevron, which ranks as the country's third-largest oil producer, from drilling wells in the country's waters until the causes of the incident had been further clarified.

Ibama, Brazil's environmental regulator, imposed the maximum fine it could on Chevron of R$50m ($28m), and Mr Minc says the company can expect at least another R$200m in fines from regulators and the state government.

Meanwhile, the federal police have launched their own investigation, which could even lead to the imprisonment of Chevron workers for environmental crimes. …

Mr Minc has also pushed regulators to ban Transocean, Chevron's drilling partner on the project, which also operated the drill in the Gulf of Mexico spill. Transocean responded by saying it would fully co-operate with the authorities.

However, Mr Minc warns the industry of even stricter regulations, calling for the maximum fines to be doubled.
The difference between how the U.S. government coddled and protected BP for the much-larger Gulf of Mexico oil disaster and how Brazil is handling this incident could not be more striking.
-WKW
Despite steps taken by Brazil's politicians to give equality to the LGBT community - Marriage equality recently became the law of the land - Brazil is still a very dangerous place for the LGBT community, which is putting everyone in danger:
A self-employed 42 year old had his ear severed in the early morning hours last Friday in São João da Boa Vista, a city in the São Paulo countryside 216 km from the capital. The victim and his 18 year old son say they were embracing after a country music show at the local agriculture fair when they were mistaken for a homosexual couple by a group of homophobes.

Father and son were waiting for their girlfriends, who had gone to the restroom. "They asked if we were gay and we said no," said the man.

According to him, the group insisted on bothering them. "He asked us to kiss, because it is legal".

Shortly thereafter, he claims to have been punched in the jaw and was unconscious for 15 seconds. When he regained consciousness, he was missing a piece of his right ear.
Brazil's immense problem with hate crimes against the LGBT community is well documented:
In 2010, 260 gay men, transvestites and lesbians were murdered in Brazil. According to a report by the Grupo Gay da Bahia (GGB) released on Monday, every day and a half a Brazilian LGBT is killed. In the past five years, there has been an increase of 113 percent in the number of murders of LGBTs. In the first three months of 2011 alone, there were 65 murders.

Among the victims, 54 percent were gay men, 42 percent were transvestites and four percent were lesbians. Luiz Mott, the anthropologist responsible for the survey, believes the statistics are smaller than the reality. "Those 260 documented murders are an underreported number, because there are no official hate crime statistics in Brazil. The situation for homosexuals is extremely troubling."

The study also indicates that Brazil is the world leader in the murders of LGBTs. In the United States, 14 murders of transvestites were reported in 2010, while in Brazil there were 110 murders. Furthermore, the risk of an LGBT being killed violently in Brazil is 785 percent greater than in the United States.
Part of the reason for the extreme intolerance in Brazilian society is the effect of the Catholic Church and Christian evangelicals promoting an anti-LGBT agenda. But whatever the reason, it is time for the government to start taking drastic and important steps to stop this massacre. Murder and hatred is not an acceptable part of any society.
-WKW
MINAS GERAIS — Brazilian officials are in Washington, D.C., today to speak with the Food and Drug and Administration to attempt to get them to change their minds about building an FDA office in Brasilia.
In what Brazilian magazine Epoca is calling the first speed bump in President Dilma Rousseff's dealings with the United States, the U.S. announced on April 26 it's plans to build an FDA office in Brasilia - a move Brazilian officials are saying was never discussed with them.
Brazilian officials consider the move an insult, as Brazil already has a food and drug agency - ANVIA - that has proved to be effective and regularly shares information with the FDA, as well as the fact that Brazil does very little in the way of exporting medicine into the U.S.
"We were surprised. I ordered a personal email from the head of the FDA, Margaret Hamburg, telling our unhappiness with this disrespectful situation," President of Anvisa Dirceu Barbano told Epoca. "The direction of ANVISA does not allow a foreign agency to do similar or equal work to ours in Brazilian territory. If this happens, ANVISA could be discredited internationally."
Former Brazilian Secretary of Health Jose Agenor Álvares insinuated that the move is being made in part for pharmaceutical companies to lobby against current Brazilian patent laws.
"Viewing it from the American side, this is being done for lobbying reasons. To try, for example, to speed up authorizations for the American medicine sales," Álvares told Epoca.
President of the Association of the National Pharmaceutical Laboratories (Alanac), Fernando Marques told Epoca the reason for the office was to defend U.S. business interests in Brazil.
"They want to prolong patents of the remedies that they win in the next years and to continue to get millions from the Brazilian government," he told Epoca. "The manufacture of cheaper national generic and similar remedies will be fought."
Brazil's patent laws have long been an issue for pharmaceutical companies. In 2007, Brazilian authorities broke a patent from Merck, and began to sell a cheaper version of the AIDS drug Efavirenz. Brazilian authorities have made it a practice in the past to allow for generic drugs far earlier than in the U.S. Last summer, Pfizer, the world's largest drug maker, acquired 40 percent of Brazilian generic pharmaceutical firm Laboratorio Teuto Brasileiro.
Brazilian authorities are especially irritated that the U.S. is putting them into a category with such countries as Mexico, China and Jordan, believing they have had a better record and that the move could hurt exports coming from Brazil.
A spokesperson for ANVISA said that they could not comment on the matter while diplomatic meetings were ongoing. A spokesperson for the FDA has yet to respond to a request for information on this subject.
The announcement of the new office in Brasilia was made on April, 26.
The FDA has rounded out its global foothold and selected all the international office locations that can be sustained with existing funding levels, with the agency recently obtaining approval from the State Department to send staff to the economically thriving Brazil. As the agency also prepares to deploy its employees to a satellite office in the Middle East, the so-called Arab Spring has not stymied the opening of an FDA site in Amman, Jordan.

Lumpkin added that the recently enacted food safety law also provides FDA with the first "congressional blessing" for the establishment of international offices, even though FDA could – and did – enact these sites through its existing authorities. Section 308 of the new law, which authorizes the establishment of foreign offices.

"We now read this as the congressional [mandate] that FDA be an organization outside the United States," he said Tuesday (April 26) at an Alliance for a Stronger FDA membership meeting. "It's now been established as a statutory mandate for us by Congress." …

Lumpkin said the State Department recentlyapproved the establishment of an FDA site in Brazilia, the capital of Brazil. That facility will complement FDA's offices – either already established or nearing finalization – in China, South Africa, India, Jordan, Mexico, Chile and Costa Rica.
In September 2010, the Brazil and the U.S. signed a confidentiality deal:
(ANVISA) is authorized to disclose non-public information to the United States Food and Drug Administration (FDA) regarding ANVISA-regulated products as part of cooperative law enforcement or cooperative regulatory activities. ANVISA proposes to share non-public information regarding, among other things, the safety, effectiveness, or quality of ANVISA-regulated products with the FDA.
This Commitment is intended to strengthen communication between ANVISA and FDA to enhance their ability to protect and promote the health and safety of their respective populations with respect to products within the regulatory jurisdiction of ANVISA and FDA.
Earlier this month, The House voted to block a $147 million annual payment to Brazil's cotton industry.
Brazilian journalist Laura Albernaz Arantes contributed to this report.
-WKW
As Brazil readies itself for the ultimate one-two punch of international sporting events - the 2014 World Cup and the 2016 Summer Olympics - one thing has become increasingly clear - Brazil isn't even close to ready to host these two events.
Despite an economy that can be called "robust" in these troubled economic times, good old Brazilian bureaucracy is threatening both events, especially the World Cup, which will feature games throughout the nation. The problems lie with numerous stadiums being behind schedule for restoration - or for being built from scratch - as well as the monumental problem with air transportation in Brazil. From The Economist:
The 12 host cities have among them nine airport redevelopments which are well behind schedule. São Paulo has not even started to build the new stadium that is supposed to stage the opening match. In Rio de Janeiro the Maracanã stadium (pictured), pencilled in for the final, is a money-guzzling building site. The contract for Natal's proposed arena was signed only on April 15th—more than three years after Brazil was named host. Air travel is essential to shuttle fans between games, but most of Brazil's airports are already operating above their nominal capacity. Baggage handling and check-in are slow; delays and cancellations common. On April 14th IPEA, a government-linked think-tank, said that even if all the planned airport upgrades were completed by kick-off (which it said would not happen), hectic growth in local demand would still leave most airports overcrowded—even without 1m football fans stopping by. The number of internal flights taken annually rose by 83m in 2003-10 and will rise by almost as much again by 2014, the study said.
Keep in mind, Brazil's airline industry has been riddled with high-profile accidents over the past few years. Here's what I wrote about their airline industry for WorldGolf.com in 2007:
For Brazil, what this accident means is that it's time to put aside the bickering, name-calling, finger-pointing and inaction that dominates its political system. Now is the the time for serious, professional and concrete action. It will be an expensive proposition to update the air industry here, but it is something that must be done and be done thoroughly. Having the nation's military control the airline industry is obviously not working,especially when even more close calls are being reported just days after the horrifying accident. With nearly 400 lives lost in less than a year, Brazil is on the verge of becoming a complete pariah in the tourism world, which is something that will only further hurt the poor and hinder the consistent economic strides the nation has made over the past eon.
The stadium situation is even worse for Brazil. According to Brazilian magazine Veja, as of May, only 7.5% of the money put aside for building or renovating stadiums has been spent. At the current pace:
The National Stadium in Brasilia will be ready in Oct. 2021.
The Arena Amazonia in Manaus will be ready in April 2024.
The Estadio de Corinthians - a $700 million project - will never be done, as they have yet to start.
It is worth noting that virtually every nation that hosts major international sporting events gets behind on the work but eventually catches up. But in June 2011, Brazil is nightmarishly behind schedule, and catching up will require an incredible, and incredibly expensive effort. Remember, Brazil needs to be ready by 2013 in time for the Confederation Cup.
What does this all mean for Americans? Well, should the worst happen and FIFA pulls the World Cup from Brazil, the U.S. stands to gain the cup. The infrastructure is there and the airports are ready. Which is much, much more than Brazil can say at the moment.
-WKW
A story of a dog's dedication to its family, following their deaths last week in Brazil. Translated from Fohla.com:
The former street-dog Caramelo helped rescue the bodies of its owners, whose were killed during last week's rains, then did not want to leave the makeshift grave of his owner.

It lived with its owner, Cristina Cesário Maria Santana, and three other people in a house of the Caleme quarter, one of the most devastated in Teresópolis. The house was destroyed and the family died. The dog escaped, but dug for them until finding them.

When the rescue teams arrived, Caramelo guided them to the bodies. Caramelo was rescued, but did not want to leave the grave of its owner and now he is very depressed and needy.
The deaths due to the rains are a true tragedy, but this is more or less an annual occurrence in Brazil, where millions live in sub-standard housing with scant building regulations. When the rains come every year at this time of year, people die as a result. This year, the count is at more than 600 lost lives.
With the strongest economy in its history, and two major international events (The 2014 World Cup and 2016 Summer Olympics) coming to the nation, it's time for Brazil to protect its citizens with the same passion and dedication as Caramelo. Because the rain will always come, but the deaths can be prevented.
Update: Caramelo has a new home.
-WKW
While millions will be rooting on Holland or Spain in today's World Cup Final, let us not forget the pain felt by those eliminated. In Brazil, where soccer is King, Queen and the rest of the royal court, the disappointment of seeing their side knocked out was too much for many. Especially young Salomão:
In case you need a translation: The kid is really upset.
-WKW