Let's crank this back up, shall we?
News
Mississippi Flooding: The Mississippi River brings destruction to the South.

A Gentle Reminder: The Libyan Civil War continues. Catch up with the Middle East here.
Obama on 60 Minutes: President Barack Obama sat down to discuss the Osama bin Laden killing on 60 Minutes last night. Conservatives watched, anxiously counting how many times he said "I." Count for yourself if that's your thing.
GOP Is Abortion: If you've seen any GOP-lead jobs bills floating around, let me know. While looking, just know the GOP has unleashed 916 bills trying to take away a woman's choice.
Sports
Real Mavericks: After dismantling and flat-out embarassing the defending champion Los Angeles Lakers, the Dallas Mavericks have to be considered a favorite to take the NBA title. In theory, the Lakers had the size to deal with the Mavs' big men, but it wasn't even close. This is just not going to be an easy team to beat in a Best-of-Seven match-up.
Rose By Any Other Name: Feel free to insert any type of praise you like here for Derrick Rose. Sure, last night he may have shouldered too much of the burden for the Bulls and left his gas tank on empty by the end, but the Chicago Bulls won 62 games and are two games away from the Eastern Conference Finals with as average a line-up as you'll ever see. Rose's talent, determination and hustle are a pleasure to watch. And he's 22. Love this kid.
Thanks Shane: I think I've mentioned (repeatedly) that I once trained with Suger Shane Mosley. After his poor effort against Manny Pacquiao, one thing is clear - his skills have diminished. It's time to call it a career, Shane. Thanks for the memories.
Blogs
Alan Colmes Presents Liberaland: Dick Cheney lies about CIA agents being punished by the Obama Administration.
DailyKos: Looking back at how the Bush Administration ignored all the terror warnings until it was far too late.
Dvorak: Hey, did you guys know GOP hopefuls had a debate the other night? Yep, they did.
Lance Mannion: A rip-roaring tale of high adventure featuring cowboys, Indians, outlaws, gunfights, robbery, murder, and million dollar gold strikes that all happens to be true.
Mock, Paper, Scissors: The Apocalypse is less than two weeks away. I'd start packing now.
Wayback Machine
August 3, 2007: We Were Once An Honorable Nation.
Finally
Hang in there.
-WKW
Wolfrum's Word
Part of my morning was spent at the dentist, so there won't be as much to report today. That said, today is World AIDS Day. As much as ever before, we need to focus on this disease, that is affecting our youth more than ever.
Of late, it seems the fear of AIDS has dissipated somewhat. It shouldn't. It remains a horrifying disease with no cure. Protect yourselves. All of you.
Blogs
The Hill: Darrell Issa may be a partisan hack, but he won't stand for bad language. Trust me.
Osborne Ink: Matt can keep getting by with a little help from his friends.
Dan Wei: AIDS figures in China.
Psychology Today: How can you participate in World AIDS Day?
-WKW

Lots of talk, not much action.
News.Politics
Obama to talk to Republicans: Don't expect much.
Haiti: Well, at least the election in the ravaged country wasn't really, really fraudulent. Cholera, however, is not slowing down.

Wikileaks: Julian Assange will do just fine in prison. Really.
Fed Pay Freeze: No more raises for two years for Federal workers - unless they are in Congress, of course.
Iran Nukes: Another discussion on tap, general sentiment is that Iran could conceivably be lying about everything and will continue.
Sports/Entertainment
Barca: The world's best soccer team thrashes Real Madrid.
Leslie Nielsen: Remembering a funny man.
Blogs
Mediaite: Hillary Clinton not at all pleased with Wikileaking.
X17 Online: Barbara Walters finds Justin Beiber and Sarah Palin interesting.
Crooks & Liars: Joe Lieberman loves Fox News, and will love them more when he's an official Republican.
Bob Cesca: Sarah Palin's DumbStupid.
Finally

Keep on talking.
-WKW

We must stop all leaks.
News/Politics
WikiLeaked: Look at it this way - it's not like being in the dark on a lot of these things was helping us out at all.
Korean War II: A little Korean War helps the medicine go down.
Iran: Death.
Afghanistan: Death.
Haiti: Election fraud.
DADT: The final push begins to rid U.S. of blatantly discriminatory rule.
Sports/Entertainment
Chicago Bears: Death.
NFL: Steelers, Chargers collect wins. All scores here.
Keeping it Quiet: Alicia Keys, Lady Gaga, Justin Timberlake, Usher and others set to go offline to fight AIDS.
Blogs
Richard Klass: How the GOP is planning to defeat Obama.
Brilliant at Breakfast: Abstinence not helping matters in Alaska.
NCD: Has Iran accomplished its goals in Iraq?
Ted Rall: 'US Zombie Empire: Re-distributed bailout would mean $350,000 per American' (Video).
Finally

Keep the fight alive.
-WKW

Ooooohhh, colors.
News/Politics
No More Terror by Colors: No one could have anticipated the color-coded terror warning system was a joke.
Korean War Games: Someone should point out to someone that the North Koreans have a big-ass army and an unstable leader.
Democratic Abortions: No, no, no. Freedom of choice means an individuals choice, silly. It doesn't mean letting people vote on whether you should have an abortion.
Wikileaking: More to come.
Die With Your Debt: Some Seniors are starting to figure out the credit game.
Drug Tunnels: Being they are already tunneling, how's the fence going to help that problem?
Intermission

Sponsored by four dachshunds in colorful hoodies.
Blogs
Karoli: Reputation Management and the Art of Argument.
Mother Jones: We're still at war.
Dan Froomkin: The Two Most Essential, Abhorrent, Intolerable Lies Of George W. Bush's Memoir.
Shakesville: Your morning TSA Round-up.
Finally

It's Friday. Things are looking up.
-WKW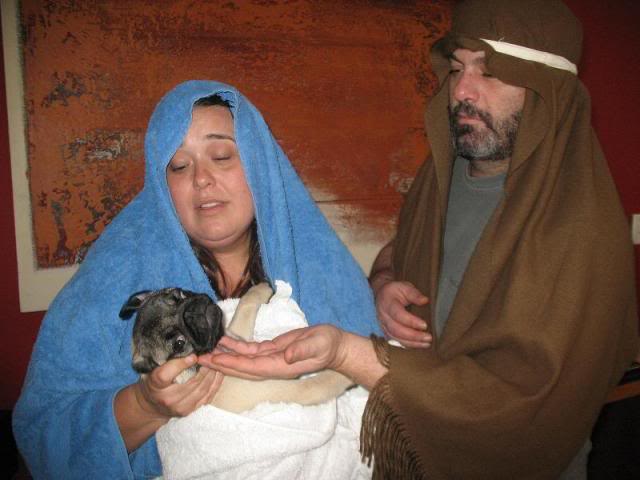 Behold his glory.
News/Politics
Haiti Water: Haiti has dirty water. Yes, the U.S. played a role in that.
Chandra Levy: Slain intern's family sees justice.
Michelango Scandal: David cheated. Goliath named winner.
Heaven is real: A 4 year-old meets John the Baptist. Thus, heaven is real. Fox News reports. You have decided.
Blogs
OrionXP: The logic behind today's conservatism.
KI Media: 375 dead after stampede in Cambodia.
National Review: Korean War II?
Mediaite: Glenn Beck goes after Barbara Bush who goes after Sarah Palin who goes after everyone else.
Finally
Let us pray.
-WKW
Crossposted at William K. Wolfrum Chronicles


The next Gitmo detainee patiently awaits his turn at justice.
News/Politics
OMG! Terrorists: Ahmed Khalfan Ghailani convicted on only one of 285 charges. That's good enough for 20 years to life, of course, but expect to see Liz Cheney this weekend explaining why the American Justice system is an utter failure.
Gitmo Gaffe: Obama played Gitmo about as poorly as he could.
Socialism Works!: GM explodes back onto Wall Street.
Democracy Works!: Lisa Murkowski's write-in voters steamroll Joe Miller in Alaska.

Assange in Trouble: The Swedish authorities want to talk to Wiki-Leaks mastermind Julian Assange about his involvement in a rape.
TSA Questions
"Is that a String hanging out your vagina or a fuse?"
Blogs
Ewan McIntosh: What is a community? Let Ewan know.
Radar Online: Eva Longoria wasn't quite enough for Tony Parker.
Stuart Shapiro: Warren Buffet sends his thanks to the government.
David Seaton: Haitian cholera: opening soon in theaters near you… not.
Outside the Beltway: Investigative journalism, RIP.
Finally

A tortured reality
-WKW

TSA has the touch. They have the power.
News/Politics
A Time of Cholera: When Cholera deaths explode in Haiti, no one will have been able to anticipate it.
TSA = Touching Some Ass: The TSA chief is about to have fingers wagged at him.

It's multi-media me day.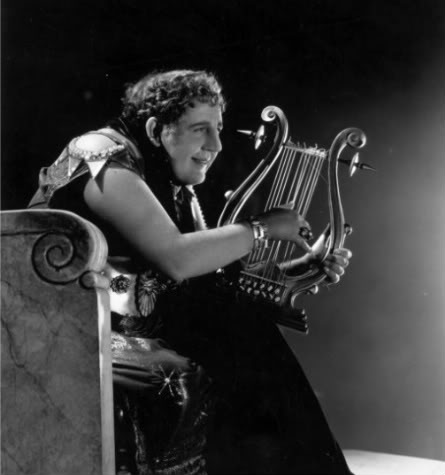 Let the fiddling begin.
Wolfrum's Word
Congress is back! In other news, Fiddle companies announce they plan for record profits.
News/Politics
A Time of Cholera: Cholera Outbreak reaches Port au Prince. Death toll closing in on 1,000.
Congress Returns: The Lame-Duck session stars. Don't expect much.
Nazis!: The U.S. welcomed them with open arms. Also, Neo-Nazis love Arizona's racist laws!
Iraq: Death.
Afghanistan: Death.
Oh, that Hamid: Seems Karzai is a crappy puppet some times.
Look to the Sky: And see the Leonid meteor shower.
Just Thinking
I think the Neo-Nazis have been around long enough that we can just call them "Nazis" now.
Sports
Pac-Man: Manny Pacquiao secures his place in boxing history, with or without Floyd Mayweather.
NFL: Steelers, Giants suffer bad losses. Find scores here.
Blogs
DKos: The case for impeaching the President.
DailyDrew: My E-mail to Mark Shields.
Zero Hedge: Ben Bernanke sentences the poor to a long, cold winter.
Finally

War, War, War. I get so bored I could scream.
-WKW

The Meaning of "Austerity." The privileged won't feel it.
News/Politics
G20: By the time they're done, you'll still be unemployed and rich people will still pay less in taxes.
Austerity!: When Austerity comes to America, it will be wrapped in a Democrat.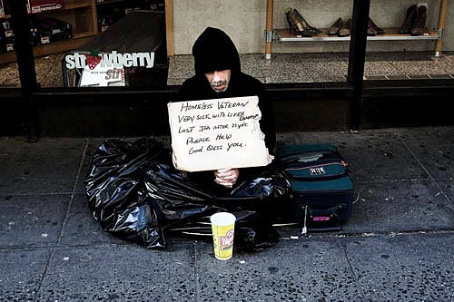 You see a Homeless U.S. Veteran. Insurance companies see dollar signs.
Wolfrum's Word
Today's proof that U.S.-Style Capitalism is a heinous monstrosity - Retained Asset Accounts on U.S. Soldiers.
Wolfrum's Word
Barbara Bush, former First Lady and Marie Antoinette without the memorability, had a miscarriage one day. Now, believing it to be a Human being, she did the only natural thing - she put it in a jar to show her sons.
Ok, and such revelations were far too tempting. Here's what I came up with on Twitter: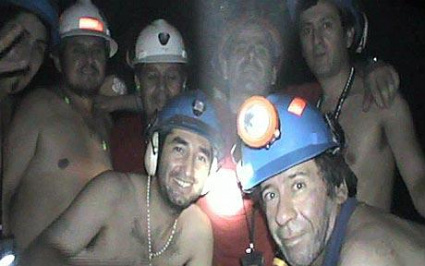 Ok, two other Chilean miners died recently. But let's focus on the positive.
Wolfrum's Word
One day, a saved Chilean Miner will murder someone. And it will be the most life-affirming murder ever.
News/Politics
Follow the Money: Long-time blog frememy Martin Eisenstadt unleashes his usual bluster - and some unassailable research work - to point the finger at MSNBC executives who donated money to Republicans, while suspending Keith Olbermann for doing the same.
Chase the Money: Wisconsin doesn't want Federal funds for high-speed rails? Illinois will take it.
Tony Hayward: It was BS of the press to point out the inadequacy of BP's Oil spill response, while BP was still pulling it out of its ass.
Rand Paul: Ok, he was just kidding about those earmarks.
Elizabeth Smart: Is an incredible young woman.
Sports/Entertainment
Steelers Win: Pittsburgh beat Cincinnati and Ben Roethlisberger didn't rape anyone. It was a good day.
Conan O'Brien Returns: So, you know, now there's that.
Blogs
Crooks & Liars: Just go read everything over there. They've been hitting nothing but line drives lately.
Donal: Hyperstagflation.
Bob Cesca: They're not embarrassed.
Kevin Drum: DADT and the courts.
Finally
-WKW

Ok, I'm back.
News/Politics
Obama in India: The President wheels and deals in India, as Right-wing remains unsure if India is an enemy state or not. Oh, and while he's there, First Lady Michelle Obama is showcasing the awesome …