A long time ago (1975),  in a boxing ring far away (Toronto), George Foremen beat five men in one night. And, wow, was it stupid. Read more about it here, in my first story at the site Medium.
-WKW
David Haye: After talking more than any fighter in the past three years, Hayes' performance against Vladimir Klitschko was so bad, so lacking in any type of winning spirit, that he just shouldn't even be allowed to fight anymore.
Nikolai Valuev: Injuries may mercifully end the career of this 7-foot-2-inch Russian heavyweight who makes Primo Carnera look like Willie Pep.
Alfonso Gomez: Known for being on The Contender and for beating a shot Arturo Gatti, Gomez is scheduled to fight young Mexican tiger Saul Alverez. Alverez will pummel Gomez, who doesn't hit hard enough to discourage David Haye. Really a terrible fighter to watch.
Tito Ortiz: The man must be given credit for a stellar career as well as for reheating a career that had gone so cold. But unless you want to see Tito go down the same path as Chuck Liddell, now's the time to call it quits.
Shane Mosley: I once trained alongside a young Shane Mosley and have a ton of pride in him. But his last couple efforts show him to be an older fighter who is just not willing to take the punches necessary to get his own punches off. It's been a Hall of Fame career, Shane. Time to move on, tho.
Jorge Rivera: Rivera has made a lot of UFC appearances and money despite never defeating anyone worthwhile or even being in an exciting fight lately. No more, please.
Zab Judah: It's likely you will see Judah in an entertaining fight again before he finally hangs it up. It's also quite likely you'll start seeing young contenders knocking Zab out cold. He's had his turmoil, but Judah was always a fun and talented fighter. Against Amir Khan, however, Judah was a trainwreck. He showed all the signs of being a shot fighter and was literally afraid of Khan, making the young champion look far better than he actually is. Judah's time at the top is over, what remains if he keeps fighting is controversy and beat downs.
Matt Hughes: Some fighters can thrive in their late-30s. Hughes won't. Scheduled to fight Diego Sanchez in September, Hughes is every bit of his 37 years. The man has had an heroic career, fought the best and was victorious more often than not. And in September, Dana White will let him get knocked out by Sanchez. It's not something I'm interested in seeing, myself.
Fedor Emelianenko: All that's left for him is paydays in non-important fights that he won't win. Greatness doesn't last. Fedor had it, but now it's gone.
Evander Holyfield: Each time Holyfield fights in his endless and fruitless "I will be undisputed champion" again, I'm starting to think that "this will be the fight that kills him." Evander's going to get seriously hurt if he's not hurt already, his time to go was seven years ago.
-WKW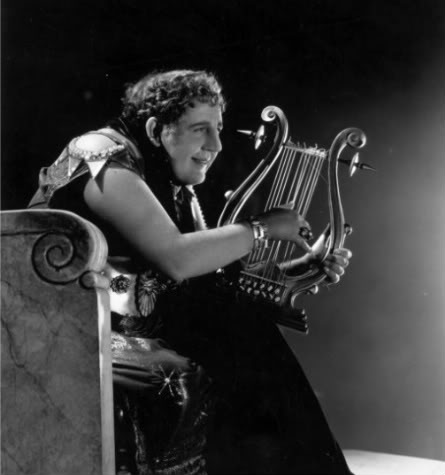 Let the fiddling begin.
Wolfrum's Word
Congress is back! In other news, Fiddle companies announce they plan for record profits.
News/Politics
A Time of Cholera: Cholera Outbreak reaches Port au Prince. Death toll closing in on 1,000.
Congress Returns: The Lame-Duck session stars. Don't expect much.
Nazis!: The U.S. welcomed them with open arms. Also, Neo-Nazis love Arizona's racist laws!
Iraq: Death.
Afghanistan: Death.
Oh, that Hamid: Seems Karzai is a crappy puppet some times.
Look to the Sky: And see the Leonid meteor shower.
Just Thinking
I think the Neo-Nazis have been around long enough that we can just call them "Nazis" now.
Sports
Pac-Man: Manny Pacquiao secures his place in boxing history, with or without Floyd Mayweather.
NFL: Steelers, Giants suffer bad losses. Find scores here.
Blogs
DKos: The case for impeaching the President.
DailyDrew: My E-mail to Mark Shields.
Zero Hedge: Ben Bernanke sentences the poor to a long, cold winter.
Finally

War, War, War. I get so bored I could scream.
-WKW
-WKW
I always knew it would come to this, but debated whether I would come clean. I figured I could enjoy it on my own time and keep it hidden from the world. I could make it my little secret. Like herpes.
Alas, I am unable to keep it to myself any longer. It is time for an admission - I quite like Mixed Martial Arts fighting. If you're a long-time boxing fan like myself, you see where this puts me in a quandary. In fact, my whole boxing belief system has come into question.
Does my new-found interest in MMA mean that I've only enjoyed boxing because I like seeing two dudes kick the crap out of each other? Because that's not romantic at all. And it would render years of waxing eloquent of the violent intellectualism of boxing completely moot. Am I just some guy who enjoys giving added emotional importance and significance to nose-punching?
Like I said - quandary. Luckily, I am the type that likes to spend long hours having internal debates. Most people call this "sleep." A professional writer like myself calls it "research." So, in order to maintain my stupidly high opinion of myself, I have come up with one main reason why my flirtation is just that - a flirtation.
The reason? The lack of true journeymen fighters.
Yes, boxing is more of a sport, nay, an art form than MMA ever could be and it's mainly because as you read this, there is some guy hitting a heavy bag and preparing for his next fight. His record is something like 4-46-2,and he's been knocked out in his last 12 fights, but he's got a fight scheduled in some kid's backyard and a decently placed jab will make it a baker's dozen.
There are many fighters like that in boxing. Guys that will travel from town to town, helping to bolster the record of some up-and-coming prospect. In fact, maybe at one time these journeymen were up-and-comers, but no more. now they are fodder.
These brave men are why every time you watch a fight between two young, strong fighters, both tend to have records of 19-0 with 17 KOs, They may not have the power to punch through a paper bag, but they have Randall Bailey-type power while starting their career buzzsawing their way through the Midwest circuit.
In MMA, this never happens. Taking the UFC for example, it seems promotional genius and part-time douchebag Dana White has learned some valuable lessons from the world of professional wrestling. Because just about every fight in the UFC is a match-up of guys who have real skills. There are no gimmes in the UFC.
This is why in MMA, you could be a super-champion and roundly thought of as the baddest man on the planet, yet have a record of 5-3-2. Because in Mixed Martial Arts, there is but one simple truth - everyone gets their ass beat. Usually several times throughout a career.
Yes, as much as you admire the incredible skills of MMA fighters like Georges St. Pierre, Matt Hughes or Chuck Liddell, each one of them has experienced being horrifyingly battered in the octagon. The competition is too strong, and even the best are one punch, kick or hold away from being humbled. It cam make creating stars difficult for the MMA. Ask Kimbo Slice.
Nonetheless, I admire and appreciate boxing's professional, pay-per-punch-out journeymen. Because year-in, year-out, they do their jobs, getting knocked out quickly by prospects who would d rather have a win on their record than new skills in their bag. These are men to be appreciating. For example, a compilation of Mike Tyson's greatest knockouts could be called "Nameless, Faceless, Terrified Guys Helping Build Up Mike Tyson's Record."
Because let's face it, if Tyson had faced the type of competition that the UFC throws at you, his career would have ended before he was legally allowed to drink. Then where would be as a society?
In the end, let me say this - I like MMA. These guys are fighters, and I'll always have respect for those willing to take punches for a living. And some of the fighting action the tightly matched battles produce is scintillating beyond belief.
But it's not boxing. And while there are a multitude of reasons why I'll always remain a boxing fan first and foremost, it's because of the journeyman. Boxing's lovable losers that play their part early in a prospect's career. They are part of the history of the game, and they'll always have their part to play. And every once in a while, a Max Baer or Freddie Pendleton emerge from the ranks of journeymen and become a world champion. And what could be better than that?
-WKW
The brilliant Nicaraguan boxer Alexis Arguello has died of an apparent suicide. From ESPN: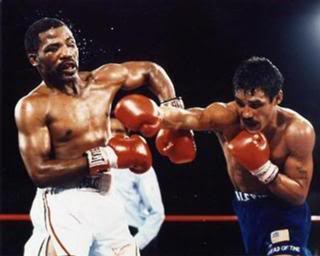 MANAGUA, Nicaragua — Alexis Arguello, who fought in one of boxing's most classic brawls and reigned supreme at 130 pounds, was found dead at his home early Wednesday.

Coroners were conducting an autopsy to determine the cause of death. Sandanista Party's Radio Ya and other local media were reporting it appeared to be a suicide.

The La Prensa newspaper reported that Arguello — elected mayor of Nicaragua's capital last year — was found with a gunshot wound to the chest.

The 57-year-old Arguello retired in 1995 with a record of 82-8 with 65 knockouts and was a champion in three weight divisions. He was perhaps best known for two thrilling battles with Aaron Pryor and fights with Ray Mancini, Bobby Chacon and Ruben Olivares.

"I'm kind of in a daze right now," Pryor told The Associated Press. "Those were great fights we had. This was a great champion."

Nicknamed "The Explosive Thin Man," Arguello was inducted in 1992 into the International Boxing Hall of Fame, where flags were flying at half-staff in his honor Wednesday.

Hundreds of people lined up to say goodbye to Arguello Wednesday night at a memorial service at the Palace of Culture in the capital of Nicaragua.
In a two-week stretch that has seen a spate of celebrity deaths, the death of Arguello is the only one that has left me with an ache in the pit of my stomach. While I often credit Sugar Ray Leonard as the man who drew me in to boxing, it was Arguello who truly made me love the sport.
The 1980s was a high time for boxing, as all three major networks featured amazing boxing matches every weekend. And no boxer was more of a deserved darling of these boxing shows than Arguello. His boxing style imitated his personal style - pure class. And his right cross was one of the most beautiful and devastating punches the sport ever witnessed. Arguello beat several respected champions throughout his stellar career, including Ruben Olivares, Bobby Chacon, Rafael Limon and Ray Mancini.
It was the victory over Mancini that truly showed many U.S. fans the brilliance and class of Arguello. Mancini was a huge fan favorite, and even though he was brutally dispatched by Arguello in a tough fight, the respect and caring Arguello showed Mancini and his family was unprecedented. Arguello went on to fight two amazing - albeit losing - battles with the mercurial Aaron Pryor, but showed the same strength of character in losing as he did winning.
More than just a boxer, Arguello long battled political corruption and civil strife in his beloved Nicaragua, and at the time of his death was the mayor of Managua. Despite the fact that his nation had stolen his life earnings and made his life hell, Arguello - who literally battled the Contras alongside his fellow Nicaraguans - was one of Nicaragua's most respected ambassadors.
Alexis Arguello was a champion in nearly every way a man can be a champion. He was a gentleman who was a credit to boxing, and to Nicaragua. Arguello always fought the good fight, and the world is a better place for his being part of it.
-WKW
When I was 17, I trained at a boxing gym in Laverne, Calif., alongside superstar Shane Mosley, with his father, Jack, acting as my first trainer. It's a fact.
-WKW
-WKW
Thoughts from an occasional sports writer …
The Lingerie Football League - It's official, we're the Roman Empire.
Didn't follow the NFL Draft as much as I usually do. No problem, I'm sure at least three of the Steelers' draft picks will be strong contributors withing two years or less.
Cruzeiro destroyed "rival" Atletico-MG, 5-0 (again) to assure they'd win the Minas Gerais State Championship. The Raposa haven't lost to Galo in 13 games. Yeah, sure you don't care, but I do.
Puerto Rican Juan Manual Lopez pummeled tough veteran Gerry Penalosa to keep one of the bantamweight titles. Here's thinking the alphabet titles won't matter to Lopez as he works his way up the pound-for-pound rankings. I couldn't help thinking he was a left-handed Julio Cesar Chavez.
And yes, I'm anxiously awaiting Ricky Hatton-Manny Pacquiao. I think Pac-Man has too much speed for Hatton and could outright dominate. But Hatton has a lot to prove and is not one who should be underestimated. That's why it's a great match-up.
Dear NBA Playoffs- call me when Lebron and Kobe face off in the finals.
Bayern Munich sack coach Jurgen Klinsmann. I thought they were going to wait until he had led them to relegation.
It's Champions League semi-final week. I know you don't care, but everyone outside the U.S. does.
-WKW
While I haven't always been a big Oscar De La Hoya fan, I have always respected his willingness to take on the toughest competition. And for completely non-nefarious reasons, I'm quite happy that he's decided to hang up the gloves.
"I'm announcing my retirement because I've been doing this since I was five years old and it's just the love of my life for boxing is my passion and it was what I was born to do. And when I can't do it any more and come in at the highest level, it's not fair to me, it's not fair to the fans, and it's not fair to nobody. I've come to the conclusion that's it's over."
Aside from continuing on as a fast-rising boxing promoter, De La Hoya says he is also branching out into the world of soccer.
"Soccer, with the Houston Dynamo, now we're involved in a different sport where we have the opportunity along with everyone else involved in the MLS to grow the sport, to make it as popular as it can be here in the States," De La Hoya said. "To make it the sport among our kids. It's a great responsibility, so we embrace it. We at Golden Boy are hard workers, ambitious people and realize the potential that these sports have."
Thanks for the punching, Oscar. Here's to you becoming boxing's most important ambassador.
-WKW
Thoughts on last night's "Lightweight Lightning" card on HBO
I was excited about the Edwin Valero - Antonio Pitalua match up until I saw that Pitalua was 39. The second-round TKO was easy work for Valero, but should have left fans wanting to see more of the Venezuelan. I say bring on Juan Manuel Marquez. Or better yet, Manny Pacquiao
Rolando Reyes showed tremendous finishing skills in stopping former champion Julio Diaz in the fourth round.
Former U.S. Olympian Vincente Escobedo earned a decision over over Carlos Hernandez and I couldn't have been less impressed. Escobedo doesn't have seem to have adjusted to the pro game. Think Kelcie Banks with a bit more power (Ok, a lot more power. But that reflects more on Banks). Still, not a bad fight.
I used to think Michael Katsidis was an Arturo Gatti clone. But his game was sharp and well-rounded in his complete dismantling of tough Jesus Chavez. Still, I can't envision Katsidis getting by top-flight competition without his face getting completely busted up. Heart and power only take you so far. Ask Gatti.
One day, Don King and Bob Arum will be gone, and Oscar De La Hoya and his Golden Boy Promotions will be the most important promotion entity on the planet. Hopefully, De La Hoya and his band of misfit boxing superstars will start giving us quality undercards before big fights, but he deserves credit for putting together shows like last night's. You can argue whether Oscar had a hall-of-fame fighting career (I say yes, based on his domination at the lighter weights and willingness to fight all comers), but it's very safe to say he's a huge and positive presence in boxing today. Now hopefully he hangs up his gloves and focuses on his promotions and being an ambassador of the sport.
-WKW
Thoughts from an occasional sports writer …
Japan was a deserving winner of the World Baseball Classic, but what about South Korea? They've played baseball for just 25 years and play at this level? That's just remarkable.
The U.S. showing in international baseball competitions has been quite unremarkable, however.
If the Klitschko brothers don't agree to fight each other, there's really no use for either of them to fight again. It's just not that entertaining to see giant guys overwhelm smaller and limited opposition. Someone needs to start a rift between the brothers K.
While I'm sorry that Dunga's parents are stuggling, the fact is that all he's doing now is keeping the job of Brazilian National Team coach warm for Felipão.
It just can't be easy being Ryan Leaf.
As far as I'm concerned, March Madness doesn't really get started until Duke loses.
It's official, nothing you say about John Daly will get you in trouble for libel.
-WKW
Shane Mosley went into his fight against Antonio Margarito with a lot going against him. His involvement in BALCO and use of performance-enhancing drugs has grown. His marriage is reportedly in trouble. The last two tall fighters he fought - Winky Wright and Vernon Forrest - combined to give him four of his five career losses. In Margarito, he was facing boxing's "It Guy," who had cemented his standing among boxing elite's with his stoppage of Miguel Cotto. Oh, and he was 37.
Nine brilliant rounds later, Sugar Shane was the welterweight champion, and a lot of those problems got a lot easier to deal with. After dominating Margarito throughout the fight, Mosley dropped Margarito in a wild 8th round, and then turned it on to stop him in the 9th.
Never allowing Margarito to find a rhythm for his windmilling, winging shots, Mosley dominated throughout, landing countless heavy right hands to Margarito's head while managing the fight brilliantly. It was quite possibly the best performance of Mosley's storied career.
In a way, the fight brought back memories of Floyd Mayweather Jr.'s demolition of Diego Corrales some years back. And with Mayweather making noises about coming back, Mosley just made himself an attractive opponent. And a showdown with Mayweather is a problem Mosley would definitely not mind having.
-WKW
(To be updated frequently throughout the night.)
I must admit that I like Oscar De La Hoya. His career has been an endless battle against tough opponents. From a fearsome junior lightweight to a busy junior middleweight, De La Hoya has ducked no one. But I was still perplexed why he's fighting Manny Pacquiao.
Ok, maybe not perplexed. He's doing it for the money. After seeing Floyd Mayweather Jr. lay waste to Ricky Hatton - and then retired - De La Hoya was a farewell tour missing someone to say farewell to. Enter Pacquiao, an up-and-coming pay-per-view star.
While I think the world of Pacquiao and think he's a rare talent, it's hard to imagine De La Hoya being unable to use his considerable size advantage. For Oscar, who knows if this fight is winnable one way or another, for Pacquiao, a loss is of no concern whatsoever.
But I can't help myself, I suppose. De La Hoya is getting gray, and Pacquiao will come to fight. So anything could happen. Maybe even a good fight.
Undercard Action
Daniel Jacobs TKO2 Victor Lares: Jacobs (13-0) stays undefeated in dominating Lares, who offers very little. Jacobs may have some skills, but it's hard to gauge after this mismatch.
Juan Manuel Lopez KO1 Sergio Manuel Medina: Medina (24-0, 22 KOs) maintained his WBO super bantamweight title by destroying Medina (33-2, 18 KOs) in a 12-round title bout. That's three straight first-round KOs for Lopez, and make no mistake, he's got serious skills. But Medina froze and offered nothing.
Random Aside: I used to train with Shane Mosley at the La Verne Athletic Center in Southern California in the mid-80s. He was a good kid then and has been a great representative of the sport, despite recent allegations of doping. I always root for him and hope the best for him. He's a good guy.

That said, Antonio Margarito will knock Sugar Shane into retirement next month.
Victor Ortiz KO2 Jeffrey Resto: Ortiz stayed unbeaten (23-0-1, 18 KOs) by knocking Resto down three times in less than two rounds. A nice win but Resto offered nothing. I like Ortiz. I think he comes to fight. I think he has some talent. But will he become an elite fighter? Nope.
Undercard observation: The undercard fights were just crap. Insultingly bad matchups.
Final Thought on De La Hoya-Pacquiao: I remember when Sugar Ray Leonard dropped back down to 154 to fight Terry Norris, and with the weight, Leonard lost what was left of his ability and Norris humiliated him. That is about the only way I see Pac-man winning this fight, especially knowing that De La Hoya weighed in at 145. I wouldn't mind being surprised, but unless De La Hoya shows some more signs of aging, Pacquiao has no shot. Look for Oscar to take him out within 6 rounds.
Oscar De La Hoya vs. Manny Pacquiao Round-by-Round
Pre-fight Note 1: What's the deal with singing the Mexican National anthem? It's like, 45 minutes long and neither of the fighters is Mexican. Way to pander, Oscar.
Pre-fight note 2: Let me tell you something about Keyshia Cole - she knows bling.

Pre-fight note 3: I can't wait to see them side by side. I just can't shake the feeling that it's going to look like Serena Williams going up against an Olsen twin.

Pre-fight note 4: One positive for Pacquiao - he's been in big fights before. He comes into the ring looking calm and confident.
Pre-fight note 5: De La Hoya is much, much bigger than Pacquiao. With the way he's sweating coming in, look for Oscar to come out strong.
Round 1: Pacquiao is small but strong and he know his speed is the key. He moves well, but De La hoya finishes with some power shots. De La Hoya.
Round 2: Pacquiao puts on a clinic and shuts down DLH the entire round. It's as though De La Hoya didn't expect him to be this fast. Pacquiao.
Round 3: De La Hoya starts using his height and throwing more punches down on Pacquiao. Manny throws fewer punches. A very competitive fight thus far. De La Hoya.
Round 4: If you're a Pac-Man fan, this was a good round. Pacquiao dominated, finding a rhythm and boxing circles around DLH. Pacquiao.
Round 5: Wow. Pacquiao just spent three minutes battering De La Hoya, getting his attention a couple times with power shots. When De La Hoya fought Steve Forbes, I said DLH looked like an old fighter. He looks even older right now. Pacquiao
Round 6: Pacquiao looks like he owns the joint right now. De La Hoya has no answer for him in the middle the ring and Oscar's left eye is swelling. Pacquiao.
Round 7: The wheels just came off for De La Hoya as Pacquiao outlanded him 175-46 in power shots. Pacquiao may stop him soon. Pacquiao.
Round 8: De La Hoya has nothing. Absolutely nothing. Pacquiao is having a sparring session now. Oscar's laboring to throw a jab.
And he just quit.
Pacquiao KO9 De La Hoya
Final Observations: De La Hoya is done. Maye he could put together a fight with Roy Jones Jr., but that's about it. This was just an awful performance. Plus, the two times I saw De La Hoya feel like he was in over his head was with Bernard Hopkins and now Pacquiao. And both times he gave in pretty meekly. In the end, that's the story of Oscar De La Hoya - he was a tough, charismatic fighter who took on many of the best of his era - and lost to most of them.
As for Pacquiao, it was just a stellar performance. Don't take anything away from him. He put on some weight and went up and did what he does against De la Hoya. Pacquiao just beat the crap out of him. He showed heft in his punches and unerring accuracy. We'll see where he goes from here, but Mayweather may be thinking about taking up the game again. All avenues are open for the fantastic Filipino.
Getting up from a first-round knockdown, light-heavyweight champion Joe Calzaghe spent the next 11 rounds doing to Roy Jones Jr what Jones had spent the majority of his career doing to opponents. Using superior speed, reflexes and stamina, Calzaghe dominated and toyed with Jones on his way to a convincing 12-round decision to maintain his title and undefeated record.
Jones looked like he might be able to pull off an upset as he landed as strong right uppercut that floored and hurt Calzaghe. Slow to follow up, however, Calzaghe survived the round, muddled through Round 2 and then put on a display that showcased all of his considerable skills.
By Round 7, Jones was bleeding from a cut above the left eye (courtesy a perfectly placed straight left from the UK superstar) and was left with nothing else but occasional attempts to land another game-changing right hand. Through it all, Calzaghe was fast, flashy, furious and indefatigable, not just beating Jones, but truly humbling him. One stat truly stood out - in 12 rounds, Jones landed just 12 jabs.
It was a dominant performance for Calzaghe, and we'll know soon enough whether his threats of retirement were just that. A lucrative rematch with Bernard Hopkins awaits him should he decide to take another chance with his perfect (46-0) record. Should he hang it up, he deserves tremendous respect for his brilliant career.
For Jones, he doesn't have to say good bye, but he can't stay here. Following Round 2, Jones was the definition of a shot fighter, unable to get his punches off and unable to land many of them when he did. While Jones showed plenty of heart and never stopped trying, he was truly an empty shell of his formerly brilliant self. A prime-time Jones always said he'd never stay in the game too long. But he did. Here's hoping Saturday night at Madison Square Garden was his final foray into the squared circle.
-WKW