Alexis Arguello dead of apparent suicide
The brilliant Nicaraguan boxer Alexis Arguello has died of an apparent suicide. From ESPN: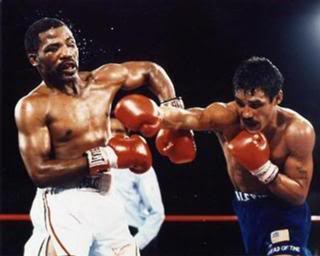 MANAGUA, Nicaragua — Alexis Arguello, who fought in one of boxing's most classic brawls and reigned supreme at 130 pounds, was found dead at his home early Wednesday.

Coroners were conducting an autopsy to determine the cause of death. Sandanista Party's Radio Ya and other local media were reporting it appeared to be a suicide.

The La Prensa newspaper reported that Arguello — elected mayor of Nicaragua's capital last year — was found with a gunshot wound to the chest.

The 57-year-old Arguello retired in 1995 with a record of 82-8 with 65 knockouts and was a champion in three weight divisions. He was perhaps best known for two thrilling battles with Aaron Pryor and fights with Ray Mancini, Bobby Chacon and Ruben Olivares.

"I'm kind of in a daze right now," Pryor told The Associated Press. "Those were great fights we had. This was a great champion."

Nicknamed "The Explosive Thin Man," Arguello was inducted in 1992 into the International Boxing Hall of Fame, where flags were flying at half-staff in his honor Wednesday.

Hundreds of people lined up to say goodbye to Arguello Wednesday night at a memorial service at the Palace of Culture in the capital of Nicaragua.
In a two-week stretch that has seen a spate of celebrity deaths, the death of Arguello is the only one that has left me with an ache in the pit of my stomach. While I often credit Sugar Ray Leonard as the man who drew me in to boxing, it was Arguello who truly made me love the sport.
The 1980s was a high time for boxing, as all three major networks featured amazing boxing matches every weekend. And no boxer was more of a deserved darling of these boxing shows than Arguello. His boxing style imitated his personal style - pure class. And his right cross was one of the most beautiful and devastating punches the sport ever witnessed. Arguello beat several respected champions throughout his stellar career, including Ruben Olivares, Bobby Chacon, Rafael Limon and Ray Mancini.
It was the victory over Mancini that truly showed many U.S. fans the brilliance and class of Arguello. Mancini was a huge fan favorite, and even though he was brutally dispatched by Arguello in a tough fight, the respect and caring Arguello showed Mancini and his family was unprecedented. Arguello went on to fight two amazing - albeit losing - battles with the mercurial Aaron Pryor, but showed the same strength of character in losing as he did winning.
More than just a boxer, Arguello long battled political corruption and civil strife in his beloved Nicaragua, and at the time of his death was the mayor of Managua. Despite the fact that his nation had stolen his life earnings and made his life hell, Arguello - who literally battled the Contras alongside his fellow Nicaraguans - was one of Nicaragua's most respected ambassadors.
Alexis Arguello was a champion in nearly every way a man can be a champion. He was a gentleman who was a credit to boxing, and to Nicaragua. Arguello always fought the good fight, and the world is a better place for his being part of it.
-WKW