My friends, America was born some 450 years ago in 1776 and has the documentation to prove it. Now, America has an expiration date - Dec. 31, 2012.
Yes, Christopher Columbus' great experiment in democracy is set to sail over a cliff - a "Fiscal" cliff, as it were. According to economics experts such as David Gregory, the fiscal cliff is a combination of tax hikes and budget cuts that will paralyze the economy and bring about such calamities as a return of smallpox, forced incest and insects of above average size, according to economic expert such as Jake Tapper.
As economic experts such as Scott Pelley and Lloyd Blankfein have noted, there is but one way to pave over the fiscal cliff and ensure the fall is lined with concrete is to cut entitlement spending. While people spend their whole lives paying into entitlements such as Social Security and Medicare, these entitlements are free money to an American public long accustomed to receiving free government largesse. This free giveaway of benefits that people have paid into must be curtailed, or America will fail, as falling over cliffs is almost always fatal.
My friends, since America won its civil war against Europe, it has long fought to be more like Europe. Currently, Europe is continually cutting benefits and forcing austerity measures on its people. This is causing the economies of many European nations to contract, which, as non-partisan organizations such as Fox News have pointed out, help save economies and keep insects at their normal, smaller size.
The truth is obvious and unavoidable - if America falls over the fiscal cliff, all Americans will die, as politicians will lock all emergency exits and burn the place to the ground. This can only be avoided if all Americans who make less than, say, $250,000 a year start feeling the pain.
As Founding Father Abraham Lincoln once said, "A nation divided cannot afford to take care of anyone who makes less than, say, $250,000, without falling over a fiscal cliff and bringing about such calamities as a return of smallpox, forced incest and insects of above average size, according to everyone at CNBC. Also, tax hikes are off the table."
The time is now, America. Because the cliff is coming. And if we fall over that cliff, we will all drown in the seas of fire. It's time we become educated about it.
-WKW
Keep attacking yourself until you eventually win.
-WKW
While much attention goes to the United States' huge national debt, few spend time understanding the debt some cities are dealing with and the steps needed to take to balance these smaller but vital coffers.
In cities like Needles, Calif. - which has a population of 15,000 and a debt of $450,000 - desperate times are calling for common-sense solutions. In it's most controversial move, the City passed a law requiring the homeless to act as public toilets and trash cans to help defray costs.
"Let's face it, these people are covered in trash and human waste almost constantly," said Needles Mayor John Timmison. "Let's finally give them the dignity they deserve by urinating on them and throwing trash at them."
City Planner Rick Davidson said that the move will not only restore dignity to the homeless by letting them feel like they are a part of the community, it will also save the city substantial money.
"We're looking at saving nearly $37,000 because of cuts in the city's maintenance department," said Davidson, who hinted that the homeless could be used for other duties such as speed bumps. "This is what happens when the government uses real-world corporate thinking. It's really win-win."
At least one homeless person seemed uneasy with the plan to restore dignity to the homeless via using them as restrooms and trash cans.
"It's not fair!!" said 4-year-old Angela Angelson, who recently became homeless after her father lost a $37,000-a-year job with the city's maintenance department.
-WKW
Next year's Black Friday will officially begin with the ritual sacrifice of a poor mom who just wants to be able to afford to buy her kid a new school notebook.
(AP)  LOS ANGELES — A woman shot pepper spray to keep shoppers from merchandise she wanted during a Black Friday sale, and 20 people suffered minor injuries, authorities said.

The incident occurred shortly after 10:20 p.m. Thursday in a crowded Los Angeles-area Walmart as shoppers hungry for deals were let inside the store.

Police said the suspect shot the pepper spray when the coverings over the items she wanted were removed.

"Somehow she was trying to use it to gain an upper hand," police Lt. Abel Parga told The Associated Press early Friday.

He said she was apparently after some electronics and used the pepper spray to keep other shoppers at bay.

Officials said 20 people suffered minor injuries. Fire department spokesman Shawn Lenske said the injuries to least 10 of them were due to " rapid crowd movement."
-WKW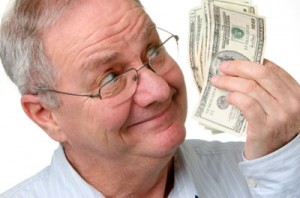 You don't need to know anything else about it.
-WKW
A great chart from Mother Jones showing how the banking system has become dominated by the select few: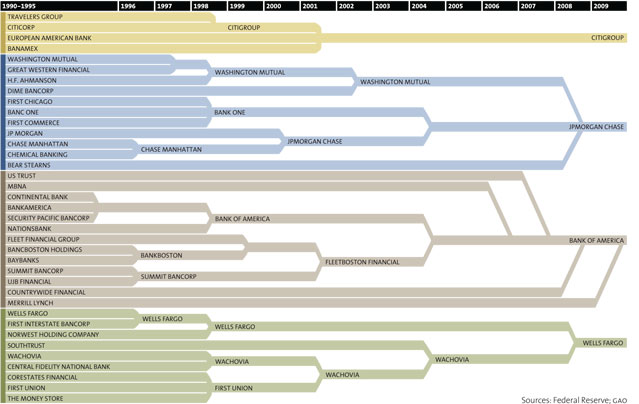 See the story and Mother Jones' report on the financial crisis here.
-WKW
… At least that's what some guy from the Department of Homeland Security* told me.
*Budget for DHS for 2012 will be more than $50 billion.
-WKW
Whether it's President Barack Obama or Jon Huntsman, any "jobs plan" that leans heavily on "Reduce the Deficit!" and "Cut Taxes! will neither create jobs nor be especially serious. Economic stimulus is serious and works. But it won't be part of any "plan."
-WKW
Hardly anyone looks at the bright side of high unemployment.
-WKW
John Aravosis had a sit down with Nobel Prize-winning economist Joseph Stiglitz the other day. Stiglitz, like the majority of non-Randian economists isn't hopeful that jobs are on the horizon:
"There are some people who believe we are already in a recession. It's almost unambiguously the case that growth is too anemic to create enough jobs … so the jobs deficit is growing. Whether it is growing in appearance or in a hidden way is again not clear."
Whether or not the U.S. economy is in a recession or is heading for a recession makes little if any difference any longer. The biggest corporations and the financial industry are making money. That's what matters. From Business Insider:
U.S. corporate profits and efficiency are getting absurd.

On Friday we saw record quarterly profits of $1,450 billion, making up a record share of GDP at 10.1%. We're also at record corporate efficiency of $15,278.72 — up 22.3% from last year — according to Sageworks Inc.

That last one says it all. Rampant job cuts and salary cuts, with new responsibilities for old workers, during the recession turned corporations into profit-making machines. Stimulative policies from the government and the Federal Reserve helped plenty. New technology also helps with efficiency.

Unfortunately there are no signs that corporations are turning revenue into jobs.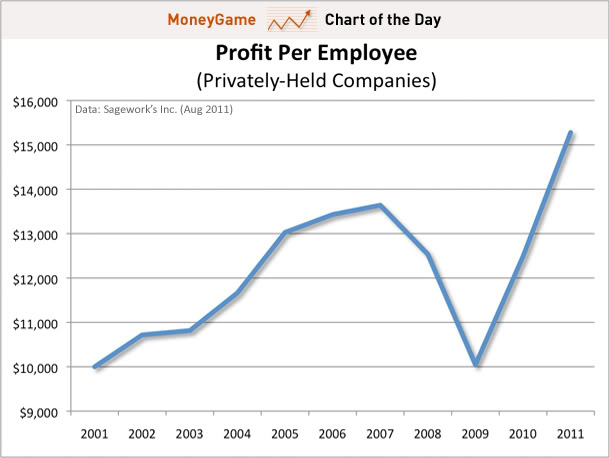 From Felix Salmon:
Kathleen Madigan had an important post on Friday, showing financial profits roaring back to more than 30% of all domestic US profits. As she says, "that's an amazing share given that the sector accounts for less than 10% of the value added in the economy" — and makes it "hard for banks to cry poverty" when it comes to things like debit-card interchange legislation.

Madigan gave us the percentage chart, which shows the finance industry taking an even greater share of total corporate profits than it did during most of the boom year of 2006.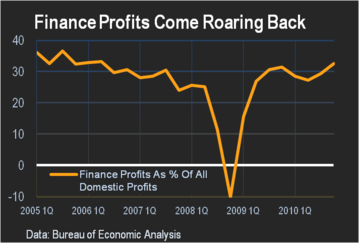 The United States has been dedicated to supply-side economics for more than three decades now. The end result is where we are at now - high-unemployment, lower wages and large profits for those at the very top. This is not a bug. It is a feature of the system.
When unemployment can stay at more than 9 percent and GDP can flounder for this amount of time as corporate and financial profits soar, whether or not the U.S. is in a recession is completely meaningless.
The current economic situation in the U.S. is not an aberration, nor is it a bump in the road. It is the plan.
-WKW
Even Grover Norquist has given his blessing to renew the federal gas tax. Let's see if the Republican Party has moved further right than him, and are ready to put more Americans out of work for purely ideological and political reasons.
Like many other excise taxes, the federal highway tax comes up for periodic renewal, which is usually noncontroversial. But not this time. If Congress doesn't act to renew the tax by Sept. 30, gas stations all over the country have to stop collecting it; the highway trust fund will never get the money; and new work on federal highway projects will come screeching to a halt.

A delay of just 10 days in renewing the tax would mean the permanent loss of $1 billion in highway funding (and layoffs for thousands of workers). Longer delays would measurably increase the national unemployment rate.
Not renewing the gas tax would hurt Obama. That it would hurt millions of Americans, as well, is of little concern to the GOP. Look for another "showdown."
-WKW
From Sally Kohn in the Guardian:
Following the recession of the 1980s, 28% of the economic growth in recovery went to corporate profits, while 25% went to boost the wages and salaries of ordinary workers. Today, 88% of the economic recovery has gone to boosting corporate profits. As a widely cited earlier version of Sum and McLachlan's report finds, only 1% – that's one out of every $100 – has gone to wages and salaries for the folks who clearly need it most.
There are absolutely no signs or efforts to change this trend. It is much more likely to accelerate.
-WKW
My friends, since those French scientists botched their experiments on a new immortality drug and spread the Zombie virus throughout humanity, things have been kind of crazy. Rarely does a day go by where we are not fleeing the mindless, brain-eating undead. It's a hassle.
But the fact that many of our loved ones have either become zombies or have been eaten by zombies shouldn't hamper our intellectual abilities. This is a time when clarity of thought is as important as a nearby Louisville Slugger.
Make no mistake about it, humanity is in chaos, and more than likely will be exterminated soon. But let us avoid the knee-jerk, human-partisan opinions. This is not solely the fault of the zombies. Let's face it, everyone is to blame.
The zombies are just doing what zombies do. They lurch forward slowly in packs and try to grab regular humans so they can eat their brains. To punish for them acting as God intended is cowardly and simple-minded. Because lest we forget, about half the world's population spends its days hunting and killing zombies. Where is the outrage over that?
Don't get me wrong. This is not a pro-zombie rant like the one Jennifer Rubin wrote recently for the Washington Post ("Zombies Want Lower Taxes and a Big Military. They can't be THAT bad"). Instead, this is a call for common sense. You see, the people actively killing zombies are only adding to the mayhem, lawlessness and job-killing fanaticism that have swept our land.
The people who have fled to the countryside are as much to blame as the zombies, as well. What, things get tough and you run away? This cowardice adds to the flames of the Zombie Apocalypse. In the end, those who fled are as guilty as the zombies, who will get them eventually anyway.
America has stood up to big challenges before. Will we succeed in this effort? Most definitely not. The zombies are relentless and there's always more of them coming. We're pretty much doomed as a species. But this does not mean it's time to point fingers.
So just remember, when a zombie finally gets hold of you and rips you apart, this is not just the fault of the zombie. The Zombie Apocalypse is the fault of everyone, you included.

-WKW
"The British public don't simply resort to violent unrest in the face of challenging economic circumstances. We must have a rational and reasonable debate about policing. Your association has a long and proud history of constructive and sensible contributions to policing policy-making – long may it continue."
- British Home Secretary Theresa May, Sept. 15, 2010.
-WKW
 "We have changed our assumption on this because the majority of Republicans in Congress continue to resist any measure that would raise revenues, a position we believe Congress reinforced by passing the act."
This was on Page 4 of the paper S&P deciminated after downgrading the U.S. Credit. Thom Hartman wonders why the media is so afraid of reporting this line.
-WKW