If you had an infinite number of monkeys typing away at an infinite number of typewriters for an infinite time, one of them would eventually produce Hamlet.
If you gave three monkeys two typewriters and gave them an hour and a half, one of them would eventually produce an online dating column.
At least that's what scientists at Duke University have discovered in a recent study taking a look at male online dating columnists. The study, entitled "Dating Douchebaggery," researched male dating columnists over a period of two days. The findings initially shocked the researchers, but they were able to put it all into perspective.
"First of all, the most important thing is this - male online dating columnists share an extraordinary amount of traits with douchebags," said Dr. Sven Barrimore. "While this was assumed, we were truly unprepared by just what douchebags these guys really are."
The study found many similarities between douchebags and male online dating columnists - first, they make it clear that they know women. That quickly devolves into parody, however, as the columnists introduce stereotypes, strange data and other things to make their "advice" seem realistic, even if it's just misogynistic claptrap.
Take this recent dating advice given by Todd Katz on the AT&T and Match.com homepages, trying to explain why men have to look at attractive women walking by, even if they are with another woman at the time:
There he goes again: You're walking down the street with your new guy, and his eyes slide over to check out a blonde in a low-cut top. And let's not even get started on his Salma Hayek obsession. But don't give him too hard a time: A new study suggests that we're biologically compelled to stare at the sexy and powerful.
Katz goes on to talk about the "new study" (that came out in 2005) and how it shows that monkeys have wandering eyes so there should be no surprise that men do the same thing. Katz does a poor job making this all work, though, which is surprising, being that he printed the same column on AOL more than six months ago and in the New York Post more than 18 months ago.
In his brief "scientific" article, Katz does not find it necessary to state that monkeys also often engage in homosexual behavior. Katz doesn't mention this due to the scientific reality that he is a douchebag. And note, scientists were able to declare Katz was a douchebag even before being aware that he has previously written for the magazines "Maxim" and Stuff." Katz also uses the "Law of Leviticus" but with monkeys, instead.
The "Law of Leviticus" states that Leviticus is extremely important when it comes to homosexuals, but that it's virtually meaningless regarding shrimp-eaters. For online dating columnists, the "Law of Monkeys" states that nothing a monkey does is pertinent to humans, unless it can help prove a misogynistic point.
Dr. Barrimore said that the study was an exciting achievement, as it was the easiest and fastest research project of his career.
"When we met with Katz and with Yahoo dating columnist David Wygant, we knew within the first three minutes that these guys were total douches," said Barrimore. "We did a few tests, but the evidence truly confirmed what we could tell just by talking to them for a few minutes."
So remember, your man may seem like a douchebag some times, but that's probably only because he reads douchebag dating columnists.
"Douchebaggery is incredibly contagious," said Dr. Barrimore. "Once you get a group of guys agreeing with each other on fallacious, misogynistic nonsense, you're bound to see a huge douchebag pandemic. It happens all the time and it's never pretty."
-WKW
Let's get this part high up in the story, shall we?
M.Thomas Eisenstadt is a hoax.
Abrad2345 is a hoax.
The Harding Institute for Freedom and Democracy is a hoax.
Oh, and someone named Marnie Vander Helsing is also a hoax.
It's all one guy, trying his best to be noticed, screw the ramifications.
Since last we spoke of M. Thomas Eisenstadt - the hoax formerly known as Abrad2345 - he has been mostly quiet, limiting his blog posts mostly to a crpytic response to myself, as well as a post stating that he was changing his name to "Martin Eisenstadt," possibly after being contacted by the real Michael Eisenstadt of the Washington Institute.
Oh yeah, and being that M. Thomas Eisenstadt Martin Eisenstadt was once known as viral blogger Abrad2345, he couldn't resist to make a new video, which was posted two weeks ago and shows "Mr. Eisenstadt" on a Iraqi TV program during the Baghdad Business Expo, held in February. "Mr. Eisenstadt" it seems is gung ho about building Casinos in the Green Zone in Baghdad.
If there were any remaining questions on whether "Martin Eisenstadt" was actually Abrad2345, the above video is the final bit of proof. Take a look at the Abrad2345 video below and then the video above, and if you look closely, you can see an interesting bit of evidence - it's the same guy.
I received a link to the Iraq business video from Iraqi blogger and activist Raed Jarrar. While Jarrar said the video came from Iraqi TV, I find it hard to believe that and believe the video was made in a set in the U.S. However, it could be an actual TV program. But again, I doubt that. Especially when you look at the photos they put up in the video.
By the way, the video on top was posted two weeks ago by someone who joined YouTube a month ago.
Now, I have a basic understanding of satire. And Abrad2345 / Martin Eisenstadt doesn't really have the touch for it. While the videos are designed to mock Republican candidates, they scream of self-promotion. Aside from that, they just aren't that funny.
So while I understand that there is ample room for satire, and that with the election upcoming, the chance to be noticed is greater than ever, I consider Abrad2345 to be a nuisance, albeit one that is not entirely harmless:
1) He stole Michael Eisenstadt's identity.
2) He actively states that he works for John McCain.
3) He has enraged some Iraqis, thus, even in a minute way, hurting relations between real Iraqis and real Americans.
Basically, if someone wants to be the new Andy Kaufman, I say go for it. But once you've failed like M.Thomas Eisenstadt / Abrad2345 / Martin Eisenstadt, it's time to give it up and move onto other things before you end up in court.
So while I can't say I know the actual name of "Martin Eisenstadt" (maybe someone will finally recognize him), I don't really care that much. He's just a comic that wants attention and is willing to do a great deal of work under a plethora of different names to get it done.
In the end, I can't imagine that Abrad2345 / Martin Eisenstadt is working for any group. It's one guy who seems excited when he excites those of us who are into politics. My advice - move on to a different shtick before you get into any real trouble. The non-political audience is much bigger anyway. Why spend so much time and effort to get such a small audience to notice you?
Plus, it's just not funny. Abrad2345 got his 15 minutes of fame, and now he's working extra time to get 15 more minutes. It's not going to happen. It's time for Abrad2345 to take his act to the stage. Screwing with the political process for the sake of narcissism is truly foolish.
-WKW
Crossposted at Shakesville
WASHINGTON, D.C. — In a stunning move of diplomatic wizardry, U.S. President George W. Bush has announced that North Korea is no longer considered a nation that harbors terrorists and that the U.S. will remove some key trade sanctions with North Korea.
The move is especially shrewd, being that it was Bush who put North Korea in the "Axis of Evil" in the first place after diplomatic work had already helped the relationship, as well as for the fact that North Korea just came out and admitted they are doing what Iran is doing. Iran, however, remains evil.
Upon not hearing the news, citizens of North Korea acted normally today, struggling to get by the twin nightmares of a crazed dictator as a leader and a world that punishes them even more for being ruled by a crazed dictator.
Luckily for North Korean citizens, their news blackout won't really hurt them too much in this case, as their lives will still be brutal toil. Bush said the U.S. action would have little impact on North Korea's financial and diplomatic isolation.
"It will remain one of the most heavily sanctioned nations in the world," Bush said. All U.N. sanctions, for example, will remain in place.
-WKW
Crossposted at Shakesville.
William K. Wolfrum made this statement to all his supporters at 3:30 p.m.
I appreciate everyone's time on this matter and I'll make it brief. Currently, the United States is involved in at least two wars. The dollar is worth less than ever. The economy may get much worse before it gets better. A new generation of homeless people has arisen. Weather emergencies are striking with more power and more often. A gallon of gas will cost $5 soon enough all over the nation. To put it simply, the nation needs help. Your help.
That is why I, William K. Wolfrum, am offering $300 - cash - to whatever person can come along and fix all these problems. The money can be spent in anyway you wish, provided you bring me proof that you fixed all that ails the U.S.
This contest is hereby open, so get to work. Remember, help make America great again and walk away with $300. It's a win-win deal all the way.
Thank you for your time and I have retained counsel in this matter.
-WKW
Watch as rookie superstar Candace Parker becomes just the second player in the WNBA to dunk in a game:
"Ala, Michael Jordan?" asked-stated Los Angeles Sparks coach Michael Cooper after the game. For Coop, the answer is maybe yes, maybe no. Parker appears to have what it takes to take her game to an unprecedented level in the WNBA. And in joining teammate Lisa Leslie as the only other WNBA player to dunk in the game, Parker makes the Los Angeles Sparks may be the most exciting team in the league.
It is strange that first dunk elicited a huge response from the national media. The second dunk? Not so much. And expect them to receive even less attention as Parker does it more and more often.
Bill
Crossposted at Shakesville.com
George Carlin, who lived to see the day when the Internet would destroy all barriers to his "Seven Words" skit, died at the age of 71. He made his mark and will be missed.
Bill
Recently, a blogger named M. Thomas Eisenstadt suckered me into writing a post that he had written titled "Shame on Dennis Hastert for joining tranny lobbyist firm". The post I wrote on the subject can be found here.
After that post, it became clear that M. Thomas Eisenstadt (who originally started a blog named www.michaeleisenstadt.com and was referred to as "Michael") was a hoax. As was his "think tank" called "The Harding Institute for Freedom and Democracy" (which seems to be a joke, being that Warren G. Harding is widely considered to be one of the worst Presidents in U.S. history).
Since then, I've been doing some sleuthing to try and find out who exactly this person is. And the road always seems to take new directions.
I'd also like to point out that I started a page (albeit a long one) that has general facts I've accumulated on this hoax: The M. Thomas Eisenstadt Chronicles.
I'd like to point out some more of what I've found out about M. Thomas Eisenstadt. First, let me start at the beginning, because for some reason, I failed to do that myself. The e-mail I received touting M. Thomas Eisenstadt's blog entry was from one Kareem Wahiri:
I thought you would appreciate this. The right wingnuts are up in arms because Dennis Hastert just joined a so-called tranny lobbying firm. I saw the post on neocon (and McCain staffer) M. Thomas Eisentstadt's blog:

best,
Kar
Me, being the simpleminded blogger I am, ran with it. Here's the part where you can tell I'm not a mainstream journalist - I made a mistake. But, at least that mistake has led to this hunt.
There is one listing for Kareem Wahiri on Google. It's a comment left at the blog Bluree:
I love bluree! But just wondering if you'd seen those fake Rudy ads on YouTube yet. I saw them mentioned in the NYTimes the other day: http://screens.blogs.nytimes.com/2007/07/30/its-tricky/ If you go to the videos, they're really pretty frickin' funny. Thought you'd want the tip. Keep up the great work! - Kareem
Previously I had mentioned the connection between M. Thomas Eisenstadt and Abrad2345, who posted a bunch of videos designed to mock Rudy Giuliani and other Presidential candidates. While the videos were shown to support the site JoinRudy2008.com, it's fairly clear that these videos were posted by a Democrat, or at least a non-Republican. - The Abrad2345 videos mocked Rudy Giuliani relentlessly. M. Thomas Eisenstadt's posts also mocked Giuliani, and the author definitely gives off strong "faux-Conservative" vibes.
Amyway, Kareem's comment helps strengthen that connection between M. Thomas Eisenstadt (hereinafter referred to as MTE) and Abrad2345. The evidence thus far:
Attention: George W. Bush, John McCain, Thomas Sowell, Charles A. Small, Charles Krauthammer, Michael Ledeen, John Bolton, Shimon Peres, Victor Davis Hanson, Angela Merkel, et al.
These are Nazis: These are wanna-be Nazis: These are Iranians: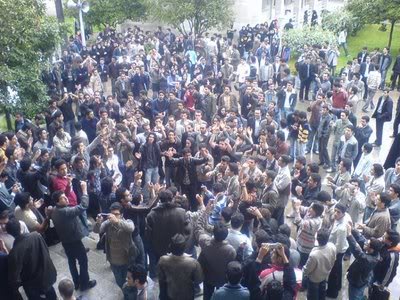 And these are Iranians:


This is Hitler: This is Iranian Supreme Leader Ali Khamenei: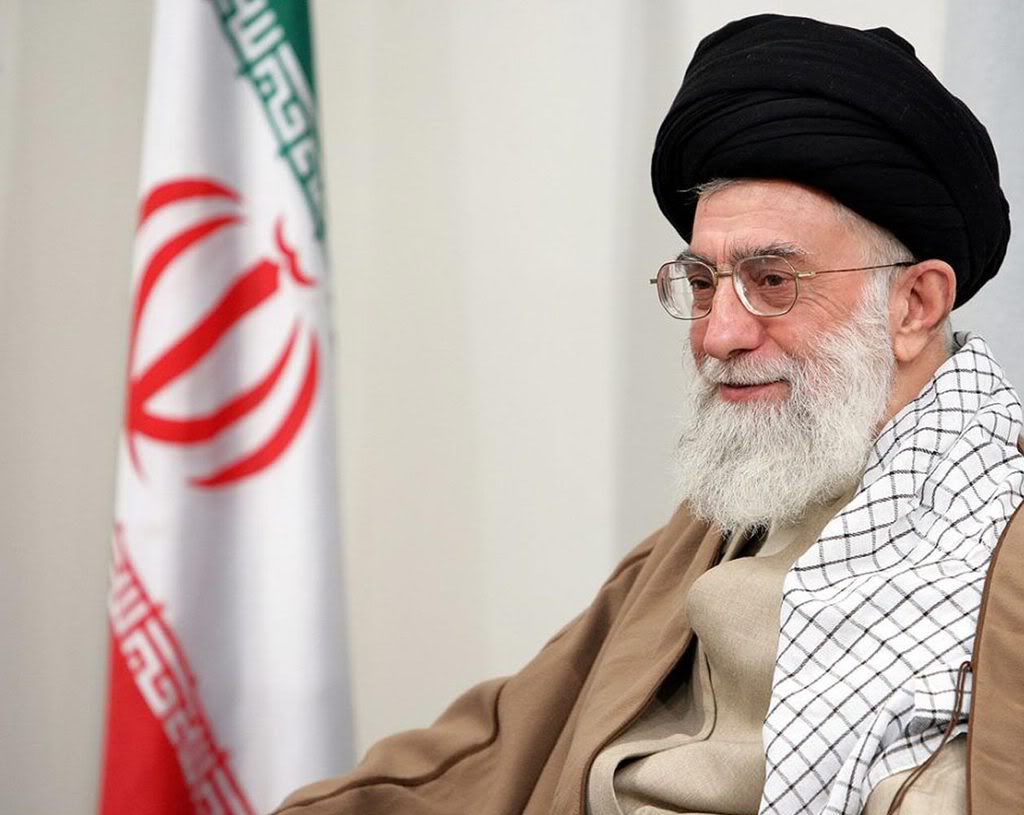 I hope this clears up your confusion on this matter.
-WKW
After spending a couple days looking through yards of info regarding the racist, homophobic, transgenderphobic conservative blogger M.Thomas Eisenstadt, I've pretty much reached my conclusion on the subject:
There is no M. Thomas Eisenstadt.
There is no Eisenstadt Group.
There is no Harding Institute for Freedom and Democracy.
M. Thomas Eisenstadt is a hoax. And, while I'm no law expert, I'd say he's guilty of identity theft at least in some manner.
Basically, the conclusion I've pieced together is this: Someone started a blog called www.michaeleisenstadt.com.
[Read more]