Only Brock Lesnar can lead Republican Party back to glory
Hey Republicans, quit your whining and listen up. You keep bitching about every thing going against you guys and then who do elect to run your party? Michael Steele? As incompetent and milquetoast a person rarely walks the planet. Well, it's time to grow a pair. There is just one man alive who can bring the Republican Party back to the power it once commanded.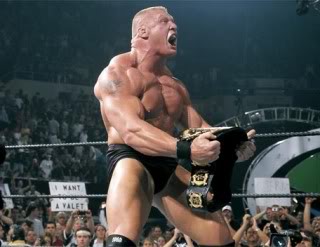 Brock Lesner.
In human history, no nation has ever had access to a human so close to being pure Terminator. The UFC Heavyweight champion, Brock Lesnar is a ruthless 6-3, 270-pound killing machine. His mammoth skull contains a brain disinterested in anything but violence. And his German/Yeti heritage means he's as pure a white man as you'll find this side of Brian Kilmeade.
Yes, Brock Lesnar is the only one who can lead the Republican Party now. Sure, his political knowledge is non-existent, but if he can at least name who the current President is, he'll be more or less on par with Steele.
As an added plus, he's Brock Freakin' Lesnar. No more worries about creating sophisticated political ads. Just put the camera on Lesnar and let his flat-out threaten people to stop supporting health care reform and the like. Dissent within the party would be over. Problems would be solved.
Seriously, imagine Mark Stanford trying to pull that crap about his soulmate in Argentina if Lesnar was RNC Chairman. He'd have beaten the crap out of the sniveling South Carolina governor. If you want a new woman, you get with the new woman and flip everyone else off. Newt Gingrich would be Lesnar's biggest supporter.
Brock Lesnar is every Conservatives ultimate fantasy human. Lesnar is Joe the Plumber with more steroids and less intellect. Lesnar is Sarah Palin with a better rack and ability to finish what he starts. Lesnar is everything conservatives ever wanted, and even whiter than they could have ever hoped.
So, Republicans, I ask you this: Do you really want to be an ineffectual party only interested in blocking legislation, or do you want to kick ass? Elect Brock Lesnar as your new National Committee Chairman. He is a huge, mindless, narcissistic wrecking machine with a bad attitude. Brock Lensnar is everything the GOP as all about.
-WKW