Chronicles: The Kindness of German Strangers
Note: This is the first effort in what I will be calling the "Chronicles" which will be essays that will hopefully create a running theme over time. There is no order for these and I have a lot of different subjects to write about, and will be delving more into myself personally, as well. This series will continue, once or twice per week, here at William K. Wolfrum Chronicles.
Chronicles: The Kindness of German Strangers
1.
My Father and I arrived in Germany 85 years after my grandfather had left. Stuck in a depressed, post-WWI Germany, my great-grandfather had left for the United State three years earlier and brought them over in 1924. After years of dallying with a related amount of dillying, my Father and I finally made the trip to see Naila, Germany, the small town (less than 9,000 residents) where my grandfather played and lived as a child. They call Naila and the surrounding area the "Bavarian Siberia," and it didn't disappoint. Snow to your knees, a chill in the air. Sausages lining the streets. Yes, this was Germany. We had made it back to our ancestoral homelands, and we were going to meet some long-lost family members.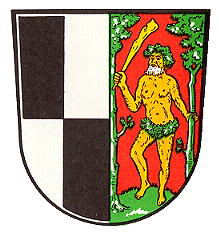 Prior to our trip, we had been in contact with Hans Wolfrum, a teacher and amateur genealogist, who confirmed that many in the area were related to us one way or another. This was of particular interest to me, because in my 42 years, I've met very few relatives from the Wolfrum side of the family. And now here I was in Naila, the city my wife called the "Wolfrum Mecca." Just walking down the street in Naila, I'd see Wolfrum Autohaus and Wolfrum Granite. After years of being the only Wolfrum around, I was finally surrounded by them.

Upon arrival in Naila, Hans was the first of our cousins that we met. He has long worked hard on the Wolfrum Family Tree and was convinced that we were cousins, more or less assuring us we were related to everyone in a 100-km radius. On our first full day in Naila, we were taken in by the Bischoff family - Hans having told us that were all second or third cousins. Over the years, you see, Wolfums and Bischoffs have been marrying one another left and right. So between the Bischoffs and Wolfrums, you end up getting a family tree that looks like a teather-ball court sans ball and string.
Nonetheless, the Bischoffs were an impressive family. Like my Dad, Werner Bischoff was a success in the trucking business, as well as in other business ventures. Like my Dad, as well, Werner takes time seriously and is always on a schedule, even on a snowy, touristy day in Hof and Naila. Werner's daughter Simone, may, in fact be a genius, her belief in accupuncture nonwithstanding. A philosopher, researcher and linguist, Simone speaks Latin well enough to teach it. And finally, there's Werner's youngest son Ralph. Following in his father's footsteps, he's on his way to being a hit in the business world. All three spoke English and were jovial, pleasant people.
The day visiting the land of my grandfather with the Bischoffs was wonderful, especially the visit to Mödlareuth, which was known as "Little Berlin" due to the wall built straight down the middle of the town. The wall is gone now, except for a small section. But the city is a stark reminder of the past under Soviet rule. Our little familial group paid our respects and sludged back through the snow to Naila.
2.
The name Naila was the name of the wife of Uthman, the third caliph of the Muslims. Trying to stop a mob from murdering her husband, she lost several fingers. Oddly, this story goes well with German fairy tales, which include "Die Geschichte vom Daumenlutscher" about a boy who gets taught not to suck his thumbs by having them cut off. Basically, most German children stories end in violent dismemberment.
3.
The final stop on our day-long site-seeing trip with the Bischoffs was at Wohn's Brewery in Naila, where we got a full tour from the Master Brewer. The tour and time we spent at the brewery would change all our lives forever. Not so much the brewery tour, which became an epic tutorial on every aspect of making beer, or any other beverage for that matter. The master brewer could talk. Stick a guy in a wine cellar for a few decades, and they come back talkative. And our German hosts weren't much help - after a particularly long explanation in German by the Master Brewer, I looked to Ralph for help. "As it appears," gave the young German - who hadn't really been paying attention - in response.
Afterwards, we went to a special dining area in the brewery and sat about a table, eating sausages. Because nothing is more German than sitting in a German Brewery eating Brats. It was there that the owner of the Brewery, somewhat a geneologist himself, worked out his own version of our family tree that showed none of us were related to each other. Hans protested mightily, but Simone seemed conviced: "We're not related," she said. "Hans has one argument and it's falling apart."
So, basically, my father and I may have met some relatives in Germany. Or, quite possibly, we just met some really nice Germans who bought us a couple meals. Win-win.
4.
Hans used to fly to the United States to visit a couple times a year. Then, several years ago he had a dream that his airplane crashed. He hasn't flown since.
5.
Hans had made all the arrangements. My Dad and I were to meet the Mayor. I suppose that "traveling thousands of miles to meet people you aren't related to," is a newsorthy event in the Bavarian Arctic. The news media (a reporter) was there to meet the famed Americans.

Unfortunately, the Mayor couldn't make it. Frank Stumpf was apparently too busy for official diplomatic meetings with high-ranking Americans, and thus pawned the greeting off on his deputy. It was a nice enough meeting. I repeatedly told the reporter that we were cousins with the Bischoffs and others in Naila, hoping to bolster Hans' claim of relations via the media. Then, the deputy gave us an official gift from the Mayor's office and we were done. Or so we thought.
Because the gift in question was a wine opener. A wine opener that looked a lot like a pocket knife. A wine opener that looked a lot like a pocket knife and was, in fact, a pocket knife, which we never actually noticed. So as my Dad and I made our way through airports, we were stopped at every security station, where we explained what we had was just a wine bottle opener. And they let us through every time.

Basically, Frank Stumpf, the Mayor of Naila, gave us a knife to take on an international voyage. My Dad and I were unwittingly committing acts of international terrorism. And because of Stumpf, we know that the security throughout Europe is not overly astute.
6.
So, in summation, we traveled thousands of miles to meet people we possibly weren't related to, in what I could only imagine was a sophisticated plot by Stumpf to get us to be mules for his illicit pocket-knife smuggling ring. Oh, and somehow I lost my Ipod in Naila.
But it wasn't all bad. We met some great people, who we may or may not be related. We ate every brat that came within reach. We enjoyed the incredible history of an important country. And we saw where my grandfather started his long journey in life. So overall, it was a great experience. Provided we aren't jailed for the pocket knife thing or have any appendages lopped off, we'll be back. Even if it takes us another 85 years. It's family, after all.
-WKW