Mike & Christine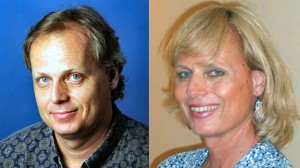 "I am a transsexual sportswriter. It has taken more than 40 years, a million tears and hundreds of hours of soul-wrenching therapy for me to work up the courage to type those words. … When you reach the point when one gender causes heartache and unbearable discomfort, and the other brings more joy and fulfillment than you ever imagined possible, it shouldn't take two tons of bricks to fall in order to know what to do."
– Christine Daniels, April 26, 2007.
Less than a year ago, I was waiting for a flight at an airport in Portugal when a tall, very striking woman caught my eye. Unable to look away for a moment, I noticed something about the woman – she was a transgender person. I immediately poked my wife and whispered, "Wow, look at her, that's a man."
I've thought a lot about my reaction that day, feeling both guilty and introspective. It still bothers me that I – as someone who has so often written about LBGT rights – so easily reverted to an unenlightened spectator, looking and speaking of this woman as if she were an oddity rather than a fellow human.
While I have made efforts to understand and support transgender people, I must confess that I have often so focused on the LGB much more than the T. And as someone who is very well aware that violence against the transgendered is both commonplace and horrific, it is a confession that hurts my soul. But it is also something I work to rectify.
Which brings me to Mike and Christine. Born Mike Penner, he was a long-time sportswriter for the Los Angeles Times. Then, more than three years ago, Mike Penner went on vacation. And came back as Christine Daniels. She wrote about her decision in a beautiful column for the Times:
"Today I leave for a few weeks' vacation, and when I return, I will come back in yet another incarnation.

As Christine."
Christine's announcement was initially met with a rush of positivity, as readers wrote in to support her.
"Writing that piece, which I didn't initially want to write, ended up becoming one of the best things I have ever done," Daniels said in an interview. "And a day I dreaded all my life has ended up being one of the best days I've ever had."
Of course, not all reviews were positive. Paul Oberjuerge, a former colleague of Penner (and of mine) viewed the change to Christine in stark terms.
I hate to be judgmental about these things, but Christine is not an attractive woman. Which probably isn't a surprise when you're 50 and have spent your in-the-world life as a fairly drab guy. Who has a fairly prominent Adam's apple (not all of us do) … Who also isn't exactly petite. Maybe 6-1, 200?

So … she looks like a guy in a dress, pretty much. Except anyone paying any attention isn't going to be fooled — as some people are by veteran transvestites. …

The thing is, and maybe this is cruel, but there were women in that room who were born women in body as well as soul. And the difference between them and Christine was, in my mind, fairly stark.

It seemed almost as we're all going along with someone's dress-up role playing … and I assume it's far more important than that inside this person's head. But it's going to take a while for the Average Joes among us to get our minds around this. And I've got to assume Christine understands that.
For a while, she thrived as Christine. She wrote a blog for the Times titled "Woman in Progress" where she detailed her changes and her life. And offered invaluable support to other transgender people. She used her new name as her byline. Then, after less than a year, Christine Daniels took time away from the Times. And returned again. As Mike Penner, in byline only as he worked from home.
"Eight months into the transition, we started hearing less from Christine. By the middle of 2008, we heard nothing. By October, she'd gone back to the Mike Penner byline, writing a notes column from his LA house. He didn't return e-mails, texts or calls," wrote ESPN columnist Rick Reilly.
I write this to remind myself and others to not overlook or ignore the "T" in LBGT Pride Month. I write this to remind myself and others that to be progressive means to embrace all who don't comfortably fit into an easily understood box. I write this to remind myself and others that to be a supporter of LGBT rights means you must be a supporter of transgender rights.
As much as that, though, I write this as a thank you to Mike and Christine.
Mike Penner, the veteran Los Angeles Times sportswriter who made international headlines in 2007 when he announced he was transsexual and began working under the byline "Christine Daniels," has died.

Colleagues said today that Penner was found dead at his Los Angeles home and that suicide was the suspected cause of death. He was 52.
–WKW
Transgender Resources
National Center for Transgender Equality

National Gay and Lesbian Task Force – Transgender
-WKW

Originally posted at Alan Colmes' Liberaland.