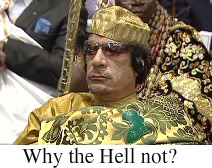 LIBYA – Speaking from an underground bunker somewhere near Tripoli, Libyan leader Moammar Gadhafi announced his run for U.S. President.
"I mean, there's a lot going on right now," said Gadhafi, who is simultaneously being attacked by Libyan rebels and NATO forces. "But the field just seems so, you know, empty."
Gadhafi's bid received an endorsement from conservative leader Bill Kristol, who said he was "dazzled" by the dictator's humor and conservative ideals on a recent Conservative cruise for politicians and donors.
"The more I talked to him, the more I realized that he's the one," said Kristol, who will be on Fox News at least once a day until November 2012. "His concepts of executive power fit perfectly with the party."
For his part, Gadhafi – who has said he would continue being leader of Libya should he become the U.S. President ("A leader must be able to multi-task.") — said he thinks he can woo a good many GOP voters.
"I'm pro-life, as far as fetuses go. Right there, I win the social conservatives," said Gadafi, a Virgo. "And you don't even what to know my thoughts on the poor."
While many have said the run is unconstitutional because Gadhafi was not born in the U.S., others have concerns that he has America's best interests at heart. Gadhafi – who will run using the slogan "Why the Hell not?" – brushed aside such worries.
"First off, Obama got around the citizenship issue and so will I," said Gadhafi, drawing big laughs from CNN's Erick Erickson, an early supporter. "But hey, the GOP is not about what's right for America. It's about oil and money and I know both well.
"Plus, seriously, they have such a bunch of stiffs running," added Gadhafi, who then fled the room to an undisclosed hiding location.
Already, Gadhafi has interviews lined up for later this week with ABC, CNN, CBS, MSNBC, NBC, BET, Fox News, WGN, Nickleodean, ESPN, Al Jazeera, ESPN-2, Lifetime, and OWN.
–WKW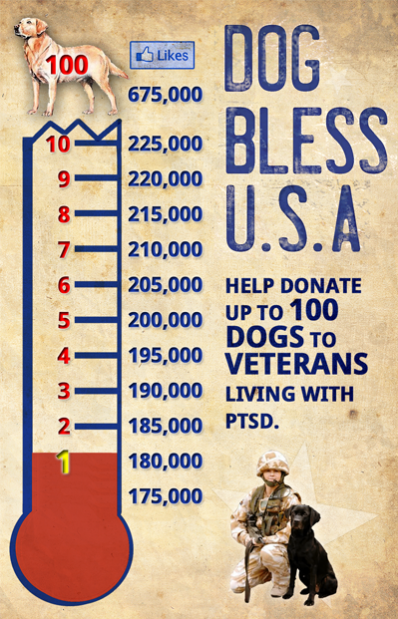 You have to Like Dog Bless You.
News
Out of Space: The space shuttle Endeavor ready for its final return.
Bachmann Fever: Michele Bachmann is thisclose to announcing her run for President. Comedians worldwide rejoice.
Moammar Staying: Seems Gadhafi just isn't taking the hint.
Features
Dog Helps Veteran: One dog completely changed the life of an injured U.S. veteran.
Rolling Stone: Take an in-depth look on how Roger Ailes created the Fox News Fear Factory.
Dog Radar: Can dogs figure out if people are good? Maybe, but hers can't.
Dog Veterans: War dogs need love and adoption.
Blogs
The Brad Blog: As expected, the Wisconsin recount is a mess.
Greg Sargent: The GOP looks like it has won the war over the debt ceiling as Dems crumble.
Celebrity Dog Watcher: Will William and Kate get a dog?! I think I'm getting the vapors.
Finally
The evolution of Dunder.
-WKW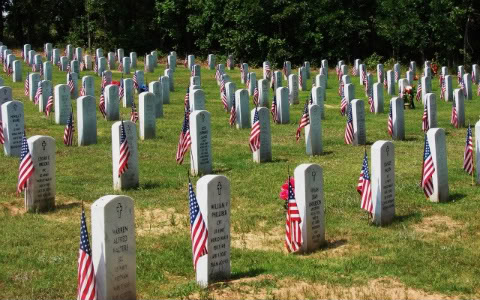 Let us remember.
New
Memorial Day: David Blight takes a look at how it all started. Also, take a look at CNN's Home & Away presentation.
Obama in Joplin: President amazed by destruction as death toll climbs to 142.
Afghanistan: Death. And NATO's apologies.
Entertainment/Sports
Sean Kingston: Music stars give injured singer the good words.
Buckeyed: Jim Tressel sneaks away from the Ohio State football program.
Rampaged: Rampage Jackson beats Matt Hamill. Quite easily, actually.
Blogs
Oliver Willis: Guess who needs her hand for notes again? Go on, guess.
Steve Benen: Tim Pawlenty thinks Obama's a "doofus?" How Presidential.
Hammer of Truth: Remembering all the fallen this Memorial Day.
Finally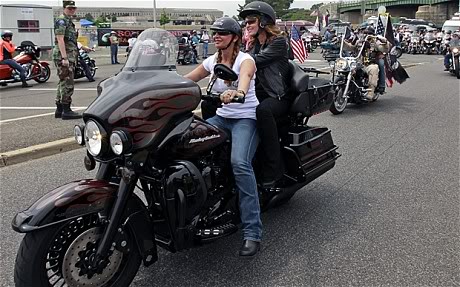 Taking some time off pretending to be a presidential candidate, Sarah Palin pretends to be a biker.
-WKW

It's two days after Tuesday.
News
Tornado Update: The relief effort in Joplin is winding on.
IMF: Has Christine Lagarde got what it takes to become the new boss? Maybe. And at least chambermaids will be much safer.
Republican Medicare Woes: The GOP is working on better messaging for its budget, as "suck on this and die" didn't seem to do the trick. Meanwhile, the latest Gallup Poll of GOP Presidential candidates is pure misery.
Mladic Nabbed: Police in Serbia have arrested a man suspected of being former Serbian military commander Ratko Mladic, the highest-ranking war crimes suspect still at large from the Balkan wars of the 1990s. War crimes. There's an idea.
Arizona Shooter: Jared Loughner found incompetent to go through a trial for the Arizona shootings.
Sports/Entertainment
American Idol Crowned: Scotty McCreery wins American Idol. So there's that.
Mavericks Move to Finals: Nobody could have anticipated that the Dallas Mavericks would become the dominant team in the Western Conference. By far. On to the NBA Finals.
Kardashian News!: Kim Kardashian is engaged to NBA player Kris Humphries. So, there's that.
Blogs
Crooks & Liars: I've been assembling Mike's Blog Round-Up at Crooks & Liars this week. Here are today's links.
GOP Budget Falls: The Paul Ryan/GOP Budget went down in flames in the U.S. Senate. Let the fallout begin.
Spy Talk Blog: "As expected, there was more to the Gingrinch/Tiffany's story than originally reported.
Finally
Zach Galifianakis has a chin.
-WKW

They just keep coming.
News
Tornadoes: A reported 13 tornadoes bombard the Midwest. Find out how you can help here.
Edwards to be Indicted: Department of Justice is ready to pursue charges against John Edwards for campaign finance violations. He deserves whatever comes to him.
NY-26: Democrat Kathy Hochul takes the seat given up by Craigslist boy-toy Christopher Lee. Is this a Scott Brown moment for Republicans, or a real sign that their agenda is turning voters off?
Quote of the Day
"Tornadoes with this kind of power are just astonishing. Unless you're underground, it's hard to imagine anyone surviving a direct hit." — Dgun, in Comments.
Blogs
Crooks & Liars: I've been assembling Mike's Blog Round-Up at Crooks & Liars this week. Here are today's links.
Glenn Greenwald: The Patriots in the U.S. Congress simply prefer Israel to the United States.
Left Foot Forward: Privatizing the debt in the UK.
Truthout: Of course the rich love high unemployment.
Sports
Miami Makes It Three: The Miami Heat turned away the Chicago Bulls to take a 3-1 lead in the Eastern Conference Finals. And Lebron James is flat-out shutting people up.
TNT T'N'A: What does the boys' club at TNT do when they are at commercial? Check out the girls, obviously.

Keep it classy, guys.
-WKW
Yes, Virginia, the Republicans are taking federal relief for tornado victims hostage:
House Majority Leader Eric Cantor said Monday that if Congress passes an emergency spending bill to help Missouri's tornado victims, the extra money will have to be cut from somewhere else.

"If there is support for a supplemental, it would be accompanied by support for having pay-fors to that supplemental," Mr. Cantor, Virginia Republican, told reporters at the Capitol. The term "pay-fors" is used by lawmakers to signal cuts or tax increases used to pay for new spending.
Maybe they could wait until people actually stop dying before they take advantage of this crisis?
-WKW
MINNESOTA – A wayward elf that froze to death in the snow last December has challenged the entire GOP Presidential Field to a debate on the U.S. Constitution, sources close to the Dead Elf say.
"He's pretty confident. Or IT is pretty confident," said the source. "I'm really not sure how to refer to an Elf corpse."
The challenge comes after literally two consecutive years of Republican Presidential hopefuls butchering the Constitution in order to make it appear it agrees with their often-outlandish views. The most recent come from Pizza Guru Herman Cain, who confused the Declaration of Independence with the Constitution, while admonishing his fan base for not actually reading the Constitution.
The challenge comes shortly after a 16-year-old high school student challenged Presidential hopeful Michele Bachmann to a debate on the Constitution. While Bachmann has ignored the challenge, Republican sympathizers have berated the girl with threats.
"They can try, but they can't shake up this Elf Thing," said the Source. "It's dead. It can't get shook. And it can't make anywhere near as many mistakes about the U.S. Constitution as Republicans make.
"And at very least, it can't confuse the Constitution with the Declaration of Independence," added the Source.
–WKW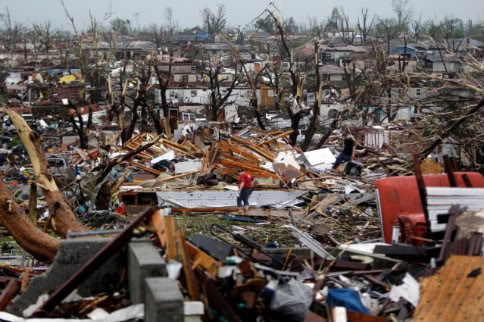 It's devastation in Missouri.
Tornado
Missouri: Obama to head to Missouri on Sunday as death tolls reach more than 110.
How to Help Tornado Victims (Via USA Today)

With rescue and relief effort underway in Joplin as we speak, here is a list of ways to help:

First up, the Red Cross encourages people to register on the Red Cross Safe and Well website to let loved ones know they are safe by visiting http://www.redcross.org/ or calling 1-800-RED CROSS (1-800-733-2767). From a smartphone, visit www.redcross.org/safeandwell and click on the "List Yourself as Safe and Well" or "Search for Friends and Family" link.

- The Community Foundation of Kansas City has created two funds to pool donations, which you can make donations to online - the Joplin Missouri Disaster Relief Fund and the Reading Kansas Disaster Relief Fund. Community Foundation staff will perform the due diligence to ensure that grants from both funds are awarded to organizations addressing the immediate needs of the victims of the tornadoes, such as providing food, shelter and medical care/supplies. If you would like to donate with your credit card, please call 816-842-7444.

- Convoy of Hope's disaster response team has been in contact with emergency management officials to determine how best they can assist with responding to the disaster. The first truckload of essential supplies such as water, snacks and ready-to-eat meals was transported this morning to the Missouri Southern State University in Joplin. More supplies will be following as Convoy of Hope works with local emergency officials to determine what locations and products will best serve the response. Those wanting to help can make a secure online donation at www.convoyofhope.org or can make a $10 text donation by texting the word, CONVOY to 50555. Standard message and date rates apply.

- The Salvation Army is providing emergency relief services to survivors and first responders of the Joplin tornado. The Army has mobilized four feeding units in impacted areas of the city and are offering food and beverages. The organization is also providing relief services in other impacted cities that were hit by tornadoes over the weekend, including: Minneapolis; Reading, Kan.; and Grove and Ketchum, Okla. There are four ways to help:

Text the word "Joplin" to 80888 to make a $10 donation.
By phone: 1-800-SAL-ARMY – Joplin Tornado Relief
On-line at: www.donate.salvationarmyusa.org
By mail: Send your check to:
Joplin Tornado Relief
The Salvation Army
3637 Broadway
Kansas City, MO 64111

- Red Cross emergency response vehicles are already responding in Missouri, helping to transport supplies to the shelter. Those who want to help people affected by disasters can make a donation to support American Red Cross Disaster Relief. Visit www.redcross.org or call 1-800-RED-CROSS; people can also text the word "REDCROSS" to 90999 to make a $10 donation. Contributions may also be sent to local American Red Cross chapters or to the American Red Cross, P.O. Box 37243, Washington, DC 20013.

- World Vision's disaster response director arrived in Joplin today. The organization raised its tornado response appeal to $5 million to meet additional needs in Missouri and Minnesota. To support these relief efforts, text TORNADO to 20222.

- From Feeding America, here is a link to a list of food agencies that are helping the hungry in this tornado-striken region.

For additional information and resources to help those effected by the Joplin tornado, visit Facebook.
Blogs
Crooks & Liars: I'm assembling Mike's Blog Round Up at Crooks & Liars this week if you care to see my selections there.
Washington Monthly: Tim Pawlenty may need to rethink his new persona as a "truth-teller."
Paul Krugman: Hey, there's something seriously wrong with the GOP!
Finally

This post desperately needs some newborn clouded leopard cubs from Zoo Borns.
-WKW
John Lithgow does Newt Gingazzle. Hilarity ensues.
-WKW
Steve Nash scores for New York Marriage Equality.
News
Tornado: Scores dead after tornado strikes Missouri.
Un-Raptured: Nope, no Rapture to see here. You'll have to wait until next year. No way the Mayans were wrong.
Newsweek Noise: Seems not all is happiness and light thus far at the New & Improved Newsweek.
Iraq: Death.
Blogs
Crooks & Liars: I'm assembling Mike's Blog Round Up at Crooks & Liars this week if you care to see my selections there.
Back2Stonewall: Time to boycott Tennessee.
The Stir: Westboro Baptist Church raises $50K for Gay Rights thanks to comic Lisa Lampanelli.
Eclectablog: 6,000+ people rally at the Michigan Capitol, media focuses on the Rapture
Sports/Entertainment
Miami Heats Up: Chris Bosh reminds everyone that he's part of Miami's Big Three, as well.
Good Old Bernard: Bernard Hopkins becomes the oldest boxing champion at age 46, and he's showing no signs of slowing down.
Little Arnolds: Seems there may be more children coming forward who call Arnold Schwarzenegger "dad."
Finally
I got more moves than Ex-Lax.
-WKW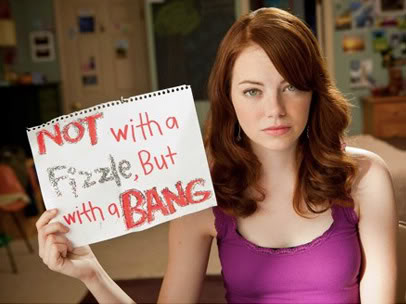 You only have a couple days left. Make them count.
News
Meh: Screw it, the Rapture is coming. The Rapture Index is at 182, for God's sake!
Personal Note
I'll be assembling the links at Mike's Blog Round-Up at Crooks and Liars starting the week of May 22. Even if there's a Rapture, it's not like it would lose all that many readers, anyway.
Blogs
Mock, Paper, Scissors: Let Newt get this all straight, ok?
Fifteen Minute Philosophers: Let's get Cartesian.
The Daily Beast: Dominique Strauss-Kahn resigned as the head of the International Monetary Fund.
Atrios: Bill Keller's Internet was called an intern.
Wayback Machine
Hell, the Rapture Came and went three weeks ago.
Finally

Think of the Rapture as a good thing. The herd does need whittled down some.
-WKW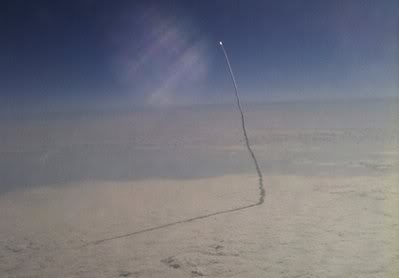 The Endeavor's final launch.
News
Geithner Growls: If the U.S. defaults on its debts, it's because Republicans want to. And Tom Coburn wants out of it.
A Final Endeavor: What comes next for the U.S. Space program?
Rape Culture?: The arrest of Dominique Strauss-Kahnon attempted rape charges is making the French wonder if they should stop letting powerful men be above the law. And Strauss is currently under suicide watch.

Blogs
Crooks & Liars: Progressives are in a heavy discussion about Race.
AmericaBlog: Republicans block efforts to stop the free money going to Big Oil.
Daily Caller: We are living in a material world. And it Seems that Newt Gingazzle is a material girl.
Joe.My.God.: Civil Unions take a step formard in Rhode Island.
Sports/Entertainment
Dallas Dirks Durant: Dirk Nowitzki puts on one of the best playoff performances in history as the Mavericks hold off the gritty Thunder.
Harmon Killebrew RIP: The greatest Minnesota Twin dies, leaving a legacy of home runs and happy fans.
Maria Shriver speaks: I'm guessing she's not happy.
Quote of the Day
As with any time I have to deal with that quack Deepak Chopra, now I have to go wash my hands. They feel slimy every time I write about him." — PZ Myers.
Finally
Great moments in NASA history - Buzz Aldrin punch edition.
-WKW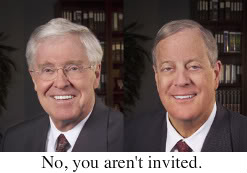 HEAVEN – Following a staggering donation to the Heaven Fund, the Koch Brothers will now have final say on who gets Raptured. sources tell this reporter.
David and Charles Koch – who combined are worth $43.5 billion – recently made headlines when it was learned that they had essentially taken control of the economics departments of such public colleges as Florida State University. In the FSU case, the Koch Brothers donated $1.5 million to the economics department, but with the caveat that the money could be taken away should the brothers disagree with any new hires.
With the Rapture less than a week away, the Koch Brothers decided now was the time to get things right with eternity.
"There's no way in hell that we're spending eternity next to ordinary Americans," reportedly said David Koch. "It was spendy, but it's worth it."
The amount the Koch Brothers donated to the Heaven Fund – a public entity – has yet to be announced. A spokesman for the fund spoke of the good the money will do.
"This is really a Kochsend, you know," said the spokesman. "Now we can have upgrade our 'Two-Minute Hate / Wine-Tasting Cathedrals.' Praise the Koch Brothers!"
The spokesman added that the likely list of who shall be Raptured on May 21 is down to roughly 400 people.
–WKW
By law, all bloggers have to post some version of this song today.
News
Loving it: Arnold Schwarzenegger had a child out of wedlock it appears. He really was a good Governor for California, wasn't he?
A Real Story in This World: "Dominique Strauss-Kahn: Ladies' Man or Sexual Predator?"
Trump the Press: No one could have anticipated that Donald Trump never planned on running for President.
Daily Debate: Jon Stewart and Bill O'Reilly talk Common.
Blogs
Mediaite: Glenn Beck and Israel. This is not going to end well.
Sadly, No!: America's Least Plausible Person.
Jed Report: Gingrich denies supporting health coverage mandate after saying he supports a mandate. Attaboy, Newt.
Finally
Fear the Black man.
-WKW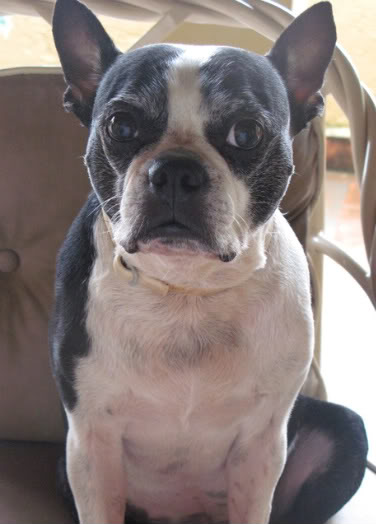 Wolfrum's Word
Max has a cold, thus, Wolfrum's morning is being spent going to vets. Please feel free to talk amongst yourselves.
-WKW