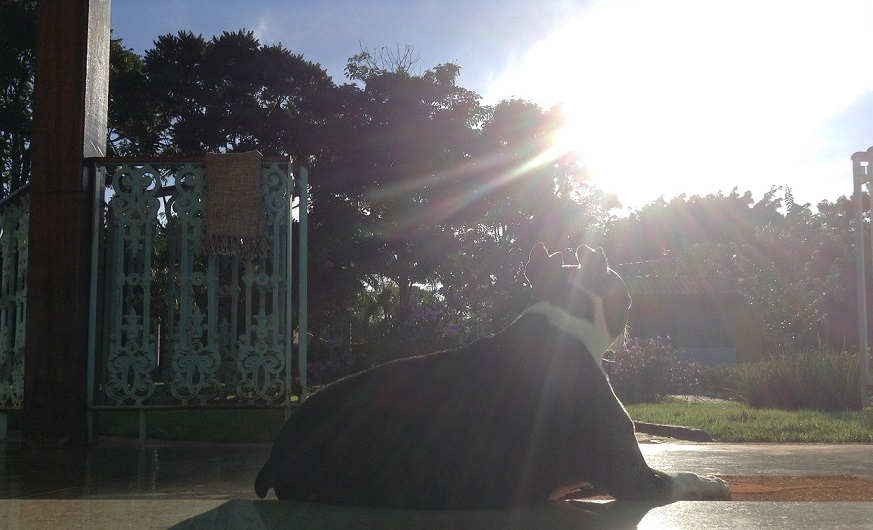 Jack's still here. More than 14 years since my wife picked him out, the shivering runt of the litter, in Evansville, Indiana. Since then Jack has lived in California and in Brazil. Jack is a dog well traveled.
I'm writing of Jack to stop the trend of feeling I need to write about my dogs when they die. I've done it before for Max and Duchess. I don't want to do that any more. Especially for Jack. Because Jack is to be remembered for living.
I met Jack when he was two, and would joke with my wife that he would either lead a long life or die in some horrible way. Because Jack loves all people. But hates all other dogs. And isn't all that fond of the limitations put on living things by physics. Jack - a Boston Terrier - has tried to attack two full-grown Great Danes. He fought Duchess - an Australian Shepherd twice his size - several times. Since he was about the age of five, Jack has been cut off from all other dogs.
Mind you, while Jack seeks to dominate all other dogs, his love of all humans and obedience is utterly pure. As my wife has said, Jack loves her, me, and then all other humans are tied for third. He has always been over-the-moon happy when around people and when receiving attention.
Jack was also blessed with unbelievable athleticism. In his prime he could jump over anything and run faster than the wind. His youth was spent in a jump with no clear plan of where he'd land.
Jack has always been our special dog. He's not the sharpest of blades. This was even more noticeable when he was growing up with Max, who was an exceedingly intelligent little dog. Jack took years to house train. He destroyed three couches. He had energy enough to fuel six dogs. He was shockingly strong. And he was joyful in his madness.
And Jack's still here, and acting like he wants to stick around awhile yet. Age has affected him as it must affect us all. Cataracts have taken most of his site, rendering his athleticism dormant. His hearing is shot. His sense of smell isn't so great, either. He's by no means decrepit, however. He still has a shocking amount of energy and will spend hours walking around the house, following whoever happens by him.
Jack's life is one of shadows and routine now. He wakes up at the same time daily. He naps in the sun until he's blazing hot, something he's always loved. He enjoys his naps and comforts. He remains strong. Life has given him more savvy. He remains fearless. He is blissfully unaware that life has given him any disadvantages.
I'm petting Jack now. He's happy and nappy and enjoying his life. And my wife and I are thrilled that Jack's still here.
-WKW
KIEV - "Protest This!™" a revolutionary new App that promises to help users easily meet and assemble against unpopular regimes, was shot down like a dog today in the streets of Kiev.
"Wow. Never saw that coming," said App creator Nick Johnson, 20, from his parents' home in Cleveland. "That's messed up."
After being shot by Ukrainian authorities, "Protest This!™" was then dragged through the streets, and eventually mutilated behind a meat-packing plant. No other information is available.
"Dude," said Johnson.
-WKW
CLEVELAND - UPS driver Tim Johnston woke up one day last week with a feeling of dread. A feeling that things just weren't right. So often he felt this way but never spoke up about it. But this time, he wasn't going to let it pass. This time, he was going to speak out.
"Gravity is BS," said Johnston. "I've thought about this for awhile and it just doesn't add up."
Johnston said he based his anti-Law-of-Gravity theory on the simple fact that not all things are not constantly falling all the time.
"Kinda seems like that's what would happen if gravity were real, right?" said Johnston, 47. "I mean, that's how it feels to me."
Johnston's announcement caused a commotion in the entertainment/science industry. ABC, NBC, CBS, CNN & Fox News ("Gravity: Stop Being a Slave") have all announced new news/science/entertainment specials that will address this building dissent over gravity's effects.
CNN also announced it will feature a two-hour, primetime debate between renowned entertainer/activist/scientist/TV Personality Bill Nye and Johnston. Nye said this was an opportunity to educate the public.
"Science!" said Nye, who then pushed a button that made his bow tie spin.
Others have joined Johnston's call.
"[Gravity] was filmed on a soundstage by the government!" said citizen Raul Pudd, pounding his fists and with spittle flying everywhere.
For Johnston, the attention has been worth it as he tries to bring attention to what some have called "The Greatest Hoax in American History."
"It just feels wrong, right?" said Johnston, a Capricorn. "This is one of those things that liberals believe that's just BS. I mean, it's just a theory."
CNN chief Jeff Zucker said he was glad to see his network begin to take shape in his image.
"This is what the people want," said Zucker, who announced that one lucky debate viewer will win a free trip to Tucson, Arizona. "People are asking questions.
"Is gravity America's greatest hoax, or not?" added Zucker. "That's what we want to attempt to answer, if we can. We're CNN."
-WKW
Speaking as an American, which is something I often do, let me just say that I am outraged by the complete lack of American military intervention in Ukraine right now. America and the Obama Administration are once again refusing to show true leadership.
You've seen the pictures coming from Ukraine. It's a mess. Total chaos. This is why the time to act is now. And act with confidence and focus.
Now, from what I've seen, one side in Ukraine is led by one of the boxing Klitschko boxers, and the other side is led by other people who I don't know. These are the only sides there can be, as two is the maximum number of sides that can be taken in politics, as we know.
So we got Klitschko, who I think is on the side Russia. Now, Mitt Romney said Russia is the enemy, but lately it seems like conservatives are really big fans of Russia and Vladimir Putin. So I'm not sure how that all works out, really. But those small issues are left for the bean counters. Now is the time for action.
My friends, now is the time for America to re-establish itself as the leading exporter of peace-making, geopolitical-shifting destruction. Who cares which side we're on, the people of Ukraine need America. Or something. And, you know, it seems like it's a mess in Venezuela right now, also. Let's stick a boot in their ass for talking crap about us.
In conclusion, the world is falling into chaos. America needs to start bombing stuff.
-WKW