Thursday, 3 p.m. EST on Twitter - "Twootloose: A Live Twitter Examination of the Social, Political and Moral Implications of Footloose"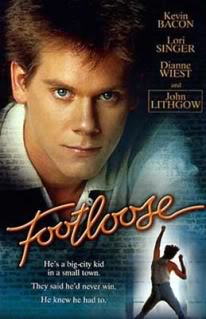 Ladies and Gentleman, boys and girls, tomorrow, Thursday, at 3 p.m. EST, I will be Live-Twittering the famed Kevin Bacon film, "Footloose."
The event is entitled: "Twootloose: A Live Twitter Examination of the Social, Political and Moral Implications of Footloose"
Basically, it will be 1 hour and 48 minutes of fun, frivolity, and me Twittering my ass off while watching Footloose. This project is being undertaken for three big reasons:
1) Celebrating the 25th Anniversary of the release of Footloose;
2) Celebrating the upcoming remake of Footloose, and;
3) Just to have some fun.
How to be involved: If you are on Twitter, or join, follow me at @wolfrum or, you can keep up with me using the search term and hash #footloose
Anyone is free to be involved, just put the hash #footloose after any Tweet you would like to add to Twootloose. In a perfect world, followers could pop a DVD of Footloose into their computer and follow along real time. But being that that is likely a longshot for most, just following along will be more fun that you can shake a stick at. That is, if stick-shaking is how you rate your fun. Also, when it's over, I will post all my #footloose Tweets in order on this blog, so you can follow along if and when you choose to watch the movie.
Question? If you have any, ask them in comments and I'll get back to you. It may sound more complicated than it is. It'll be a piece of cake, and a good time will be had by all. I hope you join me @wolfrum on Twitter, tomorrow. The film and Tweet commentary will begin at 3 p.m. sharp.
Update: If you don't have Footloose available on DVD or Avi, you can also follow along via the screenplay, which you can find here: Footloose Screenplay
-WKW