William K. Wolfrum's Morning – July 20, 2010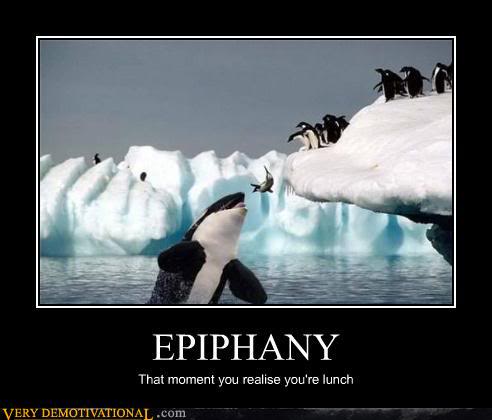 Life: Sometimes you're the penguin, sometimes you're the whale.
News/Politics
Unemployment Extensions: After Obama put on the pressure, it looks like Unemployment insurance will be extended for the next three months - right up until a couple of weeks before the election.
Energetic China: The U.S. drops to No. 2 behind China in the all-important "consumption of energy" category.
BP's Oil Geyser: Ok, I really have no idea what's going on, but they're talking about mud again.
Kagan's Road: Next stop on Elena Kagan's way to the Supreme Court? Today's vote by the Senate Judiciary Committee. Hopefully they haven't been tipped off to the existence of a sex tape.
Tea Party Trouble: The party's over, the Tea Partiers are fighting amongst themselves. Maybe now they'll realize how ridiculous their arguments sound.
Video Killed the Internet Star: More people are watching videos on the Internet. To celebrate, here's a video of Maru the cat.
Blogs
Jesus' General: Alan Downing - he gets the gay out.
GolfBlogger: Did Tiger Woods adulterate his career away?
Ezra Klein: The Wonkbook will get you up to speed on health care in Massachusetts, Elizabeth Warren & more.
Liberaland: Videotape a cop, go to jail. To celebrate, here's a video of cops.
Koran Verse of the Day
"Do not say that those slain in the cause of God are dead. They are alive, but you are not aware of them" (2:154).
Tweet of the Day
"Dear peaceful Catholics - please stop building churches near elementary schools. Don't make me explain why."
-WKW