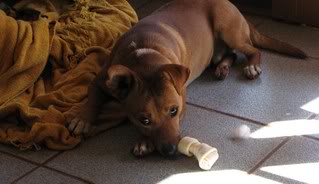 Today while spending time in the office, Afonso was given a
rawhide bone as a treat, but he didn't feel secure about it.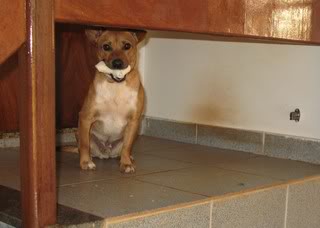 So he decided to bury it.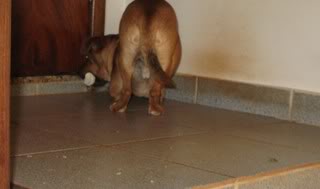 So he dug.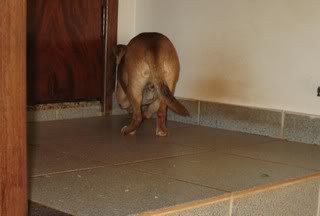 Then he covered it, so no one would find it.

The bone - now buried.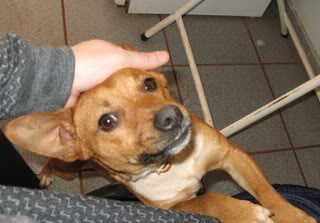 Afonso then accepted some appreciation for his hard work.

Then Afonso remembered he had hidden a bone,
so he got it and chewed for a while.

Then Afonso decided to bury the bone again.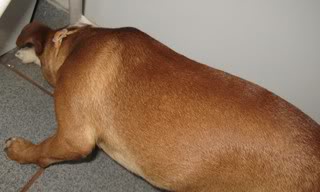 Then he covered it, so no one would find it.

The bone - now buried.

The End.
-WKW
For a look at how Rubert Murdoch's purchase of the Wall Street Journal will affect things, look no further than a story out of Washington today. The Democrats got a big new ethics bill passed overwhelmingly in the House.
The Fox News headline:
You can take a look at the Associated Press version of the story by clicking here, then take a look at the AP + Fox News by clicking here to see the partisan slant Murdoch's kids put on the story.
In the end, Rupert Murdoch taking over the Wall Street Journal doesn't bother me too much. He'll politicize it, because that's what he does and that's how he makes his money. But whether you can really politicize the WSJ's wildly neocon opinion pages even more remains to be seen. And only a fool would make business news overtly partisan. A fool like Murdoch.
Basically, I agree with Atrios on this for the most part. In the end, sadly, it comes down to this for the WSJ - in 10 years or less, it will be the New York Post.
-WKW
As many of you have likely heard, FBI and Internal Revenue Service agents searched the Alaska home of Republican Sen. Ted Stevens amid a corruption probe that has already snared two oil-company executives and a state lobbyist.
So in honor of this development, we present:
-WKW
San Bernardino County in Southern California is the largest county in the United States, by area. It has more land mass than nine individual states, and is bigger than New Jersey, Massachusetts, Connecticut and Rhode Island - combined.
And people there are losing their homes at an astonishing rate.

County defaults up 180% in Q2
Homes lost to foreclosure rocket 987% in same period
VICTORVILLE — Mortgage default notices in San Bernardino County surged 180 percent in the second quarter compared to the same time last year, while the number of homes lost to foreclosure rocketed 987 percent over the same period, a real estate information service reported.

From April to June, lenders sent homeowners statewide the highest number of notices of default in over a decade, according to DataQuick Information Services in La Jolla.

San Bernardino County registered 5,141 notices of mortgage default in the second quarter, up from 1,839 a year earlier. Homes lost to foreclosure in the county totaled 1,489 in the second quarter, compared to 137 over the same period last year.

The trend toward rising foreclosures will continue to accelerate in the Victor Valley, said Carolyn McNamara, a broker with the McNamara Group in Phelan specializing in foreclosures and repossessions.

"We have not seen the peak of foreclosure activity in the Victor Valley," McNamara said.

"My office alone has received 18 foreclosures in the last two weeks, and I am just one of many agents that specializes in repossessions and foreclosures in the High Desert," she said.

Analysts attributed the rise in foreclosures to stagnating home prices and sales resulting from a readjustment in the residential market following the home-buying frenzy of 2004 and 2005.
I'm no economist, but I know how to read writing when it's on a wall.
-WKW
The Patriot Act updated FISA. But oddly, no one wants to discuss that. From the Associated Press today:
Bush wants terrorism law updated
WASHINGTON - President Bush wants Congress to modernize a law that governs how intelligence agencies monitor the communications of suspected terrorists.

The Foreign Intelligence Surveillance Act, or FISA, provides a legal foundation that allows information about terrorists' communications to be collected without violating civil liberties.

Bush noted that terrorists now use disposable cell phones and the Internet to communicate, recruit operatives and plan attacks; such tools were not available when FISA passed nearly 30 years ago. He also cited a recently released intelligence estimate that concluded al-Qaida is using its growing strength in the Middle East to plot attacks on U.S. soil.
Nonetheless, the Patriot Act addressed exactly these issues, nearly six years ago.
Rep. James Sensenbrenner (R-WI), the Chairman of the House Judiciary Committee, on Oct. 3, 2001:
"the PATRIOT Act modernizes surveillance capabilities by ensuring that pen register and trap and trace court orders apply to new technologies, such at the Internet, and can be executed in multiple jurisdictions anywhere in the United States. Criminal provisions dealing with stored electronic communications will be updated to allow law enforcement to seize stored voice mail messages the same way they can seize a taped answering machine message. Additionally, under this bill, a court may authorize a pen register or trap/trace order that follows the person from cell phone to cell phone rather than requiring law enforcement to return to court every time the person switches cell phones. The bill, consistent with our constitutional system of government, still requires a judge to approve wiretaps, search warrants, pen registers and trap/trace devices."

Here's what President George W. Bush said when he signed the Patriot Act:
The changes, effective today, will help counter
a threat like no other our Nation has ever
faced. . . .

We're dealing with terrorists who operate by
highly sophisticated methods and
technologies, some of which were not even
available when our existing laws were
written. The bill before me takes account of
the new realities and dangers posed by
modern terrorists. It will help law
enforcement to identify, to dismantle, to
disrupt, and to punish terrorists before they
strike. . . .

Surveillance of communications is
another essential tool to pursue
and stop terrorists. The existing law
was written in the era of rotary
telephones. This new law I sign today
will allow surveillance of all
communications used by terrorists,
including e-mails, the Internet, and
cell phones. As of today, we'll be able
to better meet the technological
challenges posed by this
proliferation of communications
technology. . . .

This legislation is essential not only to
pursuing and punishing terrorists but also
preventing more atrocities in the hands of
the evil ones. This Government will enforce
this law with all the urgency of a nation
at war. . . .

It is now my honor to sign into law the
USA PATRIOT ACT of 2001.
Simply put, this has nothing to do with any type of new technology. The President wants FISA updated because it's a law that he broke, and he wants to retroactively change it.
-WKW
These days in Venezuela, if you came up with Hugo Chavez, you'll stay with Hugo Chavez. Such is how things work when feverish ideologues run a nation - it has nothing to do with ability, but everything to do with loyalty. Because when it comes to ideologues, the health of a nation be damned. Maintaining power is the only thing of importance to you, and you had better align yourself with slavish "yes men" or risk the consequences.
Now replace "Venezuela" with "the U.S." and "Hugo Chavez" with George Bush" and see how well it works.
Basically, Chavez is taking one of his nation's most important assets - oil - and putting it in the hands of someone loyal to only him, regardless of complaints from outsiders. But, you know how that works, right?
Venezuela's Chavez backs oil chief despite criticism
CARACAS (Reuters) - President Hugo Chavez endorsed his oil chief on Sunday despite repeated criticism from the opposition and some government supporters over his management of the industry, particularly over a lack of rigs.

"In the face of so many attacks against (state oil company PDVSA chief) Rafael Ramirez, I will make clear here that Rafael will be around a good while yet in PDVSA," Venezuela's president said on his weekly TV program that he hosted from the Orinoco oil belt.

"We have a tremendous colleague at the head of PDVSA and I call for support for him," Chavez added. "Carry on Rafael, you are a revolutionary."

Ramirez has been one of Chavez's closest aides in recent years, leading the president's drive to nationalize the OPEC nation's oil industry, which provides the bulk of the income that the leftist leader lavishes on the majority poor.

In recent weeks, Ramirez, who is also Venezuela's energy minister, has come under increasing pressure and there had been some local media speculation Chavez could replace him.

Ramirez said last week Venezuela needed to address an "operational emergency" that could lower national output if the state company did not quickly acquire more rigs.

Workers have protested losing jobs, the opposition and media have criticized his crisis-management and lawmakers have alleged corruption in some contract awards.

"I know what is behind (the attacks) to get me to get rid of him, because people have plans, power struggles," Chavez said without elaborating.
-WKW
Let there be no doubt that Iraq's victory over Saudi Arabia in the Asian Cup finals was an extremely inspirational achievement for Iraqis. For one great moment, Iraq was able to stand together and accomplish something that was unexpected. Winning the Asian Cup was a wonderful achievement for the squad, and gave a very pleasant ray of sunshine to war-weary Iraqis.
Just don't expect this to be some type of miraculous 1980 U.S. hockey team moment, however. Mainly because while the hockey gold in Lake Placid for the U.S. was a proud achievement for a slightly downtrodden U.S., Americans were in no danger of whatsoever of slipping into Civil War. Inflation was high. Car bombs weren't going off. The U.S. was a nation hosting the Olympics, after all, not being occupied.
Instead, look to Irish fighter Barry McGuigan for an apt comparison. In 1985, McGuigan won the Featherweight title, and his inspiring, gutty style of fighting brought Ireland together. For a brief moment, the "Troubles" were forgotten. But only for a brief moment. One boxer was enough to bring the Irish together for a celebration, but the problems were much deeper than one pugilist could punch aside.
So congratulations to the Iraqi soccer team, and here's hope that it could become a catalyst for something better, a small spark for change. But this week, when you assuredly will here U.S. President George W. Bush talk about it as a landmark achievement that shows that Iraqis can come together in peace to create great things, just remember the cold, hard facts - it was but a soccer game. And in Iraq, they need much more than success on the pitch to fix the nightmare that has been stirred up on their land.
-WKW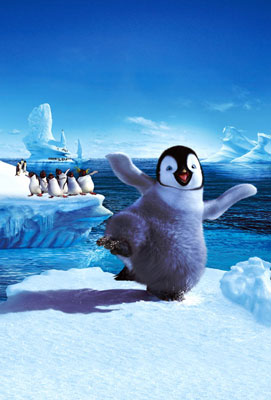 You know in the movie "Happy Feet" how the plucky penguin survives and manages to save the whole species? Well, here in the real world we drown penguins in oil as we rapidly work to kill them all off because the little buggers are just getting in the way of progress.
Hundreds of Oil-Covered Penguins Surface in South America
Hundreds of oil-covered Magellanic penguins have surfaced off the Atlantic coast of South America in the past few weeks, according to an animal welfare organization.

Magellanic penguins are medium-sized South American penguins. The species is classified as "near threatened" because of its vulnerability to oil spills, which kill tens of thousands of the animals yearly off the coast of Argentina.

Oil spills harm numerous types of marine life, including seabirds. Oil interferes with their waterproofing abilities. This forces penguins, which are birds, out of the frigid waters in a state of hypothermia, leading to dehydration and sometimes starvation.

A continuous stream of oil from spills has created a chronic problem across South American waters and other parts of the world, said Rodolfo Silva of the International Fund for Animal Welfare, one of the agencies helping to treat the penguins.

This week, 36 Magellanic penguins were being treated at the Society for the Conservation of Biodiversity in Maldonado (SOCOBIOMA) center in Uruguay, where more than 40 of the penguins surfaced.

"After being stabilized and fed, the washing process is in full motion right now, and we expect to be able to release them back to the ocean in about 15 days or so," said Lourdes Casas of SOCOBIOMA.
-WKW
Shorter Peggy Noonan:
"All these rude people are spoiling our Gilded Age."
-WKW
I checked Sadly, No! after I posted this by the way. And my shorter is shorter. HTML Mencken is just being opulent. So there.
Sources in the White House say President George W. Bush will assume the Presidency for a few hours as Vice-President Dick Cheney undergoes a procedure to replace a battery in one of the half dozen or so pacemakers spread across his body. According to the source, the President said it should be "wicked awesome" to have the powers of the Presidency, at least for a few short hours.
Cheney's ticker battery to be replaced
WASHINGTON (AP) — Vice President Dick Cheney will undergo a minor surgical procedure Saturday to replace the battery in the special pacemaker he has in his chest, a spokeswoman said.

"During the vice president's annual physical examination in June, testing of his implantable cardioverter-defibrillator indicated that the device's battery has reached the level where elective replacement of the device is recommended," Megan McGinn, deputy press secretary for Cheney, said Friday.

She has said doctors must replace the entire device to replace the battery, and that the surgery will be performed at George Washington University Hospital.
-WKW
Remember when we didn't have to worry about astronauts? Our only fear was that we'd send them off in shoddy equipment and blow them up.
Nowadays, astronauts are running amok. First there was a weird astronaut love triangle. Now, they're navigating the galaxy hammered. What gives?
Panel: Astronauts flew after drinking
CAPE CANAVERAL, Fla. - Despite safety warnings from NASA doctors, astronauts were allowed to fly after drinking heavily, an independent panel said in a report released Friday.

The report said it happened twice but gave no names and did not say when the drinking occurred, how many astronauts were involved, or whether they were flying on the space shuttle, the Russian Soyuz spaceship, or aboard NASA's training jets.

NASA officials let them fly even after flight surgeons and fellow astronauts raised concerns that safety might be jeopardized, according to the report, done by a panel created by NASA after the arrest of astronaut Lisa Nowak in February on charges she tried to kidnap her rival in a love triangle.

In a statement Friday, NASA said that it is unaware of any astronauts who were drunk before a flight but that it is investigating. It said the panel failed to give the space agency any details of the allegations.
Let's face it, there's no way in hell we can ever trust the new breed of astronauts with a fake Mars landing.
-WKW
In the Washington Post, Michael Gerson was rambling fairly incoherently about having sex with evangelical teenagers, or something like that.
He did let loose a fairly nice nugget about what the Conservative Nanny State is all about. No, it has nothing to do with health insurance or anything, it has to do with teaching people how they should act:
Conservatism teaches that individuals are not inherently good and so must be carefully civilized. They need social structures and networks that foster duty and discipline and define those commitments as common sense.
Because remember, common sense is not something you're born with or taught by your parents. It's something beaten into you by conservatives.
-WKW
I've been forced to apologize for plenty in my life, but at very least, I haven't had to apologize for comparing bestiality to gay marriage.
But the National Review's Kathryn Jean Lopez has:
I regret the post because it was hit and run and such things do lend themselves to offense and ill will on such personal issues. I'm sorry. It was very bad judgment.
What does she regret? Well, she accidentally - due to the type of post it was, mind you - became a screaming homophobe comparing a bestiality case with gay marrriage, under the headline "Slippery Slope"
Just a coincidence that this happened in Massachusetts?

Sherborn teen charged with bestiality

(And no I'm not equating men and dogs.)

UPDATE: Last month, in 'Bama, brought to light by PETA.
Lame apologies blaming the type of post it was aside, only the ideologically blind and the extreme fringe refuse to see how disturbed, hateful, immature and stupid these people truly are.
-WKW
It's been long known that Prescott Bush - the President's grandfather - was an extremely dishonorable man. That he was a fascist who wanted to overthrow the U.S. government and have the U.S. join forces with Hitler and Mussolini, just show the depth of the despicableness of the Bush patriarch.
From Boing Boing:
The coup was aimed at toppling President Franklin D Roosevelt with the help of half-a-million war veterans. The plotters, who were alleged to involve some of the most famous families in America, (owners of Heinz, Birds Eye, Goodtea, Maxwell Hse & George Bush's Grandfather, Prescott) believed that their country should adopt the policies of Hitler and Mussolini to beat the great depression.

Mike Thomson investigates why so little is known about this biggest ever peacetime threat to American democracy.
Click here to go to the BBC site and listen to the report.
-WKW
It is easy to allow history to to repeat itself when they stop teaching history.
From President Dwight D. Eisenhower's farewell address to the nation, January 17, 1961:
This conjunction of an immense military establishment and a large arms industry is new in the American experience. The total influence – economic, political, even spiritual – is felt in every city, every Statehouse, every office of the Federal government. We recognize the imperative need for this development. Yet we must not fail to comprehend its grave implications. Our toil, resources and livelihood are all involved; so is the very structure of our society.

In the councils of government, we must guard against the acquisition of unwarranted influence, whether sought or unsought, by the military-industrial complex. The potential for the disastrous rise of misplaced power exists and will persist.

We must never let the weight of this combination endanger our liberties or democratic processes. We should take nothing for granted. Only an alert and knowledgeable citizenry can compel the proper meshing of the huge industrial and military machinery of defense with our peaceful methods and goals, so that security and liberty may prosper together.
-WKW