Today, I had to file some paperwork for my residency in Brazil. Upon seeing I was American, the Brazilian police official going over my paperwork asked "So, Obama will win, right?"
-WKW
Steven Colbert's brilliantly crafted image as an elite conservative pundit came collapsing down upon him during Thursday's "The Colbert Report."
During a political prognostication segment entitled the "Da Colbert Code" Colbert officially let the cat out of the bag in regard to the true pronunciation of his name. According to Wikipedia, it is pronounced thusly: koʊɫˈbεɹ. Thus, the name of his show is pronounced "The Koʊɫˈbεɹ Repεɹ."
At the 10-minute mark of the show, however, koʊɫˈbεɹ let the cat out of the bag. While chastizing himself for being unable to find a secret code that would predict John McCain as the winner of the 2008 election over Barack Obama, koʊɫˈbεɹ had this to say - "C'mon Col-Bert." See for yourself (at 2:42):
That's right, Col-bert. Not Koʊɫˈbεɹ. Plain old "Col-bert." Like former baseball slugger Nate Col-bert.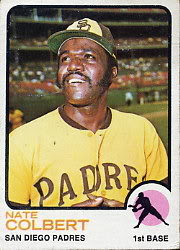 Nate Colbert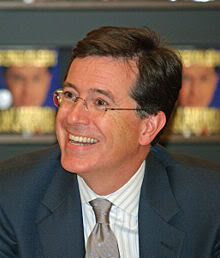 Steven Colbert
It's over, Col-bert. The jig is officially up. You sir, are a fraud. You are the Milli Vanilli of political commentary. Or, should I say, the Milli Col-bert.
So it's time to give back the Emmy, pack your bags and go. You have made all of us believe a falsehood - while we all felt intelligent and unique watching The Koʊɫˈbεɹ Repεɹ" it was nothing but a lie. Instead, we were just watching the plain ol' "Col-Bert Re-Port."
The truth has come out. Steven Col-Bert is a hoax. But let me say this - finding this out and telling people the truth truly gives me no comfεɹ.
-WKW
Words
"AIDS is not just God's punishment for homosexuals; it is God's punishment for the society that tolerates homosexuals." — Jerry Falwell
"We will see a breakdown of the family and family values if we decide to approve same-sex marriage, and if we decide to establish homosexuality as an acceptable alternative lifestyle with all the benefits that go with equating it with the heterosexual lifestyle. — Jerry Falwell
"This vote on whether we stop the gay-marriage juggernaut in California is Armageddon." — Chuck Colson.
"[they are] watching the destruction of Western civilization." — Rev. Jim Garlow
"I am appealing to you who have stood by The Call these years to drop everything to come to Qualcomm Stadium and join this mighty prayer battle that is going on….There are certain spiritual powers of darkness that will not be restrained unless we are willing to gather. God promises if we will do that. He will fight for us." — Rev. Jim Engle.
"One cannot ignore the negative consequences that can stem from the ordination of people with deeply-rooted homosexual tendencies." — The Vatican.
Actions*
Hate crimes incidents decreased slightly last year despite a surge in those targeting gays and lesbians.
Simmie Williams Jr., 17, was shot to death while dressed as a woman on Feb. 22 in an area of Fort Lauderdale known as a popular place for transgender prostitutes. Williams, who was wearing a dress, was known in the area by his first name or as "Chris" or "Beyonce." Williams' mother said her son was openly gay, but she didn't know what he did when he went out at night, and she didn't know he wore women's clothes. Police are investigating the shooting as a hate crime.
Tony Randolph Hunter, 37, a resident of Clinton, Md., was brutally beaten on Sept. 7 as he and a friend walked to the Washington, D.C., gay club, BeBar. He died 10 days later. Activists are decrying the attack as an anti-gay hate crime but police said they had insufficient evidence to label Hunter's killing a hate crime. Two weeks ago, D.C. police identified Robert Hannah, 18, as the man wanted in connection with the death of Hunter. He is wanted on a felony warrant for voluntary manslaughter.
D.C. police listed as a hate crime an incident on Oct. 24 in which two men leaving the D.C. Eagle, a gay bar on the 600 block of New York Avenue, N.W., were assaulted by a group of men shouting anti-gay names.

Acting Lt. Brett Parson, who oversees the police Gay & Lesbian Liaison Unit, said the incident occurred near the corner of 7th Street and New York Avenue, N.W., a short distance from the Eagle's entrance.

"The victims, who state they were walking through a group of 6 black males, were punched and called homophobic names," Parson said in an e-mail alert.

TORRANCE — Authorities say a Torrance man who used an anti-gay marriage "Yes on Prop. 8″ sign to attack an openly gay man has been charged with a felony hate crime.
Joseph Storm, 23, got into a scuffle with a 22-year-old man wearing a "No on 8″ button early Sunday in Torrance, according to Deputy District Attorney Janet Wilson.
Storm and the victim, whose identity has not been released, have known each other since junior high school, she said.
During the fight, Storm took the lawn sign and knocked the victim down with it, then punched him in the face and choked him, Wilson said.
Storm is also accused of calling the victim a derogatory name for homosexuals.
(Jimmy Lee) Dean was severely beaten and pistol-whipped in the early morning hours of July 17 in the 3900 block of Dickason Avenue, just a few feet from a parking lot serving Dallas' largest gay nightclubs.

The suspects in the attack — Bobby Jack Singleton and Jonathan Russell Gunter, both of Garland —are awaiting trial on charges of aggravated robbery.

Singleton and Gunter reportedly yelled anti-gay epithets before, during and after the attack, and police said Singleton and Gunter admitted they felt it would be easier to rob a gay man

One week after Washington State University's Week Without Violence celebration, the Pullman community was shocked by four attacks against Gay-Lesbian-Bisexual-Transgender individuals whose incidents were separated by days.

On Oct. 16, Kristopher Shultz, WSU junior, was walking home for a book when he said he heard someone shout at him. The moment he turned around, his face was met with a fist, followed by kicks in his side. …

At 7:30 p.m. Monday, Jackson Hogan, junior, was attacked in a campus-parking garage while walking to the elevator.

"A guy passed, I said a quick 'hi' and kept walking," Hogan said. "Then he turned and started kicking and beating me."

INDIANAPOLIS — The friends of two elderly men found dead in their southwest-side home on Monday said they believe the men were killed because they were gay.

Milton Lindgren, 70, and Eric Hendricks, 73, were found dead Monday morning in their home at 9160 Middlebury Way. Police would not say how they were killed or how long their bodies had been inside the home, only that their deaths came by "violent means."

The victims bodies were found inside their home Monday morning by a friend who had't seen or heard from them in two weeks. The bodies were found lying in blood and their heads were battered.

Patrick Beard, a friend of the victims, told 6News' Rick Hightower that he believed the men were targeted.

"I firmly believe it was definitely a hate crime. Milt was 70 and his partner was 73 and to go into someone's home and do something like that, it's just too coincidental," he said.

Police reports show that the men had their phone and cable lines cut twice in the past few months, and that anti-gay statements were posted on their front door.

Several local organizations will hold a vigil Tuesday, February 19 in remembrance of Lawrence King, the 15-year-old junior high student in Oxnard, California, who was shot by a fellow classmate Tuesday, February 12.
King, who was perceived to be gay and gender non-conforming, was taken off life support Friday.
Surveillance tape from a Memphis police station shows police officers hitting a transsexual who they had taken into custody.
One of the officers involved has been fired and another has been placed on leave, Memphis police said Wednesday. The tape was made in February.
Duanna Johnson was in the booking area at the Memphis Police Department after an arrest on prostitution charges. The videotape showed an officer walk over and hit her in the face several times.
He said he was beat up until he was unconscious because he's gay, and police agree. Now police are looking to arrest a suspect in what they're calling a hate crime. News 10NBC talked exclusively with the victim.

Lance Neve said he was in the bar minding his own business and was then attacked.

"I was punched and I went to the floor," Lance said. "He continued to beat my head into the floor."

Two teenagers were ordered held without bail yesterday in the death of a Randallstown High School student who was stabbed and stomped to death after his fellow Bloods gang members found messages on his phone that suggested he was gay.

Steven T. Hollis III, 18, of Randallstown and Juan L. Flythe, 17, of West Baltimore - both of whom are members of the Bloods gang, according to police - were arrested and charged Thursday evening with first-degree murder. They are accused of killing a fellow gang member days before his high school graduation in May.

The body of Steven Parrish, 18, was found May 29 in a wooded area near his parents' home and Woodlawn Cemetery.

A 33-year old man is charged with murder in the brutal killing of Patrick Murphy regarded by most in Albuquerque's LGBT community as a drag icon.

Police allege that Dana Madsen shot Murphy three times in the head. He was arrested shortly after calling police to report a shooting inside his apartment.

Stacy Brown, Baltimore, January 8 2008. Found dead inside a house in the 300 block of W. North Avenue near Gwynns Falls Park. Shot in the head, in the house shared with Brown's mother and sister. People were home when police arrivede, but have yet to explain the circumstances of Brown's death.
N. CHARLESTON, S.C. — News that a gender non-conforming teenager was shot down here more than a month ago has been slow to reach regional and national LGBT media organizations.

Adolphus Simmons, 18, was shot at the Bradford Apartments complex by a 15-year-old boy on Jan. 21. Police arrested and charged the suspect on Jan. 24. Another juvenile was arrested and charged later. The names of the suspects are not being released by authorities.

DETROIT - The identity of a young transgender woman found dead in Detroit Feb. 4 was revealed late last week in response to a FOIA request filed by this newspaper. The Detroit Police Department announced that the body found dumped near the intersection of Canfield and Ellery streets on Detroit's East Side was that of Michael Dionthe Sweeney. Between The Lines has also learned that the victim was more commonly known by the name of Ashley and will, henceforth, refer to her as such.
A man named Steve McMillian apparently stabbed Sanesha Stewart to death on Saturday morning. Who was she? She lived in the Bronx. She was tall and femme and well-liked by her neighbors. She was a client at the law project where I volunteer, but I never met her myself. Some of my colleagues helped her get her name legally changed more than a year ago. None of the above mattered at all to the news media, which handled this tragedy with the appropriate combination of sensitivity, respect for the victim, and a very cold eye for the man who the police dragged from her apartment, covered in her blood.

Oh no… wait one second and back up. There was no respect and no cold eye, none at all. I must be imagining some completely different universe where young trans women of color aren't automatically treated like human trash. Where we all live, business as usual is to make a lot of comments about what the murder victim dressed like and looked like, reveal what her name was before she changed it, automatically assume she's getting paid for sex, and to make excuses for the alleged killer.

Lloyd Nixon, Location: West Palm Beach, Florida, Cause of Death: Repeatedly beat in the head with a brick, Date of Death: April 16, 2008, Lloyd was 45 years old.
Memphis, TN - Tears well up in Claudia Blair's eyes when she thinks about her 20 year-old cousin, Ebony (Rodney) Whitaker, as a child.

"I used to change his diapers," she says. "He was a good child. How all this ended up…abandoned building, clothes everywhere, condoms…he didn't have to die like that. He didn't."

Claudia and her 19 year-old daughter Porshia, say whoever killed Ebony (Rodney), killed a young man with a heart of gold. A young man, they say, whose family always suspected she was gay.

This is an extremely upsetting story about a man who went on a date with a trans woman, and, upon discovering she still had male genitalia, bludgeoned her to death. I'm not going to recount the details of the gruesome murder, which you can find at the link if you are so inclined, but I want to highlight one thing that the murderer, Allen Ray Andrade, said to investigators while describing the murder: His first attempt failed, and he was surprised to discover Angie Zapata was still alive, as he thought he had "killed it."
WAILUKU » The stabbing death of a transvestite last month under a highway overpass in Makiki was not a hate crime, Honolulu police Detective Theodore Coons said Thursday.

Coons said that while the motive is still not known, the victim, Jason L. Namauu, and his alleged assailant, Joel Chris Allen, knew each other and appeared to have been living in the same car.

Namauu, 35, a former Maui resident, was allegedly stabbed repeatedly by Allen in the car near Cartwright Neighborhood Park in Makiki at about 6:30 p.m. July 17.

On August 20, Nakhia Williams, an African American transgender woman, was found by police outside her Louisville, Kentucky apartment beside a dumpster. She died of multiple wounds including a gun shot wound. Williams was transported to The University of Louisville Hospital where she died 10 days later. Subsequent media coverage of her murder by WLKY-CBS 32 and WDRB-Fox 41 used inaccurate terminology, including male pronouns, and failed to use Williams' correct name. There have been no follow-up stories offered by Louisville media outlets covering the investigation of this crime.
The body of the transgender woman who was found in the American River in Sacramento last week has been identified by police as Ruby (nee Fernando) Molina. The police are citing it as a "suspicious" death and need more information: Anyone who knew the victim, the victim's recent whereabouts, or who has other information about this case is asked to contact the Sacramento Police Department at (916) 443-HELP. A $1,000 reward is currently being offered
A Des Moines teenager is accused of committing a hate crime Friday night after he allegedly threw bricks at some men near an East Village gay bar and called them anti-homosexual names, according to Des Moines police.

Sander "Sam" O'Dale Johnson, 18, of 912 24th St. in Des Moines, was arrested for assault with a hate crime and violation of individual rights, records show.

Police also suspect Johnson and his friends may have been involved with a similar hate crime on Sept. 6 that also happened near the Blazing Saddle bar in the 400 block of East Fifth Street.

Last week, Todd Metrokin, whose brutal beating on Kalorama Road we wrote about, told City Desk police were close to making an arrest in his case. Today, via the Washington Blade, we learned one unnamed juvenile has been charged.
A Magna man has been charged with attacking a Salt Lake man apparently because he was gay.

Fa Junior Moimoi, 20, took a picture with an 18-year-old man he met Aug. 9 at an overlook of the city on Churchill Drive, according to charges filed Thursday in 3rd District Court. A girl with Moimoi asked the teen if he was gay, and later Moimoi and four other men attacked the teen and his friends, according to the charges.

Moimoi faces two counts of aggravated assault, a first-degree felony, and one count of misdemeanor assault.

(Bourbonnais, Illinois) An elementary school bus driver has been charged with leading a homophobic attack on a 10-year old student passenger.

The Kankakee Sheriff's Police Department said that the boy was taunted by the driver who then encouraged other students to chase and beat the child.

Chief Deputy Ken McCabe said the incident occurred on a Bourbonnais Elementary School District bus which was returning students to their homes last Friday.

McCabe said the driver repeatedly called the boy "gay."

PORTLAND (NEWS CENTER) — Police in Portland are investigating what they say was a random, hate crime that left a man unconscious. Investigators say the victim was assaulted because his attackers thought he was gay.

The victim was hospitalized. He is now at home recovering from a head injury.

It happened early Saturday morning near the corner of Forest and Cumberland Avenues. Police say the victim was walking home when he was approached by Two men. The men used homophobic slurs and proceeded to attack him.

He does not want to get a handgun, but a Boston man who was among four people victimized in what authorities say was a homophobic attack wants to start carrying pepper spray.

"I'm very, very nervous," said Jeff, who asked that his last name not be published. "I am going to be very cautious."

Jeff was interviewed yesterday hours after a Framingham man pleaded not guilty to four counts of civil rights violations and multiple counts of assault and battery for his alleged role in the Aug. 24 attack in the South End.

Rest in peace, Greg McKendry.
Rest in peace, Linda Kraeger.

You were loved, and will be missed.
Non-Action

"Ten years later, Shepard's mom sees little change"

CHEYENNE, Wyoming (AP) — Matthew Shepard's mother still mourns lost opportunities to battle hate crimes and promote a greater tolerance of gays in the 10 years since her 21-year-old son was beaten, tied to a wooden fence and left for dead in a frigid Wyoming pasture.

Though Congress has not passed a federal hate crime law, Judy Shepard is buoyed by enhanced punishments for crimes based on sexual orientation in 31 states and the District of Columbia.

"Ten years have gone by and not that much has changed, and I think that's just really disappointing," said Shepard, who with her husband formed the Matthew Shepard Foundation to promote equality for the gay community.

"We passed up a golden opportunity to set things in motion and make a change and set an example and let it go," she said.

In a case that outraged gay activists and their advocates around the country, Matthew Shepard died October 12, 1998, five days after he was kidnapped, robbed and pistol-whipped by two men he met in a bar. Both men are serving life in prison for the murder, which police said was partly motivated by the fact that Matthew was gay.
Sources:
www.brainyquote.com
www.rightwingwatch.org
People for the American Way
http://www.washblade.com
Associated Press
www.southernvoice.com
www.washingtonblade.com
www.ktla.com
www.dallasvoice.com
www.uiargonaut.com
www.outinindy.com
www.ebar.com
www.whec.com
www.baltimoresun.com
www.hatecrimesbill.org
misstrgendered.blogspot.com
www.q-notes.com
www.pridesource.com
www.feministe.us
www.transgenderdor.org/?page_id=58
transgriot.blogspot.com
Shakesville.com
archives.starbulletin.com
www.glaad.org
www.myhusbandbetty.com
www.desmoinesregister.com
www.washingtoncitypaper.com
www.deseretnews.com
www.365gay.com/
www.wcsh6.com
www.boston.com
Shakesville.com

*This is by no means a comprehensive list. If there are incidents of crimes against the LGBTQ Community that you would like to add, or personal experiences you would like to share, please leave them in the comments section.
-WKW
NEW YORK (CNNMoney.com) — Exxon Mobil Corp. set a quarterly profit record for a U.S. company Thursday, surging past analyst estimates. The leading U.S. oil company said its third-quarter net profit was $14.83 billion.
In a move that shocked industry analysts, however, Exxon-Mobil has offered the entire $14.83 billion to the Los Angeles Times in exchange for the release of videotape that purportedly shows Presidential hopeful Barack Obama at a party along with Palestinian-American Rashid Khalidi and University of Chicago professor William Ayers.
Reached for comment, Exxon-Mobil spokesman Joe Hazlewood said that the American people had the right to know about Obama's connections.
"Our main concern is that the American people know the full story behind Obama's association with Palestinians and Americans with Palestinian tendencies," said Hazlewood. "Like Exxon-Mobil has always done, we are just giving back to the community."
Hazlewood denied charges that Exxon-Mobil was rooting for a John McCain victory due to McCain's campaign promise to give the oil industry billions of dollars in tax exemptions, as well as continued billions in subsidies.
"It's true that the oil industry traditionally works on a very, very narrow profit margin and that the industry must be reimbursed by the American people both at the pumps and through taxes," said Hazelwood. "But really, this is all about Obama's associations and keeping the United States from sliding even further toward a socialist nightmare."
McCain, who worked jointly with Kahlidi on a project called the Palestine Center, said he completely supports Exxon's offer and that the truth of Obama's relationship with Kahlidi must come to light.
"I am extremely experienced when it comes to Rashid Khalidi," said McCain. "I've met him, have given him money and supported his anti-Israel projects. So I know just how terrible he is and I thank Exxon for attempting to get the truth out about his work with Obama."
-WKW
From time to time I like to showcase some of my older work that may have slipped past the dedicated readers of this blog. I do this now due to the fact that this election has finally turned my creativity into a bubbling mass of goo. You know, the kind of goo that … that … Ok, I got nothing. So take a look at these if you like:
Gatorade Tiger: Instead of wasting scientists' time analyzing Tiger Woods' sweat, why not just sell his bodily fluids? (WorldGolf.com post)
… "I've experienced a lot of amazing moments in my golf career, but no matter what I accomplish my goal is to be better tomorrow than I was today," said Woods. "Now that Gatorade Tiger is hitting store shelves, I am excited for everyone to try it."

Wow, Tiger, I'm not sure how one sentence is really connected to the other, but thanks for pitching in. Still, it's sort of like me writing:

"I've written a lot of great blog posts during my blogging career, but I'm still trying to do better," said Wolfrum. "Now get out there and eat more donuts." … More
The Swiftboating of Jesus H. Christ: A look back
… Named as one of People Magazine's "50 Sexiest Men," Christ had the appearance of a can't-miss candidate - attractive, articulate and charismatic, his flowing robes became a new fashion hit. Even those competing directly against him for the Democratic nomination were forced to admit that Christ was a formidable candidate.

"You know, for a lapsed Jew, he's quite clean," said Joe Biden. "You'd expect to catch a whiff of baby on his breath, but, man, I can't detect anything. He's a good one."

But while Democratic followers were enthralled at what they believed had to be a sure Presidential victory, others were looking for weaknesses in Christ's sturdy armor. It started simply, with a blog by political entertainer Michelle Malkin.

"A lot of people are afraid to talk about Christ, which is understandable yet cowardly," wrote Malkin in a blog title 'Who is this Jesus character?' "I think if you look deeper, you see a frightening man. Are we sure we want a man with a well-chronicled drinking problem to lead this great nation?" … More
When Rush Limbaugh is getting drug enhanced, golfers will surely follow
Take Rush Limbaugh's penis, for example. Limbaugh, who works in the radio industry and was a recent subject of a BadGolfer.com feature story, was recently detained for nearly four hours at Palm Beach International Airport after authorities said they found a bottle of Viagra in his possession without a prescription.

Much like Barry Bonds created controversy by putting up huge numbers at an advanced age, Limbaugh's situation just feels wrong. Limbaugh is 55, smokes cigars, has a thing for pills, and has had weight issues. He has no business being sexually active, and only raises false expectations in his fans when its alluded to that he's having Viagra-enhanced sex. … More

Statement from William K. Wolfrum: "I am not gay, and have mostly never been gay"
"First of all, I'd like to thank so many of you for standing by me in this terrible time. However, I'd also like to point out that those of you standing behind me just aren't helping matters. So if you could just move forward and to the side, that would be fantastic.

I wanted to release this statement to point out that I am not gay. Let me be perfectly clear on that. I am not gay, and I love my wife.

Also, I have never been gay. At least not for any extended period of time. I was briefly gay in 1978, but those were the days of disco, and everyone was gay at one point or another.

Also, in 1983 I was briefly gay, but that coincided with the release of Rocky III. … More
Stay tuned for original programming …
-WKW
Over at CNN.com, Manav Tanneeru writes a story highlighting how polls can lie when there's no incumbent in the mix.
"Obama's ahead, polls say, but will the lead last?"
(CNN) — With a week to go before Election Day, most recent national polls show Democratic presidential nominee Barack Obama with an advantage. But how much are they to be believed?

The most recent national CNN poll of polls showed Obama with an 8-point lead over Republican presidential nominee John McCain, 51 percent to 43 percent. The polls were conducted October 21 through October 26.

Most other national polls show Obama with a lead ranging between 5 points and double digits.

A look at CNN polling during the same period before Election Day in 2000 and 2004 suggests that political observers and campaign supporters ought to be cautious in declaring the race over because of current polling numbers. See the latest state and national polls

When a presidential race has a non-incumbent in the lead, like this year, the poll numbers tend to tighten as Election Day gets closer, CNN senior researcher Alan Silverleib said.

"Any time it looks like they are on the verge of voting somebody new into office, there is buyer's remorse," he said. "Based on that, and the fact that the country has been so polarized in recent elections, there's pretty good reason to think that the polls might tighten up a little bit."
The entire "story" is based on the 2000 Bush-Gore election:
A CNN/USA Today/Gallup tracking poll conducted October 29 through October 31 showed Bush, then the Texas governor, leading Democratic Sen. Al Gore, 48 percent to 43 percent. The poll had a margin of error of plus or minus 2 percentage points.

A subsequent poll conducted November 2 through November 4, released two days before the voters cast their ballots, showed the same results.

Gore, however, ended up winning the popular vote by about 540,000 votes. When broken down by percentage, both candidates had about 48 percent of the popular vote. Bush won the Electoral College, and thereby the presidency, by 5 electoral votes.
Tanneeru also brings up the Clinton-Bush election, which didn't really fit into the narrative, so then went back 40 years to the Nixon-Humphrey race, and then went back 52 years to the Truman-Dewey race to try and build a compelling story.
So really, all Tanneru has (And mind you, the Florida recount controversy is never mentioned) is that the polling fell apart in the Bush-Gore race. But did it?
Tanneeru seems to believe that the national vote elects the President rather than the electoral college. Possibly because that would destroy the entire thing. In 2000, as of Oct. 1, the national polls had the election almost dead even. However, even then, Bush held a solid advantage in 26 states, accounting for 224 electoral votes, while Gore held a solid advantage in 12 states accounting for 181 electoral votes. Twelve more states were in the "tossup" category, which accounted for 133 electoral votes.
Of those toss-up states, four went to Bush for a total of 47 electoral votes, while eight went to Gore for a total of 86 electoral votes.
Doing the math, it turned out like this: Bush 271, Gore 267. Whatever the national vote was, the polling numbers in regard to states came out exactly correct once the toss-up states were decided.
Now do the numbers for the Obama-McCain race. Using CNN again, Obama has a total of 277 electoral votes to McCain's 174 with 87 still up in the air as toss ups.
So, even if McCain won every "toss-up" state, he would still come up short. And Obama is currently leading in every one of those toss-up states.
Basically, the 2008 election is absolutely nothing like the 2000 election, and any comparison of the two are just plain foolish. According to the current polls, McCain would have to come back in at least seven states in six days in order to win the Presidency.
Basically, with six days to go, this race isn't even close. The only way Barack Obama won't be the next President is if McCain and the RNC are able to commit voter fraud on an historic level.
Update: In regard to the 2004 election, the polling was extremely accurate. A good source to analize the 2004 pre-election polling in relation to the ultimate outcome can be found here: The Accuracy of the National Preelection Polls in the 2004 Presidential Election.
-WKW
I have spent the better part of my journalism career as an opinion writer. First at weekly newspapers and then at daily newspapers and now as a blogger. As a reporter, my experience is mainly in the sports, where I have covered everything from college gymnastics to college football. I have been a news reporter but have maybe a year's worth of experience, with most of that being a small-town reporter, though I spent about two years working as a news copy editor at a daily.
So while I may not have years covering beats under my belt, I have spent a good amount of time with reporters notebook in hand, jotting down notes as fast as possible. I am a journalist. And I am damned proud to be a journalist.
I write this due to a column written by Michael S. Malone at the ABC News Web site. In it, Malone laments what he sees as the contemptible way that American journalists have gone in the bag for Barack Obama. Despite presenting mostly anecdotal evidence, Malone feels as though American journalism has forever crumbled, leaving true pros like himself feeling ashamed.
[W]orst of all, for the last couple weeks, I've begun — for the first time in my adult life — to be embarrassed to admit what I do for a living. A few days ago, when asked by a new acquaintance what I did for a living, I replied that I was "a writer," because I couldn't bring myself to admit to a stranger that I'm a journalist.
To say that Malone's rant is self-serving is putting it lightly, but it has thrilled Conservatives. Malone goes to great lengths to let everyone know his hallowed three-decade career as a journalist in the "traditional media," yet his main - and only — concrete proof of the bias is this:
Why, for example to quote the lawyer for Republican presidential nominee Sen. John McCain, R-Ariz., haven't we seen an interview with Sen. Obama's grad school drug dealer — when we know all about Mrs. McCain's addiction? Are Bill Ayers and Tony Rezko that hard to interview? All those phony voter registrations that hard to scrutinize? And why are Sen. Biden's endless gaffes almost always covered up, or rationalized, by the traditional media?
So basically, Malone is now ashamed to admit that he's a journalist because he perceives a pro-Obama bias. Was he outraged over the media's cheerleading for the Iraq War? Or how the media spent the better part of the decade as the Bush Administration's stenographer? Or how the media has long had an admitted love affair with John McCain? Or how the mainstream media has avoided reporting on McCain's relationship with convicted felon Rafaello Follieri? Not so much.
Of course, the man who wrote "The traditional media are playing a very, very dangerous game — with their readers, with the Constitution and with their own fates," may have a touch of his own bias. After all, he doesn't seem to be against being biased when he feels it's deserved, as he did when he wrote a book about Steve Jobs:
"Some reviewers claimed I had an animus against Jobs. Perhaps so, but it was well earned."
So being biased is fine provided it has been earned in Malone's world. But is it possible that Malone - the brave voice assailing a corrupt and biased "traditional media" have a political bias of his own? He does seem to have a cozy relationship with Instapundit Glenn Reynolds. And Hugh Hewitt.
Malone has written columns for Pajamas Media. He's also had a bizarre defense of the free-market system that could have come directly from Milton Friedman:
From where I sit, the United States government has embarked on two pieces of social engineering in the last few years. One was to make oil expensive as expensive as possible to drive people to greater use of alternative energy sources - because anything less would be irresponsible and destructive to the environment. The other was to enshrine home ownership (i.e., easy-to-obtain mortgages) as a new American right - because anything less would be unequal and racist.

None of us voted on these decisions - indeed, neither was even spoken about directly, much less debated. But nevertheless, both became national policy… and both have sparked national, now international, crises. Then, once they became crises, both were blamed on 'greedy capitalism', instead of what they really were: legislative interference into market forces.
Also, Malone's personal finances shows that he's likely to be someone who would be fearful of Obama:
[W]e've also been comparatively wealthy, bought houses and property, driven fancy new cars, and traveled the world. And though I've done some really humiliating scut writing jobs — press releases, annual reports, brochure copy, ghostwriting, etc. — I've also been free to do the kind of writing I've always dreamed of: books, newspaper columns, magazine essays, even a television miniseries.
In the end, Malone's admission that he feels ashamed to be a journalist says a lot more about him than about journalism. Because I'm in no way pleased with the state of American journalism. But it's not hard for me to see why so much negative coverage is going McCain's way - as the saying goes, they don't write stories about houses that aren't on fire.
But regardless of my opinions or my own admitted bias, I still place a high regard on the truth. I am still a journalist. And damned proud to be one.
-WKW
"It gets frightening some times."
- Fox News anchor Shepherd Smith, who was visibly irritated and flabbergasted after speaking with John McCain surrogate Samuel "Joe the Plumber" Wurzelbacher, who reiterated that "a vote for Barack Obama is a vote for the death to Israel."
-WKW
Always a vital state in the electoral college, Florida is once again split between giving its votes to John McCain or Barack Obama. A recent declaration by billionaire Miami Dolphins' owner Wayne Huizenga should make a huge difference to Florida voters:
H. Wayne Huizenga — one of the richest men in America — wants to speed up his sale of 45% or more of the Miami Dolphins to Stephen Ross because he anticipates Sen. Barack Obama, D-Ill., will win and his taxes will go up, the Sun-Sentinel reports.

"I'd rather give it to charity than to him," Huizenga said. "If you do it this year or you do it next year, the difference is humongous because of the taxes."
Since 2004, the Miami Dolphins - historically one of the NFL's most successful franchises - has a record of 23-48. The team has not made the playoffs since 2001. The Dolphins haven't won a playoff game since 1999, the season it was humiliated in the second round of the playoffs, 62-7 by Jacksonville.
Mark Florida down for Obama.
-WKW
The right-wing geniuses are falling all over themselves about a 2001 radio interview done by Barack Obama, who was then a professor of constitutional law at the University of Chicago. The meme that's emerged from the brilliant right-wingers and John McCain - Barack Obama wants to stack the Supreme Court with activist judges that want to make the U.S. a communist haven.
The fact that he said the complete opposite makes no difference. From the Washington Post:
"Obama Bombshell Audio Uncovered. He wants to Radically Reinterpret the Constitution to Redistribute Wealth!!" runs the YouTube headline from the conservative video blog Naked Emperor News. "This video exposes the radical beneath the rhetoric."

On closer inspection, the "bombshell audio" turns out to be a rather wonkish, somewhat impenetrable, discussion of the Supreme Court under Earl Warren. Obama, then a University of Chicago law professor and Illinois state senator, argued that the courts have traditionally been reluctant to get involved in income distribution questions. He suggested that the civil rights movement had made a mistake in expecting too much from the courts — and that such issues were better decided by the legislative branch of government.

You can read the entire transcript of the interview here, courtesy of Fox News, but here is the passage in which Obama explains that courts are "not very good" at redistributing wealth:

"Maybe I am showing my bias here as a legislator as well as a law professor, but you know I am not optimistic about bringing about major redistributive change through the courts. You know the institution just isn't structured that way…. Any of the three of us sitting here could come up with a rationale for bringing about economic change through the courts. I think that, as a practical matter, that our institutions are just poorly equipped to do it."

In other words, Obama says pretty much the opposite of what the McCain camp says he said. Contrary to the spin put on his remarks by McCain economics adviser Douglas Holtz-Eakin, he does not express "regret" that the Supreme Court has not been more "radical." Nor does he describe the Court's refusal to take up economic redistribution questions as a "tragedy." He uses the word "tragedy" to refer not to the Supreme Court, but to the civil rights movement:

"One of the tragedies of the civil rights movement was that the civil rights movement became so court focused, I think, there was a tendency to lose track of the political and organizing activities on the ground that are able to bring about the coalitions of power through which you bring about redistributive change."

Holtz-Eakin "read a different interview to the one I heard," said Dennis Hutchinson, a University of Chicago law professor who joined Obama in the panel discussion. "Obama said that redistribution of wealth issues need to be decided by legislatures, not by the courts. That is what a progressive income tax is all about."
That Conservatives are deliberately turning this interview 180 degrees is no surprise. They do everything based on their belief that their followers are mindless drones unable to understand complex sentences. Luckily, the latest polls show that only 24 percent of hardcore right-wingers are that dense.
-WKW
Matt Drudge asks:
Answer: No.
-WKW
"They came for Joe the Plumber, they came for Fox News, who's next?"
Co-host Peter J. Johnson on Fox News & Friends, prior to hero-worshipping TV anchor Barbara West during its "Fear Obama Telethon," where the only non-socialist information they discussed in regard to Obama was the story about neo-Nazis plotting to kill him.
-WKW
In 1908, Fred Merkle didn't go from first to second on what was the game-winning hit, thus costing the New York Giants the National League pennant, and sending the Chicago Cubs to their most recent World Series championship. It became known as "Merkle's Boner."
Exactly one century later, Tampa Bays' Rocco Baldelli had his own bonehead play, not running out a popup on a windy and rainy night in Philadelphia. When the Phillies' Jimmy Rollins misplayed the ball, Baldelli was standing on first after only jogging while the ball was in the air. Had Baldelli ran the play out and hustled, he would have easily been on second, rather than first.
Baldelli was quickly erased on a double play and the inning quickly ended. Adding injury to insult - Baldelli's bonehead play came in the top of the fifth inning, with the Tampa Bay Rays losing 2-1 while behind in the World Series three games to one. And the rain is coming down harder and harder. And the game is now official.
It's very possible that a lack of hustle just cost the Tampa Bay Rays its last shot to win the 2008 World Series. One-hundred years later, Baldelli's Boner may just take its spot in baseball lore.
-WKW
AmericaBlog's John Aravosis is a Republican-turned-Democrat who has brought the sleaziness of Rovian politics to his media empire. He's spent the better part of the last few months examining John McCain's blinking while raking whatever muck that passes through these Internet tubes.
Which is why he's the perfect dupe for our pal Martin Eisenstadt. In his latest lie-passing-for-a-story, Eisenstadt made up a story about the RNC spending $900 on a spray-on tan for Sarah Palin, which Aravosis eagerly gobbled up. Remember, every "Big scoop" that Eisenstadt has made turned out to be completely false. This is what happens when you pull things out your ass.
Not that I would imagine that this would matter to Aravosis, who's in a hurl-shit-against-the-wall-and see-what-sticks frenzy. After all, he used the Fox Newsian ploy of putting a question mark at the end of the title ("Did Palin pay $900 for a spray-on tan?") But if he does, he could always take 10 seconds to look up Eisenstadt and find out he's a hoax. I admit that I fell for an Eisenstadt invented story once, and I still kick myself for it. But at least I have the defense of not having my easily-Googled research on Eisenstadt to look up.
Of course, I still recommend AmericaBlog for readers looking for liberal news. He has some top-notch bloggers over there, notably Joe Sudbay and Chris Ryan. And, hey, Aravosis is fine for people who like sexist Rovian muckrackers.
-WKW
"We consider this criminal and terrorist aggression … If they do it again we will defend our territory."
- Walid Moallem Syrian Foreign Minister
"US commandos launch deadly raid into Syria"

US HELICOPTERS based in Iraq have crossed eight kilometres into Syria and launched a commando raid that left at least eight people dead, according to the Syrian Government.

The unprecedented incident threatens to unleash a new wave of anti-American feeling in Syria and across the Middle East at a time when the Syrian President, Bashar al-Assad, is looking forward to improved relations with the US after next week's US presidential election.

Syria has long been a conduit for foreign fighters attempting to slip into Iraq to attack coalition troops. US officials say that military action inside Iraq has reduced their number. And tense relations between Syria and the Iraqi Government have improved enough that earlier this month, Syria sent an ambassador to Baghdad for the first time since the early 1980s.

But US officials charge that militants still are able to operate openly in Syria, and that Damascus needs to do more to rein them in. They accuse fighters who filtered across the Syrian border of fomenting trouble recently in the northern Iraqi city of Mosul, and of an attack in May that killed 11 Iraqi policemen.

Details of the attack on Sunday were sketchy. A military officer in Iraq confirmed that US forces conducted a raid into Syria, but declined to provide more information. In Washington military representatives asked about the operation did not deny that a raid had taken place. Although they would not confirm the attack, they used language typical after raids conducted by secretive special operations forces.
The Bush Doctrine remains in play until January, whether Sarah Palin understands it or not. Welcome to the October surprise, as the U.S. not only attacked Syria, but Pakistan, as well. Gotta rally that base, one way or another.
-WKW