Initial reports out of the Gulf are that British Petroleum's "Top Kill" plan has stopped the oil from spurting out of the Earth.
From AmericaBlog:
There is currently no oil leaking into the Gulf of Mexico from the well that had been spewing crude into the sea for more than a month.

"They've stopped the hydrocarbons from coming up," National Incident Commander Thad Allen told WWL First News. "They've been able to stabilize the well head, they are pumping mud down it."

Allen says now they have to make sure the heavy drilling fluids, or mud, will hold back the oil and natural gas in the well long enough for them to be able to cap the well.
Also, there have been no reported sightings of any Godzill-type creatures. As I've said before, if a method called "Top Kill" can't bring about Godzilla, probably nothing will.
All in all, though, some needed good news for the Gulf of Mexico.
Update: Never mind. And I'd say there's still some hope for Godzillas.
-WKW
Crossposted at DagBlog
Some thoughts:
If the current tension between North and South Korea had happened on the Bush Administration watch, the calls for war would be deafening from the Neo-Cons.
The U.S. Mens' National Soccer Squad were thumped in their penultimate friendly before the World Cup. If you recall, however, in 1980, the USSR obliterated the U.S. hockey team in a Pre-Olympic friendly. Yeah, I'll grasp.
I demand the arrest of Rachel Maddow after learning that she actually tortured Rand Paul on the air.
If an effort in the middle of the ocean called "Top Kill" doesn't bring about a Godzilla, I'm afraid nothing will.
I think it's quite possible that the mainstream media is catching on that Sarah Palin is not a serious person. To their credit, they did figure out that Glenn Beck was a needless distraction a while back.
Are we really this close to a Celtics-Lakers NBA Final? You know, that's kind of exciting.
I'd love to see Rashad Evans beat the hell out of Rampage Jackson on Saturday.
Of it's many problems, one that stands out for Libertarianism is the fact that there's always a group More Libertarian. Like any belief system, there are stages to Libertarianism. There's the majority - people who don't want to pay taxes. Then there are fundamentalists, who basically want Capitalist and Social Anarchy.
Even more so than Communism - which is saying something - True Libertarianism is an unobtainable ideological fantasy. It doesn't even look that good on paper.
-WKW
Like all incidents involving Holy Water and Satanic Haitian rituals, there still are many unanswered questions to this story of two women trying to de-Satan-ify an Atheist.
POMPANO BEACH — Two teachers accused of sprinkling holy water onto an avowed atheist colleague have been removed from the classroom, and may be fired.

The teacher who was allegedly sprinkled filed a complaint with the Broward County school district, which is investigating the incident as an act of bullying.

At the center of the investigation are Blanche Ely High School reading teachers Leslie Rainer and Djuna Robinson, who profess that they are Christians. They are accused of sprinkling holy water onto fellow teacher Schandra Tompkinsel Rodriguez. …

… In response to one student's remark that the disaster in Haiti happened because of God's wrath on the island nation over a pact its leaders made with Satan more than 200 years ago, Rodriguez reportedly began refuting Christianity.

The alleged Satanic pact in question reportedly occurred at Bois-Caïman, near Cap-Haïtien, on August 14, 1791, during a voodoo ceremony held by enslaved Africans. The reported pact came before the slave rebellion and start of the Haitian Independence War, in which rebel leaders offered the reported agreement in exchange for a victory against the French Army.
One thing to note: The only thing you can do with Holy Water is "sprinkle" it. Even when "sprinkling" it on unwilling participants.
-WKW
HOLLYWOOD - After decades of being reviled as history's worst monster, Adolf Hitler has had a surprise resurgence recently, mostly as a result of entertainers like Glenn Beck and others bringing up his name so much. The new attention has paid dividends, however, as Patrick Duffy will star as Hitler in the new NBC sitcom "That's So Hitler!"
"A whole new generation is coming up that haven't been brainwashed by actual history," said NBC employee Patrick Buchanan. "They just hear his name mentioned repeatedly nowadays and hear how 'Obama is Hitler,' and think, 'hey, Hitler was Ok.'"
The situation comedy, to be shot in Scottsdale, Arizona, will be based around Hitler's relationship with his two teenager daughters. Beck viewer Victoria Jackson will star as Eva Braun, reports say.
The show will be "hilarious and heartwarming," and follow the wacky hijinx of the problematic Hitler family, say executives. The show already has at least one fan.
"I can't tell you how excited I am," said Buchanan. "Because I'm a Nazi. So the humor should really be right up my ally."
HT Gotta Laff at The Political Carnival
-WKW
Like many, I watched the finale of the hit show Lost with much anticipation. Unlike many others, I take a very realistic view of the program.
Basically, I think we're all dead.
Let me explain: In the finale of Lost, we learn that the alternate universe where they were residing is more of a limbo-type plane of existence. All were waiting to be "awoken" to their real existence, find peace with it, and move on, to heaven it appears.
So here's what I'm saying: I think we all died during the Bush Administration. Now, that sounds REALLY far-fetched, I know, but think about it - it was the Bush Administration. It's possible. He could have figured out a way.
Thus, I think we're all stuck here until we are "awoken" and come to peace with what we've done to planet, how we've spread war across the globe, and that we elected George W. Bush twice.
And I think we're going to be in this purgatory for a long time.
-WKW
If you show up in a chicken suit at a Nevada polling place to have your say in the primaries, you will not be allowed to vote. And this has chicken-suit wearers across the state molting in anger.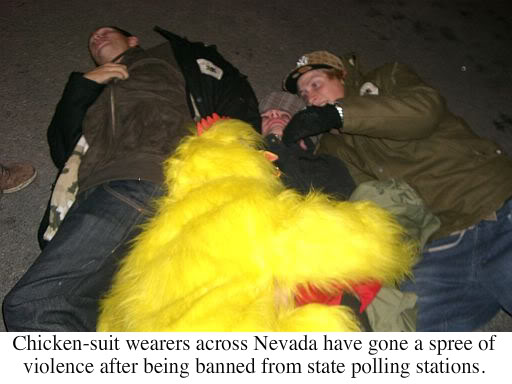 "It's like I live in Soviet Russia," said Tim Johnson of Sparks, Nev. "I moved here from Tupelo to get away from this kind of cultural totalitarianism."
Johnson is one of thousands of chicken-suit wearers across Nevada that have come forward.outraged over the fact that they will be banned from polling stations. Little was known about chicken-suit wearers until the rule was put into effect, but Johnson said there is a huge chicken-suit wearing community throughout the country.
"Oh, there's a lot of us," said Johnson. "Think about it, how many people do you see daily in chicken suits. It's really an inordinate amount, isn't it?"
Republican Senate candidate Sue Lowden continued her efforts in being the most literally conservative candidate in the nation, as she proposed a duel to settle the issue.
"I say a duel is the best solution," said Lowden. "After that the menfolk can get together and go on a hunt."
-WKW
WASHINGTON - In an extremely bold maneuver today, the White House today made it clear they were going to take on the British Petroleum oil disaster by ignoring it in the hopes it will just go away.
"What oil spill? The Gulf of Mexico is fine, just fine," said White House Press Secretary Robert Gibbs. "Next question."
The move by President Barack Obama replicates the move by George W. Bush in regard to the Afghanistan War. From 2003 until today, Bush has not even spoken the word "Afghanistan." In political terms, the plan worked for Bush, who just waited out his Presidency and passed the problem onto Obama. Afghanistan is now considered by most as "Obama's War."
Obama has two strong allies in the fight to ignore the Oil Spill - first, British Petroleum has announced that anyone that gets within 5 miles of any Gulf of Mexico or Atlantic Ocean beaches in the U.S., will be shot, no questions ask.
"Try and stop us," said a BP spokesperson.
Also, for the most part, the U.S. mainstream media has already been phasing out coverage of the oil spill, so ignoring it entirely won't be too big a jump.
"What oil spill?" said CNN's Wolf Blitzer three days ago.
Despite not having to worry about the oil spill any longer, Obama still has a great many other worries on the domestic and international fronts. But Gibbs appeared to remove another problem during the press conference.
"Haiti? Haiti is great. Never been better. Nothing to see there, either," said Gibbs.

-WKW
After years of blatant and committed lying to anyone who would listen, defrocked Tour de France winner Floyd Landis has come out and admitted what everyone knew all along - his victory in cycling's biggest race was a result of illegal performance drug enhancement.
In a bizarre twist to a long-running saga about doping in sports, cyclist Floyd Landis has finally admitted to using performance-enhancing drugs. He also has accused former teammate Lance Armstrong of using drugs to win his seven Tour de France titles.
Yes, in clearing his own conscience, Landis tossed Armstrong and others under the bus. And while I believe that Armstrong has used performance-enhancing drugs in the past, it's not really Landis' job now to out them.
In the end, a dick move by Landis that will only benefit Jose Canseco, who maybe won't feel like such a snitch anymore.
-WKW
Forced to admit that reality and Conservatism can't survive together, top Conservative leaders came together today to announce that they have begun "Creality," a new, separate reality only for Conservatives.
"Ronald Reagan remains the greatest President ever," said Top Conservative Newt Gingrich. "My term as Speaker of the House was the most successful in U.S. history."
Conservatives are hoping that Creality takes a big bite out of Reality's overall popularity and acceptance. Overall, Reality has often hindered Conservative plans, as time after time their basic beliefs have fallen flat. Which is one reason why those who choose to live in Creality will have to accept a Conservative present, past and future.
"Oil. Salmon. Energy! " said Top Conservative Sarah Palin. "Track!"
Some political experts have already said the move is a risky, but necessary one for Conservatives.
"War," said Top Conservative Bill Kristol.
Many also admit that being that Conservatives are plainly living in an alternate reality filled with historical revisionism, anyway, it only makes sense for them to make it official and create their own reality.
"We what, now?" said Top Conservative John McCain.
Whether Creality scores in the polls is another question. When asked in a poll if they would choose an alternate reality, 29 percent picked "Only if Obama is not around." Holding tight to that information, Conservatives are crowing about Creality.
"Hitler was a liberal," said Top Conservative Rush Limbaugh, who has lived in his own form of "Creality" since 1979. "Black people suck."
-WKW
See my companion piece to this, "Reality Bites for Conservatives," at Alan Colmes' Liberaland.
If you just trust the free market, everything will work out. Becaue what we've all been waiting for - pope-flavored inspired condoms - are finally available:
AMSTERDAM (Reuters Life!) - A Dutch sex shop will be giving away 2,000 "Pope condoms" this weekend in a dig at the Roman Catholic Church.

De Condoomfabriek (The Condom Factory) said it wanted to make a point about sexually transmitted diseases, unwanted pregnancies and the Vatican's opposition to contraceptives.
While the Catholic Church is famous for telling followers from HIV/AIDS decimated countries that condoms do more harm than good, we're still not aware if they use condoms when practicing pedophilia. The Pope has hidden those records, after all.
-WKW
Campbell Brown's show on CNN started with promise, but now ends in low-rating and a swipe at bloviators like Bill O'Reilly and Keith Olbermann,
From Brown's resignation letter:
To be clear: this is my decision, and one that I have been thinking about for some time. As for why, I could have said, that I am stepping down to spend more time with my children (which I truly want to do). Or that I am leaving to pursue other opportunities (which I also truly want to do). But I have never had much tolerance for others' spin, so I can't imagine trying to stomach my own. The simple fact is that not enough people want to watch my program, and I owe it to myself and to CNN to get out of the way so that CNN can try something else.

CNN will have to figure out what that is. The 8pm hour in cable news world is currently driven by the indomitable Bill O'Reilly, Nancy Grace and Keith Olbermann. Shedding my own journalistic skin to try to inhabit the kind of persona that might co-exist in that line up is simply impossible for me. It is not who I am or who I want to be; nor is it who CNN asked me to be at any point. This is the right decision for me and I hope it will be a great opportunity for CNN.
Maybe they'll try some type of news program in the spot.
-WKW
Occasionally, karma kicks in for good people. Such as this woman who rescues goats:
A Wal-Mart employee who won $2 million on a scratch-off lottery ticket has a lucky goat named Bucky to thank.

Beverly Evens of Anderson, Calif., rescued Bucky nine years ago. He had been beaten and abused, but Evens nursed him back to health, even bottle-feeding him. Since then Evens has taken in more than 40 rescue goats, Sacramento's CBS13 reported Wednesday.

Evens finds her goats adorable but expensive. Their daily diet of hay — as well the extra fencing she needs to install to keep curious goats from wandering into trouble — puts a strain on her paychecks from Wal-Mart.

The needs of Bucky and his goat pals were on Evens' mind one day when she stopped at a mini-mart for coffee and a lottery ticket. There on a scratcher she won $2 million over 25 years, beating the 1 in 1.2 million odds.
The moral of this story? If you want to save goats while working at Wal-Mart, you better win the lottery.
-WKW
HT Michael
This is just great news. Atheists around the world must be applauding the theft of the controversial Mojave Desert cross. This is a great moment for Atheists and the time is at hand to spread our lack of belief around the planet. The cross has been stolen, and it is a great sign.
A cross erected on a remote Mojave Desert outcropping to honor American war dead has been stolen less than two weeks after the U.S. Supreme Court allowed it to remain standing while a legal battle continued over its presence on federal land.

Versions of the memorial have been vandalized repeatedly in the last 75 years and the motive this time was not immediately known, but the theft was condemned Tuesday by veterans groups that support the cross and by civil libertarians that saw it as a violation of the constitutional separation of church and state.

"The American Legion expects whoever is responsible for this vile act to be brought to justice," said Clarence Hill, the group's national commander.
Again, everyone, this is just a huge victory for all of us, and a damning blow against Christianity. I struggle to see how they'll recover from this one. Now let's start converting them to Atheism.
-WKW
Trying to stay a step ahead of their rapidly spreading oily public relations disaster in the Gulf of Mexico, today British Petroleum announced a new contest that would guarantee every entrant a free gallon of crude oil.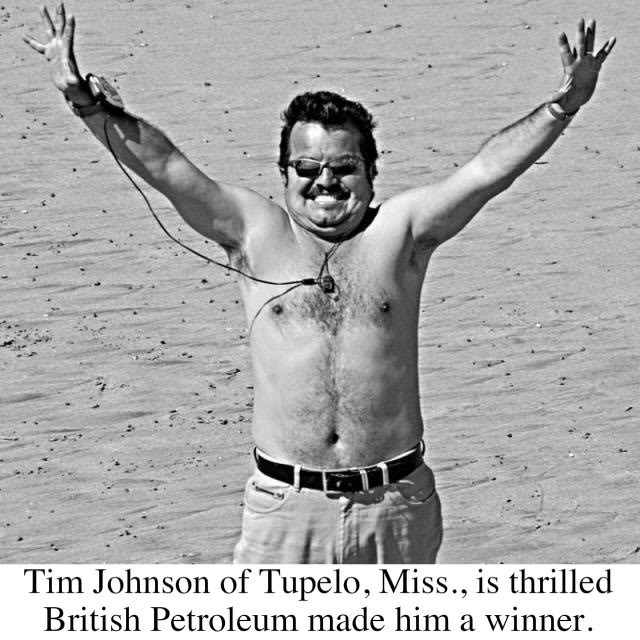 "When people think of British Petroleum, we want them to think 'winner!'" said BP spokesman Mark Proegler. "Because for a limited time, we want to make every man, woman and child in America a winner."
The contest will allow any American citizen, or illegal immigrant, to travel down to the Gulf of Mexico. To claim their prize, all a person need do is clean a "game piece" in the form of a rock, bird, sea turtle, or anything else covered in oil. Once that item is cleaned, the person can collect their free one gallon of crude oil directly from the Gulf of Mexico.
"It's just that easy!" said Proegler.
Entrants will be required to pay their own travel, room & board, as well as some type of containing device capable of holding one gallon of oil. Proegler said it was unlikely the oil would be of any use to anyone, as it has been heavily diluted in sea water.
"But still!" said Proegler.
The new contest has some near the Gulf of Mexico excited.
"This is just fantastic," said Tim Johnson of Tupelo, Miss. "With this oil, all I'll need is a bunch of windmills and some uranium and I'll be on my way to energy independence."
The contest is slated to end on March 25, 2076.
"So enter today!" said Proegler. "With British Petroleum, everybody's a winner!"

-WKW
If there's one thing we Americans have shown a propensity for, it's learning to accept certain uncomfortable realities. Things like the Patriot Act, wars in the Middle East, Don't Ask, Don't Tell, illegal Eavesdropping and other such items have become part of the American Experience.
Which is why it's time for us to accept the reality that the British Petroleum Oil Disaster will only come to an end when the oil runs out of that hole. It is now part of us, and it's time accept it and move on.
But even more than accept it, perhaps it's time to embrace this massive oil disaster. It is part of the fabric of American life, and like, say, Texas, it's something we should learn to love despite of its problems.
There are positives to this disaster, mind you. For one - we're trimming the sea turtle population. Really, what has a sea turtle ever done for you? With this never-ending deluge of oil coming from the ocean floor in the Gulf, soon, we'll only have Super Sea Turtles that are capable of surviving solely on crude oil. Think about that.
Sure, environmentalists will remain all worked up about it, but if we listened to them, we wouldn't be in this situation, anyway.
And enough blaming British Petroleum. Hell, they tried to drop a giant dome on top of it. Sure, it failed, but that's a hell of a lot more than you did to stop the torrent of oil. And it's not like they wanted this to happen. They were just woefully and strategically unprepared for the eventuality. There's a big difference.
So folks, sit back and learn to love the oil spill. Perhaps it can become a tourist attraction. At the very least, let your attention drift away to other matters. You can get outraged over the BP oil disaster again next month. Or the month after that. Because it isn't going away for a long, long time.
-WKW