I always appreciate the true love of the game when a fan gives memorabilia back to a player or event, as Wayne Mitchell did at the Masters. I also always think the fan in question is a moron. Maybe a nice moron, but a moron none the less.
–WKW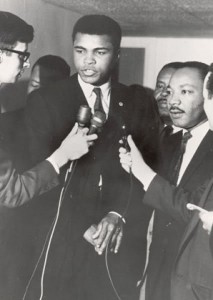 It is a wonderful coincidence that Muhammad Ali's 70th birthday comes the day after Martin Luther King Jr. Day. While the two essentially ran in different circles, as it were, both were amazing parts of a time that saw America change dramatically for the better.
While yesterday saw Americans look to King's words and actions, all would be remiss to overlook what Ali did to change social and cultural norms in the United States.
In some ways, Ali was a direct link to Jack Johnson, the first African-American heavyweight champion. Johnson was proud to be a Black man long before such an attitude would be accepted in the United States. And for that, he would pay a high price. For more than a half-century after Johnson rose to the top of the boxing world, Black fighters learned an important lesson – if you want to last in boxing, it is best to let your fists do the talking.
Ali, however, was not to be quieted. Not at all. But herein lies the difference between Johnson and Ali. While Johnson was loud and proud, his actions tended to be for the benefit of himself. Ali burst into the public consciousness in the turbulent 1960s and – with great humor and personality – was a man of his times. He was thoughtful and intelligent, and evolved into a man who understood and thrived on his place in changing times.
Much has been written of Ali's journey and it is not necessary to recap his life and actions here. He was, without a doubt, a controversial figure during controversial times and he was an imperfect man. But he brought a pride to the African-American community like no other athlete before or since. He changed how many Americans – both Black and White – felt about themselves, their communities and their country. And as his career progressed, he became a man beloved and respected by nearly all.
Ali's pride, strength and determination were the only things that spoke louder than himself. And his effect on the American psyche is still being felt today.
Happy 70th birthday, champ.
–WKW
When Junior Dos Santos creamed Cain Velasquez to win the UFC Heavyweight belt, it codified something everyone knew – from top (Dos Santos) to bottom (Jose Aldo), Brazilians are a dominant force in the UFC and MMA.
But while UFC134 in Rio showed the world that Brazilians love MMA and their fighters, a simple fact remains – soccer is the No. sport in Brazil. By far. And American middleweight contender Chael Sonnen has shown he's well aware of this in his effort to get middleweight champ Anderson Silva back into the ring. He showed as such in a recent video he put out, wearing a shirt from the famed Brazilian soccer club Palmeirias.

The story behind the video is this: Silva is sponsored by the soccer club Corinthians, the reigning Brazilian League champions. For this, Silva receives approximately $250,000 per year. Silva wore a Corinthians jersey into the ring with him in Rio prior to his obliteration of Yushin Okami.
This would seem a simple enough situation. One could imagine Jon Jones entering the ring wearing a Dallas Cowboys' jersey without a risk of destroying his fan base. But this is Brazil. And while Corinthians has a large fan base, they are also easily one of the most hated teams in Brazil. So while the Spider has a good fan base in Brazil, he has also become a hated figure amongst those that despise Corinthians, especially amongst fans of Corinthians' main rival, Palmeiras.
Sonnen – who has proven to be one of the smartest trash-talkers in all of sports – quickly glommed on to this and began talking up Palmeiras. The management at Palmeiras jumped into the fray, sending Sonnen some team jerseys and other team paraphernalia. This led to the video in which Sonnen – who obviously did his homework – promised a victory over Silva and that he'd dedicate the win to Palmeiras and hand the belt to recently retired goalkeeper Marcos – a Palmeiras legend.
This is by no means a desperate move by Sonnen. Should he get the chance to fight Silva again – a victory over Mark Munoz on Jan. 28 will give him that opportunity – he could walk into the ring with Brazilian supporters, even if the fight were held in Brazil. Such is the power of soccer in Brazil. A brash, trash-talking American could walk into the ring in Brazil against a Brazilian legend and have a fan base.
This should be a teaching moment for Brazilian fighters and fight teams – being supported by a soccer team, regardless of your support for them, should be avoided. Brazilian fighters such as Shogun Rua have avoided connection with soccer clubs and enjoy unanimous support amongst Brazilians. Not so with Silva. For a fighter with the ability and personality of Silva – who already has national sponsorships from non-sporting entities such as Burger King – the support from Corinthians will likely have a cost of much more than $250k.
______________
Anderson Silva announces new injury

UFC Middleweight Champion Anderson Silva, who already has been on the shelf due to a shoulder injury, told the Brazilian TV Show "Good Morning Brazil" that he is now dealing with a back injury, as well.

"I'm not sure when I'll come back," said Silva. "I have the shoulder injury, and another injury arose recently in my lower back, so I'm dealing with that now."

While the UFC has examined Silva and seen he has bursitis in his shoulder, the lower back injury has yet to be confirmed by doctors. Dan Henderson, who along with teammate Chael Sonnen are angling for rematches with the Spider, stated he's not convinced the shoulder injury is real.

"All the 'injuries' that keep Anderson from a rematch with me or Chael will heal real fast if they offer Bisping to him," said Henderson.
–WKW
As of this very moment, there are two men that are dominating the news – and both of them are just awful at their chosen professions. But amazingly enough, we are all witnessing mediocrity rise to incredible heights as a lousy NFL quarterback is leading his team to victories while a lousy politician is leading the race for the GOP nomination for President.
Yes, my friends, with Newt Gingrich and Tim Tebow, America is putting its worst foot forward and getting a chance to enjoy the fruits of lousiness. And while the two are incredibly different in many ways, there are some striking similarities to their current runs of success.
Unexamined, both Tebow and Gingrich look like winners. Tebow has led the Denver Broncos to six victories in seven games, often pulling off miracle comebacks to get the job done. Gingrich has managed to become the consensus front-runner of the race to the GOP nomination, despite having his campaign all but die at birth.
There is one simple reason for the duo's success, however – an incredible lack of competition. Tebow's six victories have come against teams with a combined 29-42 record, with none of them resembling a playoff team.
For Gingrich, his race to the top of the GOP comes against an even worse field. Keep in mind, Herman Cain was the GOP front-runner only a scant few weeks ago. Donald Trump has spent time on top of the polls. For the most part, Gingrich has ascended to the top for one main reason – his name isn't Mitt Romney.
Thus, the current successes of Gingrich and Tebow have mostly come in spite of themselves. Gingrich is no doubt an experienced politician, but his barrage of affairs and divorces make Kim Kardashian look like a spokesperson for successful marriage. Add to that the fact that he is more of a flip-flopper on issues than Romney, as well as his bizarre, angry white guy proclamations – such as his latest push of ending child labor laws because poor children have no one around them that has a work ethic – and it becomes clear that Gingrich is not just out of touch with modern America, he's not even within shouting distance.
And while Tebow is obviously a very talented athlete, his quarterbacking abilities are abysmal. He has virtually no field vision and the passing game obviously moves far too fast for him to react. He often looks like a punter trying to make a throw on a trick play rather than a starting quarterback. And while it's worked thus far against mediocre competition, an option quarterback just has no place in the modern NFL.
Keep in mind, the differences between the two are greater than the similarities. Tebow is a likable young man who is earnest in his religious beliefs. He has natural leadership skills – make no mistake, the Broncos have become a better football team solely due to him.
Gingrich, on the other hand, is about as unlikable a person as exists in America today. His religious beliefs – he's a Catholic now, by the way – are completely transparent and self-serving. His leadership abilities have wrecked his own party and created political discourse that makes schoolyard taunting look like an MIT lecture. The GOP is a worse party, solely due to him.
In the end, we are currently watching a lousy quarterback win NFL games and a lousy politician lead the GOP field. But one thing can be said with the utmost certainty – both Gingrich and Tebow will see their seasons end in humiliating defeat.
–WKW

Sportswriter Lyle Fitzsimmons recently wrote a piece about the Manny Pacquiao-Juan Manuel Marquez fight. While doing so, he bragged about watching the fight for free via an online site.
Rather than making the trip to see it in person or gathering collateral to bankroll the pay-per-view, I instead endeavored to wake up Sunday morning, stay insulated from contact that'd spoil the result — and find an online feed to let me watch the fight "live," 12 hours later.

I happily found success courtesy of a site called www. (oh, wait…sorry Bob, can't reveal my sources, right?), which was rebroadcasting the as-it-happened UK feed from Primetime, including blow-by-blow by ex-NFL kicker Benny Ricardo and color from Pacquiao stablemate Amir Khan.

Truth told, I'd have preferred Tim Ryan and Gil Clancy…but pirates can't be choosers.
It was just over two years ago that
Fox News fired long-time writer Roger Friedman
after he used an illegally downloaded pirated copy of X-Men Origins: Wolverine for a movie review. While I'm not saying Fitzsimmons deserves the same fate, I will say that the promoters of the fight probably didn't intend for it to be watched – by a journalist – the next morning for free on a Web site. It is most definitely a journalistic ethics issues, if not an outright crime.
According to his
Twitter account
, Fitzsimmons is a Florida Gators correspondent for CBSSports.com, a Contributing Editor  for SportsNetwork.com, a  Columnist at BoxingScene.com, and  Editor for Naylor, LLC.
–WKW
Nick Diaz is an MMA fighter who has made a name for himself with both his ability and don't-give-a-fuck-attitude. But he overplayed his hand on the latter – refusing to be involved in the promotion of his championship battle with Georges St. Pierre and being dumped from the UFC 137 card:
Diaz will be replaced by Carlos Condit. A real loss for both Diaz and his fans. St. Pierre is one of the two best fighters in the game, and a fight with him is a career opportunity. But Diaz just wasn't able to be professional enough to take advantage.
–WKW
Ok, not really. The fact is that Tim Tebow is not ready to be a starting quarterback in the NFL. He may never be. This really isn't much of a slam, because a really, really, really small percentage of Americans are ready to be a starting quarterback in the NFL.
Don't tell that to some Christians, tho. Despite Christianity dominating American society, they see Tebow's treatment as pure religious bigotry. From Rick Reilly:
Randy Cross doesn't know me. Wouldn't know me if I stuck my thumb in his chili. So why did he just accuse me of being anti-Christian??

Two weeks ago, I wrote that Tim Tebow is not cutting it in the NFL. According to sources I quoted within the Denver Broncos, he is not within a plastic spork of cutting it. Doesn't mean he won't someday. It's just that right now, the thousands of guys wearing his jersey in the stands have as good a chance of starting as he does.

Wasn't personal. I like the kid, just not as my quarterback. Or anybody's. Not yet.

But Tuesday, CBS Sports NFL analyst Randy Cross said that media like me are bashing Tebow simply because he's openly Christian.

Come again?
Oh, those Christians. They certainly are a persecuted bunch.
–WKW
Some people just aren't good listeners.
–WKW
How about that?
–WKW
David Haye: After talking more than any fighter in the past three years, Hayes' performance against Vladimir Klitschko was so bad, so lacking in any type of winning spirit, that he just shouldn't even be allowed to fight anymore.
Nikolai Valuev: Injuries may mercifully end the career of this 7-foot-2-inch Russian heavyweight who makes Primo Carnera look like Willie Pep.
Alfonso Gomez: Known for being on The Contender and for beating a shot Arturo Gatti, Gomez is scheduled to fight young Mexican tiger Saul Alverez. Alverez will pummel Gomez, who doesn't hit hard enough to discourage David Haye. Really a terrible fighter to watch.
Tito Ortiz: The man must be given credit for a stellar career as well as for reheating a career that had gone so cold. But unless you want to see Tito go down the same path as Chuck Liddell, now's the time to call it quits.
Shane Mosley: I once trained alongside a young Shane Mosley and have a ton of pride in him. But his last couple efforts show him to be an older fighter who is just not willing to take the punches necessary to get his own punches off. It's been a Hall of Fame career, Shane. Time to move on, tho.
Jorge Rivera: Rivera has made a lot of UFC appearances and money despite never defeating anyone worthwhile or even being in an exciting fight lately. No more, please.
Zab Judah: It's likely you will see Judah in an entertaining fight again before he finally hangs it up. It's also quite likely you'll start seeing young contenders knocking Zab out cold. He's had his turmoil, but Judah was always a fun and talented fighter. Against Amir Khan, however, Judah was a trainwreck. He showed all the signs of being a shot fighter and was literally afraid of Khan, making the young champion look far better than he actually is. Judah's time at the top is over, what remains if he keeps fighting is controversy and beat downs.
Matt Hughes: Some fighters can thrive in their late-30s. Hughes won't. Scheduled to fight Diego Sanchez in September, Hughes is every bit of his 37 years. The man has had an heroic career, fought the best and was victorious more often than not. And in September, Dana White will let him get knocked out by Sanchez. It's not something I'm interested in seeing, myself.
Fedor Emelianenko: All that's left for him is paydays in non-important fights that he won't win. Greatness doesn't last. Fedor had it, but now it's gone.
Evander Holyfield: Each time Holyfield fights in his endless and fruitless "I will be undisputed champion" again, I'm starting to think that "this will be the fight that kills him." Evander's going to get seriously hurt if he's not hurt already, his time to go was seven years ago.
–WKW
In his wildest dreams, Rashad Evans couldn't have hoped for a better opponent than Tito Ortiz at UFC 133. After nearly two years of being out of the game via injuries, Evans will make his comeback in grand style against an aged opponent ripe for a thrashing.
While Ortiz deserves credit for his destruction of Ryan Bader, let us avoid the "Rashad has everything to lose," line of thought. Prior to his win over Bader, Tito Ortiz showed all the signs of being a shot fighter. One solid right hand and a good finish doesn't erase that. Faced with the speed of Evans, Ortiz will have no answer offensively.
Add to that the fact that Evans needs a big re-entrance into the fray. A victory means a fight against phenom & former training partner Jon Jones. An overwhelming victory goes far in hyping Jones vs. Evans.
And he'll get it. Look for Evans to dominate Ortiz and stop or submit him in two rounds.
Update: I believe I have again proven my value.
–WKW
I think it's safe to say the U.S. will never be a soccer country. The best team on the planet – FC Barcelona – was kicked off the National Mall near the White House for trying to kick the ball around a bit:
Oh well. At least the U.S. Men's Soccer Team finally fired Bob Bradley.
–WKW
As the clock struck zero and the NBA Finals ended, the national sports media found itself forced to focus solely on the Dallas Mavericks. The time for analyzing and re-analyzing Lebron James and the star-studded Miami Heat had come to an end. There was a new champion in town, and the time had come to praise the victors.
Mind you, this wasn't a chore for the media. The NBA Champion Dallas Mavericks are an eclectic group. From their mercurial owner Mark Cuban, to their on-court leader Dirk Nowitzki, to a a roster filled with familiar names and long journeys, this was a Team to celebrate. In beating the vaunted Big Three of the Heat – James, Dwayne Wade and Chris Bosh – the Mavericks had shown themselves to be what sportswriters most love – a great Team.
Watching it all unfold, I was struck by how much the Left could learn from these Mavericks, and how similar the travails of both have been these many years. Few teams in the NBA have dealt with more disappointment and failure than the Mavericks. Year after year Dallas put a team on the court that would cruise through the regular season, only to see it all collapse in the playoffs. Year after year, a talented group of men led by a singular superstar would head home without a prize.
The similarities to the Left are striking, especially the past few years. Led by one of the great superstars in political history – Barack Obama – the Left has fielded an impressive and diverse group of men and women, only to see pressure from inside and out defeat them.
Compare the 2006-2007 Mavericks with the 2009 Democrats. The Mavs blasted through the regular season, winning 67 games. Nowitzki took home the regular-season MVP award. Yet somehow this group was beaten in the first round of the playoffs by the lowly and oft-maligned Golden State Warriors. It was a collapse for the ages.
In 2009, Obama took home his MVP Trophy with the passage of Health-Care Reform. But as a team, the Left struggled and sputtered on nearly all key issues. Despite wild advantages for Democrats in the Senate and the House, the left never gelled and eventually became a group of individuals marching to different drummers. And in 2010, the lowly and oft-maligned Republicans dealt Democrats a brutal defeat in the mid-term elections.
As of June 2011, the Left is the Miami Heat not the Dallas Mavericks. It's a group with a leader that is both the most hated and most talented man in the game. It is a group that brings to mind greatness. But it is a group that collapses under pressure and plays as individuals when it matters most. It is now a group defined by its greatest defeats rather than important victories.
This is not a call for the Left to march lockstep with one another. After all, the Mavericks won the championship with a team of diverse personalities from diverse backgrounds. But whenever it mattered, they showed confidence and trust in one another. When it mattered most, the Ring became the Thing, and the entire Team was on the same page.
While it is an imperfect comparison, there is indeed a lesson the Left can take from the World Champion Dallas Mavericks. To achieve any victory, what's needed is confidence and trust. A group of spectacular solo artists will only take one so far, whether it be politics or basketball. But at the highest levels of both of these things, only one thing will garner true victory, whether that victory is an NBA Title or making life better for Americans – becoming and playing as a Team.
–WKW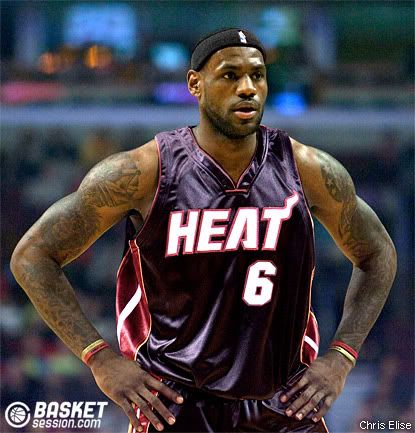 Ok, I've had about enough of this. Let me be succinct in my opinion here: Lebron James is the best basketball player on the planet. His combination of size, strength, talent and basketball IQ are completely off the charts. He plays defense like his hair is on fire. It is literally a joy to watch him play the game of basketball.
And you people just aren't appreciating him at all.
For basketball fans, this postseason has been an embarrassment of riches. The Mavericks have become a brilliantly cohesive team around the great Dirk Nowitzki, and rolled to these NBA Finals after completely humiliating the defending champion Lakers. The Heat have had intense series against the likes of Boston and Chicago, and have emerged at the top of their game.
Add to that the strong efforts by up-and-coming stars like Derrick Rose and Kevin Durant, and it has truly been an epic postseason.
But for some basketball fans, this post-season has been about one thing and one thing only – waiting for Lebron James to fail. And throwing darts at him the whole way. Sportswriter Skip Bayless is dedicating his waning years to hating James. Heck, there's even a blog called "I Hate Lebron James."
Now, I do understand why Cleveland fans would despise James. Without him, the Cavaliers will now go another few decades without being a factor. But I don't think Art Modell received the same amount of hate for moving the Browns to Baltimore as James has gotten for leaving. And yes, the epic Heat rollout of James, Bosh and Wade was over-the-top and silly. And yes, James has at times shown arrogance, but in the sports world, that's to be expected.
Deal with it, people. Lebron James is a decent enough fellow. There are no skeletons in his closets. He tries to do and say the right things. If the biggest error of his career has been celebrating, so be it.
As for "deferring" at the end of games? Well, can we have a little respect here for Dwayne Wade? The man may very well finish his career as one of the greatest performers ever in NBA Finals. That's not deferment, that's smart basketball.
And as for the "He's not as good as Michael Jordan" claims, well, that's just a strawman. The only people comparing James to Jordan now are Lebron-haters.
Personally, I have never seen as good a player as Jordan. He was magical (and arrogant). But check out his accomplishments at the same age as James. At 26, both had zero rings.
But that's going to change this year. Miami has just too much for the Mavericks to deal with, and James will get his first ring. The haters will still hate, but they are just denying themselves the joy of watching one of the great talents that has ever played in the NBA.
Myself, I'll be enjoying every minute. I feel like I deserve it.
–WKW
As Brazil readies itself for the ultimate one-two punch of international sporting events – the 2014 World Cup and the 2016 Summer Olympics – one thing has become increasingly clear – Brazil isn't even close to ready to host these two events.
Despite an economy that can be called "robust" in these troubled economic times, good old Brazilian bureaucracy is threatening both events, especially the World Cup, which will feature games throughout the nation. The problems lie with numerous stadiums being behind schedule for restoration – or for being built from scratch – as well as the monumental problem with air transportation in Brazil. From The Economist:
The 12 host cities have among them nine airport redevelopments which are well behind schedule. São Paulo has not even started to build the new stadium that is supposed to stage the opening match. In Rio de Janeiro the Maracanã stadium (pictured), pencilled in for the final, is a money-guzzling building site. The contract for Natal's proposed arena was signed only on April 15th—more than three years after Brazil was named host. Air travel is essential to shuttle fans between games, but most of Brazil's airports are already operating above their nominal capacity. Baggage handling and check-in are slow; delays and cancellations common. On April 14th IPEA, a government-linked think-tank, said that even if all the planned airport upgrades were completed by kick-off (which it said would not happen), hectic growth in local demand would still leave most airports overcrowded—even without 1m football fans stopping by. The number of internal flights taken annually rose by 83m in 2003-10 and will rise by almost as much again by 2014, the study said.
Keep in mind, Brazil's airline industry has been riddled with high-profile accidents over the past few years. Here's what I wrote about their airline industry for WorldGolf.com in 2007:
For Brazil, what this accident means is that it's time to put aside the bickering, name-calling, finger-pointing and inaction that dominates its political system. Now is the the time for serious, professional and concrete action. It will be an expensive proposition to update the air industry here, but it is something that must be done and be done thoroughly. Having the nation's military control the airline industry is obviously not working,especially when even more close calls are being reported just days after the horrifying accident. With nearly 400 lives lost in less than a year, Brazil is on the verge of becoming a complete pariah in the tourism world, which is something that will only further hurt the poor and hinder the consistent economic strides the nation has made over the past eon.
The stadium situation is even worse for Brazil. According to Brazilian magazine Veja, as of May, only 7.5% of the money put aside for building or renovating stadiums has been spent. At the current pace:
The National Stadium in Brasilia will be ready in Oct. 2021.
The Arena Amazonia in Manaus will be ready in April 2024.
The Estadio de Corinthians – a $700 million project – will never be done, as they have yet to start.
It is worth noting that virtually every nation that hosts major international sporting events gets behind on the work but eventually catches up. But in June 2011, Brazil is nightmarishly behind schedule, and catching up will require an incredible, and incredibly expensive effort. Remember, Brazil needs to be ready by 2013 in time for the Confederation Cup.
What does this all mean for Americans? Well, should the worst happen and FIFA pulls the World Cup from Brazil, the U.S. stands to gain the cup. The infrastructure is there and the airports are ready. Which is much, much more than Brazil can say at the moment.
–WKW