WASHINGTON, D.C. – More than 42,000 scientists across the globe – including such luminaries as Neil deGrasse Tyson and Stephen Hawking – have been arrested for hour laundering in a world-wide sting, sources say.
"They got them all, finally," said the source. "Finally, this terror ends."
The arrests take place following a six-hour investigation by House Republicans in the U.S. The results of the investigation unearthed a massive conspiracy that included thousands of scientists across the globe. Reports show that the scientists were arrested for hoarding hours left over after Daylight Savings Time in Spring. The scientists would then put those hours in a high-yield account. In the Fall, the hours would be paid back, however the interested accumulated was held on to by the scientists.
These extra hours were then laundered by the scientists, and used for such things as spreading global climate change disinformation and investing in making Bill Nye a big celebrity.
"I think we've all known scientists are the real enemies," said a clearly pleased House GOP watchdog Darrell Issa. "Think of all those lost hours? Education truly is evil."
The criminal enterprise of Daylight Savings Time has been cancelled, and all Americans will need to send a extra hour back to the government, or wait for a possible refund of an hour from the government. The return could take between six-to-eight weeks.
Sources say the Hour Laundering Scam™ began in 1897 under the watchful eye of scientist Percival Lowell, who believed extra hours could be funneled through canals on Mars. Despite being widely discredited, Lowell eventually used hours he had hoarded in order to get Arizona to name a really nice observatory after him.
The unspoken tradition of hour laundering among scientists has continued since then, with famed scientists such as Isaac Newton – who wasted all his hours on alchemy experiments – taking part (The extra hours could be used to go back in time to include scientists from prior generations).
"So, basically, all scientists from all of history are guilty," said Issa. "Wow. Seriously, I never think these things will amount anything. This one, tho? Wow."
Tyson – one of the most famous scientists on the planet – was unable to comment on the story, as it's still not Daylight Savings Time in the zone he's in, and the story has yet to break.
–WKW
CLEVELAND – UPS driver Tim Johnston woke up one day last week with a feeling of dread. A feeling that things just weren't right. So often he felt this way but never spoke up about it. But this time, he wasn't going to let it pass. This time, he was going to speak out.
"Gravity is BS," said Johnston. "I've thought about this for awhile and it just doesn't add up."
Johnston said he based his anti-Law-of-Gravity theory on the simple fact that not all things are not constantly falling all the time.
"Kinda seems like that's what would happen if gravity were real, right?" said Johnston, 47. "I mean, that's how it feels to me."
Johnston's announcement caused a commotion in the entertainment/science industry. ABC, NBC, CBS, CNN & Fox News ("Gravity: Stop Being a Slave") have all announced new news/science/entertainment specials that will address this building dissent over gravity's effects.
CNN also announced it will feature a two-hour, primetime debate between renowned entertainer/activist/scientist/TV Personality Bill Nye and Johnston. Nye said this was an opportunity to educate the public.
"Science!" said Nye, who then pushed a button that made his bow tie spin.
Others have joined Johnston's call.
"[Gravity] was filmed on a soundstage by the government!" said citizen Raul Pudd, pounding his fists and with spittle flying everywhere.
For Johnston, the attention has been worth it as he tries to bring attention to what some have called "The Greatest Hoax in American History."
"It just feels wrong, right?" said Johnston, a Capricorn. "This is one of those things that liberals believe that's just BS. I mean, it's just a theory."
CNN chief Jeff Zucker said he was glad to see his network begin to take shape in his image.
"This is what the people want," said Zucker, who announced that one lucky debate viewer will win a free trip to Tucson, Arizona. "People are asking questions.
"Is gravity America's greatest hoax, or not?" added Zucker. "That's what we want to attempt to answer, if we can. We're CNN."
–WKW
Speaking as an American, which is something I often do, let me just say that I am outraged by the complete lack of American military intervention in Ukraine right now. America and the Obama Administration are once again refusing to show true leadership.
You've seen the pictures coming from Ukraine. It's a mess. Total chaos. This is why the time to act is now. And act with confidence and focus.
Now, from what I've seen, one side in Ukraine is led by one of the boxing Klitschko boxers, and the other side is led by other people who I don't know. These are the only sides there can be, as two is the maximum number of sides that can be taken in politics, as we know.
So we got Klitschko, who I think is on the side Russia. Now, Mitt Romney said Russia is the enemy, but lately it seems like conservatives are really big fans of Russia and Vladimir Putin. So I'm not sure how that all works out, really. But those small issues are left for the bean counters. Now is the time for action.
My friends, now is the time for America to re-establish itself as the leading exporter of peace-making, geopolitical-shifting destruction. Who cares which side we're on, the people of Ukraine need America. Or something. And, you know, it seems like it's a mess in Venezuela right now, also. Let's stick a boot in their ass for talking crap about us.
In conclusion, the world is falling into chaos. America needs to start bombing stuff.
–WKW
I just love that French President Francois Hollande falls for the same thing every time – the dignitary tries to look pleasant for the flashing cameras of the press, then Hollande meekly tries to shake hands.
–WKW
10.

Look: I quit taking Paxil last week. Ok, let me rephrase that – I've been taking Paxil about 10 years ago for a panic disorder. This week, I finally decided I was done with it. While it has done its job in controlling panic attacks, it has left me about as dull and shiftless as a man can be.
Of course, one of the great secrets of Paxil is that – despite denials from Smith-Glaxo – quitting Paxil leaves one with a wide array of withdrawal symptoms. Imagine sticking your head underwater while riding a roller coaster after smoking some weak weed. Add to tat a feeling of having the flu, body aches, depression and periodical electric zaps to the brain. Paxil withdrawal is essentially like that, just less fun.
Having a mental illness is someting Ié always been loathe to write about. I'm not against discussing my faults or mistakes – I've been upfront that I lost my last newspaper job because I showed up drunk to work, for instance. But, like most, I've allowed the fact that I have a mental illness to cause me shame. My left shoulder is almost worthless from bursitis. I'm cool talking about that. But the fact that my brain produces too much serotonin leaves me feeling like a failure.
I generally blame my panic disorder on having been an alcoholic for two decades (More on that later). But I really I don't know.  I just know that I'm 46 years old and it's time for a change. I've done well for myself the last several years and have become a prominent voice.  Paxil took away my ambition, however.
But now I stopped. Maybe the panic disorder will return (it hasn't yet) and maybe it won't. I just know that I'm now exhausted with fighting my own brain.  So, I'll exercise, take vitamins and work hard. I'll do whatever I can to keep my brain as an ally. But whatever happens, I'll have my ambition back. And I'm never letting go of that again.
 11.
"As a sometimes hoaxster himself, Wolfrum would know to be dubious of any tips, distrustful of any information fed his way. If a dubious sources said X, he would print Y. And would do it proudly and vainly. That was his nature. That was his character."
– From "I Am Martin Eisenstadt: One Man's (Wildly Inappropriate) Adventures with the Last Republicans."
I made my name exposing Martin Eisenstadt. But the creators of the hoax conservative – Dan Mirvish and Eitan Gorlin – had me figured out the entire time. In the end, though, it brought me fans from all walks of life.

(Note 1: The full story can be found on the Wolfrum Chronicled Main Page.)
(Note 2: For an explainer on this project, please go here.)
Over in North Korea, Kim Jong-Un has spent the better part of the month threatening to vaporize South Korea, the United States, and anyone else who wants a little vaporization. Now, generally, when a leader of a nation with nuclear capabilities makes wild, outlandish threats, the rest of the world pays attention, for reasons of vaporization avoidance.
For the 30-year-old Jong-Un, however, the threats have mostly been ignored or outright ridiculed. Basically, Jong-Un could have gotten more notice from the world had he made his threats from Guantanamo Bay. Justin Bieber being ignorant of Anne Frank caused more international waves than North Korea threatening to blow up everything.
And the simple fact is that the world's response to Jong-Un's temper tantrum has been spot on. The young dictator is doing what his dad did – rattle sabers, try to look strong, and hopefully get something out of it.  North Korea poses absolutely no threat to the United States, and very little to South Korea, even. This is not to say an out-of-control North Korea couldn't cause damage, but the fact is that even a 30-year-old dictator learns something quickly – you can't be dictator if your country is blow to bits.
When it comes to nuclear weapons, any threat should be taken seriously. Except for this one. An all-out nuclear attack by North Korea would likely result in North Korea nuking the hell out of North Korea. But even that won't happen. So let Jong-Un talk. Hopefully, he'll have said all he has to say before Kim Kardashian has her baby and we can all pay attention to the important things.
–WKW
My wife was bitten by the "Jaws" bug at a young age, and is terrified of sharks until til today. So this video is for her:
–WKW
WASHINGTON – President Barack Obama banned the controversial drone program here today, and reaction to the move was swift, as every other country on the planet immediately announced they would do the same, even France, which has a well-earned reputation of being a pain in the ass on these types of matters.
The move to ban drones was met by complete bipartisan support in both the House and Senate, with even staunch defense supporters like warmongering angry white guy Sen. John McCain giving it a thumbs up.
"This is just great," said McCain, who appeared to be choking on something. "Really, great."
Many experts, like William K. Wolfrum, the writer of this blog post, had said getting a handle on the drone issue was vital and would require a great deal of work.
"Getting a handle on the drone issue was vital and would require a great deal of work," said Wolfrum, who just lazily cut-and-pasted that. "I had assumed it would require a bipartisan, national and international movement. But, what the hell do I know?"
Aside from banning all future drones, Obama signed an executive order to destroy all available drones, cease work on them, release all documents regarding drone usage, accuse himself of war crimes, impeach himself and give himself a lengthy jail sentence. Obama said that someone finally told him that predator drones have killed untold innocent civilians in nations like Yemen and Pakistan, and that killing civilians only further increases radicalization.
"They told me that and I was like, 'Woah,' and stuff," said Obama. "If I killed innocent civilians, I must be jailed for war crimes. I would have no moral standing if I didn't. Also, I was born in Kenya."
In other news to further showcase how over-the-top this post has become, the stars of "Finding Bigfoot," today found Bigfoot, who, for all intents and purposes, seems like a fine fellow. It's goal achieved, the show has been cancelled to make room for "Bigfoot & Honey Boo Boo."
–WKW
WASHINGTON – President Barack Obama – in an attempt to ease tensions with Senate Republicans – bought a dozen GOP senators dinner last night, in what all have said was a pleasant evening. The dinner was held at the Jefferson Hotel, with Obama picking up the tab out of his own pocket.
The 12 senators – John McCain, Tom Coburn, Bob Corker, Kelly Ayotte, Dan Coats, Richard Burr, Mike Johanns, Pat Toomey, Ron Johnson, John Hoeven, Lindsey Graham and Saxby Chambliss – were all so moved by the President's largess, that all switched their party affiliation to communist immediately following the dinner.
"If this is communism, it's delicious!" said Johnson, who dined on shrimp risotto. "The people United cannot be divided! And neither will a check when Barack is around."
Following the dinner, all 12 senators said they would back any plan the President had on any issue, and will work to convince their GOP colleagues that "communism is where it's at," as McCain said.
"The President today showed his true stripes – striped bass that is!" said Coburn, wearing a Che Guevarra T-shirt. "Seriously though, President Obama is a great man and I'll do anything for him now. Anything. Name it."
While some of the 12 senators stated they wished now Obama would be more liberal and buy them dessert, the dinner was a major victory for the President. The dinner was also a victory for American political pundits, who have long stated that if Obama was only nicer to Republicans, then everything would be cool.
–WKW
Via Jonathan Cait at New York Magazine:
Boehner's gambit here is perfectly obvious. He wants to cut a deal with Obama, but understands that doing so would result in him getting fired from his job. But since "my members are so crazy they won't even let me negotiate" is not a strong message to bring to a high-profile showdown, Boehner can't say that. Instead he's going with the time-honored method of just saying a bunch of words about politics until the interviewer gets tired of it and moves on.
Read the whole thing here.
–WKW
One of the latest growing crimes in Brazil is to rig explosives to ATMs, blow them up and get away with the loot. Here's an ATM from my bank here in Uberlandia, Minas Gerais, Brazil. This happened last week: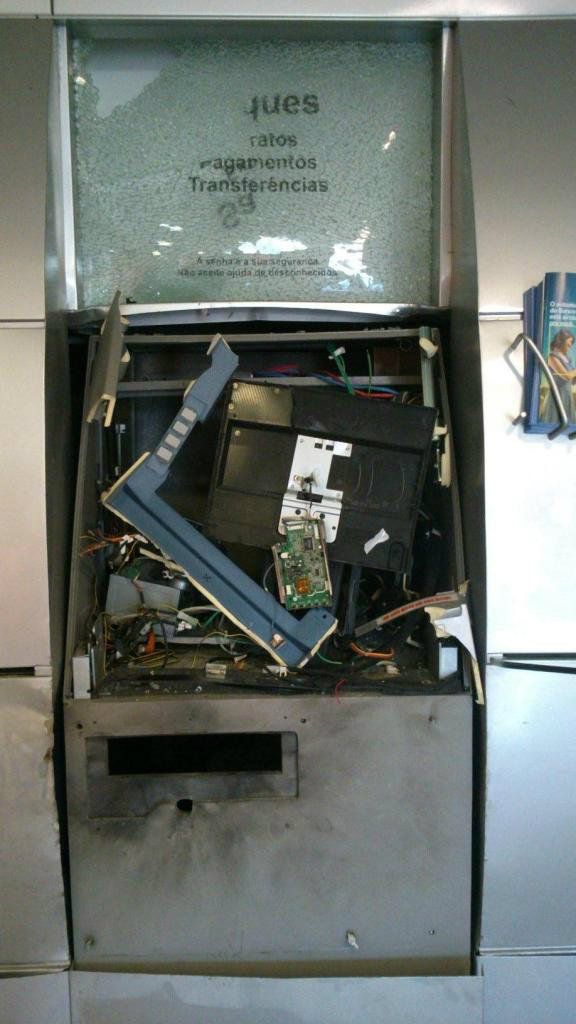 Despite a growing economy, Brazil continues to struggles with one of the highest crime rates in the world.
–WKW
TEXAS – Scientists at the University of Texas-El Paso have discovered that the human body will deflect bullets in a "legitimate" shooting.
"We have seen that, when the human body is stressed out and about to be legitimately shot, the bullet will not harm them," said Dr. Phil Gingrey. "The obvious conclusion is that people who do have a bullet enter their body actually want to be shot."
While many experts have expressed skepticism at the findings, noted human body expert Todd Akin said the conclusions were obvious.
"Guns aren't the problem, Bullet Whores are the problem!" said Akin. "These aren't victims, these are people who want to be penetrated by lead moving at hyper speeds."
–WKW
A few years ago, I decided to join the social network website Twitter. In the time since, I have gathered more than 11,000 followers and earned much praise for my witticisms and moral fiber. Also, I've fallen in love.
It wasn't supposed to be like this. But I have found someone who I dream of being like and who I want to spend all my time with – my Twitter persona.
My Twitter persona – @Wolfrum – is the type of human I always wished I could be. It is pragmatic and thoughtful. It is fair and open-minded. It is funny but rarely hurtful. It rarely shows anger or pettiness. It's even better looking than I am. My Twitter persona is my dream human.
I suppose I started getting feelings toward my Twitter persona at about the time I started to detach my actual life from my online life. Because, let's face it, my online life is going much better. As time has progressed I have had a multitude of emotions toward my Twitter persona, including jealousy and schadenfreude.
Eventually, though, I was unable to relate to my Twitter persona as myself. It`s just so much better than me in every way. So, I started sexting with it and sending it pics. As time has gone on, my feelings for my Twitter persona have grown to full-fledged love.
My friends, I make this admission as a warning to all of you. Don't allow your Twitter persona to control your life. And don't allow it to become an entity unto itself. Because right now, my Twitter persona is a much, much better person than I am. But I love it for it.
–WKW
The main problem of any rational gun control debate in the U.S. is thus:
One side wants zero gun control regulation and view guns as intangible objects that define their Liberty. Liberty is an intangible concept.
The other side wants rational and responsible gun control regulations and view guns as tangible objects designed to kill tangible objects. Tangible objects such as humans.
Many more people reside within the middle of these two sides. But they are not invited to the debate.
–WKW
My friends, America was born some 450 years ago in 1776 and has the documentation to prove it. Now, America has an expiration date – Dec. 31, 2012.
Yes, Christopher Columbus' great experiment in democracy is set to sail over a cliff – a "Fiscal" cliff, as it were. According to economics experts such as David Gregory, the fiscal cliff is a combination of tax hikes and budget cuts that will paralyze the economy and bring about such calamities as a return of smallpox, forced incest and insects of above average size, according to economic expert such as Jake Tapper.
As economic experts such as Scott Pelley and Lloyd Blankfein have noted, there is but one way to pave over the fiscal cliff and ensure the fall is lined with concrete is to cut entitlement spending. While people spend their whole lives paying into entitlements such as Social Security and Medicare, these entitlements are free money to an American public long accustomed to receiving free government largesse. This free giveaway of benefits that people have paid into must be curtailed, or America will fail, as falling over cliffs is almost always fatal.
My friends, since America won its civil war against Europe, it has long fought to be more like Europe. Currently, Europe is continually cutting benefits and forcing austerity measures on its people. This is causing the economies of many European nations to contract, which, as non-partisan organizations such as Fox News have pointed out, help save economies and keep insects at their normal, smaller size.
The truth is obvious and unavoidable – if America falls over the fiscal cliff, all Americans will die, as politicians will lock all emergency exits and burn the place to the ground. This can only be avoided if all Americans who make less than, say, $250,000 a year start feeling the pain.
As Founding Father Abraham Lincoln once said, "A nation divided cannot afford to take care of anyone who makes less than, say, $250,000, without falling over a fiscal cliff and bringing about such calamities as a return of smallpox, forced incest and insects of above average size, according to everyone at CNBC. Also, tax hikes are off the table."
The time is now, America. Because the cliff is coming. And if we fall over that cliff, we will all drown in the seas of fire. It's time we become educated about it.
–WKW