The upcoming documentary "Michael Des Barres: Who Do You Want Me to Be?" began exactly 30 years ago. That's when a 14-year-old J. Elvis Weinstein watched Live Aid – the mega-concert created to raise funds for to help the Ethiopian famine. The Duran Duran off-shoot band Power Station helped kicked off the festivities, but without lead singer Robert Palmer. Taking his place, in front of an estimated one billion people, was Michael Des Barres.
"I watched a lot of MTV, but I was like, 'Who was is guy? Wasn't he on WKRP?'" said Weinstein, who directed the film. "So he became a fascinating character to me because I hadn't known about him and I dedicated myself to learning more."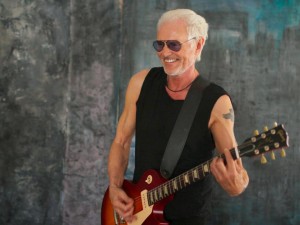 And there was plenty to learn. "Who Do You Want Me To Be?" showcases the unlikely, chaotic, strange and beautiful trip that has seen Des Barres go from a lower-middle class child in a one-parent home, to child actor to iconic rock star to actor and back again. Despite his rock-star cred, many know the 67-year-old only from one of his many acting roles, including on MacGyver, 21 Jump Street, WKRP in Cincinnati and countless other TV shows and movies. As Des Barres himself points out, there can't be many other men in history who have played a concert in front of a billion people, and also acted with Alf.
And while Weinstein allows Des Barres to tell the story – and what a story it is – the documentary is as much a redemption tale as biography. Spending his early years as an entertainer often under contract – including a famed deal with Led Zepplin – Des Barres became more well known for his rock star party lifestyle than for his music, as he consumed as much cocaine as his wiry body would allow. In fact, Des Barres' biggest hit as a song writer – "Obsession" – was written about his obsession with drugs.
Leaving his first wife for famed rock groupie Pamela Des Barres, the chaos continued. In 1981, just as it seemed drugs were preparing to win the battle against the boy from Sussex, Des Barres caught a glimpse of himself in a mirror. With vanity that far exceeded his addiction, he stopped drugs, cold turkey. Weinstein said it was that decision that not only kept his career alive, but kept him in the good graces of many of his old friends.
"A big part of the reason he's pulled it off was he got sober before everyone else," said Weinstein, 44. "A lot of people are still very fond of him."
Starting his career as a stand-up comedian and with a resume that includes being one of the originals of the Mystery Science Theater 3000 Theater cast, as well as being a writer and producer for the cult hit "Freaks & Geeks," at first blush Weinstein might appear an odd choice to chronicle the life of a notorious rock star. But Weinstein – who recovered from kidney cancer in 2014 – said there had long been a part of him that felt connected with Des Barres.
"We both spent our life in show business. I started doing stand up at 15," said Weinstein, who made his directorial debut with the film. "Like me, he's at his happiest when he's creating something. I mean, the guy did his best album ("Key to the Universe") at 65."
What helped make Des Barres even more fascinating to Weinstein was his kindness and interest in other people.
"Narcissistic brings out a bad connotation, but he is somewhat self-absorbed. It's part of his personality," said Weinstein, born and raised in Minneapolis, Minn. "But he is also absolutely generous wih the attention he gives other people, no matter their station in life.
"He'll tell you this amazing story & then say, and what about you, tell me about you? He's a junkie for moments. Him & another individual, an audience, a TV camera. He's always searching for the moment. He will always make someone feel like a star," said Weinstein.
"Michael Des Barres: Who Do You Want Me to Be?" is still in search of a distributor, but for Weinstein, the film has begun a new chapter in his life a director. Currently working on his second film, about stand-up comedy in Asia, Weinstein says he is only happy when he's making something.
"I've been a head writer and I've always enjoyed being in charge," laughed Weinstein. "There's a lot of control freak in me. It's not that I don't like collaboration it's just that I think I'm right, all the time."
In the end, "Michael Des Barres: Who Do You Want Me to Be?" is a triumphant directorial debut for Weinstein. He wisely gets out of the way and allows Des Barres and a cadre of his hyper-famous friends discuss an iconic time and an iconic entertainer. The end result is not just an opportunity to look back at a time of sex, drugs and rock & roll, but a chance to see the true redemption story that is Michael des Barres.
Michael Des Barres: Who Do You Want Me to Be?
Web Site:  www.mdbmovie.com
Screenings
–WKW
If it weren't for science, none of us would really know that cutting off a bug's penis would hurt its reproduction chances. But now we know. Because of science.
Lopping off sections of a penis, for most species would involve serious injury and trauma (for some the mere thought of it might be enough)—but not so, apparently, for L. simulans. The males of these little bugs, which are typically just 11 millimeters or so in length, come equipped with a penis that is very nearly comical in its length, on average 7 mm, which for those keeping track, is in the neighborhood of two thirds of its body length (it drags the thing around beneath itself). Even more odd is that most of the penis, aka its intromittent organ, is bereft of nerves, muscles or even blood vessels. And even odder than that is the fact that the female organ into which the male places its appendage is much too short to accommodate such length. Thus, the researchers sought out to discover the reason for such a mismatch.
Actually, the size of my penis is somewhat comical, as well, but for different reasons. And if you cut off parts of it, I guarantee reproduction would cease being important to me.
–WKW
Floyd Mayweather, Jr. beats women. And we all support him in that pursuit.
Despite his efforts to deny being a woman beater, Mayweather has had multiple convictions for domestic abuse, including spending time behind bars for beating then-girlfriend Josie Harris.
"I'm black. I'm rich. And I'm outspoken. Those are three strikes right there," Mayweather told Katie Couric, recently, obviously forgetting the three times judges have declared him guilty of beating women.
Mayweather's excuses are truly extraneous, however, because the public as a whole doesn't seem to much care about athletes or entertainers who beat women, unless there is video and/or photos. At least so far, Mayweather has managed to avoid leaving behind too much evidence. As Harris put it:
"Did he beat me to a pulp? No, but I had bruises on my body and contusions and [a] concussion because the hits were to the back of my head. I believe it was planned to do that … because the bruises don't show …"
Floyd Mayweather, Jr. is Ray Rice without the damning video.
But maybe even video wouldn't matter when it comes to Floyd. Maybe we all have just accepted he beats women, and moved past that. As Iron Mike Gallego wrote at Deadspin:
"Floyd Mayweather is a misogynist. And not just a misogynist, but a batterer, and a serial batterer at that. This is a statement of fact that you will rarely see or hear from the professional boxing media, many of whom remain hopelessly dependent on the reigning box office king's goodwill for access."
Boxing writers and sportswriters in general are so quick to forgive Mayweather's sins, that they rarely even bring them up in the first place.
Floyd Mayweather, Jr. is War Machine with a better publicist.
Mayweather will soon fight Manny Pacquiao, and make nearly all the money there is to make in the world. Americans will line up to pay $100 to see the fight on Pay-Per-View. And Mayweather will very likely win, setting up at least one more big money fight that we will all eagerly buy.
Because this is now far beyond Mayweather and boxing writers. We are now all pro-domestic abuse when it comes to him.
When the fighting is done, and Floyd Mayweather, Jr. finally murders a woman, we will all be complicit. Because entertaining ourselves mattered more than abused women.
–WKW
The recent attacks on Charlie Hebdo have made one thing extremely clear – the right of free speech is one that should never be infringed upon. The heinous murders of journalists and satirists have woken up the world and forced us all to accept that we must fight for everyone's right to speak freely.
This is why I am so disappointed in the recent reaction from Pope Francis.
"One cannot make fun of faith, said Francis, the leader of a small religion known mostly for murdering people in the 1200s and molesting children all the time afterward.
Francis' statements not only destroy the memory of those murdered by radical jihadists, they also set humanity back to a time when we all hid under rocks, fearful of a death god who would disembowel us all. As a society, we must strive for better.
This is why the Catholic Church must be banned and the Pope must be arrested. Spreading anti-free-speech speech is not just dangerous, it's totally unacceptable. It is time for anonymous followers of freespeachism to shut down Catholicism and the Pope for good.
Radical Islam threatens all of us. It is the belief that freedom is a sin and that all must bow to gods and prophets and cats are dogs and who knows what else. If we let the jihadists have their way, free speech would be gone forever. And Pope Francis is on their side.
We must always respect the right of free speech. We must defeat the jihadists that would enslave us all. This is why Pope Francis must be arrested and put to death for his irresponsible and hate-filled words. Because, while I may not agree with what you say, I will fight to the death to get you to stop saying bad things about free speech.
–WKW
Not an attack on free speech:
Know the difference.
–WKW
Born on this date in 1667, First Mate was the highest position ever attained by Sir Arturo Felipe Crunch. He was only promoted by the British Navy to the position of Cap'n posthumously following his tragic death aboard the HMS Eagle during the Scilly Navel Disaster of 1707.
Crunch left a wife and four children.
-WKW
Sir,
When I first heard of the appalling actions that took place last week, I was outraged. How could a seemingly innocent man be killed by the authorities in such a callous way? How could such a killing take place?
After some time, however, the facts became clear – the young man who was killed was just asking for it. Yes, I said it, it was the thug-like actions of Jesus Christ that led to his killing.
This Christ fellow spent his time wandering the streets, talking loud and with his robe riding far too low. He was always surrounded by a gang of like-minded thugs who would bully people wherever they went. Essentially, they were a gang of thugs who were wandering the streets stealing and destroying property.
Did you hear about what happened in the temple? My heart is broken for these poor money changers who were just trying to make a living. But an angry Christ came in and destroyed everything they had worked so hard to accomplish.
And what about the wine, fishes and loaves of bread that Jesus supposedly "conjured up?" Most likely, Jesus and his band of thieves stole that food and gave it to other thieves. His supporters will say all kind of things, and the liberal press will eat it up. But think of the poor, poor small business owners who have suffered because of the lawless action of these thugs.
Life should be cherished. But in the case of this Jesus person, he got what he deserved. If you're going to live like a thug, prepare to die like one. I say crucify the lot of them.
Sincerely,
Vinicius Lauten
February 2, 32.
–WKW
The moment you realize you're hanging out with the cool kids.
–WKW
A long time ago (1975),  in a boxing ring far away (Toronto), George Foremen beat five men in one night. And, wow, was it stupid. Read more about it here, in my first story at the site Medium.
–WKW
DES MOINES  – Local man Russ Thompson returned home to a hero's welcome today, following his brave discovery of a local WalMart.
Thompson had set forth on his journey earlier in the day, after receiving orders from his Queen, Darla Thompson, his wife of 14 years. Thompson's perilous voyage to the WalMart – located 17 blocks from his home – included battles with two street lights and an unforeseen sneeze that led him to briefly question his health.
"I'm pretty sure I caught something at the bowling alley last night," said Thompson, a bowler. "Terry was looking like crap. I think he gave mea flu or something."
Upon landing at the WalMart, Thompson was touched by the kindness of the native WalMartians.
"Everyone was so nice and so accommodating. They taught me so much," said Thompson, 34.
After receiving their help and purchasing some of their items, Thompson attacked the WalMartians with full force, killing the vast majority of them using weapons he found in the store. Nearly the all the rest had been infected by the flu which originated with Thompson's bowling companion Terry. Thompson then claimed the WalMart as his own.
Despite the carnage, Thompson was met at home with open, adoring arms.
"He really is a hero," said Darla Thompson. "I needed those Oreos and I needed them immediately. Russ did what he had to do."
For his part, Thompson said people just need to chill out and enjoy the day.
"You could call it genocide, I guess. If you want to be a dick about it," said Thompson, a Virgo. "I'll let history judge me."
–WKW
Feeling flaccid? Feeling like there's nothing left for you to fear? Has your penis stopped working?
Well, maybe ISIS & the Ebola Virus are for you. Yes, ISIS & Ebola have proven they can terrify some men into having erections they've been missing since Obama dumped bin Laden into the sea.
Think about it. Remember those heady days or 2001? The 9/11 attacks? Anthrax? Al Qaeda? Remember how hard it got you? Well, now you can relive those fantastic Fearections all over again with ISIS & Ebola.
So get out there today and watch random news shows about ISIS & Ebola. The misinformation and hyperbole will be all you need to be back in the ballgame.
Don't talk to your doctor about ISIS & Ebola. Just listen to what everyone's saying and let the fear wash over you. ISIS & Ebola – They'll make your dick hard.
–WKW
America did not become the greatest nation in the history of nations by trusting science. In a nation noted for its partisan divides, it is this distrust of science that has taken the United States to the top of the mountain. Whether it is conservative mistrust of Climate change or liberal suspicion of vaccines, America is defined by the belief that scientists are nefarious cranks bent on world domination and the death of our babies and economy.
This is why Americans are disinterested in what science has to say about the Ebola Virus. Because science has proven they are illegal gangsters solely beholden to the overthrow of America. Think about it, today all scientists say man is creating a climate nightmare due to global warming. But just 40 years ago or so, there was once one article in a magazine that said the Earth was cooling. There's only one way to explain that – scientists are big fat liars.
Or take vaccines. Today, Big Pharma and its band of paid science monkeys say that multiple diseases and ailments have been wiped out due to childhood  vaccines. But important Hollywood people like Rob Schneider – who was in the movie "Jack & Jill" – have stated that vaccines cause autism, mind control and various other ailments. Who is correct, science – which has always been wrong about everything or Rob Schneider – who is an actor in movies sometimes?
The choice here is clear.
So while science will have you believe that the only way to get the Ebola Virus is to have direct contact with a patient and that "All cases of human illness or death from Ebola have occurred in Africa," we, as Americans are aware of the truth - the Ebola Virus is going to rapidly kill every last man, woman and child on the planet. Unless we attack it America-style.
This is why we have created this 5-step method on how to defeat Ebola in the United States.
1) Eliminate all science from the equation. By not having a Surgeon General and having a Fox News, the U.S. is off to a strong start. Stifling science and instead going with the more reliable "gut instinct" means the battle against Ebola is being won.
2) Shout angrily shrill messages at the Virus. Calling it a lazy "taker" that wants only to live off others will slowly sap the virus of its will and leave it weak and malleable. Also, call the Ebola Virus a hypocrite repeatedly. No living organism can withstand being called a hypocrite.
3) Stop giving "scientists" any type of funding. If they want to "cure" Ebola, let them raise the money themselves.
4) Stop vaccinating your children. Vaccinations exist. The Ebola Virus exists. Only a true Sheeple would think that these two things aren't interconnected.
5) Kill or imprison all atheists. Ebola is never mentioned in the Bible, thus it is a secular disease. Outlawing atheism means you are outlawing Ebola.
Some may scoff at this plan of attack, but those people are usually scientists who get money from Big Pharma and want to destroy the United States government for reasons that are probably really awful, like communism or cannibalism.
In the end, it comes down to this: You could listen to communist cannibal scientists on the take and follow prevention protocols. or you can be a real American, ignore science completely, and survive using your own common sense. Or you will die a horrifying death, bleeding from the eyes. Because that's what science wants. To control you and population with Ebola.
Or it's Obama trying to get attention off of Benghazi. Either way, be afraid but be American.
–WKW
"Fuck you, Jughead! I watched Veronica die. I was there. And I watched her die. I watched her overdose and choke to death. I could have saved her. But I didn't."
Jughead staggered back. He looked shocked and hurt and confused. And I did not give a shit.
"Now it's your turn, motherfucker," I said, lunging at him.
*************
Some explanation is in order. I was just a kid, man. Just a red-headed kid from Riverdale. From the outside, we were the perfect town. On the inside, so much darker. Take, Moose for example. By the way, did you know his name was Marmaduke Merton Matowski Mason? Seriously. What the fuck is up with that? Anyway, Moose is an All-City football star and everyone thinks he's kinda slow but cool. In reality, he guzzles steroids like Tic-Tacs and goes up into the hills to slaughter helpless animals. dude is messed up. Seriously, someone needs to do something about him.
So, anyway, I'm Archie Andrews. And I was just a normal kid. Until  Mr. Weatherbee decided to take me down. Well, decided to try and take me down. Because I learned something about myself. I don't lose. Ever.
*************
I was selling high-grade heroin out of the back of Reggie's van. I had just sold a bag to two 11-year-olds I really didn't give a fuck anymore. Reggie was blowing up my cell phone, but fuck him, with his hands all over Veronica, don't think I didn't see that.
*************
Listen, I could have let Weatherbee suspend me for three days, all right? But that's permanent record, shit. And I'm no one's bitch. Especially not Weatherbee's.
*************
"Weatherbee's dead," I told Betty. She didn't look shocked.
"Nothing you do surprises me anymore," she said. "You're a monster."
Betty was right, but fuck her anyway. I had given her the best few weeks of my life. And when things get tough, she turns on me. Well, not this time.
"Listen, bit …," I started, but was knocked back by Moose. My beautiful, loyal Moose. My beautiful, loyal, wrecked on steroids Moose. Who was now calling the police on me, his Archie. Fuck that. I grabbed the baby and ran.
*************
My grip tightened as I saw the life drain from Jughead's eyes. The final witness was dead. I was free. I took the briefcase with the $25 million inside. Vegas, bitchez.
I'm Archie Andrews. And I did it all for me.
–WKW
The moment I saw him, I knew something was different. He was a giant, in his way, and he seemed to be involved in everything. He was no ordinary man. He was a person. He was General Electric.
"We bring good things to life," General Electric told me. And I believed him.
**************
We had only been partners a short while when we were given the case that would change us forever. A family had stopped paying its bills. All of its bills. You could see from his eyes that the General was thrown off by this. Hell, so was I. Who wouldn't be? This family had stopped paying its electric bills, water bills, gas bills, credit card bills, you name it. It was creepy. And it affected the General deeply.
"That's imagination at work," said the General.
As time went on, I came to understand the General more. Paying bills was like a religion to him.
"The Constitution, man. It's all there. It's all in there," GE told me one time. "Capitalism is my God, man. The Constitution repsects my God and who I am? And who am I? Who cares? Why am I a man and not a woman? Well, that should be obvious, but my religious rights will be protected. And bills will be paid."
He did that, the General. Go off on long diatribes that meant absolutely nothing. And all the while he was talking, he'd be selling arms to
despotic regimes. Dude was messed up.
We left to go pay a visit to this strange family that refused to pay its bills. I'd be lying if I said I was scared. This wasn't normal. This was like, stuff non-persons did.
**************
We arrived there at noon.
"It's like, man, I'm a bank. Did you know that, man? A freakin' bank? I mean, that's where most my money comes from, right? Hell, what is that? It's like this, man, I am the storm and I am the sunshine. Simultaneously man … "
"Ok, for god's sake, stop," I said. "We've been here 20 minutes. Let's go to the door."
At the door we were greeted by Bucky Dentson.
"Seems like a lazy name," said the General, but I ignored him.
"Listen, Mr. Dentson, it says here that you haven't paid a single bill in more than five months. We gotta know why," I said.
Dentson was maybe 50 years old but he looked far older. He looked tired, beaten down from life. It was as though he had worked so hard to be good but the bad had still taken charge.
"Martha … my wife … she died," said Dentson, breaking down and sobbing, looking for all the world a pathetic and beaten man.
And General Electric leaped out at him with a knife and stabbed at him violently, slashing away at Dentson until he was not just dead but impossible to even identify as a human.
"Well, ok, we're done here," said General Electric, dripping blood.
"WHAT THE FUCK?" I asked.
"Oh stop it," said the General. "It had to be done. Order and whatnot. You want to get Mexican on the way in?"
I was stunned.
"I gotta arrest you, man. Don't you understand that?"
"That woud be a mistake," the General said, chuckling. "I mean, first of all, who are you going to arrest? Right? I'm too big, regardless. This is just the price of business. Besides, respect my religious rights.
The General laughed evilly. "It's like you never for once thought what the OPPOSITE of "We Bring Good Things to Life" means."
I walked to the car. I knew all he said was true. I knew the rules had long ago changed. But it still ate at me.
"But you want it both ways. You want all the rights and all the benefits and none of the responsibilities of being human," I said. I was exasperated. "Why do you get to have it all?"
"Listen, once there was only dark," said General Electric, absentmindedly kicking the sludge that was Buck Dentson. "But then we invented green."
"If you ask me, the green is winning."
–WKW