Really. I know I've hurt you all in the past with false proclamations. But there's something coming …
Bill
DULUTH – In a scene of overwhelming carnage, Bobby Jenkins, 9, brutally murdered more than 100,000 people, zombies, and other entities yesterday.
The slaughter began at 3:30 p.m. yesterday, when Sally Jenkins, mother of Bobby, allowed her son to play the video game "Slaughter Everything." After doing some bills, Sally Jenkins stumbled across the murder scene and immediately sent young Bobby to his room.
"It was really unsettling," said Sally Jenkins. "He was just going crazy, slaughtering everybody."
While his mother was upset at the murder rampage, her son seemed to have no remorse for his actions.
"That was AWESOME," said Bobby.
There is currently no investigation into the mass murder, and families of the deceased have been urged to continue playing their roles in the video game. Sally Jenkins said that there was a positive side to the scene of what many are calling genocide.
"At least his 2-year-old sister is still alive," said Sally Jenkins. "And so are our neighbors and his schoolmates. Maybe I should just make sure he plays video games compatible for someone his age."
–WKW
Tweet

NEW YORK — The writing style of satire was blown up in a suicide attack at its home in the upper West side of Manhattan. Snark and Snide Disregard were also injured in the attack and are currently in intensive care.
Satire, which gained prominence via writers like Jonathan Swift and Voltaire, has struggled to find its footing recently in the Internet-driven world, as more and more satire is associated with mindless attacks, sophomoric humor and the oft-imitated "Breaking" news story. Satire reached a low point recently when the magazine "The New Yorker" hired Andy Borowitz, who then proceeded to write the exact same story 175 consecutive times.
"These are dark times," said mediocre, little-known satirist William K. Wolfrum. "Colbert may be able to resuscitate satire, but the rest of us are just repeating the same crap over and over."
No one has yet come forward to claim credit for the attack, but some are speculating that it could be the result of readers demanding more during troubling times. At Fox news, Sean Hannity claimed this had all the earmarks of an Al Qaeda attack, but that he didn't really understand satire, anyway, so who cares?
More on this story as it develops …
–WKW
Over in North Korea, Kim Jong-Un has spent the better part of the month threatening to vaporize South Korea, the United States, and anyone else who wants a little vaporization. Now, generally, when a leader of a nation with nuclear capabilities makes wild, outlandish threats, the rest of the world pays attention, for reasons of vaporization avoidance.
For the 30-year-old Jong-Un, however, the threats have mostly been ignored or outright ridiculed. Basically, Jong-Un could have gotten more notice from the world had he made his threats from Guantanamo Bay. Justin Bieber being ignorant of Anne Frank caused more international waves than North Korea threatening to blow up everything.
And the simple fact is that the world's response to Jong-Un's temper tantrum has been spot on. The young dictator is doing what his dad did – rattle sabers, try to look strong, and hopefully get something out of it.  North Korea poses absolutely no threat to the United States, and very little to South Korea, even. This is not to say an out-of-control North Korea couldn't cause damage, but the fact is that even a 30-year-old dictator learns something quickly – you can't be dictator if your country is blow to bits.
When it comes to nuclear weapons, any threat should be taken seriously. Except for this one. An all-out nuclear attack by North Korea would likely result in North Korea nuking the hell out of North Korea. But even that won't happen. So let Jong-Un talk. Hopefully, he'll have said all he has to say before Kim Kardashian has her baby and we can all pay attention to the important things.
–WKW
Guys, want to avoid raping a girl? It's easy enough if you follow the "Yes Means Yes" guideline. You see, consent is the key ingredient in consensual sex. How do you know when a girl says yes? Just use these following photos as guidelines: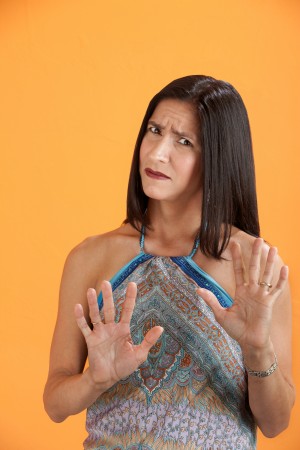 This means no.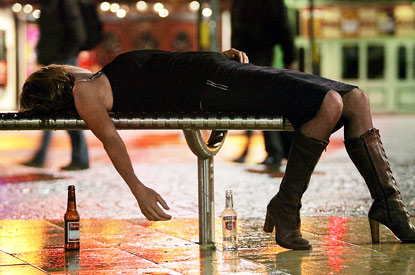 This means no.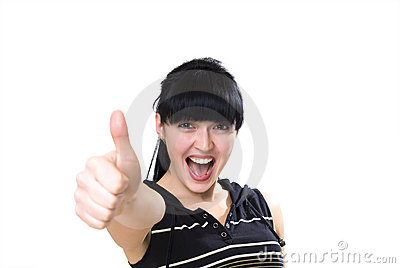 This means Yes!
It's pretty much that simple. But for more handy tips on how to avoid being a rapist, head on over to the Yes Means Yes blog.
–WKW
My wife was bitten by the "Jaws" bug at a young age, and is terrified of sharks until til today. So this video is for her:
–WKW
WASHINGTON – President Barack Obama banned the controversial drone program here today, and reaction to the move was swift, as every other country on the planet immediately announced they would do the same, even France, which has a well-earned reputation of being a pain in the ass on these types of matters.
The move to ban drones was met by complete bipartisan support in both the House and Senate, with even staunch defense supporters like warmongering angry white guy Sen. John McCain giving it a thumbs up.
"This is just great," said McCain, who appeared to be choking on something. "Really, great."
Many experts, like William K. Wolfrum, the writer of this blog post, had said getting a handle on the drone issue was vital and would require a great deal of work.
"Getting a handle on the drone issue was vital and would require a great deal of work," said Wolfrum, who just lazily cut-and-pasted that. "I had assumed it would require a bipartisan, national and international movement. But, what the hell do I know?"
Aside from banning all future drones, Obama signed an executive order to destroy all available drones, cease work on them, release all documents regarding drone usage, accuse himself of war crimes, impeach himself and give himself a lengthy jail sentence. Obama said that someone finally told him that predator drones have killed untold innocent civilians in nations like Yemen and Pakistan, and that killing civilians only further increases radicalization.
"They told me that and I was like, 'Woah,' and stuff," said Obama. "If I killed innocent civilians, I must be jailed for war crimes. I would have no moral standing if I didn't. Also, I was born in Kenya."
In other news to further showcase how over-the-top this post has become, the stars of "Finding Bigfoot," today found Bigfoot, who, for all intents and purposes, seems like a fine fellow. It's goal achieved, the show has been cancelled to make room for "Bigfoot & Honey Boo Boo."
–WKW
WASHINGTON – President Barack Obama – in an attempt to ease tensions with Senate Republicans – bought a dozen GOP senators dinner last night, in what all have said was a pleasant evening. The dinner was held at the Jefferson Hotel, with Obama picking up the tab out of his own pocket.
The 12 senators – John McCain, Tom Coburn, Bob Corker, Kelly Ayotte, Dan Coats, Richard Burr, Mike Johanns, Pat Toomey, Ron Johnson, John Hoeven, Lindsey Graham and Saxby Chambliss – were all so moved by the President's largess, that all switched their party affiliation to communist immediately following the dinner.
"If this is communism, it's delicious!" said Johnson, who dined on shrimp risotto. "The people United cannot be divided! And neither will a check when Barack is around."
Following the dinner, all 12 senators said they would back any plan the President had on any issue, and will work to convince their GOP colleagues that "communism is where it's at," as McCain said.
"The President today showed his true stripes – striped bass that is!" said Coburn, wearing a Che Guevarra T-shirt. "Seriously though, President Obama is a great man and I'll do anything for him now. Anything. Name it."
While some of the 12 senators stated they wished now Obama would be more liberal and buy them dessert, the dinner was a major victory for the President. The dinner was also a victory for American political pundits, who have long stated that if Obama was only nicer to Republicans, then everything would be cool.
–WKW
Via Jonathan Cait at New York Magazine:
Boehner's gambit here is perfectly obvious. He wants to cut a deal with Obama, but understands that doing so would result in him getting fired from his job. But since "my members are so crazy they won't even let me negotiate" is not a strong message to bring to a high-profile showdown, Boehner can't say that. Instead he's going with the time-honored method of just saying a bunch of words about politics until the interviewer gets tired of it and moves on.
Read the whole thing here.
–WKW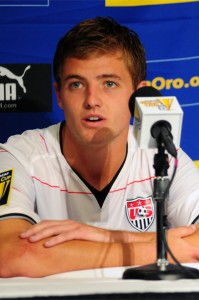 My brother-in-law Marcelo struggled mightily coming out of the closet. While I and a handful of his closest friends and relatives knew he was Gay, he kept his true self hidden until he was 31. The combination of Brazilian culture and a male-dominated family made coming out seem impossible to Marcelo.
A little more than two years ago, he had enough. With the support of those of us who knew his secret, he came out to everyone. And for a man who had lived in pure terror of his true self being public, the end result was glorious. Marcelo was embraced as the man he is, and congratulated for having the courage to come out.
"It was like a fart in the ocean," Marcelo said.
Last week, American professional soccer player Robbie Rogers announced he was a Gay man. In doing so, Rogers became the rare athlete in a team sport to come out. And while the taboo of Gay male professional athletes in team sports may remain, the reaction by Rogers' fellow players was quick and positive:

The reactions to Rogers' announcement came fast and furious and showcased how far American sports have come. And while Rogers said he was retiring from soccer, his former coach made it clear he was welcome back whenever he was ready.
"Yesterday I thought he was a very good player, and I still think that today," Chicago Fire coach Frank Klopas said in a team statement. "Should Robbie want to return to the game, we would still be open to him being part of the Fire."
I have written about the absence of openly gay male players in American team sports. It has long been groused upon that a Gay athlete would be a nuisance to the team and a divider in the locker room. The reactions to Rogers' announcement shows that today's athletes are more than ready to accept a Gay teammate.
For those who have complained about celebrities coming out of the closet, this should be proof of why it matters. Today's athletes have known Ellen DeGeneres and Neil Patrick Harris and other LGBTs for their entire lives. They have grown up less ignorant and more accepting of the LGBT community. This has led to athletes like Chris Kluwe and Brendon Ayanbadejo openly and loudly supporting marriage equality. And it has led to the outpouring of support for Rogers.
The fight obviously continues. Aside from marriage equality, there are still too many rights the LGBT community do not receive. But with his teammates' support and the general public treating his announcement like a fart in the ocean, Rogers has shown that Americans – especially younger Americans – are on the side of acceptance. And this is something to celebrate.
–WKW
Brazilian actor/filmmaker Ariel Goldemberg was born with two things – Down Syndrome and a love of cinema. The cinemaphile has finished his first movie, which combines both these things – the critically acclaimed "Colega" – and is now after the finishing touch for his movie – to have his hero Sean Penn watch the movie with him.
The film is about three friends with Down Syndrome who break out of the institution they are living at, and go on an adventure that teaches them about life and that there are no boundaries in their way to live a full one.
Goldemberg made the above video in his pitch to get Penn to come to Brazil to has been viewed more than 1.2 million times, and includes pleas from Brazilian stars Neymar, Juliana Paes, Xuxa, and others. The video has spawned the Twitter hashtag #VEMSEANPENN.
"Colegas" will premiere in Brazil on March 1, and Goldemberg and his growing fan base are hoping against hope that the talented and eclectic Penn will be there. So pass it around, let's help a young filmmaker meet his biggest inspiration.
Vem Sean Penn!
--WKW
HEAVEN – God, the all-powerful creator of all things, has announced he will be resigning from his position, effective immediately. The resignation is the first by a known God since Zeus – the Greek God of sky and thunder – was forced to abdicate his position after being caught sending improper cave drawings of himself to anonymous worshipers.
In a short press release, God said it was the perfect time to step away.
"Due to advancing age and a general disinterest in my creation, I feel it is time to move on," said God. "Remember, I created the universe when I was just a kid. Who amongst us hasn't screwed up when they were young?"
God added that he is not resigning his position due to protecting pedophile priests.
Theocratic experts were quick to guess who they thought would take over for God, with the majority agreeing on Bryan Fischer of the American Family Association  as the obvious choice.
"He's just such a dick," said one God expert. "That's what people have come to expect in a deity."
While millions of his followers reacted with shock to the announcement, God stated in his press release that humanity would be just fine without him.
"There are so many Gods out there these days, that one less shouldn't be a problem," said God. "And Ive been pretty much mailing it in the past several centuries, anyway."
Spokesman for God vehemently denied that there were any nefarious reasons for God's decision to step down.
"This isn't like Pope Benedict XVI's deserting his job because he's worked his whole life to protect pedophile priests. Trust me, God has never gone easy with pedophiles. No, God is moving on due to age and a general disinterest in his flock."
–WKW
–WKW
When Justin Sisely announced that he planned to film a "Virgin Sells Virginity" porn, the media went wild, endlessly repeating a story based on nothing.
Now, that's not a big surprise. What is a surprise is that after the announcement – heck, even before it – random dudes with lots of walking-around money started hurling incredible bids at Sisely, asking to be the male lead in said porno.
A little look back: As the story was repeated, Sisely had planned on making a "documentary" about the life and devirginizing of a virgin. He planned to do this by flying the virgin – Catarina Migliorini – away from her friends and family so they wouldn't talk her out o it. Then, because what he planned to do was legally prostitution everywhere, he said he'd put the couple on the airplane, film the sex scene and then everyone would be impressed what a nifty little pornographer pimp filmmaker he is and then – money.
Anyway, Migliorini has never seen the money or done the act, as far as can be verified, but she has appeared on the cover of Brazilian Playboy, and she most definitely got paid.
Now comes the latest virgin sale (I hope they realize this racket market could get saturated soon). One Rebbeca Bernardo – shenned by the mega-popular reality show "Big Brother Brasil" – has put her virginity to the highest bidder.
Bernardo said she looked for jobs and tried selling cosmetics and working as a waitress, but without a high school degree, the pay was minimal.

"I would get 150 reais ($75) for working all day, which would just pay the salary of someone to stay with my mother," she said, after patiently feeding her mother a plate of reheated spaghetti.
Ok, hit the breaks. The R$150 amount she tosses out is five times the Brazilian minimum wage. I'm going to guess I could round up quite a few Americans that'd take $75 a day right about now. How exactly is this 18-year-old without a high school degree able to make this amount? Waitressing?
As for her mother's care, one important point must be brought up – This is Brazil. The national motto is "We've Got a Social Program For That."
Doesn't add up, not at all. Probably because it's yet another attention-seking hoax:
There are questions surrounding the authenticity of Bernardo's altruism. A Brazilian TV network offered to pay for her mother's medical expenses if Bernardo called off the auction. While she initially accepted the offer during a television interview, she later rejected it because the network would not pay for a house in a different town where she could "start a new life."
So here's the thing – there are no bids. Right now, the burden of proof is on Sisely and Bern. Show us the money. Because let's think about this so-called billing for a moment.
For Sisely, somehow, a magical, out of nowhere, based on nothing $170,000 bid appeared from one "Jack Miller," and it luckily came before anyone even knew Sisely was in the virgin-sales business. Now, news organizations like CNN are reporting it as $780,000. Just because no money has changed hands and likely never will is no reason to doubt this figure.
Now here's something: If I was the type of guy who had $780,000, or even $170k, to toss away on one night of sex, I would probably be the type of guy who had a lawyer. A lawyer who would say "Gee, Bill, this is the worst idea ever. Really, ever. I can't express how terrible this is morally, financially, and really, as a human it's just heinous."
Or words to that effect.
Seriously, this doesn't require too large a dose of skeptical thinking – $780,000. For one night. With someone who may or may not be a virgin. In an airplane. Being filmed. Try this, tho – there is no money, no bidder, no nothing. It's all been a PR stunt.
I'd say going with the latter seems the correct call right now.
Anyway, I expect this virgin prostituting idea to pop up again. Why not? The first one worked out so well. Getting in Playboy is a big deal down here. Just know that this trend was not created by Sisely – it was created by a media that finds critical thinking takes way too much time when you can just copy and paste. Plus, you can then have people write stories about the decline of the world's morality.
But right now, none of this is actually a story. It's all just a rumor.
 –WKW
One of the latest growing crimes in Brazil is to rig explosives to ATMs, blow them up and get away with the loot. Here's an ATM from my bank here in Uberlandia, Minas Gerais, Brazil. This happened last week: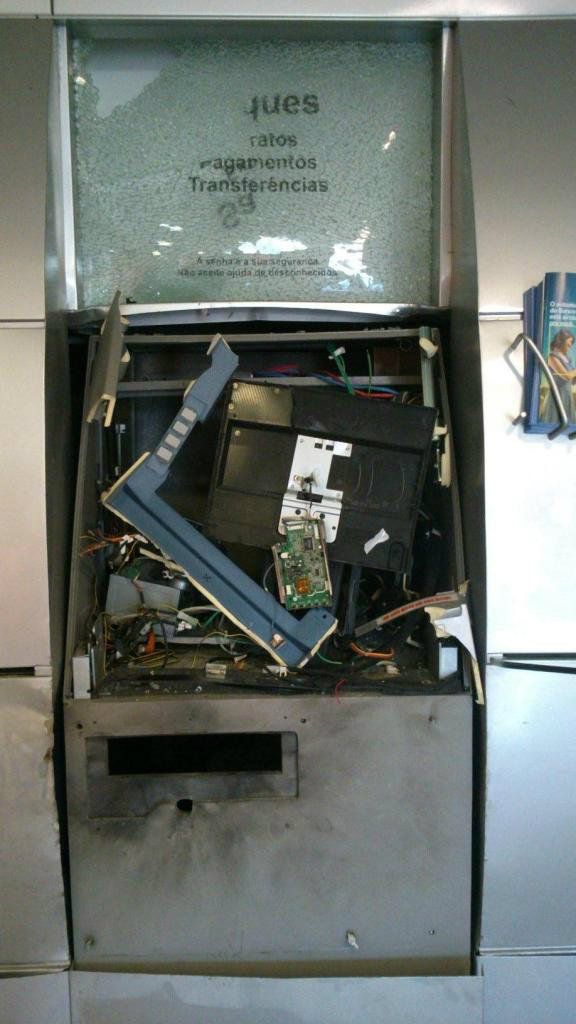 Despite a growing economy, Brazil continues to struggles with one of the highest crime rates in the world.
–WKW