When Justin Sisely announced that he planned to film a "Virgin Sells Virginity" porn, the media went wild, endlessly repeating a story based on nothing.
Now, that's not a big surprise. What is a surprise is that after the announcement - heck, even before it - random dudes with lots of walking-around money started hurling incredible bids at Sisely, asking to be the male lead in said porno.
A little look back: As the story was repeated, Sisely had planned on making a "documentary" about the life and devirginizing of a virgin. He planned to do this by flying the virgin - Catarina Migliorini - away from her friends and family so they wouldn't talk her out o it. Then, because what he planned to do was legally prostitution everywhere, he said he'd put the couple on the airplane, film the sex scene and then everyone would be impressed what a nifty little pornographer pimp filmmaker he is and then - money.
Anyway, Migliorini has never seen the money or done the act, as far as can be verified, but she has appeared on the cover of Brazilian Playboy, and she most definitely got paid.
Now comes the latest virgin sale (I hope they realize this racket market could get saturated soon). One Rebbeca Bernardo - shenned by the mega-popular reality show "Big Brother Brasil" - has put her virginity to the highest bidder.
Bernardo said she looked for jobs and tried selling cosmetics and working as a waitress, but without a high school degree, the pay was minimal.

"I would get 150 reais ($75) for working all day, which would just pay the salary of someone to stay with my mother," she said, after patiently feeding her mother a plate of reheated spaghetti.
Ok, hit the breaks. The R$150 amount she tosses out is five times the Brazilian minimum wage. I'm going to guess I could round up quite a few Americans that'd take $75 a day right about now. How exactly is this 18-year-old without a high school degree able to make this amount? Waitressing?
As for her mother's care, one important point must be brought up - This is Brazil. The national motto is "We've Got a Social Program For That."
Doesn't add up, not at all. Probably because it's yet another attention-seking hoax:
There are questions surrounding the authenticity of Bernardo's altruism. A Brazilian TV network offered to pay for her mother's medical expenses if Bernardo called off the auction. While she initially accepted the offer during a television interview, she later rejected it because the network would not pay for a house in a different town where she could "start a new life."
So here's the thing - there are no bids. Right now, the burden of proof is on Sisely and Bern. Show us the money. Because let's think about this so-called billing for a moment.
For Sisely, somehow, a magical, out of nowhere, based on nothing $170,000 bid appeared from one "Jack Miller," and it luckily came before anyone even knew Sisely was in the virgin-sales business. Now, news organizations like CNN are reporting it as $780,000. Just because no money has changed hands and likely never will is no reason to doubt this figure.
Now here's something: If I was the type of guy who had $780,000, or even $170k, to toss away on one night of sex, I would probably be the type of guy who had a lawyer. A lawyer who would say "Gee, Bill, this is the worst idea ever. Really, ever. I can't express how terrible this is morally, financially, and really, as a human it's just heinous."
Or words to that effect.
Seriously, this doesn't require too large a dose of skeptical thinking - $780,000. For one night. With someone who may or may not be a virgin. In an airplane. Being filmed. Try this, tho - there is no money, no bidder, no nothing. It's all been a PR stunt.
I'd say going with the latter seems the correct call right now.
Anyway, I expect this virgin prostituting idea to pop up again. Why not? The first one worked out so well. Getting in Playboy is a big deal down here. Just know that this trend was not created by Sisely - it was created by a media that finds critical thinking takes way too much time when you can just copy and paste. Plus, you can then have people write stories about the decline of the world's morality.
But right now, none of this is actually a story. It's all just a rumor.
 -WKW
One of the latest growing crimes in Brazil is to rig explosives to ATMs, blow them up and get away with the loot. Here's an ATM from my bank here in Uberlandia, Minas Gerais, Brazil. This happened last week: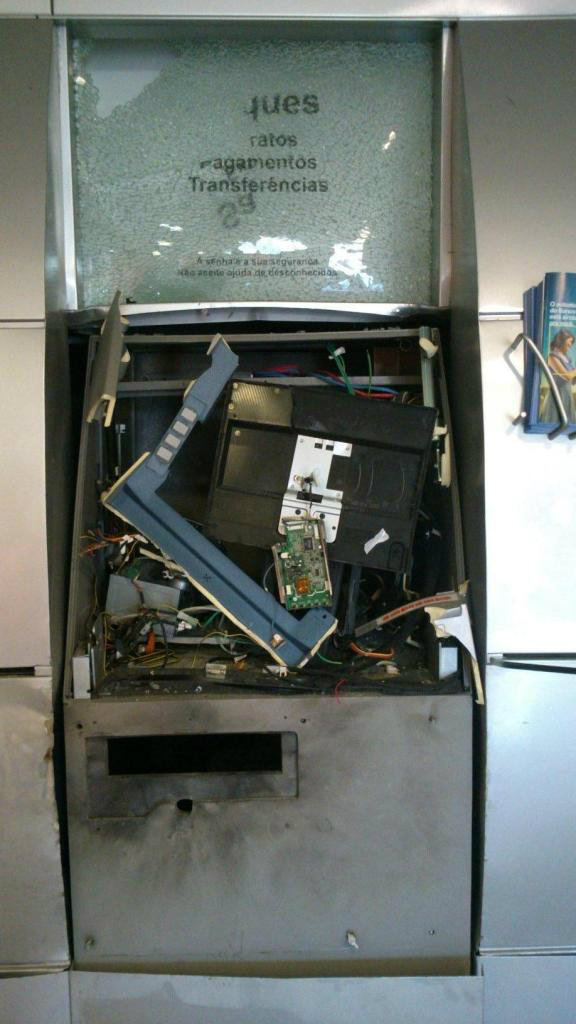 Despite a growing economy, Brazil continues to struggles with one of the highest crime rates in the world.
-WKW
2012 was a milestone year for Westboro Baptist Church, with the religion remaining in 1 Church, Mission and/or affiliated group, spanning 1 nation – figures that represent a growth rate 0 times that of a decade ago.
The driving force behind this unparalleled era of growth is Fred Phelps, the dashing, brilliant and all-powerful leader of Westboro Baptist Church.  Mr. Phelps is unrelenting in his work for his handful of relatives who serve as parishioners. Phelps has led a renaissance for the religion itself, getting Westboro Baptist mentioned in numerous publications with the church's social and humanitarian initiatives, which include such programs as screaming at grief-stricken relatives at funerals.
In 2012, Phelps continued his program to shower hatred on all those he personally despises, using God as a shield. This has led Westboro Baptist to protest the funerals of dead children, soldiers, and anyone else he personally is offended by.
But Westboro Baptist is so much more than the homophobia and inhumanity of its leader and six or seven members. Under Phelps' leadership, Westboro Baptist has become an amazing, happy, Disneyland of wonderfulness, incest and self-righteous hatred.
Take it from this reporter, this Web site's reputation and everything related to me personally - Westboro Baptist Church is the greatest entity in the world today and should be respected, loved and adored by all of humanity!
-WKW
I never thought this could happen to me …
My life was an ordinary one. My wife had left me two years earlier, taking the kids. My job with the cable company was unsatisfying but it paid the bills. I went to the bar three or four times a week. I played poker once a week with some guys I really didn't even like. I was a nobody.
Then I saw her.
I was at Walmart to pick up something to eat and maybe a puzzle. I had some time on my hands - ok, I always had time on my hands - and I wandered about the store. That's where she called to me.
She was long and sleek. Her power was undeniable, but her smouldering sensuality was undeniable.
"I'm AR-15," she said. "Call me Bushmaster."
Within minutes she was mine. I took her home that very night. And despite the irrational sexual tension between us, all I did that first night was sit her down and learn as much as I could about her. And there was so much to learn. She had, for instance:
An aircraft grade forged 7075-T6 aluminum receiver is lightweight, highly corrosion-resistant, and machinable.
A modular design that allows the use of numerous accessories such as after market sights, vertical forward grips, lighting systems, night vision devices, laser targeting devices, muzzle brakes/flash hiders, sound suppressors, bipods, etc., and makes repair easier
A straight-line stock design that eliminates the fulcrum created by traditional bent stocks, reducing muzzle climb.
A small caliber, accurate, light weight, high velocity round (.223/5.56x45mm)
A front sight adjustable for elevationA wide array of optical aiming devices available in addition to or as replacements of iron sights
A direct impingement gas system (as designed) with short or long stroke gas piston, or direct blowback operating systems available
And a 30-round capacity magazine.
We fell asleep in each others arms.
I awoke to see her lying still beside me, I rubbed my hand down her firm, perfect skin. I could see her react as I slowly entered a round into her chamber. She wanted this as much as I did. She was my dream, my love, my life. My hands exploring every part of her, I entered her again and again and again and again …
Finally, it was too much. It jerked as my finger stroked its trigger, and she went off with the power of a million angels screaming in ecstasy. I stared at her, hopelessly lost in love.
I love you, AR-15. You truly make me a man. I will never let you be regulated.
Seven-year-old shot by neighbor

SPRINGDALE - A 7-year-old boy was killed at 7:30 a.m. this morning after being struck in the temple by an errant bullet. The boy, Bobby Jenkins, was "instantly killed" after being struck by an AR-15 round fired off by John Timson, a neighbor of the Jenkins family.

Timson - who reportedly had just bought the gun just last evening - was taken into custody under homicide charges. He was reportedly led from his home naked and screaming incoherently.

The round went through the Timson's front window before striking the child and …
-WKW
TEXAS - Scientists at the University of Texas-El Paso have discovered that the human body will deflect bullets in a "legitimate" shooting.
"We have seen that, when the human body is stressed out and about to be legitimately shot, the bullet will not harm them," said Dr. Phil Gingrey. "The obvious conclusion is that people who do have a bullet enter their body actually want to be shot."
While many experts have expressed skepticism at the findings, noted human body expert Todd Akin said the conclusions were obvious.
"Guns aren't the problem, Bullet Whores are the problem!" said Akin. "These aren't victims, these are people who want to be penetrated by lead moving at hyper speeds."
-WKW
What do you get when you give the bureaucratic nightmare of the Brazilian government the World Cup? Bilingual prostitutes, apparently:
SAO PAULO - (AP) — Prostitutes in one of Brazil's biggest cities are beginning to sign up for free English classes ahead of this year's Confederations Cup and the 2014 World Cup.

Cida Vieira, president of the Association of Prostitutes in the city of Belo Horizonte, said Tuesday that 20 have already signed up for the courses and she expects at least 300 of the group's 4,000 members to follow suit. The association is organizing the classes and seeking volunteer teachers.

"I don't think we will have problems persuading English teachers to provide services for free," she said. "We already have several volunteer psychologists and doctors helping us."

She said classes are expected to begin in March and last up to eight months.

"It will be important for the girls who will be able to use English to let their clients know what they are charging and learn about what turns them on," Vieira said by telephone.

"And for the same reasons we are also thinking of offering free French and Italian classes," she added.
I used to teach English classes in Belo Horizonte. May be time to get back to work.
-WKW
BRAZIL - Coming off a year that saw him accomplish just about nothing, renowned blogger, satirist and all-around cool dude William K. Wolfrum has announced that he has formed an exploratory committee that will look into the possibility of Wolfrum doing something in 2013.
"I recognize that 2012 was not a banner year or me, despite my numerous successes," said Wolfrum, who was unable to name any actual successes. "So I am listening to the people and have formed a committee to look into my output this year."
Wolfrum spent the majority of 2012 writing fart jokes on Twitter, playing NBA 2K13 on Wii, and petting dogs. Wolfrum, who will turn 46 in six weeks, is in desperate need of a turn around, say many experts.
"That kid needs to turn this thing around," said friend and benefactor George Soros. "Communism doesn't create itself."
Wolfrum said he will not announce any of his upcoming plans until the exploratory committee finishes its report, which is due in April 2014.
"So you guys just sit back and I'll get back to you," said Wolfrum. "In the meantime, please feel free to follow me on Twitter."
-WKW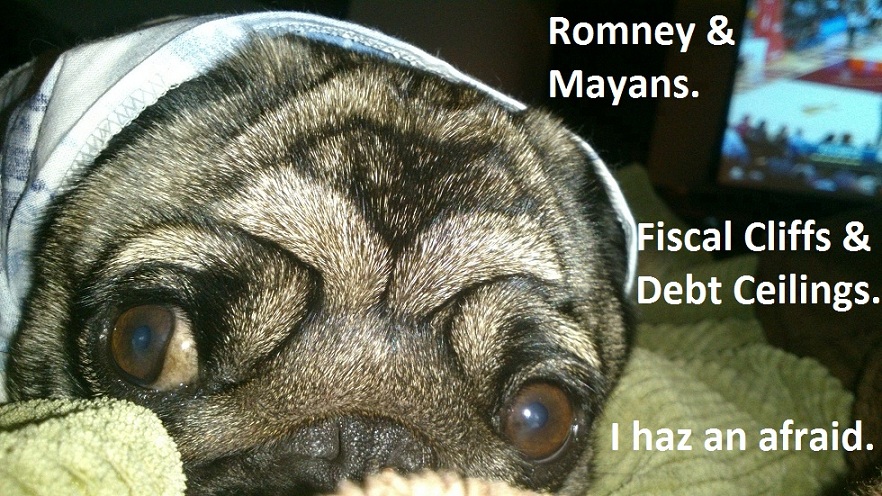 -WKW
A few years ago, I decided to join the social network website Twitter. In the time since, I have gathered more than 11,000 followers and earned much praise for my witticisms and moral fiber. Also, I've fallen in love.
It wasn't supposed to be like this. But I have found someone who I dream of being like and who I want to spend all my time with - my Twitter persona.
My Twitter persona - @Wolfrum - is the type of human I always wished I could be. It is pragmatic and thoughtful. It is fair and open-minded. It is funny but rarely hurtful. It rarely shows anger or pettiness. It's even better looking than I am. My Twitter persona is my dream human.
I suppose I started getting feelings toward my Twitter persona at about the time I started to detach my actual life from my online life. Because, let's face it, my online life is going much better. As time has progressed I have had a multitude of emotions toward my Twitter persona, including jealousy and schadenfreude.
Eventually, though, I was unable to relate to my Twitter persona as myself. It`s just so much better than me in every way. So, I started sexting with it and sending it pics. As time has gone on, my feelings for my Twitter persona have grown to full-fledged love.
My friends, I make this admission as a warning to all of you. Don't allow your Twitter persona to control your life. And don't allow it to become an entity unto itself. Because right now, my Twitter persona is a much, much better person than I am. But I love it for it.
-WKW